Because the Dodgers have two of the best young catching prospects in baseball, we knew they didn't necessarily need a long-term solution behind the plate. But because the Dodgers lost Yasmani Grandal to free agency — and, ultimately, the Brewers — we knew they needed at least short-term help, to pair with Austin Barnes. One name that was frequently connected to Los Angeles was Francisco Cervelli, who the Pirates have considered moving. The Dodgers have gone in another direction, bringing back a familiar face, albeit a face that's displaying more wrinkles.
Dodgers get:
like a whole lot of money
Blue Jays get:
Martin was available. Martin was obviously available. He's almost 36 years old, and the Blue Jays like Danny Jansen. They also have Luke Maile, Reese McGuire, and, if he still deserves to be included, Max Pentecost. Martin was out of room to play in Toronto, so the team looked to shed some of his $20-million final-year salary. I don't think that much of the salary is being shed here at all, but then, any savings count. The Jays are out from underneath at least a little bit of money. And the Dodgers have their veteran stopgap.
Martin is headed into the last season of a five-year, $82-million contract. That tells you a lot about what he was at the beginning. He's not that player anymore, as aging curves steepen in the mid- to late-30s. But, I swear to you, we don't need to overthink this. We don't need to give this 1,500 words, and we don't need to try to figure out what secret thing the Dodgers might see. The Dodgers got Martin because, even though he's diminished, he's still more than acceptable. Here are all of the regular and semi-regular catchers over the past three seasons, showing wRC+ and Defensive Runs Saved per 1,000 innings. Martin is the point in yellow.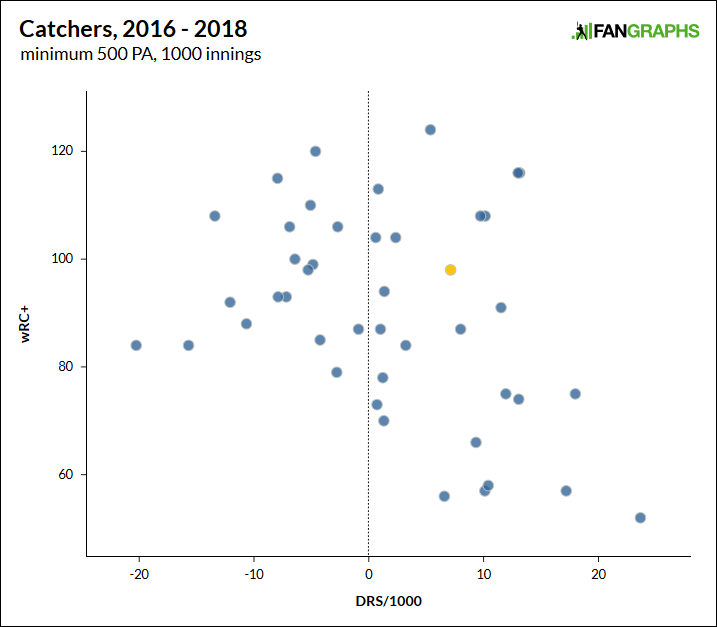 Offensively, Martin has ranked 17th out of 44. Defensively, he's ranked 15th out of 44. Martin has been one of eight catchers to rank in the upper half in each statistic. He can still hit a little bit, and he can still receive a little bit. Everything's getting worse, but he's declining from a very high bar.
One interesting note is that, per Baseball Savant, Martin still hits the ball hard. Here are four years of his average exit velocities:
2015: 88.5 miles per hour
2016: 89.0
2017: 88.0
2018: 90.6
Martin just posted the same average exit velocity as Bryce Harper and Anthony Rendon. See for yourself. The bat speed is there, but the contact quality appears in decline. Martin just found himself at the bottom of a leaderboard:
Lowest Ideal Angle Rates
SOURCE: Baseball Savant
Minimum 200 batted balls; rate of batted balls between 5 and 35 degrees.
Martin hit a league-worst 30% of his batted balls between 5 and 35 degrees. The average was 41%. Martin, the season before, finished at 40%, so this could be a fluke, but Martin earned his low recent batting average. He either got under the ball too much, or he rolled over on the ball too much. As long as we're talking about leaderboards, though, Martin just led another one:
Lowest Chase Rates
Minimum 250 plate appearances.
In 2018, Martin swung less often than ever, and he wound up with baseball's lowest chase rate by multiple percentage points. That's a table of mostly good hitters, although the presence of Forsythe will give Dodgers fans pause. Martin has an advanced idea of the strike zone, and he doesn't swing himself into trouble. He'll wait pitchers out, getting into deeper counts.
Looking at the numbers, you can see how Martin ought to be a reasonable fit. He's competent at the plate and behind it, and there's no arguing with the track record. The biggest concern is that Martin will be another year older, and there aren't that many effective catchers at the age of 36. Presumably, this doesn't entirely close the door on any Dodgers pursuit of J.T. Realmuto. Barnes and Martin might be enough by themselves, but Barnes is both tradeable and optionable. You can't count the Dodgers out on making a splash. They've just reduced their own urgency.
As for the minor leaguers — Sopko is 24 and right-handed. Brito is nearly 20, and is a right-handed infielder. Here's Eric Longenhagen:
Andrew Sopko I have as a pitchability 6th/7th starter. 88-92, slurvy breaker with average depth, change also average. Good teams need guys like that during the course of a season, but several 45s and 50s probably don't stick in a rotation, long-term.

— Eric Longenhagen (@longenhagen) January 11, 2019
I don't know what you might have expected. Each player has a chance — each player has tools — but however much the Blue Jays are paying Martin down should leave him with roughly the salary he's worth. Players worth their salaries don't have very much value above that. The Jays are getting a couple of very different rolls of the dice.
This is an unsexy move that fills a need for a contender. Whether they'll go above and beyond this, I'm not sure, but at least they don't *have* to. Russell Martin should still have a little baseball left to play.
Jeff made Lookout Landing a thing, but he does not still write there about the Mariners. He does write here, sometimes about the Mariners, but usually not.