Terrance Gore's job is to come into games as a pinch-runner and steal bases. He might want to do more, but at the major league level, baserunning is his calling. Entering this season, Gore had totaled one hit, one walk, and one HBP in his career, including the postseason. Despite almost never reaching base, Gore has 32 career steals and had been caught just five teams before this year. Of his 61 appearances before 2019, 55 have come in September, when rosters are larger, or in the playoffs, when fewer pitchers are required. The Royals gave Gore a shot at slightly more playing time this year, but ultimately designated him for assignment. After he cleared waivers, he was traded to the New York Yankees for cash considerations, so Gore might once again loom large in September and the postseason.
What's weird about Gore this season is that his stolen base numbers aren't very good. He's 13-of-18 on steals, and while that might be just fine for most players, when stealing bases is a huge part of your job, it's really not that great. His sprint speed is one of the best in the game, so it's pretty curious that he's been caught stealing five times. Maybe teams are onto him, though that never stopped him before. Let's take a closer look.
Gore's first caught stealing happened on April 17 in the eighth inning. He didn't get caught stealing so much as he got caught leaning as the photo shows below.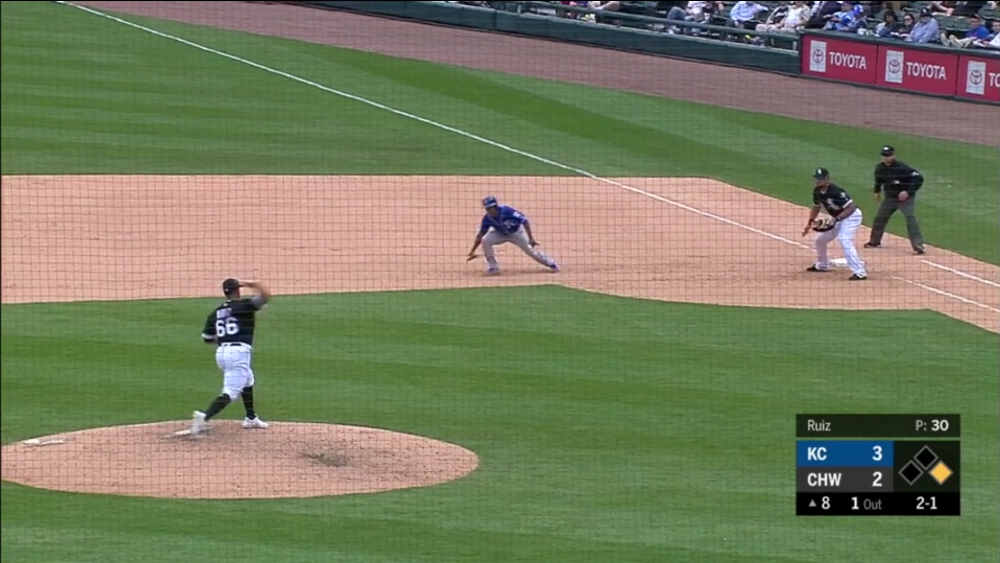 Gore's next misadventure on the basepaths happened against the Yankees on April 21. Second one same as the first.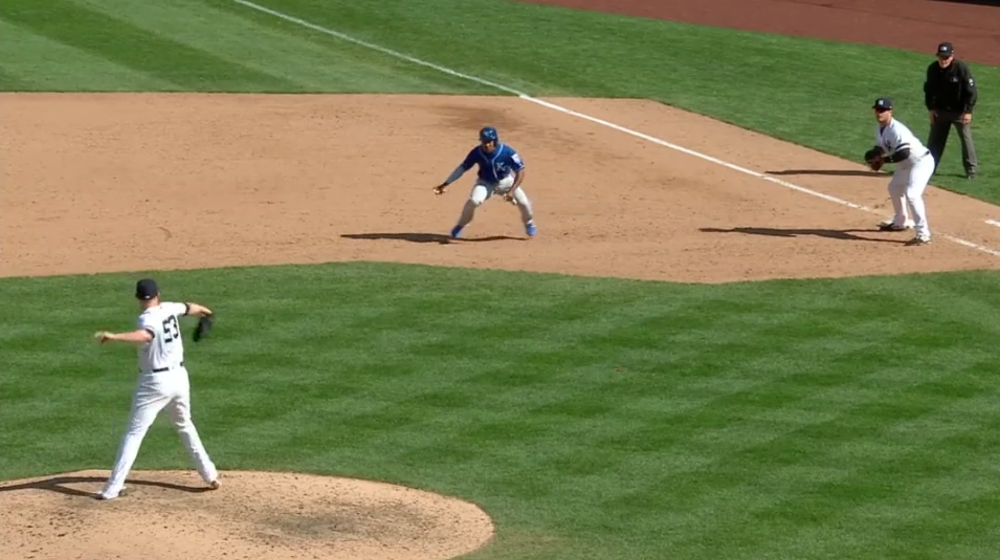 On Gore's third caught stealing, a screenshot will not suffice. Imagine a situation in which Billy Hamilton, one of the fastest players in the game, is on first base. Then add to that situation Gore on third base. That seems like a pretty good spot to be in. Now imagine they both get out on the same play. Here's how it all went wrong on April 24.
Step 1: Hamilton gets picked off.
Step 2: Hamilton makes it to second, but Gore gets caught in a rundown.
Step 3: Hamilton gets caught in no-man's land.
Now imagine if you were the pitcher when both Terrance Gore and Billy Hamilton made outs on the bases in the same play. Would your reaction be something like this?
We're already at three caught stealings for Gore, and haven't had anything like a straight steal. The fourth caught stealing was another pickoff, this time on May 1.
The final Gore mishap was not a pickoff or a bizarre play. Gore just slipped slightly on his way to second.
That last out happened on May 28, and at the time, Gore's official stolen-base rate was five out of 10. It looks like Gore was just a bit too aggressive and got fooled by the pitcher too often over the first part of the season. Since that time, he's seven for seven in steals. His overall numbers might not look spectacular, but there's not too much reason to believe that the 28-year-old pinch-runner extraordinaire has lost too much of his mojo. This is the last year of the current 40-man September roster, as the limit drops to 28 next season, meaning 2019 might be Gore's last hurrah as a September menace on the basepaths.
Craig Edwards can be found on twitter @craigjedwards.