For your prognosticating convenience, we've created a new, live section of the playoff odds page to house the ZiPS projections for each game of the postseason. These projections are a supplement to the normal FanGraphs Playoff Odds. They are not a replacement for the existing ones, which combine ZiPS and Steamer. These projections are arrived at similarly to how ZiPS does the roster strength projections during the regular season, only with roster constructions that reflect the very different way players are used during the playoffs. Unlike the regular season model, ZiPS uses projected starters in order to make a more accurate, game-by-game projection; during the regular season, ZiPS uses the actual schedule, but without knowledge of which player will start each game.

To aid in modeling these probabilities, the full model of ZiPS is used, which includes updated split projections in order to (hopefully!) enhance the projections' accuracy. There's obviously a great deal of speculation as to who will start these games; these odds will be updated continually as we get closer to first pitch. Projections for the Division Series that will be played against the respective Wild Card winners will populate after the Wild Card games have concluded. For the moment, you'll see their tabs grayed out.
In addition to game-by-game projections, you'll also find series odds, which will update as each series progresses.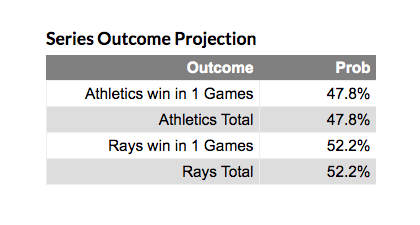 Since FanGraphs offers a handful of projection tools, we have summarized in table form three of the most relevant for the postseason: the FanGraphs Game Odds, the FanGraphs Playoff Odds, and the ZiPS Game-By-Game.
FanGraphs Postseason Projection Tools Comparison
Feature
FG Game Odds
FG Playoff Odds
ZiPS Game-By-Game
Projects Game Results
YES
NO
YES
Projects Post Season Series Results
NO
YES
YES
Projects Future Post Season Rounds
NO
YES
NO
Lineup / Roster
Game Lineup
Projected Overall
Playing Time
Projected Game Lineup
Accounts for Starting Pitcher
YES
NO
YES
Base Projection System
Steamer/ZiPS
Steamer/ZiPS
ZiPS Only
Updates
Before/during game
Shortly after game ends
Nightly
Let us know in the comments what other stuff you might be interested in seeing regarding these playoff projections!
Dan Szymborski is a senior writer for FanGraphs and the developer of the ZiPS projection system. He was a writer for ESPN.com from 2010-2018, a regular guest on a number of radio shows and podcasts, and a voting BBWAA member. He also maintains a terrible Twitter account at @DSzymborski.