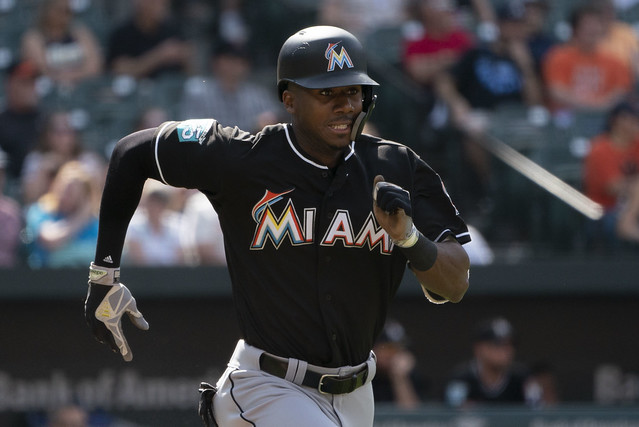 "When somebody says it's not about the money, it's about the money." – H.L. Mencken
The Marlins are a franchise with exactly two modes: brief moments of contention, and long stretches that punish anyone who would want to root for them. Miami is currently in the latter mode. Parity's alive and well in the National League, with 14 of the league's 15 teams spending significant time in 2019 playing the role of legitimate wild card contenders. The 15th team was these Marlins, the Star Trek redshirt of the Senior Circuit.
The Setup
The troubling truth for Marlins fans is that most winters' offseason activity involves guessing who the team will get in return for its best players who are approaching free agency; if the 2018-2019 winter offered less consternation for fans, it's only because the team had already traded away their entire outfield the year before. Without the ability to replace their lost stars with effective minor league talent — the formula that has kept the Rays frequent contenders despite their part-feigned penury — there was little chance the Marlins would be competitive enough to justify hanging on to J.T. Realmuto. In fairness, a lot of the blame for this is due to the previous regime, which made moves like trading away Chris Paddack and Luis Castillo for Fernando Rodney and Dan Straily.
Two years away from free agency, and with the Marlins unlikely to be competitive during that stretch, it was all but assured that Realmuto, an All-Star for the first time in 2018, would start the season in another city. A week before spring training started, he departed for the Phillies in exchange for Sixto Sanchez, Jorge Alfaro, Will Stewart, and, in a surprising move for a Marlins team to make, the right to spend more money in the form of international bonus space.
Outside of the Realmuto trade, it was a quiet offseason. Most of the team's winter action consisted of picking up veterans to fill the gaps they couldn't internally, with the most notable players of this type being Neil Walker, Sergio Romo, and Curtis Granderson.
One minor trade turned out to be one of the team's cleverer notions in recent years: the pickup of minor league reliever Nick Anderson from the Minnesota for utility infielder Brian Schales. At 28, Anderson wasn't a traditional prospect. From a small school and with a few troubling incidents on his record (an assault charge and drunk-driving), Anderson wasn't drafted by the Brewers until the 32nd round in 2012. He didn't sign and spent the next few years struggling in indie ball. In 2015, years removed from his problems with alcohol, the Twins signed him to his first professional contract at 25 and he slowly advanced through the minors, pitching well in relief. Both ZiPS and Steamer saw Anderson as a sub-four ERA reliever in 2019, though Steamer gets the win here with a more optimistic projection than ZiPS.
The Projection
Coming into 2019, ZiPS thought the Marlins were the favorite to be the worst team in baseball, with a median projected record of 56-106. ZiPS only projected a single player in the entire organization, 2018 rookie Brian Anderson, to be worth 2 WAR in 2019. The pitching projections weren't quite as bleak as that may sound, with Pablo Lopez, Caleb Smith, and Jordan Yamamoto all getting at least near 2 WAR with innings totals in the 160 range. There was no such mitigating factor among the hitting projections, with ZiPS only projected Anderson, Granderson, and Starlin Castro with an OPS above .700.
The Results
It might be a bit surprising given that the Marlins are 51-93, but there were still positive developments for Miami in 2019. The team was predictably dreadful in most areas, but they are now a strong favorite to beat their preseason projected record. The Marlins were saved from the tier of oblivion the Tigers reside in by some promising performances from the starting pitching, which hasn't been that much worse than league-average for the season. Caleb Smith's first-half 3.50 ERA has sagged to 4.11, but ZiPS believes that his 28 homers allowed is eight more than you would expect from his advanced hit data. Sandy Alcantara's been near-brilliant for stretches, and with stuff much better than his 6.9 K/9 suggests, there's some realistic upside here (though the Marlins failed to solve the similar riddle of Nate Eovaldi).
The Marlins got a real prospect in return for Sergio Romo in Lewin Diaz and as great a story as Nick Anderson's path to the majors is, Jesus Sanchez is probably more important to the team's future than a reliever already nearing 30 or innings-eater Trevor Richards.
Run-scoring has been a less encouraging story in 2019; the team's wRC+ of 77 (tied with the Tigers), ranks as one of the bottom performances of the 21st century, "bested" only by the 2013 Marlins and 2004 Diamondbacks. Lewis Brinson's third go-around in the majors has been as discouraging as the previous ones; he's hitting .182/.238/.241 with no homers and has actually seen his season OPS drop after a three-month stint with Triple-A New Orleans. The Marlins haven't been rewarded for finding playing time for Isan Díaz, either, with Díaz only hitting .158/.260/.237 since his August debut. Miami's been more successful finding future players who can be cogs on a competitive team — Jon Berti, Garrett Cooper, Harold Ramirez — but the team has yet to find hitters to build around.
What Comes Next?
The Marlins' challenges on the field are significant, but the most difficult battle they face is one of reputation. The team's history before the Sherman group's purchase is dominated by two owners — H. Wayne Huizenga and Jeff Loria (John Henry only briefly owned the team) — who couldn't have done a better job stamping out a nascent fanbase if they tried. The team won two World Series titles, but both of those championship teams were stripped down for parts like a stolen car at a chop shop. Huizenga's tale of financial woe was peppered with half-truths at best and Loria's promises to invest in the team if only the taxpayers built him an expensive new ballpark evaporated as soon as the ink was dry on the contracts.
It would be unfair to group Sherman with these two owners at this point, but it's hard to give the new ownership much rope when they started their tenure by not bothering to communicate with Giancarlo Stanton, and changing stories about whether or not Stanton was traded for financial reasons (he totally was). The team is doing a lot of things that a normal team does in rebuilding, but they've done nothing to answer the biggest question: what happens after the rebuild is successful? Will the team invest in the franchise's continued success where previous owners failed to or will this simply be the latest incident of the team's limited fanbase having the rug pulled out from under them?
Given the Marlin's history, any pleas for fans to come to the games so that the owners can invest in the team will likely fall on deaf ears. Baseball is one of the few industries in which business owners are generally able to plead with their customers to buy their product now so that there can be a better product in the future. Can you imagine building a restaurant and telling people "If you buy our terrible food, we won't have to serve canned vegetables next month!" I'm no car expert, but I don't believe Ford ever announced that you should buy a half-finished 2019 model so they can afford to give you a 2020 model you'll actually want to drive.
That's the fundamental challenge the Marlins face and it's one so large that it almost renders whatever trades or signings they make irrelevant in comparison. The team will have to build a consistent winner and then somehow convince a damaged fanbase that this time is different. I'm not convinced the team has a creative enough front office, or the needed willingness to invest in an uncertain future, to pull this off, but I'd be happy to be wrong. I still believe you can't fix the Marlins in Miami after all that's happened, but if Sherman and Jeter succeed, it would be one of the greatest comeback stories in sports history.
The Absitively, Posilutely, Way-Too-Early ZiPS Projection – Isan Díaz
There'll be no more advanced Lewis Brinson projections in this space, as they're rapidly becoming cruel. As mentioned above, Díaz's debut has been disappointing, but he hasn't been overmatched to the same degree that Brinson has. The results aren't there, but I find it a positive that his basic plate discipline numbers haven't collapsed from the minors even while he's struggled. His passivity has been concerning, as he has the 12th-lowest zone-swing percentage among players with 100 PA (out of 436 players). That's not a death knell in itself, but a player like David Fletcher can survive being very, very selective (48.5% zone-swing) by also being elite at actually making contact, which Diaz is not. Diaz's pedigree and the small sample size still leaves me optimistic that coaching can iron out some of the wrinkles in his game.
ZiPS Projection – Isan Díaz
| Year | BA | OBP | SLG | AB | R | H | 2B | 3B | HR | RBI | BB | SO | SB | OPS+ | DR | WAR |
| --- | --- | --- | --- | --- | --- | --- | --- | --- | --- | --- | --- | --- | --- | --- | --- | --- |
| 2020 | .238 | .320 | .390 | 474 | 67 | 113 | 21 | 3 | 15 | 59 | 55 | 134 | 7 | 92 | -1 | 1.6 |
| 2021 | .239 | .322 | .397 | 461 | 66 | 110 | 22 | 3 | 15 | 59 | 55 | 134 | 6 | 94 | -1 | 1.7 |
| 2022 | .236 | .324 | .402 | 458 | 67 | 108 | 22 | 3 | 16 | 59 | 58 | 137 | 6 | 96 | 0 | 1.9 |
| 2023 | .235 | .325 | .400 | 455 | 67 | 107 | 21 | 3 | 16 | 59 | 59 | 137 | 6 | 96 | 0 | 1.9 |
| 2024 | .232 | .323 | .394 | 444 | 65 | 103 | 21 | 3 | 15 | 57 | 58 | 135 | 6 | 94 | -1 | 1.6 |
| 2025 | .234 | .326 | .395 | 415 | 60 | 97 | 19 | 3 | 14 | 52 | 55 | 122 | 5 | 95 | -2 | 1.5 |
I wouldn't call ZiPS excited about Díaz yet, but then, the system has generally been a skeptic (it only saw his 2018 as a .196/.289/.323 translation) and this is the first year he projects as a league-average player long-term. Even with the struggles in the majors, ZiPS has Díaz's season so far at .252/.331/.435 when you combine the translation and his actual major league performance. The projections don't see Díaz as a star but the Marlins will need young, average players, too.
Dan Szymborski is a senior writer for FanGraphs and the developer of the ZiPS projection system. He was a writer for ESPN.com from 2010-2018, a regular guest on a number of radio shows and podcasts, and a voting BBWAA member. He also maintains a terrible Twitter account at @DSzymborski.