Through the first month of the season, it looked like James Paxton was going to build on his breakout 2018 season and elevate himself into the upper echelons of the pitching ranks. Through May 3, he had posted a 3.11 ERA backed by a 2.59 FIP and a ridiculous 33.6% strikeout rate. On May 3, Paxton exited his start with a knee injury and wound up missing four weeks of play, and since his return from the injured list, he just hasn't been the same.
In his eight starts since May 29, his FIP has shot up to 4.65 and his strikeout rate has fallen to 24.7%. A vintage 11-strikeout performance in his last start on July 7 is propping up that strikeout rate, too; he struck out just three batters in each of his two previous starts before that. The league average strikeout rate for a starter is 22% so complaining about Paxton's dip in results feels a little like picking nits. It would be easy to chalk up his post-IL results to the lingering effects of the knee injury or just a string of bad luck. But a deeper look into his pitch repertoire reveals some concerning trends.
Back in early May, Sung Min Kim wrote an article detailing the changes Paxton had made to his pitch mix. In short, Paxton "basically swapped the usage rates of his cut fastball and curveball." And why wouldn't he want to throw his cutter more often? He generated a ridiculous number of whiffs with the pitch last year (37.2% whiff rate) and batters simply could not square it up when they did make contact with it (6.5% barrel rate). But the effectiveness of the pitch has waned with greater exposure.
In the past, it's been a put-away pitch Paxton turned to when he was ahead in the count. He would use his fastball and curveball to get ahead and then earn a strikeout with a well placed cutter. Because he's throwing his cutter more often this season, he's had to use it earlier in at-bats. There are only so many two-strike counts to throw it in, so some of those extra cutters have come when the count is in the batter's favor. Here's what Paxton's cutter usage has looked like by count over the last four seasons:
James Paxton, Cutter Usage
| | 2016-2018 | 2019 |
| --- | --- | --- |
| Batter Ahead | 11.9% | 17.6% |
| Even | 39.7% | 43.3% |
| Pitcher Ahead | 48.4% | 39.1% |
Not only is he throwing it more often earlier in the count, he's also throwing it less often when he does get ahead. Trying to steal a strike with his cutter early in an at-bat isn't necessarily a bad thing — he used his curveball to do exactly that last year — but it becomes a problem when he can't locate his cutter in the zone: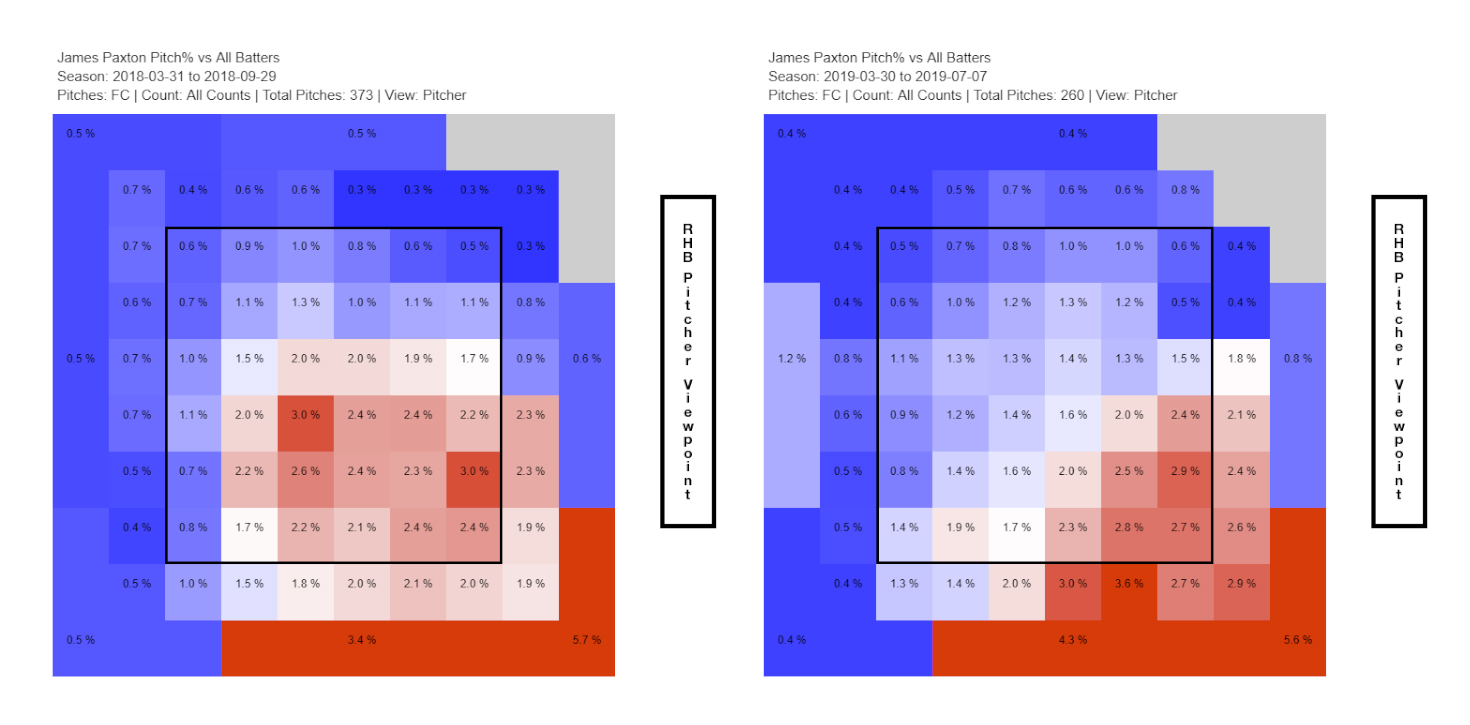 Paxton's cutter is at it's very best if he can locate it down and in against a right-handed batter, right over their back foot. That location takes the pitch out of the strike zone to get a swinging strike. But he's actually spotted his cutter in the zone more often than you might expect. In years past, he's thrown his cutter in the zone around 47% of the time, a touch below the league average zone rate for a cutter. Even though it feels high for a put-away pitch, it never really affected his ability to earn a swinging strike. This year, he's locating his cutter in the zone around 35% of the time, the lowest zone rate of any cutter thrown more than 100 times:
James Paxton, cutter results
| | Zone% | Swing% | SwStr% | Whiff/Sw% |
| --- | --- | --- | --- | --- |
| 2016-2018 | 46.8% | 57.9% | 21.8% | 37.2% |
| 2019 | 34.9% | 48.2% | 18.7% | 38.7% |
He's locating the pitch as though he was ahead in the count and looking for a whiff, but those pitch locations aren't exactly ideal earlier in the count. Batters are content to just take a cutter when they hold the advantage, knowing that they're likely to either whiff or it'll end up out of the zone as a ball. So even though Paxton's whiff per swing rate on his cutter is just as good as it has been in the past, because his overall swing rate on the pitch is down almost 10 points, his raw number of swinging strikes is down.
Since 2017, Paxton has added more than two inches of horizontal movement to his cutter. It's possible that additional movement has affected his command of the pitch: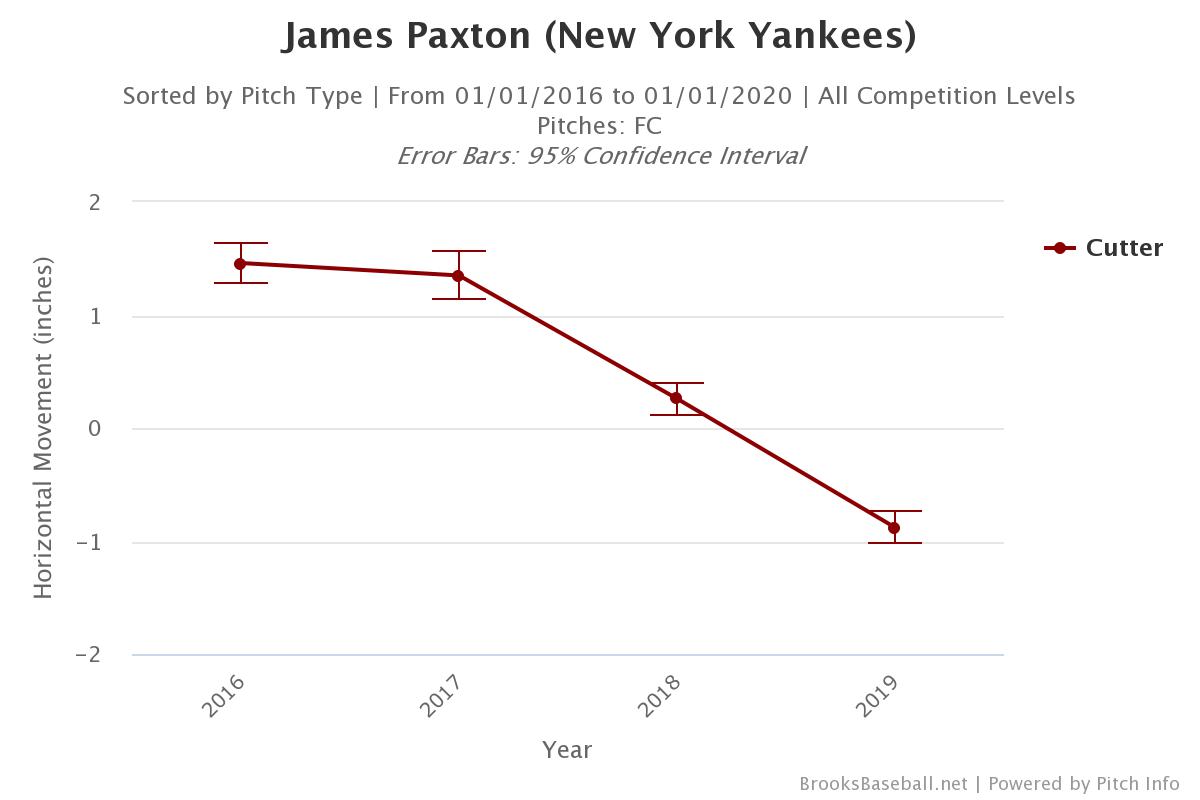 If he's throwing his cutter the same way he did last year, aiming at a target that would locate the pitch in the zone, that extra horizontal movement could be carrying the pitch out of the zone despite his intent.
It's also possible that batters are able to identify his cutter more easily this year. Paxton took a big step forward last year when he started to tunnel his high four-seam fastball with his curveball. But his cutter also benefited from that pitch tunnel as well:
James Paxton, fastball-cutter tunnel
| Year | Pitch Sequence | Batter Hand | PreMax | PreMax Time |
| --- | --- | --- | --- | --- |
| 2018 | Fastball-Cutter | RHB | 1.25 | 0.157 |
| 2019 | Fastball-Cutter | RHB | 1.46 | 0.162 |
SOURCE: Baseball Prospectus
Last year, Paxton's fastball-cutter pitch tunnel was excellent. The perceived distance between the two pitches in sequence (PreMax) was well above average and they separated in flight (PreMax Time) just a few milliseconds before the tunnel point. Both measures have deteriorated a bit this year and it's likely due to the location of these pitches in sequence. Paxton's pitch tunnel works best when his cutter is located right at the bottom of the zone but not too low. THe average location of his cutter this year has given opposing batters a few extra milliseconds to identify whether a pitch is worth swinging at.
I can't explain why Paxton has swapped the number of curveballs and cutters he throws this year. Maybe he's lost the feel for his curveball. But the effectiveness of his secondary pitches has waned with the altered usage pattern. The solution is likely a little more complicated than just swapping back. He's going to have to figure how to locate his cutter a little better, especially if he needs to use it earlier in counts to keep batters off his fastball.
Jake Mailhot is a contributor to FanGraphs. A long-suffering Mariners fan, he also writes about them for Lookout Landing. Follow him on Twitter @jakemailhot.