Over the four-year period from 2015 to 2018, José Altuve's 24 wins above replacement ranked third among all position players in baseball behind only Mike Trout and Mookie Betts. His 143 wRC+ ranked 10th in the sport and his 2017 MVP win cemented his status as one of the best players in the game. After a strong start to the 2018 season, Altuve suffered a right knee injury last July that eventually required surgery in October. Although he started this season healthy, he began to slump, then hit the disabled list with a hamstring problem and stayed on the disabled list due to lingering pain in his knee. Based on this second half batting leaderboard, it appears his injury and slump are behind him:
Second Half Hitting Leaders
| Name | PA | HR | BB% | K% | ISO | BABIP | wRC+ |
| --- | --- | --- | --- | --- | --- | --- | --- |
| Giovanny Urshela | 108 | 11 | 3.7 % | 13.9 % | .447 | .403 | 233 |
| Nelson Cruz | 106 | 16 | 11.3 % | 24.5 % | .567 | .292 | 232 |
| Jorge Soler | 128 | 12 | 18.0 % | 18.8 % | .420 | .323 | 207 |
| Jose Altuve | 135 | 11 | 8.1 % | 14.8 % | .350 | .380 | 204 |
| Yordan Alvarez | 124 | 10 | 12.9 % | 22.6 % | .349 | .391 | 196 |
| Yuli Gurriel | 119 | 9 | 4.2 % | 10.9 % | .339 | .363 | 193 |
| J.D. Davis | 96 | 5 | 11.5 % | 21.9 % | .268 | .448 | 185 |
| Mike Trout | 120 | 11 | 15.8 % | 23.3 % | .433 | .254 | 182 |
| Alex Bregman | 113 | 5 | 18.6 % | 11.5 % | .292 | .319 | 180 |
| Keston Hiura | 121 | 7 | 9.9 % | 30.6 % | .346 | .476 | 180 |
Back in May, Jay Jaffe noted that Altuve's stint on the injured list coincided with a rare slump for the Astros' diminutive (obligatory height reference) second baseman. Jaffe discussed how Altuve's results on batted balls out of the zone were much lower than in previous seasons.
Altuve's batting average on pitches in the zone is down 57 points relative to last year and 81 points relative to his combined 2015-18 performance; even so, it's been offset by a higher slugging percentage because of the homers. It's his contact with pitches outside the zone where the numbers look particularly grim; removing the non-contact plate appearances, he's 5-for-28 (.179) on such balls this year, all singles, where last year, he was 40-for-119 (.336) with a .437 slugging percentage.
The struggling version of Altuve wasn't doing much when he made contact on pitches outside of the zone. In the second half, Altuve has a .469 wOBA on pitches out of the zone; removing strikeouts and walks, he has a .495 wOBA in 33 plate appearance, per Baseball Savant. His xwOBA is down at .349, but that number is basically in line with previous seasons when Altuve was one of the better hitters in the game. Altuve's prowess out of the zone isn't that he hits those balls for power; it's that he just hits the ball hard for base hits. Of his 97 homers since the start of 2015, only nine have come on pitches out of the strike zone.
On batted balls in the strike zone since the start of 2015, Altuve's .426 wOBA ranks 46th among the 176 hitters with at least 1,000 such plate appearances and is 35 points above the league average. There are only 29 hitters with even half that many batted balls on pitches outside the zone and Altuve's .328 wOBA on those pitches trails that of only Xander Bogaerts, Eddie Rosario, and Nolan Arenado, and is also about 35 points above league average. Altuve needs to perform well in both areas to maintain his status as one of the game's best hitters. Hitters can thrive with high strikeout totals by crushing the ball when they make contact. Altuve does well with a lower strikeout total by creating a ton of positive outcomes when he swings at balls out of the zone. When he swings at too many of those pitches, however, he can create problems for himself.
Below is a 30-day rolling wRC+ and O-Swing % for Altuve over the last few seasons: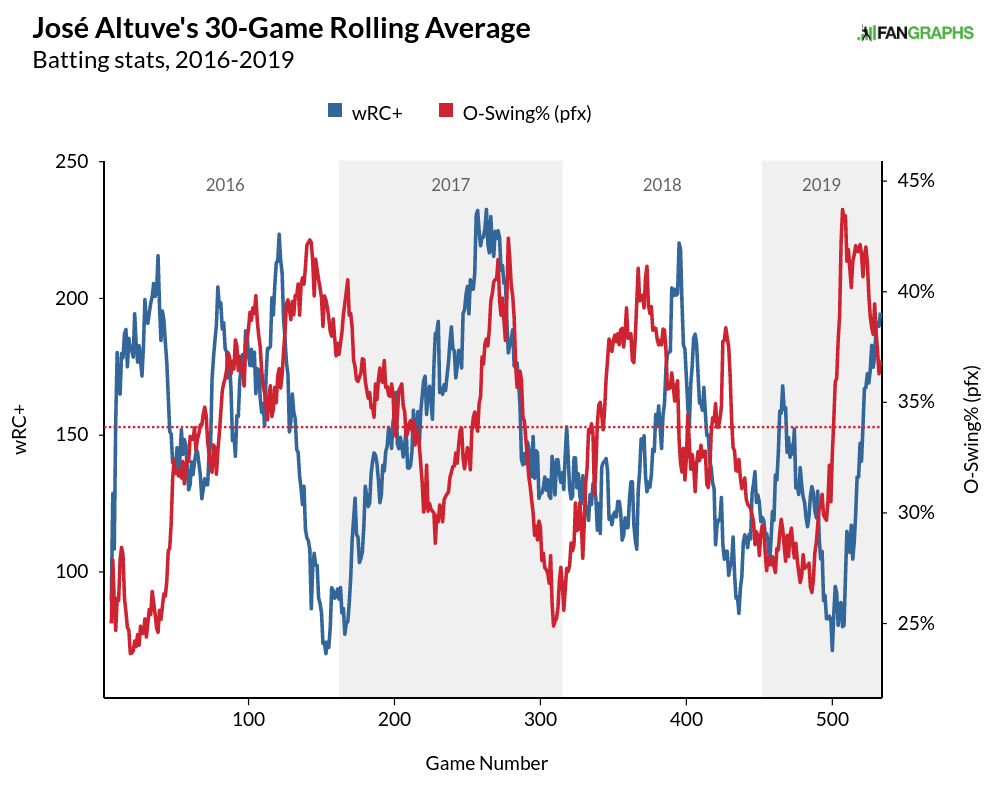 The lines in the graph don't go in exact opposite directions, but the four biggest valleys in terms of wRC+ are all met with big spikes when it comes to O-Swing%. As he has brought down his swings outside of the zone over the last month, his hitting line has surged. It wouldn't be fair to say Altuve's struggles last year and earlier this season were all knee-related, but imagine trying to hit this pitch if your back knee isn't strong:
It's an offspeed pitch and Altuve eventually does move his back knee as he swings the bat around, but he stays with the pitch and gets low enough to make a level swing and get an easy single up the middle over the infield. Compare that to a similar pitch from earlier in the season:
On the offering above, Altuve doesn't get as low, the bat doesn't get as level, and he moves his back leg off the ground earlier. It certainly seems like he couldn't get that leg low enough to get down to the pitch and put on a level swing. Compare where his back leg as the point of contact on both swings: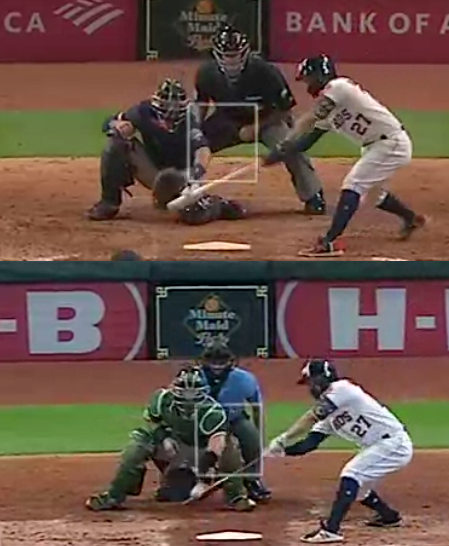 On the pitch from earlier in the season, his body is more upright while he has moved his foot further behind his body in an effort to get lower. In the more recent image, his foot hasn't moved as much and he's simply put more stress on his knee with less total body movement. We could be reading too much into a couple of off-balance swings, but with Altuve missing more than a month for an expected 10-day hamstring absence, it would be surprising if the knee weren't an issue at all after offseason surgery.
Altuve isn't likely to put up a 208 wRC+ the rest of the way, but if his body is healthy, his hitting line should be, too. Altuve's xwOBA at .374 in the second half is about 100 points below his actual wOBA during that time, but his xwOBA in his MVP season was .376 and last year it was .358, so if he keeps hitting the ball like he has, he should still be putting up a batting line closer to previous seasons than he did in the first few months of this year when his .346 xwOBA resulted in a 114 wRC+. The Astros don't need Altuve as much this year in the regular season, but with him a compromised version of himself in the playoffs last season, the Astros failed to defend their World Series title. Altuve's health is no guarantee of postseason success, but for a loaded Astros team, vintage Altuve makes the lineup much more dangerous.
Craig Edwards can be found on twitter @craigjedwards.