The 2019 season has seen a Cubs team be good, but not great, in most aspects of the game. The offense is solid, the rotation has been above average, and the defense is performing well. The bullpen has been really bad, but the other aspects of the club have carried the team to a 66-58 record tied atop the National League Central. In the rotation, the team has received solid-but-not-spectacular performances all season long from Kyle Hendricks, Jon Lester, Cole Hamels, and José Quintana, with Yu Darvish's performance coming along over the last month. While Darvish has certainly been encouraging, it's come at the same time as Lester and Hendricks have not done well, with Hamels being injured and struggling as well. Meanwhile, Quintana has stepped up his game and helped stabilize the rotation with plentiful innings and great performance, emerging as the best pitcher on the Cubs this season and the best pitcher in baseball so far this month.
In four August starts, Quintana has pitched 26 innings, struck out 33 batters, and walked just one. He's allowed just five runs (four earned) and given up two homers for a 1.38 ERA and 1.91 FIP. When Quintana arrived two years ago, the Cubs were in a tough spot, sitting with a below-.500 record and difficult questions in a rotation where only Lester and Jake Arrieta were healthy and performing well. Quintana was great down the stretch, providing the Cubs exactly what they needed, leading the team with a 2.1 WAR in the second half as the club ended up cruising to a division title. Some postseason disappointment followed and Quintana put together an up-and-down 2018 campaign that wasn't helped by Eloy Jiménez, the principal prospect heading from the Cubs to the White Sox for Quintana, establishing himself as one of the best prospects in the game.
This season has produced considerable consternation among Cubs faithful due to performances below expectations and a subpar bullpen, though a competitive NL Central without a powerhouse has meant the Cubs are still very much in contention and do still have the highest playoff odds in the division. Many of the Cubs' performances have disappointed this season, though Quintana's has not been one of them. His 3.1 WAR has already exceeded his 2.6 WAR projection and he's likely to end up around four wins, essentially the pitcher the Cubs thought they were getting when they traded for him two years ago.
Quintana has long been a tinkerer when it comes to finding the right pitches and right pitch mix to get outs. His sinker usage has been in flux throughout his career, and it has tended to impact what kind of pitcher he's been the last few seasons.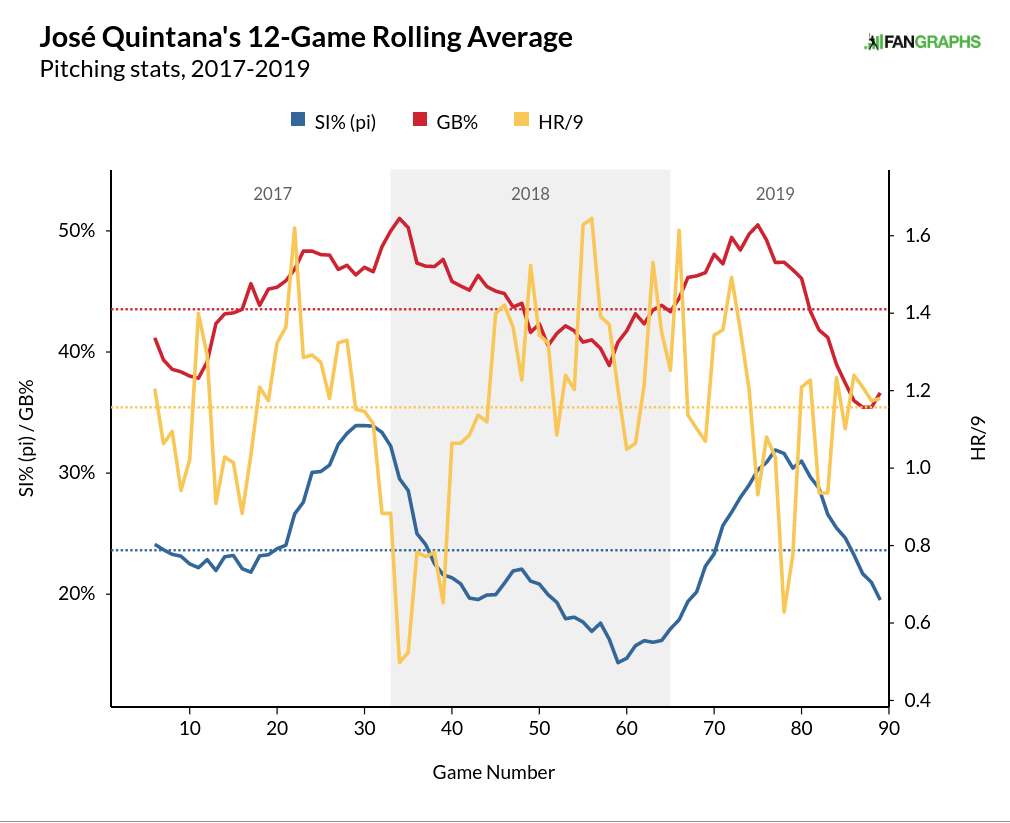 When Quintana came to the Cubs, the club had him emphasize his sinker, and he was successful by getting more ground balls and fewer homers. Last season, he abandoned the sinker for much of the year, and his ground-ball rate went down while his homers and walk rate went up to career highs. This season, he upped his sinker usage and saw the increased ground-ball rate and decreased homers like we might expect, but it came at the expense of his strikeout rate, which was below 20% in the first half. Even while striking out fewer batters, giving up 1.16 HR/9 in an environment where 1.42 is average meant Quintana was performing at a slightly above-average level as he moved into August.
When an established pitcher like Quintana has a good month, randomness can be easily confused for a deliberate change, so it is important not to get caught up in just a few starts. That's particularly true with Quintana's recent run, as last night's start occurred at a minor league park, so we don't have the same pitch-level access for one of the four starts in August. To see if we can find something different in the results, let's first look at some plate discipline numbers that do include all four of Quintana's August outings.
José Quintana Plate Discipline in August
| | O-Swing% | F-Strk% | SwStrk% | OContact% | Zone% |
| --- | --- | --- | --- | --- | --- |
| Through 7/28 | 29.4% | 63.7% | 8.6% | 67.4% | 41.2% |
| August | 30.9% | 60.6% | 10.9% | 55.2% | 43.8% |
| Change | 1.5 | -3.1 | 2.3 | -12.2 | 2.6 |
I went ahead and highlighted the two biggest changes. Quintana has been getting a lot more swinging strikes, and the cause is more whiffs when players swing at pitches outside the zone. The number of swings outside the zone has changed some, but it is the misses on those swings that have caused the biggest change to his swinging strike rate. His contact percentages on pitches in the zone are virtually the same. To get a better understanding of what this means for Quintana, here's a four-game rolling graph showing O-Contact% and Swinging Strike percentage.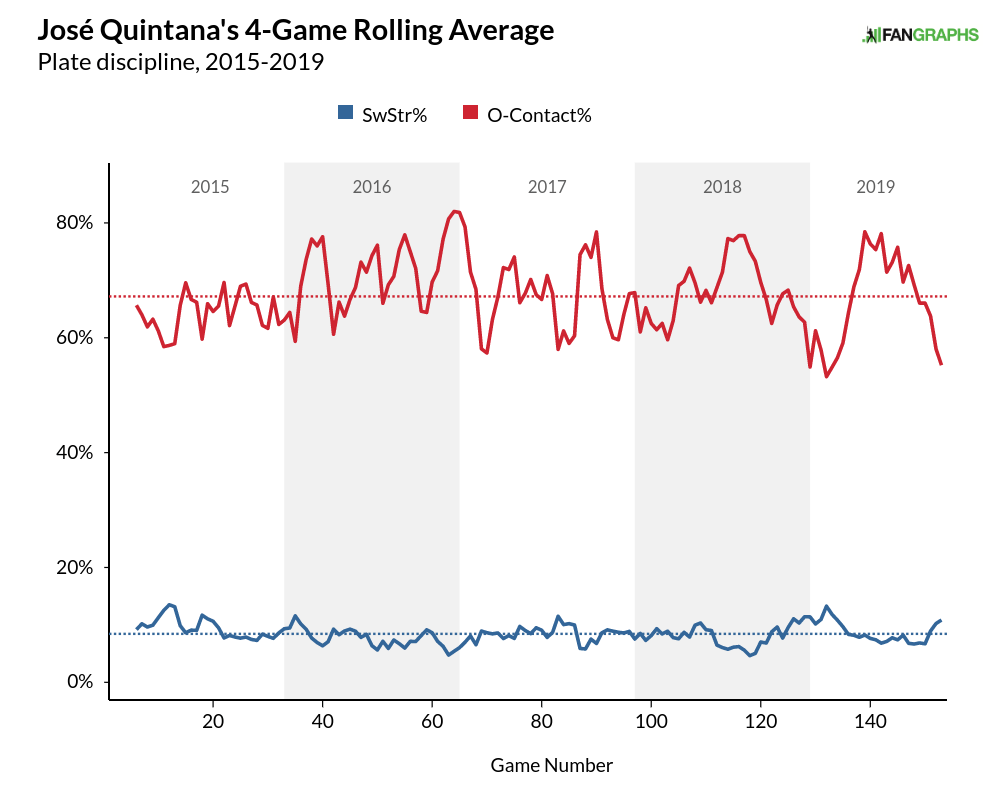 A run like this isn't unheard of from Quintana. He actually started this season like this, except with one really bad start in Milwaukee bringing down his overall numbers. He had a good final four starts to last season as well, but that was the only time he had as good of a run all of last year. In 2017, he had a strong period that carried over from the White Sox to the Cubs and he had a couple stretches like this back in 2015. What we are seeing from Quintana right now is unusual, but not unheard of for the lefty.
To see what might be causing the increase in swinging strikes and hitters missing pitches out of the zone, we'll look at pitch mix and location. I first looked at Quintana's pitch mix when he was behind or even in the count. Quintana moved some of his sinkers to four-seamers and increased the use of his changeup when behind in the count, but the biggest difference occurred when Quintana got ahead of batters.
José Quintana Pitch Mix Ahead in the Count
| | FA | SI | CU | CH |
| --- | --- | --- | --- | --- |
| Through 7/28 | 33.60% | 20% | 32.60% | 13.40% |
| August | 48.80% | 7.30% | 34.10% | 9.80% |
| Change | 15.2 | -12.7 | 1.5 | -3.6 |
We aren't dealing with a lot of pitches, but over the last month, Quintana has used his four-seamer to try and finish batters a lot more often. The heatmaps below show where Quintana has pitched the ball when he's ahead.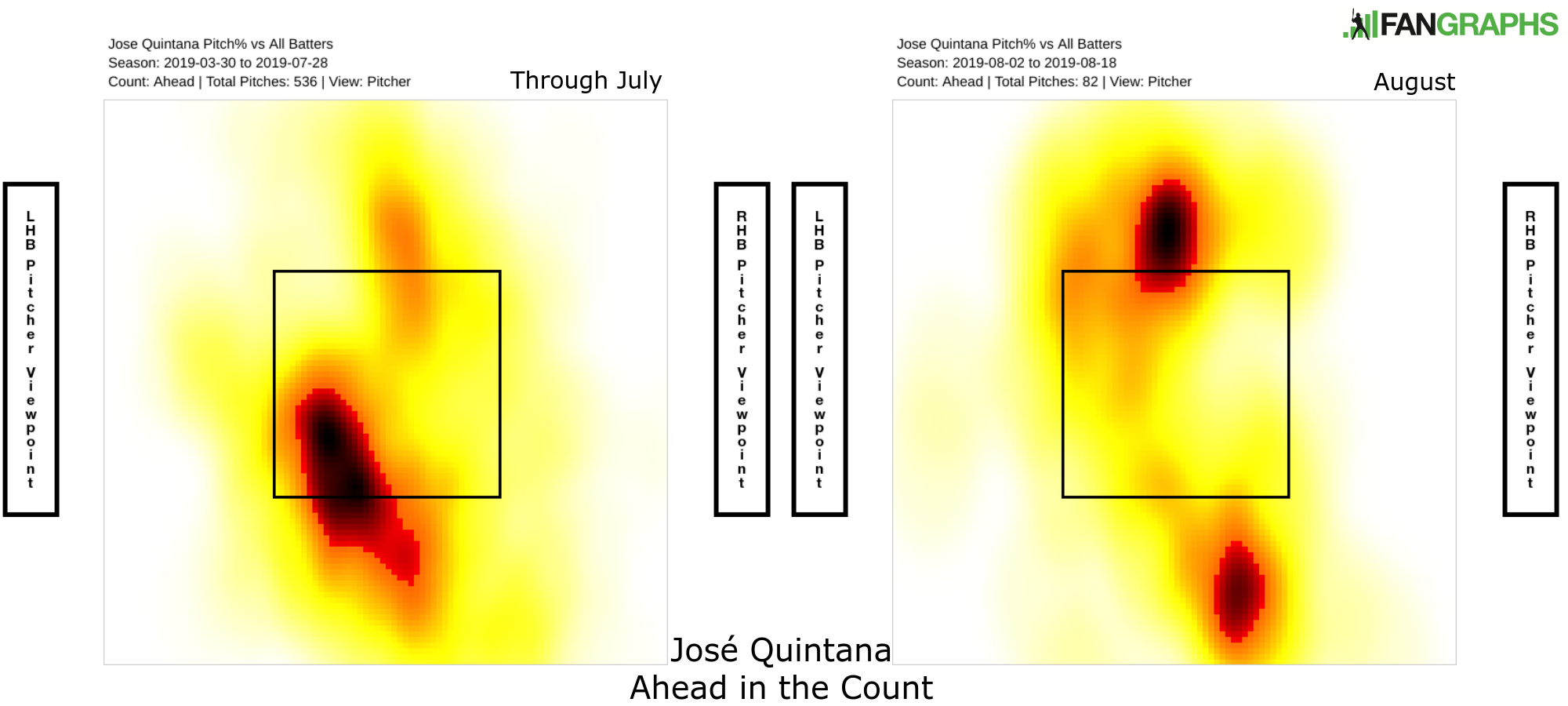 The mass in the center has shifted above and below the strike zone. The reasons for the change are two-fold. First, throwing more fourseamers and fewer sinkers shifts a lot of pitches that were in the strike zone to pitches that are just above the zone, like this classic high fastball to Scott Kingery.
When Quintana was ahead in the count the first four months of the season, he threw 145 sinkers and got seven swings and misses. On just 31 four-seamers in his first three starts of August, he got six swings and misses when ahead in the count. The other factor behind the changed location has been Quintana doing a better job of burying his curve when ahead in the count. Here is one such curve against Christian Yelich.
This isn't to say that Quintana wasn't getting batters out with curves in the dirt or high fastballs in the first half. When Quintana got ahead in the count before the break, he got whiffs on 17% of those pitches and hitters had a very low .170 wOBA. The issue was that on the remaining one-third of his offerings consisting of sinkers and changes, there were swinging strikes just 6% of the time with a .340 wOBA, about 100 points above the average when pitchers are ahead in the count. By throwing his fastball and curve more than 80% of the time when he gets ahead, Quintana is inducing more swings and misses on pitches out of the zone and getting more strikeouts.
Quintana's sinker and change still serve a purpose, as batters are doing better against four-seam fastballs when ahead in the count than against sinkers, and the changeup serves as a good option when batters aren't expecting it, but the curve and slider are getting the good results when he needs to finish batters off.
Quintana's run might not last much longer, but he's been a better second-half pitcher throughout his career, and he's got a good formula for getting batters out. He can still be a solid pitcher even if he reverts back to his first-half self, but for the second time in three years, Quintana looks to be a stabilizing force in a rotation that needs help as the Cubs look to make the playoffs for the fifth straight season.
Craig Edwards can be found on twitter @craigjedwards.