There's no baseball right now. Heck, there's no anything right now; Joe Buck is offering to do play-by-play of domestic chores:
I have good news for you –
While we're all quarantined right now without any sports, I'd love to get some practice reps in. Send me videos of what you're doing at home and I'll work on my play-by-play. Seriously! https://t.co/txAGBLPBGz

— Joe Buck (@Buck) March 22, 2020
But if you're in the mood for some baseball, you're in luck. Brad Johnson of RotoGraphs has organized a 30-person Out Of The Park league with human managers for every team. Partially, some of the fun will be providing updates and talking about team strategy. Candidly, we're all looking for something to write about, and describing the machinations of our very own team is too good to pass up.
But we can do more. I'm managing the Milwaukee Brewers. Rather than simply tell readers what my team is doing, I'm opening it up to the crowd. We, as a FanGraphs community, will be running the Brewers. Maybe it will work well. Maybe it'll be a disaster. Either way, though, I think it'll be a lot of fun.
I'm going to lay out a few ground rules. You're not getting to vote on whether we should trade Christian Yelich for a bag of nickels. We shouldn't. There's no point in taking a vote on that. And we're not going to legislate the overall direction of the team — we, the Brewers front office, are going to operate under budget constraints while attempting to make the playoffs in a competitive NL Central.
Short of that, though, let's go nuts. Out Of The Park has a few overall sliders that I can adjust to come up with the general ethos of the team. Let's handle those first: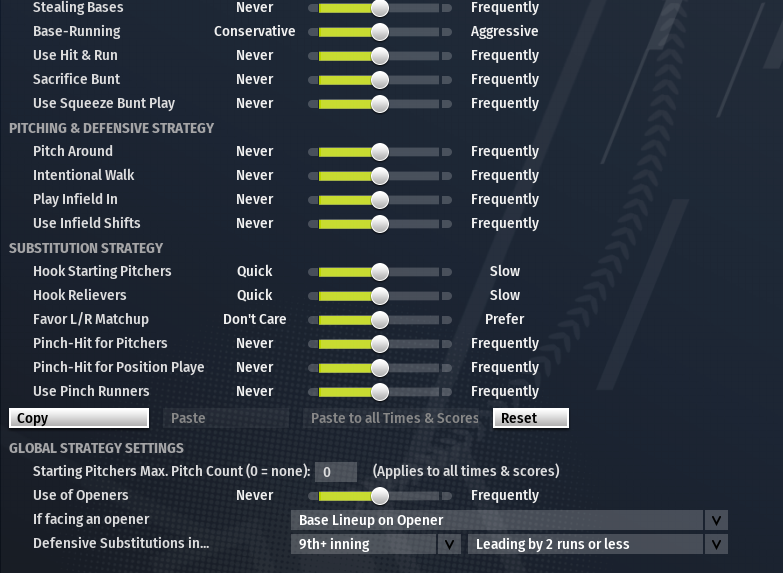 Some of these don't matter much. I'll handle our squeeze bunting (not very often!), our sacrifice bunting (pitchers only, please), and how often we'll use intentional walks. The rest of it, though, is up to the group:

Will the 2020 Brewers be a swashbuckling, base-stealing machine? Will they continue with their old ways and use a quick hook on nearly every starter? Will they lean hard into platoon advantages? It's up to you, up to all of us.
What else do we share dominion over? Well, we need to figure out a shortstop. In real life, Luis Urías's injury doesn't matter much — by the time baseball starts up again, he'll be fine. In our league, however, the season is proceeding exactly to plan. That fractured hamate is still three to four weeks away from healing, and the first game is later this week.
We have options. Per Roster Resource, Orlando Arcia is ready to stand in. In OOTP, Ronny Rodríguez holds the backup shortstop role, with Arcia deployed to Triple-A San Antonio. Meanwhile, there are some interesting free agents; Zack Cozart and Tim Beckham are looking for jobs in our universe, and Deven Marrero and Yairo Muñoz show up as well. How are you guys feeling?

Next, we have the leeway to set up the lineup. We're not going to bat Yelich ninth, but we've got options. We could stack by wOBA, as it were; bat our best hitters first, second, and fourth, and stack everyone else behind that. We could be traditional — speedy Lorenzo Cain leading off, powerful lineup anchor Yelich hitting fourth, and bat control savant Avisaíl García second:

We can also bat our pitcher eighth or ninth. I'll level with you: I'm in favor of batting the pitcher eighth. With a top-heavy team that will go as far as Yelich takes us, I'd like to maximize the number of hitters on base when the top of the lineup comes to bat. But that's a decision for the crowd to make:

In recent years, the Brewers have used a deep bullpen to squeeze every drop out of their run prevention abilities. We'll certainly attempt that again this year, but that doesn't mean we can ignore the rotation. Right away, we have a decision to make, because there are more starter candidates than our team has slots. Brandon Woodruff, Adrian Houser, and Brett Anderson are locks in my mind. Who else are you interested in?

Those are all the decisions I'm handing over to the crowd today, but there will be more to come soon. Can we mine the upper minors for relief help if Alex Claudio, J.P. Feyereisen, David Phelps, and Ray Black aren't up to the job? Is a Smoak/Braun platoon sustainable at first base? Is there some waiver wire claim or clever trade we can make to put the team into another gear? I hope you'll tell me!
Do you have any ideas for team decisions that I didn't offer here today? Do you think I should handle the crowdsourcing differently? Let me know in the comments! This is still the very early stages of an experiment, and I'm happy to change the way things work if that will make it more fun for everyone.
Oh yeah — I'm going to close the voting at the end of the day tomorrow. The season starts on March 26. Let's manage the heck out of these digital Brewers.
Ben is a contributor to FanGraphs. A lifelong Cardinals fan, he got his start writing for Viva El Birdos. He can be found on Twitter @_Ben_Clemens.