Earlier this month, Jake Mailhot looked at one of the Yankees' big breakout stories, Gio Urshela. Today, we'll examine another. If you told many Yankees fans before the season that the majority of Miguel Andújar and Giancarlo Stanton's playing time would be occupied by Urshela and Mike Tauchman, a lot of them would have thrown in the towel. Of course, that's when you'd have looked deeper into our crystal ball, and informed them that by August 23, the Yankees would have an 83-43 record with near-certain playoff odds while Urshela and Tauchman have combined for a 5.7 WAR.
It's no secret that we at FanGraphs like Tauchman; our own Alex Chamberlain has had eyes on the former Rockies outfielder for awhile. Tauchman displayed unique power-contact skills in the high minors similar to those of hitters like Rhys Hoskins and Daniel Vogelbach. But Tauchman is 28 years old, too advanced in age to be considered a bona fide prospect. Prior to 2019, he struggled in his brief major league cameos. Between 2017 and 2018, he hit for a paltry .153/.265/.203 with no home runs in 69 plate appearances. With Colorado grooming younger outfielders like David Dahl and Raimel Tapia for the future, and with Charlie Blackmon solidly entrenched in a starting spot (not to mention Ian Desmond), Tauchman didn't seem to have a future with the Rockies.
On March 24, the Yankees came calling for Tauchman's services, acquiring the outfielder for left-handed pitcher Phillip Diehl. Tauchman got a roster spot with New York almost immediately and not too long after, he found himself in the starting lineup thanks to a series of injuries to those ahead of him on the depth chart. For the first three months of the season, Tauchman struggled, posting a modest .687 OPS and an 81 wRC+ by the end of June. But after the All-Star break, things started to look up. Here are Tauchamn's pre- and post-All-Star break offensive splits (all post-All-Star break stats are through August 18):
Mike Tauchman's 2019 Hitting Statistics
| | AVG | OBP | SLG | OPS | ISO | wOBA | wRC+ | BB% | K% |
| --- | --- | --- | --- | --- | --- | --- | --- | --- | --- |
| Pre-All-Star break | .228 | .318 | .404 | .721 | .175 | .310 | 90 | 11.6% | 30.2% |
| Post-All-Star break | .361 | .431 | .711 | 1.143 | .351 | .464 | 195 | 11.0% | 19.3% |
What propelled this breakout? One answer may be that he's gained a better familiarity with major league pitchers. It may be a blip, it could be progress, but it is typical for good high-minors hitters to take some time to settle in and do well against major league pitching. Not everyone can be Aristides Aquino.
One major difference I found when examining Tauchman's progress is that he's been increasingly able to lift the ball into the air. Here's how Tauchman's batted ball launch angle has trended this season: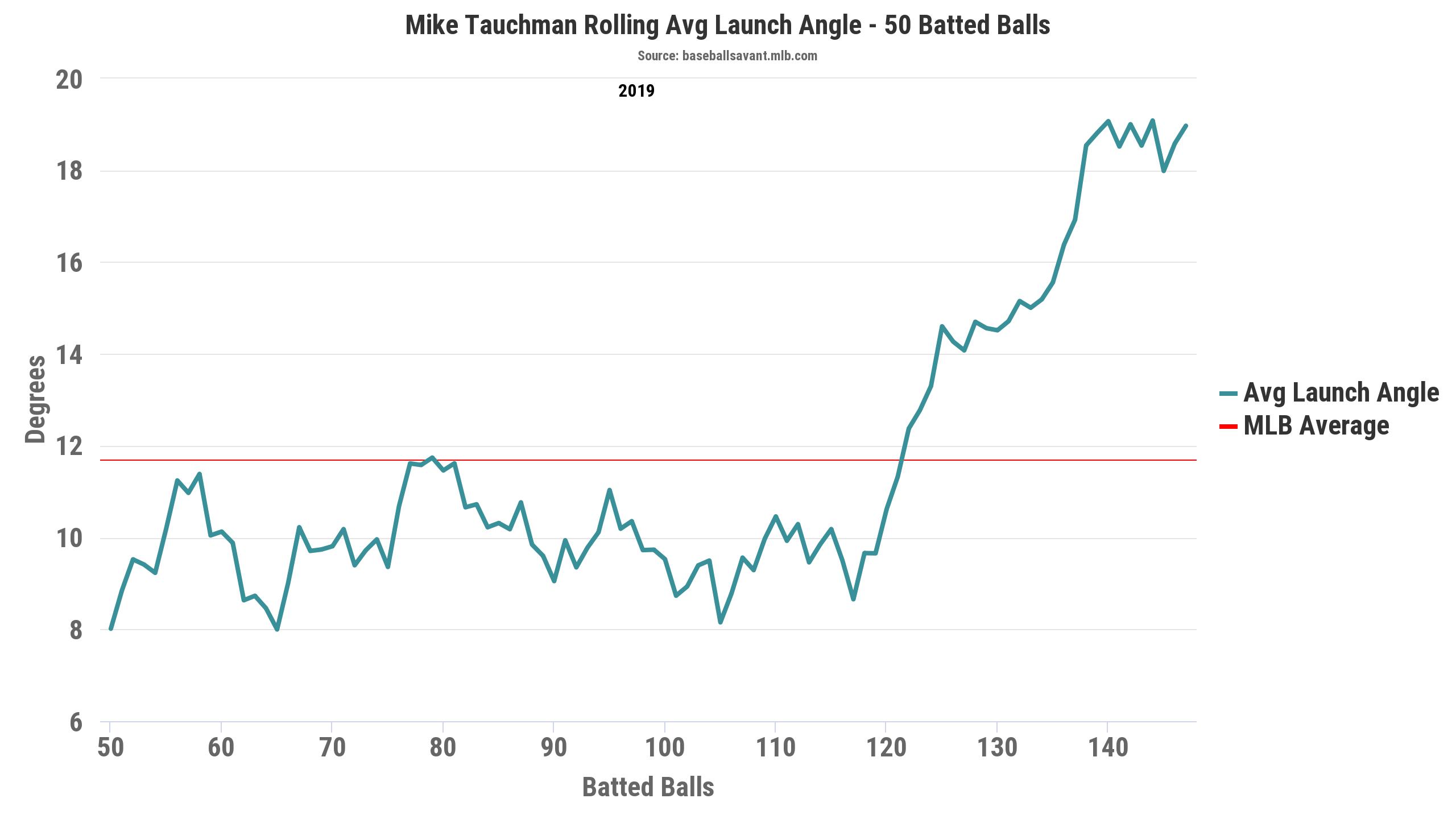 His average 2019 launch angle stands at 12.0 degrees, which is just above the league-wide average of 11.1. While he only had 35 batted ball events prior to 2019, he only managed a 7.1 and -2.8 launch angles, respectively, in his previous two seasons, so this boost is pretty encouraging. His batted ball profile reflects this change as well: his groundball rate has trended below league average while his fly ball and line drive rates have gone way above it. That's often a recipe for success.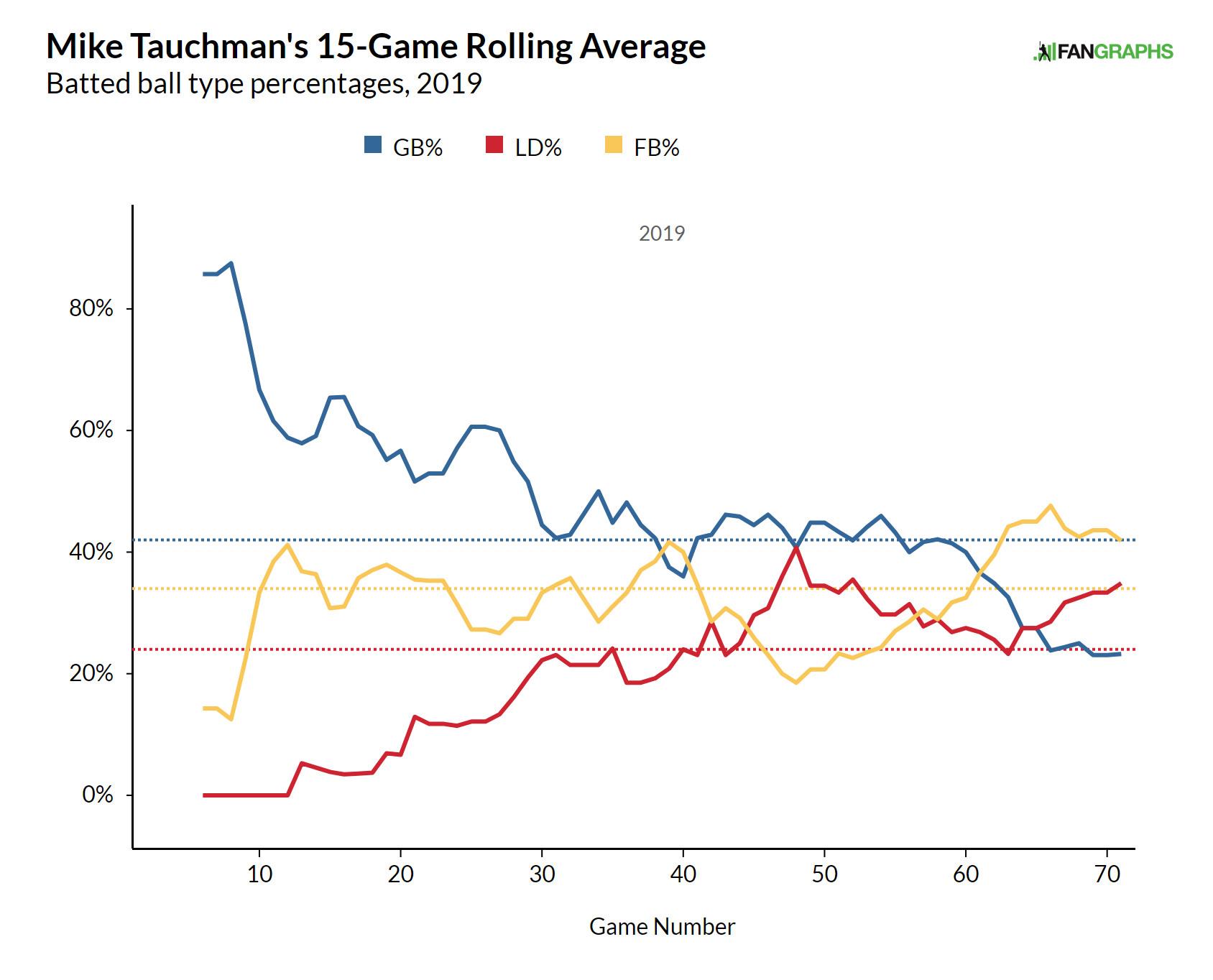 Is this the real Mike Tauchman? Can he keep it up? He has shown a rather high strikeout rate (25.2%) coupled with a high BABIP (.353), which usually indicates that he's either gotten lucky with batted balls or hits the heck out of balls enough to warrant such a BABIP, or some mix of both. To diagnose what's going on, let's look at his Statcast batting profile versus his actual statistics:
Mike Tauchman's 2019 Statcast Numbers
| Exit Velocity | BA | xBA | SLG | xSLG | wOBA | xwOBA |
| --- | --- | --- | --- | --- | --- | --- |
| 88.5 | .289 | .241 | .545 | .407 | .389 | .323 |
SOURCE: Statcast
This isn't that promising. While Tauchman's wOBA is a very healthy .389, his xwOBA suggests that there may have been some luck involved with his batted balls. His 88.5 mph average exit velocity isn't so great as to confidently expect him to maintain a .353 BABIP. The good news is that despite these statistics, Tauchman may actually have been one of the unluckiest hitters this year. Chamberlain wrote a few weeks ago that Tauchman has one of the biggest gaps between his actual strikeout rate and his "deserved" strikeout rate.
According to Chamberlain's calculation, which involves both typical plate discipline components and swings and misses/non-swings on pitches in the zone, Tauchman ranks as the eighth and 16th unluckiest hitter among position players with 150 plate appearances or more. At the time of Chamberlain's writing, Tauchman had a 27.8% strikeout rate. His xK%1 came out to be 21.8% and his xK%2 was 21.4%. Both differed by more than 5% to his actual strikeout rate. (Tauchman's strikeout rate has since lowered to 25.2% as of August 18, nine days after Chamberlain published the article.)
However, as Chamberlain acknowledged in the post, some players consistently over- or under-achieve their "deserved" rate, so it might be hasty to declare that Tauchman's strikeout rate will lower meaningfully over the rest of his career. At the same time, it's something to monitor as Tauchman continues to receive consistent playing time in majors. With the sample size we have, Tauchman's plate discipline suggests he has been one of the unluckiest hitters by measure of "deserved" strikeout rate, which could suggest Tauchman's high BABIP may not be a fluke.
And as good as he's been hitting the ball, Tauchman has also been a very good outfielder – perhaps one of the American League's best. The usual small sample defensive caveats apply here, but despite playing about the half as much as full-time outfielders, Tauchman has racked up impressive defensive statistics. Here is how he ranks in Defensive Runs Saved (DRS) among AL outfielders with 240 minimum plate appearances:
AL OF DRS Top 10 (Minimum 240 PAs)
And here's how he ranks in UZR/150, which helps put Tauchman's performance in broader perspective:
AL OF UZR/150 Top 10 (Minimum 240 PAs)
Over at Sports Info Solutions, Mark Simon examined some of Tauchman's best plays. "Tauchman is good at reading the low line drive and closing ground on it quickly," Simon wrote, citing catches like this one against Cavan Biggio of the Blue Jays.
Outfielders who can hit .300/.378/553 with top-tier defense don't grow on trees. And while Tauchman's performance should be taken with some grain of salt, as he's amassed fewer than 250 plate appearances in 2019, with guys like Stanton and Hicks shelved on the IL, he offers an excellent option for a fourth outfielder who is now getting penciled into the lineup every day. for everyday opportunity. There are numbers that indicate what he's doing may not be sustainable, but there are also encouraging trends. Mike Tauchman may not have had the shortest road to get where he is, but as far as the Yankees are concerned, he arrived right on time.
Sung-Min Kim writes for River Ave. Blues, and has written for MLB.com, The Washington Post, Baseball America and VICE Sports. Besides baseball writing, he is also passionate about photojournalism and radio broadcasting. Follow him on Twitter @sung_minkim.