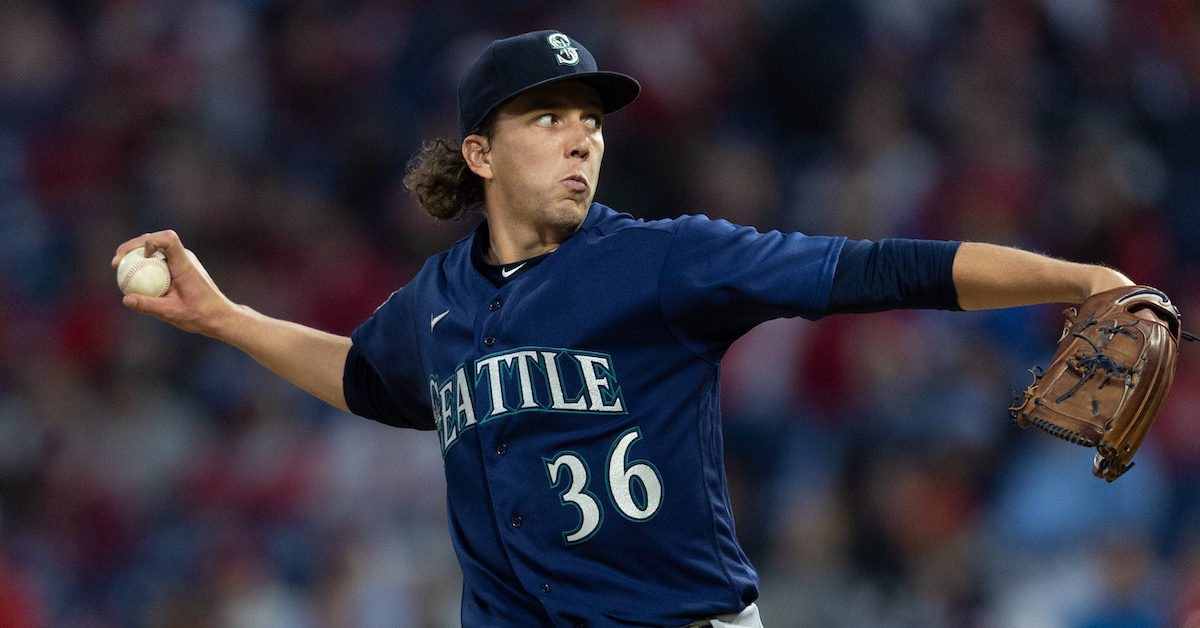 Logan Gilbert discussed his new changeup in detail when he was featured here at FanGraphs 12 months ago. Not satisfied with the one he'd been throwing, the Seattle Mariners right-hander had gone to "more of a traditional circle," a grip he felt would yield better command and consistency. His stated goals included upping the pitch's usage from 8% (it had been 7.8% in 2021) to 10-15%.
A certain amount of success followed — opposing hitters batted .125 with a .122 wOBA against the pitch — but Gilbert's goals went largely unmet. The 6-foot-6 hurler never felt completely comfortable with the revamped offering, and by season's end, his changeup usage was still a meager 8%. Instead of becoming a reliable weapon, it remained little more than an infrequently used, hit-or-miss option in his arsenal.
As pitching nerds are wont to do — and Gilbert certainly qualifies as such — he went back to the drawing board. The righty traded in his circle change for a splitter over the offseason, and the results have been just what he was looking for. He has been comfortably throwing his new weapon 12.7% of the time, and it has yielded a paltry .111 batting-average-against and an equally impressive .111 wOBA.
Gilbert explained the successful transition from his changeup to his splitter when Seattle visited Boston last week.
———
On trading in his changeup for a splitter: "The numbers [on the changeup] were pretty good, but I wasn't very consistent with the location. The splitter seems more natural for me, and I've actually commanded it better than the changeup, which probably isn't the case for most people.
"It probably would have been a harder decision had I used the changeup more. I would pitch with my other three pitches, and sometimes I would use it and sometimes I wouldn't. It was basically a bonus if it worked. Because the usage was so low, I didn't feel like I was losing anything by making the change.
"Half the reason [the numbers were good] was that people probably weren't looking for it. It also wasn't in the zone much, so there really couldn't be much damage. It was kind of, 'Maybe they swing and maybe they don't.'"
On the genesis of his splitter: "I was kind of messing around with the idea myself, and then threw it off some people. I talked to a couple of coaches and other pitchers on the team, and we thought it would be a good idea. Honestly, it was just something I would try in the offseason, and if it worked, it worked. If not, I would go back to the changeup. But I liked where it was going, so I just kind of took it and ran with it.
"I learned the grip at Driveline right after the season. Chris Langin is the director of pitching there, and he showed it to me. I was using Edgertronic cameras to see how it spun out of my hand, and getting the release right. I worked on it through the offseason, and by the time I got to spring training, it felt pretty good."
On the grip Langin showed him: "I thought you would just split the two-seam — go wider on the two-seam — which is what a lot of people do, but he showed me more of a one-seam grip. If you've seen Kodai Senga of the Mets, it's similar to his grip. I'm splitting the one-seam. The index finger goes over the top of the horseshoe.
"Because I'm more of a carry fastball, four-seam guy over the top, that's supposed to work better for some reason. It's nice knowing people who know stuff like that. They help speed up the process of learning a pitch, giving you an understanding of what should work best for you."
On having big hands and long fingers: "I thought it would work for me just because of that. The changeup is something I've tried for many years — all the way back to high school and college — and never completely got the hang of it, so I figured I might be a good candidate for the splitter. A good thing with the splitter is that it's kind of just 'grip it and throw it.' That's something I wanted. It was difficult for me to manipulate the changeup correctly. However, I will say that when I get over the top of the splitter, and slightly inside it, it comes out of my hand the best.
"For the most part, it feels natural — and I can tell what natural is when it's coming out right. If it's bad, I try to kind of revert back to what is natural. It's not like I'm trying to do a ton to create good movement, but when it's coming out of my hand in a way that I consider normal, it's usually pretty good. It's what I'm looking for. The depth I get comes pretty naturally."
On the early season success he's had with his splitter: "I'd say it's been good so far. I haven't really dived into the numbers a ton, but I can usually tell just from memory when a pitch is working and when it's not. It's not the end all, be all, but I think it complements my arsenal pretty well, giving it a different look. I'm pretty happy with where it's at."
David Laurila grew up in Michigan's Upper Peninsula and now writes about baseball from his home in Cambridge, Mass. He authored the Prospectus Q&A series at Baseball Prospectus from December 2006-May 2011 before being claimed off waivers by FanGraphs. He can be followed on Twitter @DavidLaurilaQA.