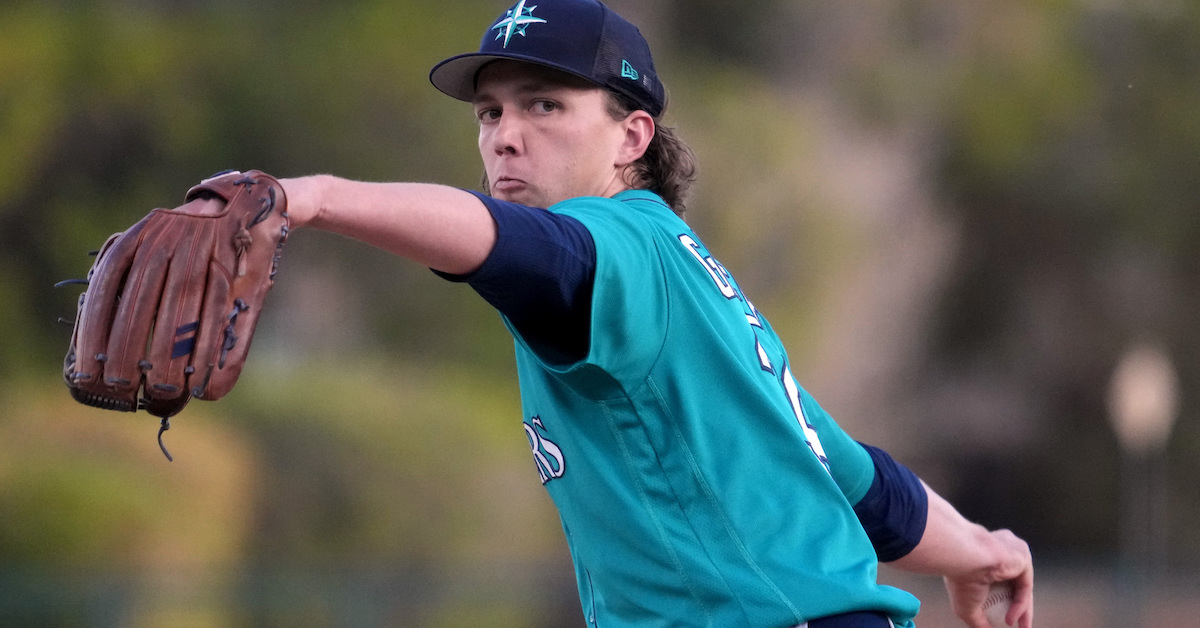 Some pitchers approach their craft by trying to hone their established pitch repertoire to make the most of what they've always thrown. Then there's Logan Gilbert. Rather than stick with the pitches that were the foundation of his success in college and through the minors, he's consistently tinkered with new grips and new pitches to enhance his arsenal, even after reaching the big leagues. Last year, he revamped each of his secondary offerings in an attempt to gain more consistent effectiveness with them. He hasn't been afraid to make adjustments on the fly during the season either, all in an effort to maximize his abilities on the mound.
This spring, Gilbert debuted a brand-new splitter to replace his changeup. That older pitch was effective in limited action, but he rarely had a good feel for it, making it an inconsistent offering at best. "I've always tried the changeup and just kind of struggled with it, [it] just wasn't natural for me," Gilbert said in an interview with Daniel Kramer of MLB.com. "So I'm just trying to find basically a variation of a splitter that I can throw like a fastball."
Before we get too deep into his new pitch, I want to go back and look at how Gilbert's entire repertoire has evolved over the last two years. To do so, I'm going to be using the new Stuff+ leaderboards recently introduced on the site. Stuff+ is a pitch model developed by Eno Sarris and Max Bay that attempts to quantify the quality of a given pitch using only the underlying physical characteristics of said pitch. Stuff+ becomes reliably predictive very quickly — in under 100 pitches — and is extremely sticky year-to-year. That reliability means it's sensitive to changes in a pitch's characteristics, making it an excellent tool to evaluate someone like Gilbert.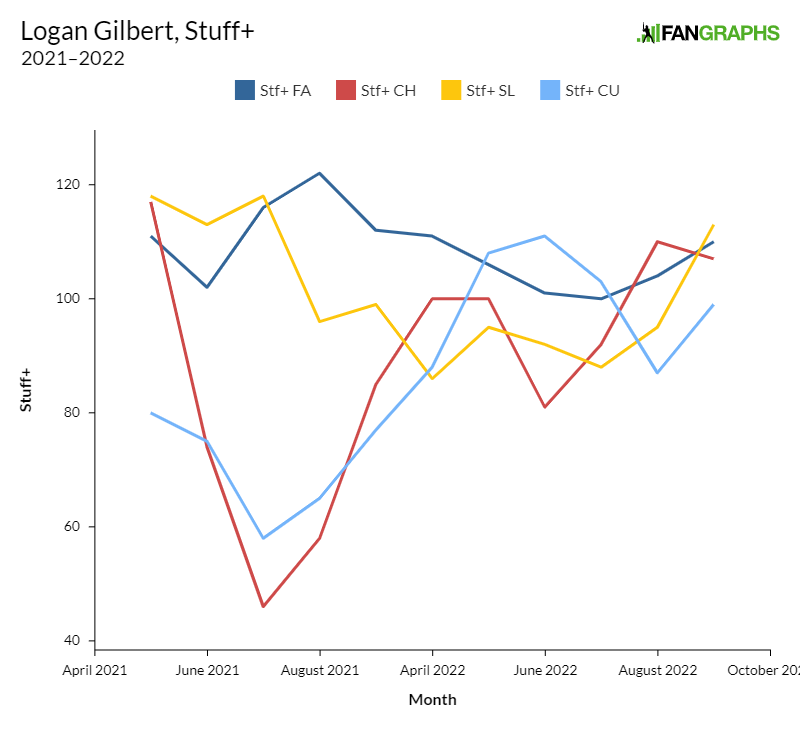 The one constant for Gilbert has been his fastball, which possesses excellent raw velocity that plays up even higher when you take into account his elite release extension. With above-average ride and good command, his heater has been the backbone of his pitch mix. If anything, he's leaned on it a little too much early in his career, but only because his secondary offerings have lagged behind. The graph above puts the inconsistency of those pitches in stark relief. His changeup finally found some sure footing last season, even if he couldn't command it at all. More importantly, his two breaking balls have oscillated in effectiveness, with neither registering above average at the same time.
When Gilbert debuted in the majors back in 2021, his slider was thrown more like a slurve in the low 80s, and his curveball was a big looping pitch that was used more as a change of pace rather than a swing-and-miss offering. Seeking more consistency and effectiveness, he redesigned all three of his secondary offerings before his second season in the majors. That was a huge undertaking, and the results were pretty mixed. Inspired by his lockout training buddy Jacob deGrom, a fellow Stetson alum, Gilbert increased the velocity on his slider, curveball, and changeup. That adjustment seemed to help the latter two, but it negatively affected his slider.
In September, inspired by another great pitcher, Gilbert went back to the drawing board with his slider. "I'm trying to throw [Justin] Verlander's slider," he told Sarris in October. "That same spin axis and velocity." The newest version of his slider had the velocity of his deGrom-inspired pitch with the vertical tilt of the pitch he debuted with. The results speak for themselves:
Logan Gilbert, Slider Characteristics
| Dates | Velocity | V Mov | H Mov | Stf+ SL | Whiff% | Hard Hit% | xwOBAcon |
| --- | --- | --- | --- | --- | --- | --- | --- |
| Early 2021 | 82.0 | 3.6 | 7.7 | 114 | 40.0% | 37.0% | .387 |
| Late 2021 | 85.2 | 5.0 | 5.0 | 98 | 36.7% | 42.9% | .571 |
| Early 2022 | 87.2 | 5.2 | 6.2 | 91 | 22.1% | 43.5% | .365 |
| Late 2022 | 85.7 | 2.0 | 5.6 | 113 | 35.3% | 32.1% | .347 |
Gilbert actually threw a proto-deGrom version of his slider in late 2021 after he increased the velocity on the pitch a few ticks in August and September. From there, it seemed like it would be easy to up the pitch's speed a bit more in 2022. Unfortunately, as he added velocity to the pitch, its whiff rate fell correspondingly, and batters continued to hit it hard when they put it in play. It's possible he's found a happy medium with the Verlander version of his slider: his whiff rate with the pitch crept back toward where it was during his rookie season, and batters had a harder time putting it in play with authority.
Looking a little deeper into the newest version of his pitch, we gain a little more insight into what makes it more effective.
Logan Gilbert, Slider Spin Characteristics
| Dates | Spin Axis | Spin Deviation | Active Spin | HAA |
| --- | --- | --- | --- | --- |
| Early 2021 | 8:25 | 39.0 | 36.40% | -1.15 |
| Late 2021 | 9:43 | 0.4 | 36.40% | 0.76 |
| Early 2022 | 11:08 | 48.3 | 37.10% | 0.74 |
| Late 2022 | 10:07 | 17.8 | 37.10% | 1.55 |
Gilbert has adjusted the spin axis of the pitch with each new version. The deGrom version had a ton of spin deviation, but more deviation — more gyro spin in this case — doesn't necessarily lead to greater effectiveness for sliders. The amount of effective spin contributing to movement combined with the spin axis meant that it was simply spiraling through the air without benefitting from the spin-based deception of seam-shifted wake effects. The Verlander version of the pitch gets this calculation correct; the amount of gyro spin is allowing the pitch to be affected by its seams in a positive manner and also comes in at a sharper horizontal angle. The result is a far more effective pitch.
Gilbert's curveball is a little easier to parse. The first version of that pitch was far too loopy and too slow to be an effective pitch in the big leagues. He could get away with using it in the minors due to the talent difference, but using it as a change of pace didn't fly in the major leagues. Increasing the velocity on the pitch last year helped it grade out better via Stuff+, but the actual results on his big bender weren't all that great.
Logan Gilbert, Slider Spin Characteristics
| Dates | Velocity | V Mov | H Mov | Stf+ SL | Whiff% | Hard Hit% | xwOBAcon |
| --- | --- | --- | --- | --- | --- | --- | --- |
| 2021 | 75.0 | -7.8 | 5.1 | 73 | 22.7% | 0.0% | 0.155 |
| 2022 | 80.8 | -8.3 | 4.2 | 100 | 23.3% | 49.2% | 0.345 |
Gilbert's curveball had the same problems that plagued his other breaking ball; it wasn't a swing-and-miss pitch, and batters hammered it when they put it in play. After introducing his Verlander slider, Gilbert reduced the usage of his curveball to just 4.6% in September. With his improved slider looking like it's poised to become a steady weapon for him, he could probably continue to keep his curveball as a tertiary option to give batters another look during the second or third time through the order. It doesn't seem like it'll ever be good enough to be featured as a put away pitch.
With his breaking balls sorted out, Gilbert has focused on his offspeed offering this spring, introducing a new split-change to keep left-handed batters at bay. To develop it, he worked with the pitch design specialists at Driveline over the offseason. Chris Langin, director of pitching at Driveline, had a fascinating Twitter thread detailing Gilbert's pitch design process.
This was the 3rd splitter @logangilbert22 threw in his life…

1st: 7.2" Vert (11" off Fastball)
2nd: 2.1" Vert (16" FB)
3rd: This Beast… (-) 3.3" Vert (20+" FB)

Could say he's a natural fit for the pitch ?

? https://t.co/7SWUbVfsEb pic.twitter.com/B44CVj15fR

— Chris Langin (@LanginTots13) February 15, 2023
Unfortunately, we don't have any Statcast data for any of Gilbert's spring training starts, but based on the pitch characteristics listed in Langin's thread, the splitter compares favorably to the one that Frankie Montas throws. That pitch unlocked a new level of success for Montas when he introduced it in 2019; if it gives Gilbert a third offering he can use to generate whiffs and weak contact, it could have the same kind of ceiling raising effect on his career. And if it doesn't work out, we could be talking about another brand new pitch in this space in just a few months. That drive to continue improving is a strength of Gilbert's and a fantastic sign for his future, even if he's throwing a completely new repertoire in a few years.
Jake Mailhot is a contributor to FanGraphs. A long-suffering Mariners fan, he also writes about them for Lookout Landing. Follow him on Twitter @jakemailhot.