Two weeks ago, Jay Jaffe ranked Luis Castillo fifth on his list of this season's most improved pitchers, noting in the process Castillo's ability to carry high strikeout rates (28.9%; eighth among NL starters) and groundball rates (55.3%; second) at the same time, thereby avoiding to some degree the harshest consequences of the major leagues' home run boom. In this, Castillo's third major league season, the 26-year-old Dominican has posted career-best marks in innings pitched (178 2/3), FIP (3.63), HR/9 (1.01) and the aforementioned strikeout rate. Last week, I caught up with him about the pitch he thinks has been key to his success: the changeup.
When Castillo made his debut for Cincinnati back in 2017, he threw his changeup 87-88 mph with modest break down and away to lefties and middle-in to righties. Eric Longenhagen, in ranking Castillo 10th in the Reds' system coming into the 2017 season, rated the pitch a "below average" 40/45 but noted that it could improve with repetition, given Castillo's arm speed and underlying talent. Each year since then has seen Castillo use the pitch more often than the season before:
Castillo & Change
| Year | CH% | wCH/100 |
| --- | --- | --- |
| 2017 | 22.7% | 3.04 |
| 2018 | 26.4% | 1.23 |
| 2019 | 32.5% | 2.91 |
Apparently the repetition has helped. In its present form, Castillo's changeup — now with an inch more bite on each axis, thanks to mechanical changes between 2017 and 2018, while still sitting at 87-88 mph — ranks behind only Brad Keller's as the most valuable pitch of its kind in the game (as measured by linear weights). And it's gone a long way towards correcting one of Castillo's obvious weaknesses coming into the season: an inability to put away left-handed hitters with anything near the same effectiveness he's always displayed when dispatching righties (lefties put up a .373 wOBA against him last year, compared to a .256 from righties).
"I think the main thing for me this year has been that my secondary pitches are working way better against lefties," he told me, in comments translated here and throughout this piece by Julio Morillo. "Last year, a lot of those pitches were left up over the middle of the plate and I was getting hit hard. This year, I've been able to place them better so I can get into counts where I can use my fastball as a weapon early in counts instead of just to try to steal a strike." That adjustment shows up clear as day in Castillo's heat maps. Here's where Castillo's 203 changeups went against lefties back in 2017: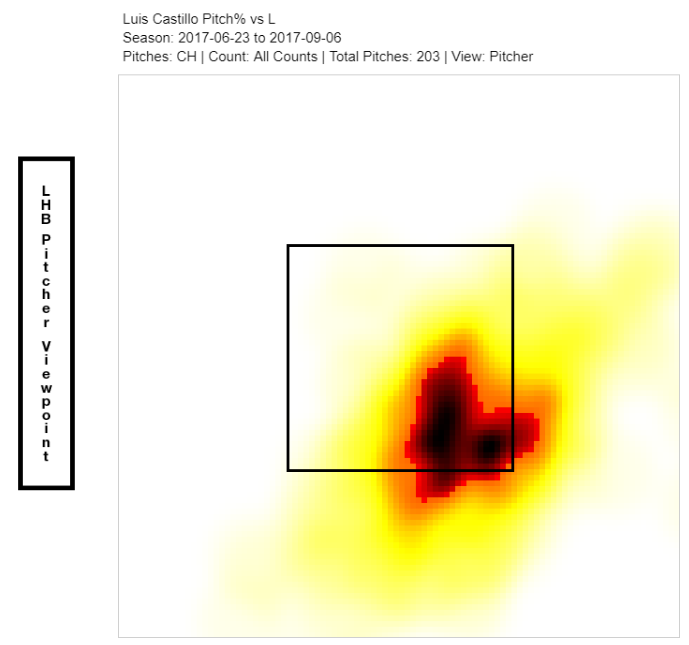 And here's where 2019's changeups have ended up: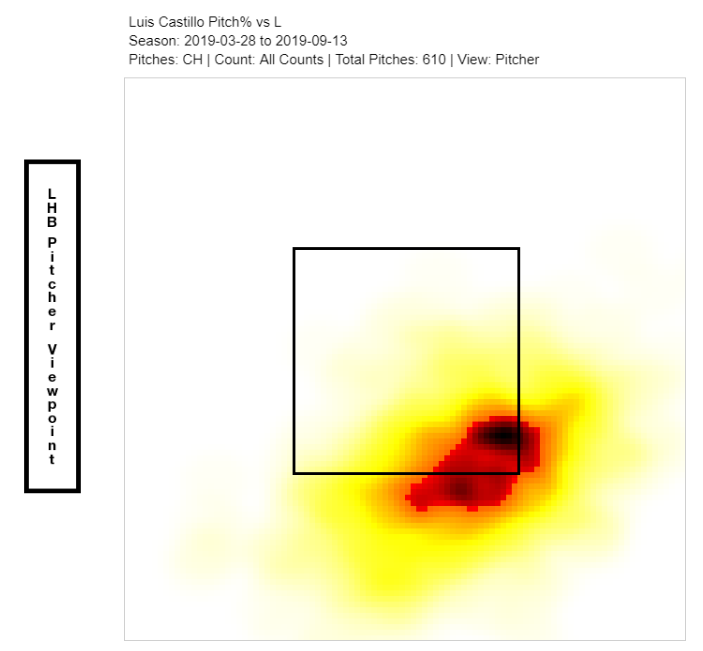 All those changeups that trickled up into the strike zone in 2017 — or, more accurately, never got down and away quite as much as they should have — have disappeared in 2019 (and, to some extent, in 2018 as well). The result is that lefties are hitting just .134 against the pitch this year after putting up a .215 mark last year. Because of Castillo's increased reliance on that pitch, meanwhile — and lefties' continued willingness to offer at it — that improvement in location has translated into outs and overall effectiveness with outsize effect. Castillo has limited lefties to a .301 wOBA this year, which, although far from ideal, is a 70-point improvement over last year's figure and pulls Castillo much closer to split neutral than he was before.
Castillo's improved changeup command has also come alongside improvements in his other pitches. Castillo's fastball, always fast but sometimes a little bit too easy to hit, has produced a positive run value in 2019 for the first time in his career. He credits that change to, well, the change. It's increased effectiveness with two strikes has allowed him to move what has always been an excellent slider to early-count duty, which in turn has freed him up to become less predictable when he falls behind in counts. The result is that Castillo is coming into the strike zone less often than ever — just 35.8% of the time, compared to 44.5% of the time last year and 46.1% in 2017 — but is still getting the same swinging strike rates inside the zone and better ones outside it.
"My slider used to be where I'd go with two strikes," he told me, "but now, if I'm behind in the count, I'll want to go to the changeup. The slider is my third-best pitch right now. My changeup is more lateral than down, and to the glove side. That's a really hard pitch for a left-hander to handle. So if I'm able to throw it right on that bottom corner with two strikes, I'll have success. And this year I think I've been able to command that pitch, just have better control over it."
There are still weaknesses in Castillo's game. His walk rate, at 9.9%, is higher than it has ever been and among the worst 10 marks in the game among qualified pitchers. And after posting a 2.20 ERA over his first 14 starts of the season, Castillo has posted a 4.08 mark in his most recent 16. It's been more than two months, in fact, since he's gone an entire start without allowing a run. Perhaps more concerning is that lefties have whiffed on the changeup just 19% of the time in three September starts after posting marks 10 points higher for much of the season. Perhaps he's slipped away from the mechanical changes that gave him such exquisite command on the pitch in the beginning of the season. Perhaps he's just tired. Either way, he sounds ready to build on his season-long success next year.
"I think with the pitches that I have right now, I should be able to lower my walk rate [next year]," he said. "The main thing is just trusting myself to throw them into the zone. Hitters these days are really good, man. They can hit those pitches a long way."
Rian Watt is a contributor to FanGraphs based in Seattle. His work has appeared at Vice, Baseball Prospectus, The Athletic, FiveThirtyEight, and some other places too. By day, he works with communities around the world to end homelessness.