Earlier this offseason, I wrote that even if everything broke right for the free agents who remained on the market, we'd see a roughly one percent increase in Opening Day payrolls compared to last year. At the time, I cautioned that things were not likely to break right for the remaining free agents, and that a similar exercise the year prior ended with a one percent drop on Opening Day. Even worse for the players, that one percent drop last season turned into a 2.5% drop by season's end. Opening Day payrolls are down again in 2019 by roughly the same amount as last year. If last season's scenario were to repeat itself, the players will be looking at a half-billion dollar swing in revenues to owners in 2019 alone even if we assume that the split between players and owners was 50/50 two seasons ago.
As we begin the 2019 season, here's a look at every team's Opening Day payroll, per Cot's Contracts, which includes a team's 25-man roster plus whatever other obligations they've accrued to players who are on the injured list or no longer with the club.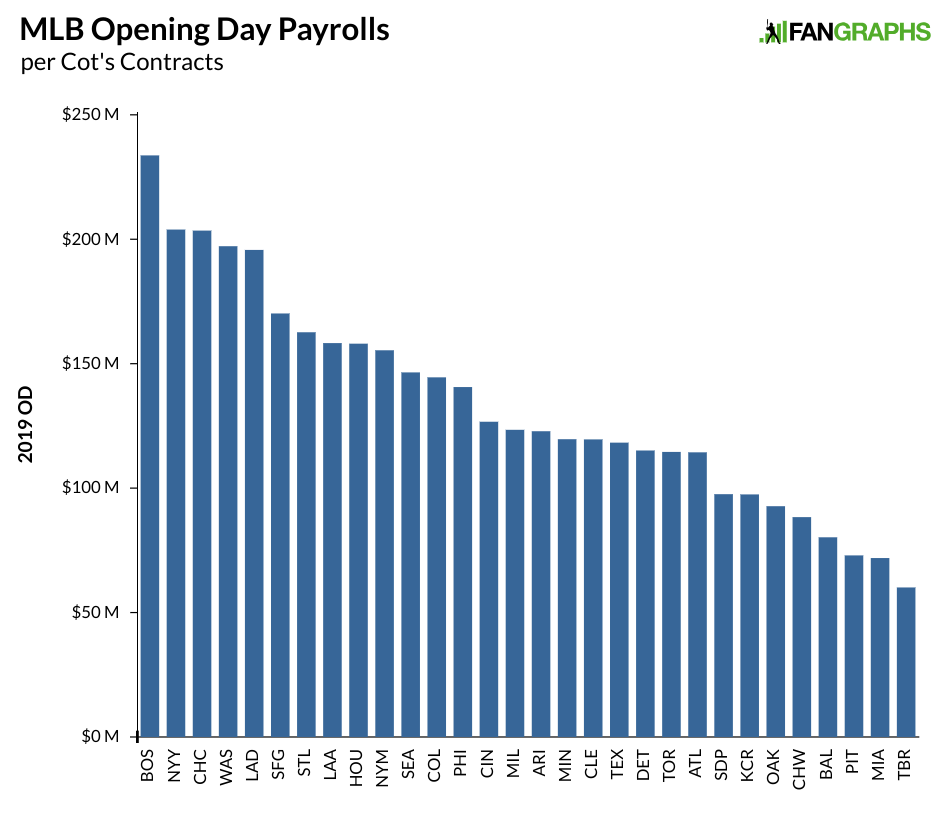 The Red Sox, coming off their World Series win and the highest major league payroll in 2018, look poised to repeat at least one of those designations this season with a decent shot at both. The Yankees appear just above $200 million this season after a major decline last season, though the team first crossed the $200 million barrier back in 2005, so it is hardly heady territory for them. The Cubs have seen their payroll rise as they try to augment their World Series-winning core with free agents, though they sat this winter out. The Nationals kept up spending after Bryce Harper's departure, and Los Angeles looks to be trying to stay under the competitive balance tax for the second straight season after averaging a figure more than $50 million higher the previous three seasons. At the lower end of the spectrum, we see the usual suspects of smaller-market teams and traditionally weak-spenders.
To provide some context to these numbers, we can compare them to where they were one year ago. First, let's look at percentages to see which teams have made the biggest moves compared to their own payrolls from a season ago.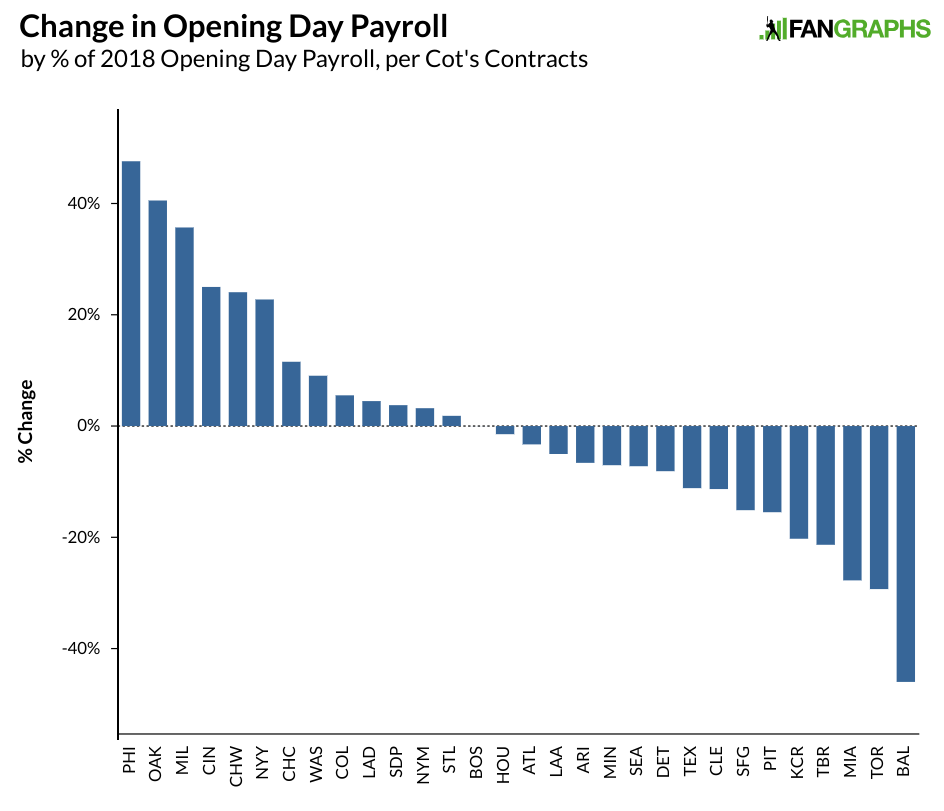 After signing Bryce Harper, Andrew McCutchen, and David Robertson, and trading for Jean Segura and J.T. Realmuto, it shouldn't come as much of a surprise to see Philadelphia leading the way. I should note that Philadelphia's payroll was artificially low over the past few seasons as they were rebuilding. With a $140 million payroll to start this season, they are still $24 million below their average from 2011-2015, even before factoring in inflation. While Mike Trout is no longer on the table as a future acquisition, the Phillies should still have room to grow should they need to. It might be a bit of a surprise to see Oakland so far too the left, but their $65 million April payroll a year ago was a steep decline and they are actually still within about $10 million of their payrolls from 2014 to 2017.
The NL Central shows up as a big mover, with Cincinnati trying to get back into the playoff picture, the Brewers moving forward to stay in contention after a great 2018 run, and the Cubs just paying the players they do have more money. A few of the more active teams this winter like the Padres, Mets, and Cardinals didn't actually move payroll all that much due to expiring contracts. Nearly half (14) of all major league teams are within 10% of where they were a year ago, with seven teams making jumps greater than 10% and nine teams decreasing payroll by at least that much. Curiously, Cleveland, Pittsburgh, and Tampa Bay are all potential contenders who have lowered payroll. Less of a surprise, with rebuilds ongoing in Baltimore, Toronto, Miami, and Kansas City, those clubs all saw a drop in payroll.
If we look only at dollar figures, we see a similar graph, but with a few notable differences.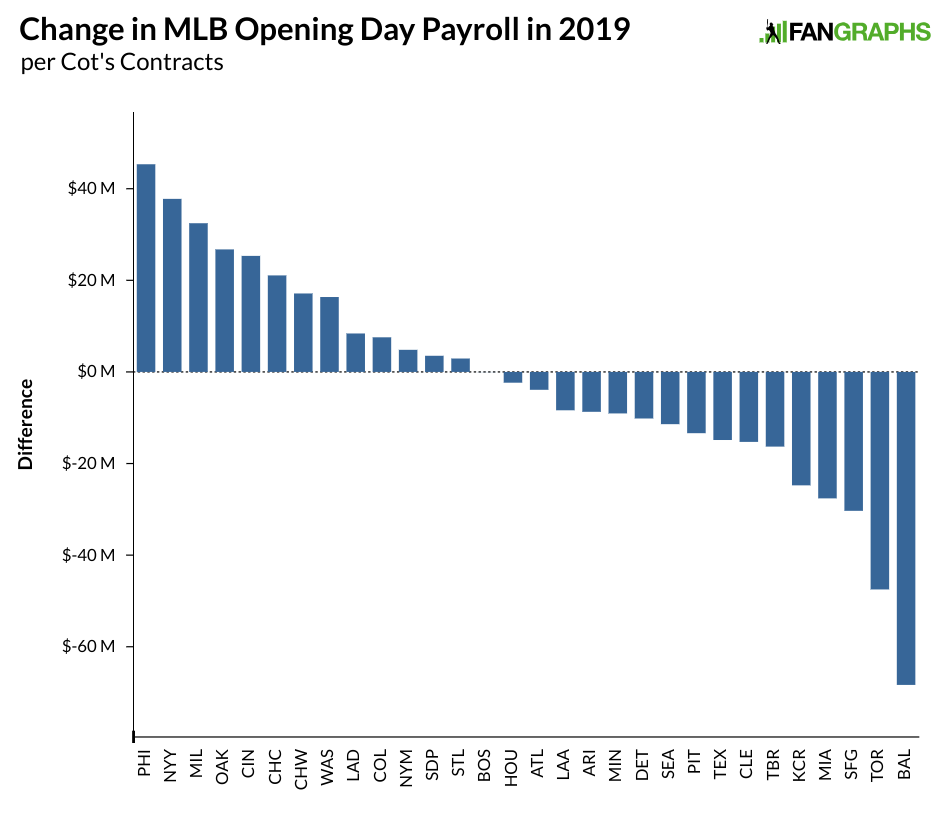 In this graph, we see the Yankees move closer to the top, as a small percentage in their payroll accounts for more money than with most teams given its size. The same is true for the Giants at the other end due to a $200 million payroll to start last season. In the end, we see a $60 million deficit from a season ago, which works out to a 1.5% drop. In the scheme of things, 1.5% might not seem like much, but if the end of the season numbers drop another percent like they did last year, and MLB revenue increases by another three percent like it did last year, as a percentage of revenues, the changes are drastic.
If we assume that players and teams had a 50/50 split before 2017, but payroll drops by 2.5% in two straight years and MLB revenues rise by 3% in two consecutive seasons, the share of revenue for players drops from 50% to 45%. In a $10 billion industry, that's a half-billion dollar move, and a one billion dollar difference between the players and owners.
We've now seen 10 contract extensions for players within a couple years of free agency for roughly $1.5 billion, but the effect of those extensions on 2019 is almost non-existent. Even when we look at the raises those players will receive, the average raise once those players hit what would have been free agent years is under $8 million per player. That means that in 2020 and beyond, we are only going to see around a $80 million increase over where payroll sits at the moment. With major league minimums and arbitration capping what players receive in their first six or seven years, free agency is currently the only realistic avenue the players have for increasing their share of revenue; all of these contract extensions don't do much to change the trends we are seeing.
Craig Edwards can be found on twitter @craigjedwards.