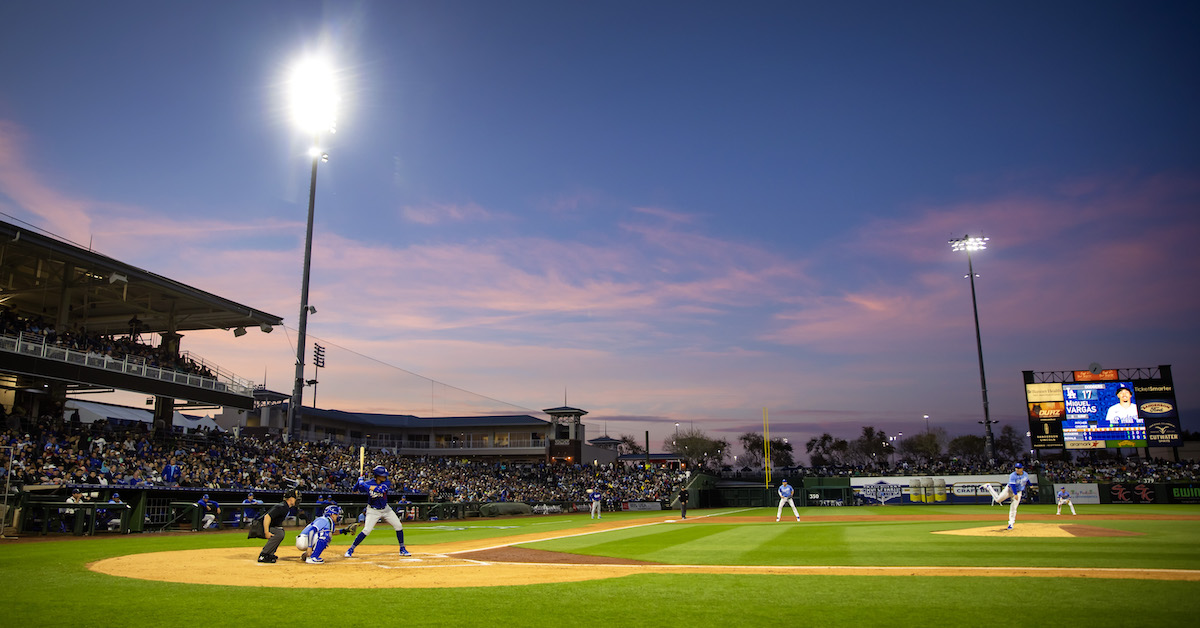 Miguel Vargas will take his first swing of spring training today. That wouldn't be that notable, except that Vargas has already played in six spring training games and had 11 spring training plate appearances. He just hasn't swung yet. That's been necessary because of a hairline fracture in his right pinkie he suffered while taking groundballs. Vargas is the Dodgers' fifth-ranked prospect, and with Gavin Lux out for the season and Messieurs Turner and Turner off to Boston and Philadelphia, Los Angeles needs him at second base. The Dodgers want Vargas getting game reps at the keystone and seeing live, competitive pitches. So there he is, playing despite the fact that he's not medically cleared to swing the bat in a game.
Just seeing pitches is plenty important. You don't need to swing to track pitches and work on your timing. Take Kyle Schwarber, whose heroics in the 2016 World Series came after a horrific knee injury cost him most of that season. After acing his six-month checkup and being cleared to hit, Schwarber flew out to the Arizona Fall League, where he could see as many pitches as possible before the Series. He played in two real games and two simulated ones, but the real work happened in the cage, much of it with the bat on his shoulder. Per Tom Verducci, "Schwarber hit or tracked 1,300 pitches in four days — many out of a pitching machine that fired major-league quality breaking pitches, some from two Class A pitchers the Cubs brought in to pitch to him in the simulated games and some from coaches."
Besides, you can't just swing all day anyway. For one, hitting is murder on your hands. Zach Crizer and Hannah Keyser noted last year that the new challenge for the makers of the latest hyper-accurate pitching machines is finding a way to use lighter balls so players can actually use the machines more. Also, swinging is tiring work. After a while, fatigue causes your swing to break down, and all of a sudden every swing you take reinforces bad mechanics instead of good ones.
That said, as he's dug into the box, Vargas hasn't always given the impression that he's devoting himself fully to his pitch tracking assignment. The stance he's been using in spring training is very different than the one he used last year. He looks a lot less athletic and lot more like the dummy pitchers sometimes put in the batters box when they need a reference point:

However, by the time the pitcher is ready to deliver, Vargas is back to his old stance, getting deep into a crouch and using the same leg kick to track pitches. Despite his resemblance to a piece of plastic, Vargas started things off with a great deal of success, vindicating Eno Sarris once and for all. Across his time in Triple-A and the big leagues, Elvis Peguero had just a 7% walk rate last year. That didn't stop him from issuing a walk in Vargas' first spring training plate appearance, this despite the fact that the Brewers had been notified before the game that he wouldn't be swinging. Vargas wore a slight smirk as he reached first:
Two days later, Vargas made his second plate appearance and earned his second walk. Zero ABs, 1.000 OBP. It helped that pitcher Reiss Knehr got squeezed a bit on two pitches that certainly looked like they could have been strike three. For just a moment, the Dodgers' broadcast team started to sound a little annoyed by the whole farce. "And someone somewhere is saying, 'Oh, what a good eye,'" said Rick Monday. "No, he just wasn't gonna swing!"
The Dodgers announcers deserve a fair bit of credit. They're trying to find something interesting to say about a guy who literally has a doctor's note that says he's not allowed do anything interesting. They've quickly ran out of baseball references, so they've turned to football, making the same joke about the Statue of Liberty play in three straight games.
Vargas finally struck out in his third plate appearance. The backwards K came courtesy of Luis García, he of the 26.3% strikeout rate. As it turns out, the most fun thing about watching Vargas not swing is that when he strikes out, he tends to peace out in a hurry. He does an about-face style pivot and starts backing away from the plate before the umpire makes his call, even if he's not all that sure the pitch was a strike. Sometimes he's out of frame entirely by the time the catcher throws the ball around the horn. Vargas genuinely looks like he cannot wait to get the hell out of the batter's box, as if he left half a turkey sandwich in the dugout and he really wants to finish it before the next inning starts.
Vargas walked four times in his first six plate appearances, good for a .667 OPS. For those keeping score at home, that's a .667 on-base percentage plus a .000 slugging percentage, and it comes out far above the .455 OPS he posted in his 2022 cup of coffee.
The Dodgers aren't hiding Vargas' injury. It's been the newspapers, and according to the Dodgers broadcast, Dave Roberts has told opposing managers that Vargas wouldn't be swinging. However, isn't surprising that opposing pitchers aren't completely up to date on a 23-year-old with 47 career big league ABs. And surely some of them treated Vargas like any other batter because they need to get in reps just like he does.
Vargas isn't the first player who hasn't been able to swing for a medical reason. In 2016, rookie pitcher Robert Gsellman made 17 plate appearances for the Mets with a torn labrum. He attempted to bunt in 14 of them. Sam Miller broke down each plate appearance, trying to pinpoint when exactly opposing teams realized that Gsellman wasn't capable of swinging. They almost always seemed not to know, or at least to act as if they didn't. People tend to see what they expect to see. Miguel Vargas digs in with batting gloves, a shinguard, an elbow protector and a big leg kick, and pitchers take him seriously. All the same, by the time the Dodgers faced the Rangers on March 1, the non-secret was definitely out.
Cole Ragans and Andrew Heaney saved themselves the exertion and threw mostly get-me-over fastballs to Vargas. Unfortunately for Heaney, he still couldn't get them over, and he walked Vargas on five pitches. On Thursday, a "Let's Go Dodgers" chant broke out after Arizona's Ryne Nelson fell behind 3-1. Nelson missed again, and Vargas got to take his base. Those two walks had absolutely nothing to do with Vargas. Sometimes throwing strikes is just hard.
That was Vargas' last free pass. Unfortunately, and through absolutely no fault of his own, he has come back to earth in the last few games. He has now walked four times and struck out seven times. Still, his 36.4% walk rate tops his best season in the minors by more than 20 points, which is great as long as you don't think about the 64.6% strikeout rate. The Dodger rookie has ascended to a new plane of baseball existence. He looks down on Joey Gallo and laughs, for he alone presides over the realm of the Two True Outcomes.
In his last five plate appearances, Vargas saw nothing but fastballs, usually of the low-effort, right-down-the-middle variety. The most entertaining strikeout by far came on Saturday. After missing with his first pitch, Zack Greinke gave Vargas everything he had, grunting as he threw a fastball right down the middle to even the count at 1-1. And then all of sudden, Greinke seemed to remember who he was dealing with. He dropped the conceit of a delivery entirely and just tossed the ball over the plate for strike two, eliciting laughter from the fans. He did the same thing on his next pitch, but the loopy toss missed inside, so he revved back up and fired a grunting strike three at full speed (relatively speaking) as the crowd roared. Greinke still used PitchCom the entire time, just to make sure that he wouldn't cross up the catcher with his 59-mph fastball.
It takes a certain amount of courage to do what Miguel Vargas is doing. He's 23 years old, he's played 18 games in the big leagues, and he's going up there and basically begging the pitcher to strike him out. It may be spring training, and he might have a good reason, but there are still crowds and TV cameras taking in his every non-move. Maybe he's bored up there, or embarrassed. Or maybe he's focused on every pitch. Upright stance aside, he certainly looks like he's paying attention. He deploys his leg kick and watches every offering. He takes tender practice cuts between pitches. For reasons passing understanding, between balls three and four from Andrew Heaney, he brought the bat up to his face so he could sniff the barrel.
Today, Miguel Vargas will take his first swing of spring training, or maybe he'll just watch the pitches go by, this time making the choice for himself.
Davy Andrews is a Brooklyn-based musician and a contributing writer for FanGraphs. He can be found on Twitter @davyandrewsdavy.