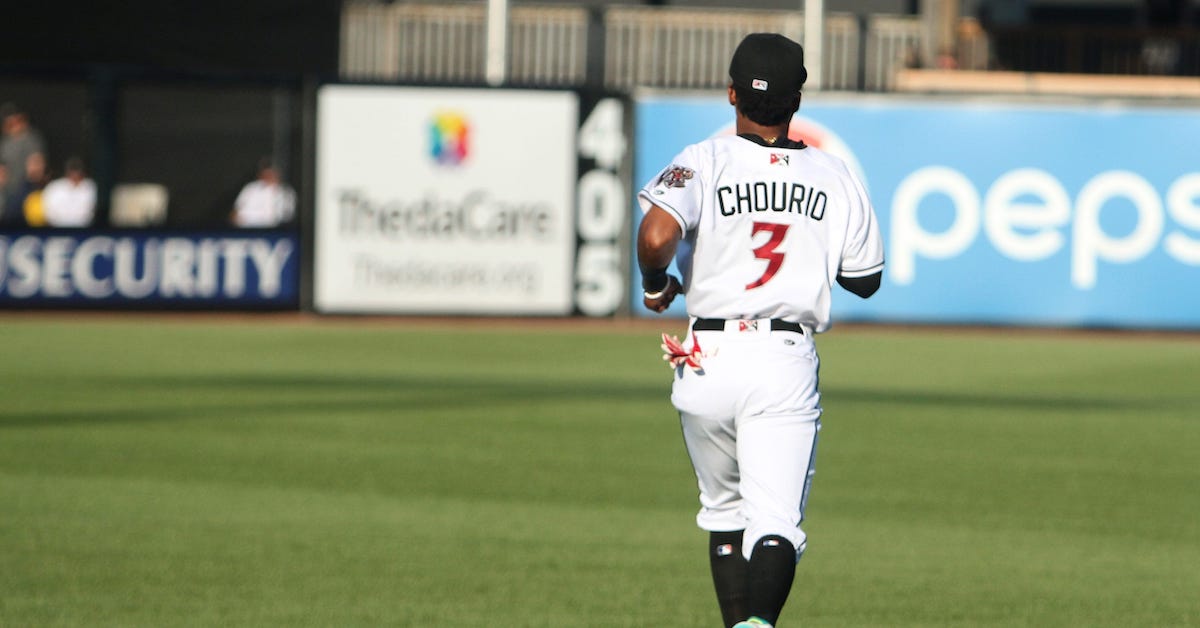 Top Prospects Series
Below is an analysis of the prospects in the farm system of the Milwaukee Brewers. Scouting reports were compiled with information provided by industry sources as well as my own observations. This is the third year we're delineating between two anticipated relief roles, the abbreviations for which you'll see in the "position" column below: MIRP for multi-inning relief pitchers, and SIRP for single-inning relief pitchers. The ETAs listed generally correspond to the year a player has to be added to the 40-man roster to avoid being made eligible for the Rule 5 draft. Manual adjustments are made where they seem appropriate, but I use that as a rule of thumb.
A quick overview of what FV (Future Value) means can be found here. A much deeper overview can be found here.
All of the ranked prospects below also appear on The Board, a resource the site offers featuring sortable scouting information for every organization. It has more details (and updated TrackMan data from various sources) than this article and integrates every team's list so readers can compare prospects across farm systems. It can be found here.
Editor's Note: Joseph Hernandez (no. 22) was added to this list following his acquisition from the Seattle Mariners as part of the Justin Topa deal.
Reading Options
Position Filter
All
All
C
2B
SS
3B
LF
CF
RF
SP
SIRP
MIRP
Other Prospects of Note
Grouped by type and listed in order of preference within each category.
Toolsy Youngsters
Daniel Guilarte, SS
Gregory Barrios, SS
Jace Avina, OF
Kaylan Nicasia, OF
Dylan O'Rae, 2B
Jhonny Severino, RF
Teenage Venezuelan shortstops Guilarte and Barrios are both slick defenders whose offensive careers are off to solid starts. Both were on the complex in 2022. Guilarte has more room to grow, while Barrios is the slightly better defender and has better present feel to hit. Avina, a 2021 14th rounder out of Sparks, Nevada, hit for huge power on the complex and in Low-A, with 15 homers in 64 games. The track record for hitters who strike out as much as he has early on isn't great, but he already has above-average pull power at age 19 and still has room to grow. Nicasia is another Day Three high schooler from 2021 (Hialeah, FL) whose bat took off when he was moved to the outfield full-time. He is a very well-built switch hitter with a swing that's geared for lift. The lilliputian O'Rae got just shy of $600,000 in the 2022 third round as a speedy, high-contact catalyst. He's a developmental 2B/CF on defense. Currently an infielder, the 18-year-old Severino looks like a future right fielder. He's a deep projection hitter with a plus arm.
Indy Ball Parade
Justin Topa, SIRP
Ryan Middendorf, SIRP
Brandon Knarr, SP
Kent Hasler, SIRP
Topa is 31 but still prospect eligible because of all his injuries. He was back to sitting 94-97 mph when he returned from his latest setback in 2022, then suffered a non-arm injury that ended his season. When healthy, he's looked like a big league reliever. Middendorf is where the Brewers' Independent ball bent and their low/weird delivery obsession intersect. He's a drop-and-drive side-armer like recent Tampa Bay Ray Ryan Thompson. Knarr and Hasler are both more typical. Knarr is your standard four-pitch depth starter with below-average arm strength and pretty good secondary stuff (splitter, curveball), while Hasler is a slider-heavy reliever. Knarr was an undrafted free agent while the others signed out of Indy ball.
Present Arm Strength
Tyler Woessner, SP
Aidan Maldonado, SIRP
Jeison Pena, MIRP
Shane Smith, SIRP
Patricio Aquino, SP
Woessner is a multi-year JUCO prospect from Central Arizona with shoulders as wide as a barn door. His frame and delivery look built to last, and he started throwing harder after the draft (up to 98 mph), albeit in short outings. Maldonado was a late pick from Minnesota who also bumped 98 while airing it out in relief during instructs. Pena, 20, has a cut/rise low-90s fastball that creeps up to 96 (more 92-94) and a future plus slider. He pitched as a multi-inning reliever at Low-A. Smith had TJ during his draft year and signed as a 2021 undrafted free agent. Back from rehab in the fall, he was 93-95 with a good curveball and cutter, and spotty control. Aquino, 19, has a reliever's delivery and frame, but he's already sitting 93 and snaps off some nasty vertical sliders.
Future Arm Strength
Will Rudy, SP
Edwin Jimenez, SP
Manuel Rodriguez, SP
Rudy, 21, was an early Day Two pick out of Cal Poly Pomona in 2022 and has great natural breaking ball shape. Jimenez, 21, is well-built, has a good-looking delivery, and wields a decent four-pitch mix, but he sits 87-91 mph right now. Still 17, Rodriguez pitched on Mexico's U-18 National team in September after spending 2022 in the DSL. He only sits 86-88, but his frame has at least average projection and his fastball spins in at a whopping 2,600 rpm, which is ridiculous at those velocities. This whole group has the foundation to make a leap if they start throwing harder.
High-Floor Depth Arms
Nick Bennett, SIRP
Clayton Andrews, SIRP
Luis Contreras, SIRP
Victor Castaneda, MIRP
Except for Andrews, every fastball in this group punches below its weight. Bennett has been developed as a starter, but he's probably a lefty reliever. His slider is great, but he sits 88 mph. Andrews was a little wild when he first came back from TJ, but he's still an athletic three-pitch reliever with a sneaky upper-80s fastball. Contreras pitched in the Fall League and continued into the Venezuelan Winter League, working 90-92 with a cutter (more for chase than pitching to contact) and changeup. Castaneda has a splitter and straight change and has performed at an even pace through the mid-minors even though his fastball velocity has backed up from its post-pandemic peak.
System Overview
The Brewers ended the 2022 season as the 16th-ranked farm system in baseball, with 15 players in the 40+ FV tier or above and three Top 100 guys. After moving Sal Frelick up from the 45+ FV tier (part of me thinks he still belongs there, as the possibility that he isn't a center field is very real), they now have four in the Top 100. With that bump, the system would have ranked 12th at the end of the year, so that's roughly where it fits across the game, plus or minus a few spots.
The Brewers have clear patterns of acquisition on the amateur side. Measurable hitting skill is pervasive through all of their drafts. They take low-strikeout, short-levered, up-the-middle hitters, and often ignore size and physical projection in pursuit of it. Milwaukee's attraction to junior college and Indy ball pitchers indicates the org is looking for developmental meat on the bone rather than targeting pitchers who are more likely to be maxed out, or closer to it, from a pitch design standpoint. They're more active in Venezuela than most other clubs and (these things are somewhat related) tend to have several leather wizard shortstops in the org, a group that is especially deep right now. The Brewers showcased three of them across their two ACL teams in 2022. Virtually all of their pitchers in the DSL have shallow-angle fastballs, another common theme in the system as a whole.
This club hasn't signed a big leaguer to a free agent contract yet this offseason, though it has arguably gotten better through trades. So much of their ability to contend feels like it depends on Christian Yelich returning to something approaching the form he's now three years removed from showing. The glut of outfielders who should soon be ready to make some kind of an impact will help fill in behind Jesse Winker (whose contract ends after next season) if he has a bounce-back year of his own in 2023. Like Arizona, it's possible the Brewers consider their young outfield group deep enough to trade from, but they're all more divisive than the D-backs group, especially Wiemer and Mitchell.
Eric Longenhagen is from Catasauqua, PA and currently lives in Tempe, AZ. He spent four years working for the Phillies Triple-A affiliate, two with Baseball Info Solutions and two contributing to prospect coverage at ESPN.com. Previous work can also be found at Sports On Earth, CrashburnAlley and Prospect Insider.