Pitchers learn and develop different pitches, and they do so at varying stages of their lives. It might be a curveball in high school, a cutter in college, or a changeup in A-ball. Sometimes the addition or refinement is a natural progression — graduating from Pitching 101 to advanced course work — and often it's a matter of necessity. In order to get hitters out as the quality of competition improves, a pitcher needs to optimize his repertoire.
In this installment of the series, we'll hear from three pitchers — Nestor Cortes Jr., Randy Flores, and Vince Velasquez — on how they learned and developed their sliders.
———
Nestor Cortes Jr., New York Yankees
"When I first got drafted, I was just fastball-curveball-changeup. One of my pitching coaches in Rookie ball, Jose Rosado, told me I needed [a slider]. I was throwing a bullpen and he was, 'Hey, you've got the slow curveball, and you've got your heater. There's about a 15 mph difference, so you need something in between.' We started messing around with the grip.
"It's come a long way since then, but there's still a lot of room to improve it. It's basically like a cutter, and I'm trying to get more depth to it. I've tried to make it better, but I haven't been able to get the result I wanted, so when I was back in Triple-A this year I went back to the one that's more like a cutter. But I still call it a slider. It's bigger and slower than a true cutter.
"I'm trying to create more spin with it. I'm substituting the velo for spin, trying to get more break. I'm also kind of messing around with the grip. I'm keeping it the same to where I can feel I'm ripping through it, but I'm maybe getting more on top of it, to where I can create the angle of my fastball. I think my fastball angle is good with the slider from that slot.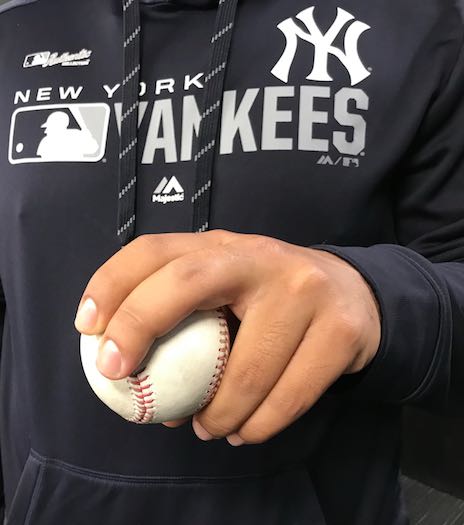 "Along those lines, I started throwing my slider from the side. I try to make it go off my fastball from down there, so that they see a different look; I want them to take their eyes off the fastball. I want that one to be sweepier, and less cutter-ish. I want it start on the plate, and then go off the plate. For righties, it's a great pitch, because it's 'ball, ball, ball, strike.' But for lefties… that's where I struggle. I can't make it, 'strike, strike, strike, ball,' because right now it's only breaking six or seven inches. I need for it to go down, and not just sideways.
"So I'm trying to get more depth. Working with our analytics department… we're trying to see gyro spin, and the release point of it. I've heard, 'Throw it like a football,' and 'Get your fingers front.' There are a lot of different strategies, and what works for me might not work for you. You have to play around with pitches to see what does work for you."
Randy Flores, St. Louis Cardinals (assistant GM)
"I was a senior sign, by the Yankees [in 1997] and had an enormous adjustment to make. I had to adjust to the professional strike zone from the college strike zone. I was expecting to get calls two inches off the plate, and I wasn't. Because I never had high velocity and didn't have a pitch to come inside to right-handed batters with, I was getting my teeth kicked in by pro hitters.
"Tom Filer was my pitching coach. He taught me, and every day, for months, refined the pitch that at the time was a cutter. It really opened up the inner part against right-handed batters for me. That cutter then morphed into the slider I wound up using in the big leagues. Without that pitch, and without his instruction, I would have had no shot.
"Everyone is different. I have small hands, and I'm not a long-levered person, so I had to manipulate the ball by changing my hand position, rather than my fingers. For me, it was about gripping the four-seam — keeping the four-seam grip pretty true — slightly offsetting the ball, and then turning my hand at an angle to where I could cut through the ball with my hand, rather than with my fingers. The sensation I felt was as if I was bringing my palm back to my pocket.
"It was about manipulating my hand positioning, and the intensity with which I came through the zone, to help me decide whether it was going to be a small break or a big break. Where other guys are cutting the ball a lot more with their fingers, I was doing it more with my hand and wrist.
"I would ask a lot of guys how they gripped different pitches, and I couldn't do it, because my hand wasn't shaped like theirs. I had to find my own way. The funny thing is, my brother [Ron Flores] also got to the big leagues as a left-handed pitcher, and he asked how I threw my cutter. I showed him my grip, and the way I did it, but the way his body worked, the way his hand size worked, it didn't work for him.
"My cutter kind of morphed into a slider because I wound up facing more lefties. It was a pitch I learned in order to stay a starter in the minor leagues — I threw almost 1,100 minor-league innings — but in the big leagues I was mainly facing left-handed batters. Essentially, what I would do is just crank that cutter more. That made it into a slider. I would kind of just dial up how much I popped my wrist, in order for it to slide rather than cut."
Vince Velasquez, Philadelphia Phillies
"I started throwing my [current] slider last year. It was maybe a year before that when I began fiddling with it, looking to acquire something else for my arsenal in the starting rotation. I'd always been a fastball-changeup-curveball guy, and needed to develop another pitch.
"When I was in the minor leagues I worked with Doug Brocail. He was pretty much my Double-A guy before I got called up to the big leagues. I mean, there were probably some talks about it, but I was still that three-pitch guy. Probably… man, even though that was in '14, I'm telling you that I developed a pitch, and then started to bring it back a little bit more in '16.
"It was just a matter of being more repetitious with it, to be honest with you. It's very basic to kind of learn a slider. You're just finding a grip and throwing it hard, with maybe a little bit of the rotation of a football throw. When you throw a football it's with a spiral. Kind of that same concept. You're out in front, and letting your fingers do their thing. Right?
"A slider works well with my arm slot, although at the same time, it was kind of hard to find the right slot because my arm is very rapid. It's fast. I have a lot of movement, so it was a matter of finding that comfort, that slot, to where I could just get into it, and grip it and rip it.
"I guess I don't have any fancy story about how I developed it. It was just working on it in bullpens, and then I started getting a groove with it. Was there maybe a little more oomph behind it, or a little more twerk, as far as gauging my hand? Yeah, there may have been a little of that, but I always came back to the thought of, 'Grip it, rip it, throw it like a football with my hand out in front — just let my fingers do their thing.'"
——
The 2018 installments of this series can be found here.
David Laurila grew up in Michigan's Upper Peninsula and now writes about baseball from his home in Cambridge, Mass. He authored the Prospectus Q&A series at Baseball Prospectus from December 2006-May 2011 before being claimed off waivers by FanGraphs. He can be followed on Twitter @DavidLaurilaQA.