There are many proposals floating around concerning when and how the major league season will begin. Several such plans include divisional alignments that go beyond the standard American and National Leagues that have been present for more than a century. The main point of difference still in play between the leagues is the presence of the designated hitter in the American League and the absence of the same in the National League. I think most fans would be in favor of tweaks to the division rules if those changes prove necessary for baseball to return this summer. While sticking to the interleague rule where the home ballpark dictates whether the designated hitter is in use might be feasible, given that the standard divisions don't exist, going to a universal designated hitter might be an easier solution. It also might be slightly safer, helping to prevent pitcher injuries in a shortened season. But should a universal DH be adopted, NL teams will be at a significant disadvantage at the plate this season.
Our Depth Charts currently project National league teams for 291.5 WAR on the position player side, while the American League comes in at 314.3 WAR, a difference of 22.8 WAR. The main source of that difference is the designated hitter, where AL teams are projected for 27.1 WAR and 700 PA per team while NL teams are projected for 8.8 WAR and 300 PA per team. While those 300 PA are deemed part of the designated hitter category, in reality, it is mostly pinch hitting opportunities, which come without the positional adjustment associated with the designated hitter. With the positional adjustment, the NL WAR would actually be below replacement level. Of course, if NL teams were actually using the designated hitter, they would apportion playing time differently and also receive the same 700 plate appearances as the American League (for the purposes of this exercise and to ease understanding, we'll just go with a normal 162-game season).
On the fantasy side, Paul Sporer discussed which players might benefit from a universal DH. His piece is instructive on how teams might apportion the extra playing time available with a designated hitter. For our purposes, we'll mostly use projections to guide how teams might use the DH, while I'll do my best to insert a little bit of reality as well.
In the table below, you'll see a number of columns that show how teams might benefit from the DH. The first two columns simply show the team and the player I chose to be that squad's primary DH. Next, you'll see that player's projected playing time and WAR without the DH. Then, you'll see that player's projected WAR as a DH over 600 plate appearances, followed by an adjustment for our current DH projections in the depth chart. The penultimate column adds in the WAR benefits from the adjustment. For an example of how that plays out, say Ryan Braun and his current projection of 462 PA is moved to 600 PA at DH. Other players will take up those 462 PA and accumulate WAR there. The final column shows how much WAR a team might gain (or lose) in the projections if a universal DH is added.
NL Gains from Universal Designated Hitter
| Team | Projected DH | Proj PA | Proj WAR (No DH) | DH Proj WAR (600 PA) | Proj DH "Loss" | Other Gains | TOTAL Gain/Loss |
| --- | --- | --- | --- | --- | --- | --- | --- |
| Cardinals | Matt Carpenter | 539 | 2.2 | 1.5 | 0.4 | 2.2 | 1.1 |
| Dodgers | Max Muncy | 595 | 2.9 | 2.8 | 0.7 | 1.6 | 0.8 |
| Rockies | Daniel Murphy | 511 | 0.4 | 0.4 | 0 | 0.8 | 0.8 |
| Reds | Jesse Winker | 449 | 1.3 | 1.6 | 0.4 | 0.9 | 0.8 |
| Brewers | Ryan Braun | 462 | 1 | 1.1 | 0.4 | 1 | 0.7 |
| Nationals | Howie Kendrick | 349 | 1.3 | 1.4 | 0.5 | 0.8 | 0.4 |
| Dbacks | Jake Lamb | 306 | 0.6 | 0.7 | 0.4 | 0.7 | 0.4 |
| Phillies | Jay Bruce | 266 | 0.6 | 0.7 | 0.3 | 0.6 | 0.4 |
| Atlanta | Austin Riley | 308 | 0.8 | 0.6 | 0.4 | 0.9 | 0.3 |
| Padres | Josh Naylor | 206 | 0.4 | 0.6 | 0.4 | 0.3 | 0.1 |
| Cubs | Ian Happ | 434 | 1.3 | 0.9 | 0.4 | 0.8 | 0.0 |
| Pirates | Jose Osuna | 272 | 0.3 | 0.2 | 0.1 | 0.2 | 0.0 |
| Marlins | Garett Cooper | 304 | 0.4 | 0.3 | 0.4 | 0.4 | -0.1 |
| Giants | Hunter Pence | 383 | 0.1 | -0.2 | 0.4 | 0.4 | -0.3 |
| Mets | Dominic Smith | 273 | 0.3 | 0.0 | 0.4 | 0.3 | -0.4 |
Teams with the ability to put good hitters in the DH spot, and give those new DH's prior playing time in the field to quality depth players, are in the best position to implement a designated hitter. The Dodgers could put Max Muncy in the DH spot and cover his playing time using a group of quality players including Chris Taylor, A.J. Pollock, Enrique Hernández, and Matt Beaty. If the Cardinals make Tommy Edman their stating third baseman, it means almost no drop-off in the overall quality of play and gives more playing time in the outfield to Tyler O'Neill and prospect Dylan Carlson. For the Rockies, moving Ryan McMahon to first and letting Brendan Rodgers play second base provides a decent projected gain. The Reds could theoretically gain more by moving Nick Castellanos to DH, but that seemed unlikely.
At the bottom, the projections simply don't like Dominic Smith as a hitter, resulting in the Mets' last place finish. If Yoenis Céspedes were healthy and hit his solid projections, the Mets would move up to the middle of the pack. For most teams, we could fiddle around with the playing time, the players expected to be the DH, and their replacements in the field, but we won't see materially different results.
Most NL teams simply aren't built to put a slugger in the designated hitter role. If a team had a really good hitter, it likely would have already found a spot for them on the roster and a way for them to get playing time. Few teams have extra quality starters they can just plug in for another 600 plate appearances. In the AL, Yordan Alvarez, J.D. Martinez, Nelson Cruz, Giancarlo Stanton, and Shohei Ohtani are already there as primary DHs with quality hitters like Jorge Soler, Edwin Encarnación, and Franmil Reyes also serving that role. Those players just aren't on NL rosters right now. The total gain above amounts to about five more wins, which would still put NL teams, on average, about a win behind their AL counterparts with the entire difference due to the DH.
While the numbers above are more back of the envelope than gospel, this is what the positional power rankings for DH might look like with all 30 teams: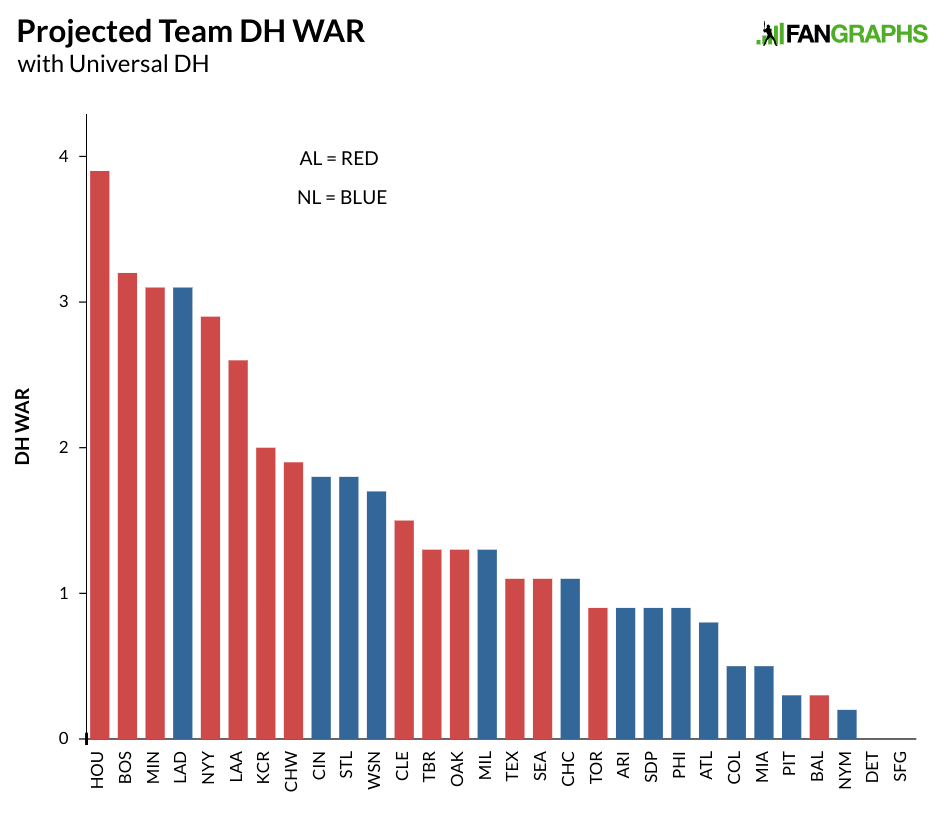 In a typical season, only about 5% or so of an NL team's schedule features the designated hitter, and those same teams only compete against each other for playoff spots. Even in the World Series, we are only talking about a few games and an unlikely significant impact. In a season where teams are not normally equipped with a designated hitter, but using a designated hitter every day and competing for a playoff spot against teams prepared for the DH presents a pretty significant disadvantage. It is an advantage that teams might just have to live with in a very unusual season, but a universal DH would most definitely confer an advantage on the traditional AL teams against their NL counterparts.
Craig Edwards can be found on twitter @craigjedwards.