In the world of Out Of The Park, the day is June 29, and the teams have played roughly 83 baseball games. Real life, of course, is markedly different; the day is the same, but pretty much everything else isn't. There have been no games, to name one obvious discrepancy. In a month's time, however, the lines will be blurrier. Real teams will be playing real games, which makes the prospect of following along with a fake baseball team somewhat less exciting.
To that end, I'd like to take today to lay out my future plans for this series, as well as take a quick look at some outstanding performances across the league this year. Let's handle the outstanding performances first, because they're more fun: who needs to plan for the future when you can watch hulking sluggers swat dingers left and right?
Why bring up home runs first? Giancarlo Stanton's superlative season demands it. The Yankees have played 84 games this year, and Stanton's health has been uncharacteristically excellent; he's appeared in 83 of them, almost exclusively in left field. More important than his position, however, is his bat:
Giancarlo Stanton is hot in 2020
| Player | PA | AVG | OBP | SLG | wRC+ | K% | BB% | HR | WAR |
| --- | --- | --- | --- | --- | --- | --- | --- | --- | --- |
| Giancarlo Stanton | 369 | .305 | .391 | .732 | 184 | 26.6% | 11.9% | 40 | 4.5 |
That's right: 40 home runs through 84 games. That's a 77-dinger pace for a full season! The .300 average is mostly a byproduct of the home runs, but not exclusively; when you're Stanton, getting down to 26.6% strikeouts is actually a big deal. He's on pace for a season for the ages; not by WAR, necessarily, where his indifferent outfield defense holds him back. Even accounting for that defensive hit, however, his offensive prowess has him on pace for a 9-WAR season.
That's not to say there won't be complications. He wouldn't be Stanton if he weren't a little dinged up: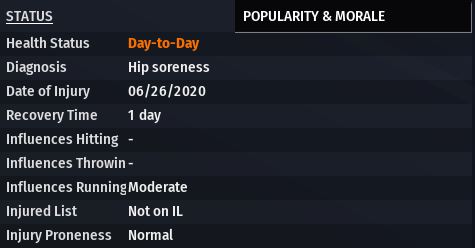 That's not a huge issue, particularly on an AL team or 2020 NL team that can hide him at DH. It doesn't even affect his hitting; OOTP helpfully lets you know which phases of the game an injury affects. It's more of a reminder. "Hey, that's a pretty Giancarlo Stanton you've got there. It'd be a shame if something were to happen to him," the game is saying. Let's hope he stays healthy for the rest of the season and gets a real shot at the record.
A record chase in a video game isn't the same as one in real life, obviously. There won't be any live cut-ins. I'm still paying attention to it, though, because I'd enjoy this story immensely in real life. Stanton, the forgotten Yankee, still carries a big stick. It's cool that OOTP reminded me of that.
On the NL side of the ledger, no one needs any reminders that Juan Soto is great. Still, he's putting up his own superlative season:
Juan Soto is no slouch either
| Player | PA | AVG | OBP | SLG | wRC+ | K% | BB% | HR | WAR |
| --- | --- | --- | --- | --- | --- | --- | --- | --- | --- |
| Juan Soto | 378 | 0.339 | 0.476 | 0.678 | 182 | 17.2% | 20.9% | 25 | 5.6 |
Yeah, he's only hit 25 home runs. But the complete offensive package is something else entirely — and by the way, 25 home runs is pretty excellent considering it's still only June. He's on pace for career bests in walk rate, strikeout rate (as in the lowest rate of his career), average, OBP, SLG, ISO, BABIP, home runs, doubles, runs, RBI — pretty much every statistic except stolen bases. His 5.6 WAR has already eclipsed his entire 2019 season, when he was a star.
Can he keep it up? Probably not, given that it's a completely unsustainable pace; no one since Barry Bonds has posted a higher season-long OPS, and only Bryce Harper's 2015 scorcher stacks up better by wRC+ — 2020 is a high-octane offensive environment. Soto's even added above-average defense in the field to go along with it. The Nationals have fallen five games back in the division race behind a streaking Braves team, but their 50-34 record would lead half the divisions in baseball. Soto, as well as offseason acquisition Nolan Arenado, are key reasons why.
When it comes to pitching, there's only one story this year: those dominant Braves. Take a look at the top five teams in the league by ERA:
Best Team ERA's, 2020 OOTP
| Team | ERA |
| --- | --- |
| Atlanta Braves | 3.19 |
| Tampa Bay Rays | 3.58 |
| Cleveland Indians | 3.73 |
| Minnesota Twins | 3.92 |
| Los Angeles Dodgers | 3.95 |
They're the runaway leaders, and it's no secret why: nearly every pitcher on the team is having a career year. Take a look at their five most frequent starters, as well as reliever-turned-starter Philip Pfeifer:
Braves Rotation (And Phil Pfeifer)
Everyone is awesome! That's not to say there aren't issues. Toussaint is currently on the IL with a mild hamstring strain, and everyone is out-pitching their FIP. But this has a mid-90s Braves pitching vibe; they have an embarrassment of riches, and an injury here or a little regression there won't stop it. The Braves have the best record in baseball, and their starters are by far the main reason for it.
In contrast, the Brewers are decidedly not running away with the NL Central. We're still on top, 2.5 games ahead of the surprising Pirates, but the team feels like a house of cards. None of our starters have an ERA below four. Only three relievers have an ERA below four, and Tony Cingrani's seven innings pitched hardly count:
Best Brewers RP's
| Pitcher | IP | ERA | FIP | K% | BB% | WAR |
| --- | --- | --- | --- | --- | --- | --- |
| Scott Barlow | 33 | 2.73 | 4.51 | 25.4% | 13.0% | 0.2 |
| Tony Cingrani | 7 | 3.86 | 5.71 | 30.8% | 7.7% | -0.1 |
| Corey Knebel | 23 | 3.91 | 1.99 | 37.5% | 12.5% | 0.9 |
Knebel is the only player on the entire team with a FIP below four. Even if you bump that up to 4.5, only Brandon Woodruff and Freddy Peralta join him. The pitching staff has been an absolute tire fire on the year. Josh Hader even managed to blow a save without allowing a home run over the weekend, to the Pirates no less. Getting this team to the playoffs will be an absolute grind, as well as requiring a lot of luck.
That brings me to my next order of business today. Our push to the playoffs will overlap with the actual major league season, whose storylines will deservedly take precedence. Virtual Christian Yelich and his virtual band of ragtags aren't as compelling as the real deal. It will be hard to justify a weekly article series when the season is underway; there will simply be too much to write about without veering into the realm of the imaginary.
To that end, I plan on changing up the schedule slightly. Until the season starts, I'll continue with the current schedule: a weekly article with an update and often some decisions to make, followed by a FanGraphs Live stream on Tuesday to tinker with the team. After July 24, the article updates will slow to once every other week, leaving more space for articles about real baseball. To keep the OOTP Brewers tap flowing, I'll continue streaming weekly updates on the current schedule.
In some ways, this will mess with the way I set up this experiment. Not every decision can be the result of a poll, and that's especially true when polls only go up once every other week. We'll still talk about everything, but at a different pace. Heck, that may even be helpful; a weekly update on a team full of third starters and middle relievers can get a bit dry from time to time.
In any case, this is a great problem to have. Our fake baseball is being interrupted by real baseball, and we get to follow both! As always, I'll have a FanGraphs Live stream tomorrow to go over the most recent developments in our simulated league, as well as start talking about the real Brewers and whether there's anything to be learned from our simulation.
Ben is a contributor to FanGraphs. A lifelong Cardinals fan, he got his start writing for Viva El Birdos. He can be found on Twitter @_Ben_Clemens.