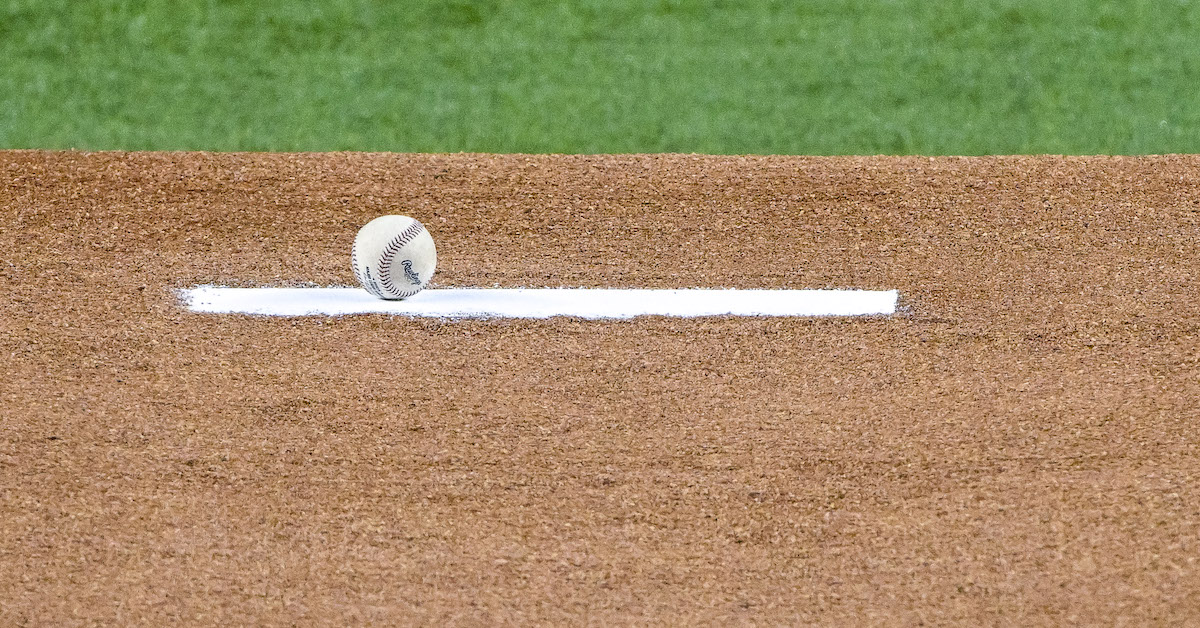 Jackson Wolf has unique characteristics. No. 22 on our updated San Diego Padres prospect rankings as a 35+ FV, the 23-year-old southpaw not only stands 6-foot-7 and features a deceptive delivery, his changeup grip is among the most unusual in the game. Drafted in the fourth round last year out of West Virginia University, he was described by Eric Longenhagen as "a funky, low-ish slot lefty with uncommon athleticism and flexibility… [with] arms-and-legs deception."
A native of Gahanna, Ohio, Wolf made all but one of his 24 appearances with the High-A Fort Wayne TinCaps this season, logging a 4.21 ERA and 4.32 FIP with 95 hits allowed and 139 strikeouts in 142 innings. He sat down to discuss his repertoire, and the outlier properties that come with it, earlier this summer.
———
David Laurila: Let's start with how you self-identify as a pitcher. How do you get guys out?
Jackson Wolf: "I actually just had this conversation with one of our coordinators. Finding my identity is something we've addressed this year, and getting outs isn't going to come from blowing fastballs by guys. It's going to come from using my movement, and from using my weird motion and leverage — kind of my deception — to get hitters uncomfortable and off-balance."
Laurila: Where does the deception come from?
Wolf: "I think it's a mixture of a few things. I'd say that my long limbs and athleticism play together pretty well. I'm able to get those long limbs in places where most guys couldn't, so the way I throw is just a little bit unusual. Hitters aren't really used to seeing that type of thing."
Laurila: Do you hide the ball well?
Wolf: "It's more so my motion. I don't really make it a point to hide the baseball, but I think there's a little bit of that in there. Another thing that plays into it is that I get a lot of extension. I've got super long legs and get down off the mound pretty far."
Laurila: Let's jump to your repertoire. Which of your pitches grades out the best?
Wolf: "I've gone through some changes with my arsenal, just kind of tinkering with a few different things, and I'd say it would be either my curveball or my changeup. Both grade pretty high when they're put in the correct locations. My curveball is going to play well off the fastball up in the zone, which is something I've tried to incorporate a little bit this year. Being kind of a sinkerballer/movement type of guy, I'd always just tried to stay low in the zone and produce groundballs. Since coming to the Padres organization, it's become more about using the entirety of the plate, and expanding my arsenal has helped some of my other pitches play better."
Laurila: Does it take guts to throw up in the zone without big velocity?
Wolf: "For sure. It's 100% trust. At the same time, when you elevate, it's naturally going to play harder than it actually is, which gives you that extra little boost of confidence. But like I said, my identity as a pitcher is going to be more about setting up that fastball. I'm going to be using other stuff to kind of put my fastball, especially the ones up in the zone, in a position to where it's almost surprising the hitter."
Laurila: It sounds like your fastballs are primarily down in the zone, and you mostly elevate to change eye levels…
Wolf: "Exactly."
Laurila: Is there anything unique about your changeup?
Wolf: "There is. I've messed around with so many different changeup grips, and the one I have now is something I started throwing earlier this year. My hands are really big, so I'm able to manipulate the ball a little bit differently than a lot of guys can. I've actually put the baseball all the way out into my ring finger. I've got like a Vulcan-split grip over the two seams, so it's a pretty unconventional changeup."
Laurila: You actually grip it between your ring and pinky fingers?
Wolf: "Yes. I know — it's super weird. And it definitely felt uncomfortable when I first started throwing it that way. It felt like it was just going to fly out of my hand, but once I got used to it, and really got that release point down… I mean, once I saw the end result, it was really hard not to want to stay with it."
Laurila: What is the movement profile?
Wolf: "I'd say it's almost like a backwards slider — and it actually kind of plays well off of my slider. I can throw my slider back foot to a righty, and then throw my changeup with similar movement in the opposite direction. If I can get a hitter to see pitches inner half, inner half, and then throw a changeup that starts over the heart of the plate, he's going to be like, "Oh, this is going to be my pitch.' But then it dives off the table in the complete opposite direction. So yeah, I'd say the movement profile is similar to a right-handed slider."
Laurila: Is it a high-spin changeup?
Wolf: "It's actually not. It's more low spin. I guess another way to describe the movement would be that it's almost like a parachute. It looks like it's going to [be at a higher velocity] but then it kind of just pumps the brakes a little bit."
Laurila: Where is the velocity?
Wolf: "Anywhere in the low 80s. My fastball is usually 90-92, although it has been a tad down this year — nothing super significant, but I've been around 88-90 a lot of the time."
Laurila: It's presumably going to vary somewhat game-to-game, but what is your typical pitch mix?
Wolf: "I have four pitches — a fastball, a slider, a changeup, and a curve — and I'm usually going to throw them fairly equally."
Laurila: You also have the two-seamer, so it's really five pitches…
Wolf: "I actually only throw a four-seam fastball, it just has a lot of arm-side run, and some sink to it. I'm maybe a little unique that way, too."
David Laurila grew up in Michigan's Upper Peninsula and now writes about baseball from his home in Cambridge, Mass. He authored the Prospectus Q&A series at Baseball Prospectus from December 2006-May 2011 before being claimed off waivers by FanGraphs. He can be followed on Twitter @DavidLaurilaQA.