Pitchers learn and develop different pitches, and they do so at varying stages of their lives. It might be a curveball in high school, a cutter in college, or a changeup in A-ball. Sometimes the addition or refinement is a natural progression — graduating from Pitching 101 to advanced course work — and often it's a matter of necessity. In order to get hitters out as the quality of competition improves, a pitcher needs to optimize his repertoire.
In this installment of the series, we'll hear from three pitchers — Pete Fairbanks, Jack Flaherty, and Will Smith — on how they learned and developed their sliders.
———
Pete Fairbanks, Texas Rangers
"My coach — this was in summer ball when I was 14 or 15 years old — was Matt Whiteside, who I believe pitched for the Rangers back in the day. He showed me a grip and said, 'Hey, kind of just turn your wrist; turn it on the side when you throw it.' It's possible that it was originally taught to me as more of a curveball, but looking back it's always had slider characteristics to it. Regardless, that was my introduction to a breaking ball.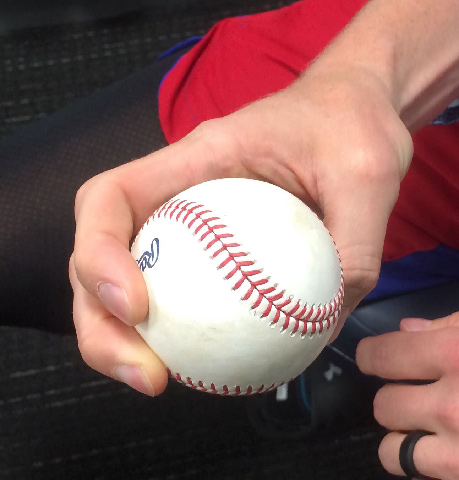 "The grip was similar to the one I have now, although it has varied over time. My slider has been good and bad. For instance, it was really cutter-y in 2017; it was very flat. It had six-to-eight inches of lift to it, which obviously isn't what you're looking for from a slider. You're trying to get closer to zero. But with the tweaks I've made to it this year, it's really taken off.
"I worked with one of our systems guys, Sam Niedrorf, when I was down in High-A. He was the guy who was feeding me all of my numbers on it, so I could fiddle with it to get it where it needed to be this year. We had a portable TrackMan, and I threw a couple of bullpens in front of that.
"I moved my thumb. I was still getting anywhere between four and two inches on it, and there were times where it would kind of pop out — it can do that when the thumb is lower — so I moved it up to try to keep it on there longer. My thumb is on a seam. It had been tucked underneath on my old grip, and again, I felt like it popped up early.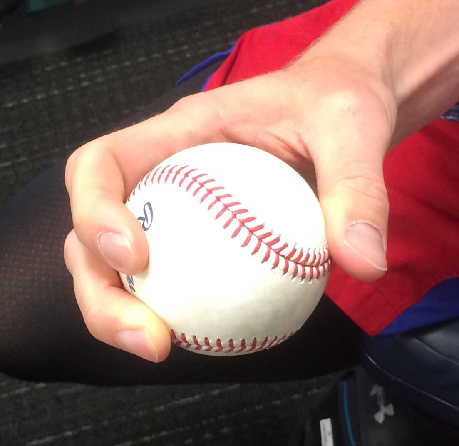 "I was watching Trevor Bauer talk [sliders], and I believe his is the opposite — his thumb is down here — but I was never comfortable with that, so I moved it up and focused on keeping my fingers on the sides. That helps me get more top-spin. That's where the depth is coming from."
Jack Flaherty, St. Louis Cardinals
"I started throwing a slider in my junior year of high school. I'd been pretty much fastball-changeup with a get-me-over curveball as a freshman and sophomore. I hadn't really pitched a whole lot. Our pitching coach at the time — who I still work with — Ethan Katz, said, 'Let's play around with a slider.'
"He showed me a grip. It was kind of funky. It wasn't comfortable, but he said, 'Just play catch with it and we'll see where it goes from there.' He told me that I was spinning it great and just had to get comfortable with the grip. It kind of went from there.
"Is it an a typical slider grip? It is and it isn't. You'll see some guys with it, but it's a little different from how… some guys are hooking it a little bit more. It's just one of things where when I first grabbed it, it felt foreign to me.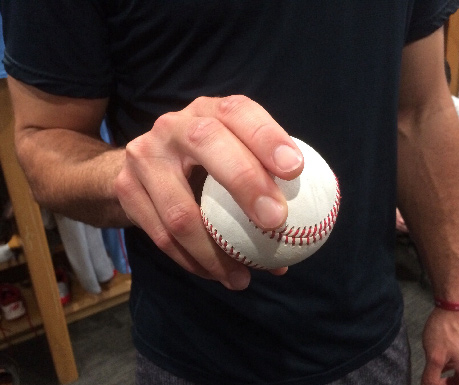 "I don't manipulate it. I just let the grip do it, man. When I try to manipulate it, that's when I get underneath it and throw those spinners. Those are the ones that get hit. The whole time, I'm just trying to throw it like a fastball with a slider grip. I'm trying to throw it through the glove.
"There are times I'll have more sweep to it, and there are times it has more depth. It depends on the situation, but also on how it is that day. Sometimes it's a matter of figuring out which way it's going to go, and working with that. That's the thing about pitching. With a little extra finger pressure here or there… that changes it a little bit. But with me, it's really a matter of location. If you make a mistake over the middle, you're going to get hit. I throw it the same way I always have, so it's a matter of execution."
Will Smith, San Francisco Giants
"I was in Double-A with the Royals, starting, and was basically a two-pitch guy: I was fastball-curveball. They called me into the office and told me, 'You might want to develop a third pitch.' So I walked around the clubhouse that day and asked all of the left-handed pitchers if they threw sliders, and if so, how they held it. Kevin Chapman had the grip that felt best in my hand. I played catch with him for the next two or three weeks. We made it a cutter, and then we started shaping it and making it more of a slider.
"At first, Chappy was like, 'We're not going to make it be a slider to begin with; let's try to make it move this much today; let's make it move this much tomorrow.' It was kind of a crawl-walk-run mentality. We weren't going to come out of the gate firing.
"The way I grip it now is the same as what he showed me in Double-A. I've just become more consistent with the pitch over all these years. You learn your release points to make it be a strike, or make it be a ball. You learn how it comes out of your hand. That takes time. You have to play with it, just like with any pitch. You learn the shapes. At the same time, I'm not necessarily manipulating it; I'm just trying to get my hand in a certain spot and letting it to do what it's supposed to do.
"I don't like to overthink, or dig too much into the numbers or video, on my pitches. As long as something is working, I'm going to keep going with it. I like to keep everything simple. You know, keep it simple stupid. The KISS method is what I try to roll by."
——
The 2018 installments of this series can be found here.
David Laurila grew up in Michigan's Upper Peninsula and now writes about baseball from his home in Cambridge, Mass. He authored the Prospectus Q&A series at Baseball Prospectus from December 2006-May 2011 before being claimed off waivers by FanGraphs. He can be followed on Twitter @DavidLaurilaQA.