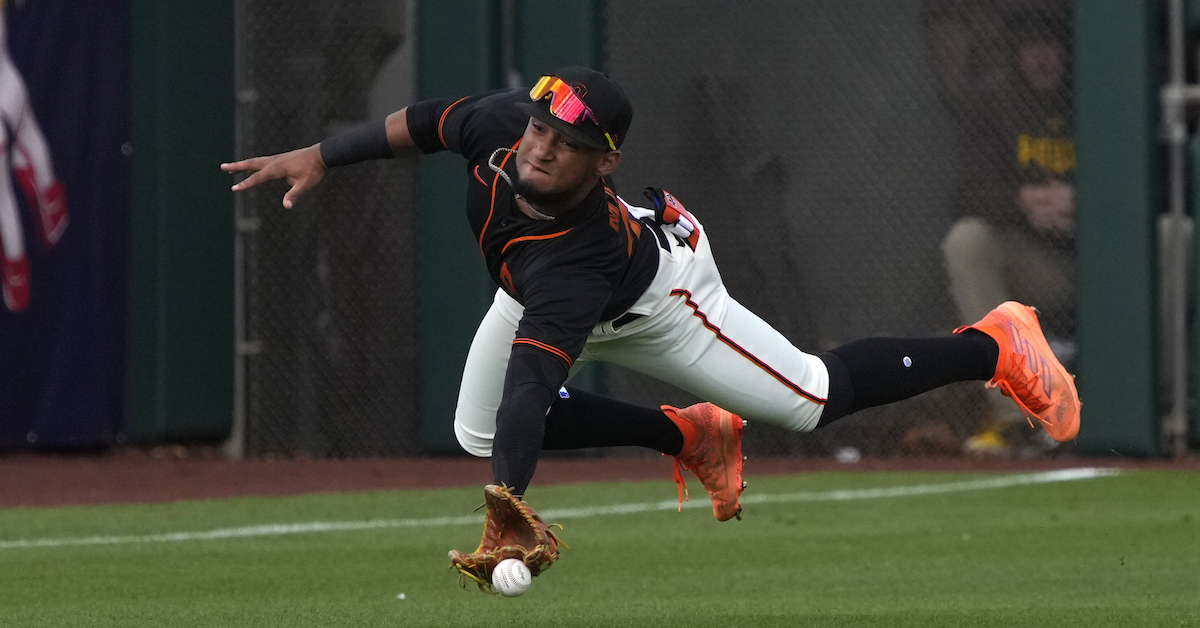 Top Prospects Series
Below is an evaluation of the prospects in the San Francisco Giants farm system who readers should consider "imminent big leaguers," players who might reasonably be expected to play in the majors at some point this year. This includes all prospects on the 40-man roster as well as those who have already established themselves in the upper levels of the minors but aren't yet rostered. We tend to be more inclusive with pitchers and players at premium positions since their timelines are usually the ones accelerated by injuries and scarcity. Any Top 100 prospects, regardless of their ETA, are also included on this list. Reports, tool grades, and scouting information for all of the prospects below can also be found on The Board.
This is not a top-to-bottom evaluation of the Giants farm system. We like to include what's happening in minor league and extended spring training in our reports as much as possible, since scouting high concentrations of players in Arizona and Florida allows us to incorporate real-time, first-person information into the org lists. However, this approach has led to some situations where outdated analysis (or no analysis at all) was all that existed for players who had already debuted in the majors. Skimming the imminent big leaguers off the top of a farm system will allow this time-sensitive information to make its way onto the site more quickly, better preparing readers for the upcoming season, helping fantasy players as they draft, and building site literature on relevant prospects to facilitate transaction analysis in the event that trades or injuries foist these players into major league roles. There will still be a Giants prospect list that includes Grant McCray, Patrick Bailey, Aeverson Arteaga and all of the other prospects in the system who appear to be at least another season away. As such, today's list includes no ordinal rankings. Readers are instead encouraged to focus on the players' Future Value (FV) grades.
Let's revisit what FV means before we offer some specific thoughts on this org. Future Value (FV) is a subjective valuation metric derived from the traditional 20-80 scouting scale (where 50 is average and each integer of 10 away from 50 represents one standard deviation) that uses WAR production to set the scale. For instance, an average regular (meaning the 15th-best guy at a given position, give or take) generally produces about 2 WAR annually, so a 50 FV prospect projects as an everyday player who will generate about that much annual WAR during his pre-free agency big league seasons.
Why not just use projected WAR as the valuation metric, then? For one, it creates a false sense of precision. This isn't a model. While a lot of data goes into our decision-making process, a lot of subjectivity does too, in the form of our own visual evaluations, as well as other information related to the players' careers and baseball backgrounds. A player can have a strong evaluation (emphasis on the "e") but might be a great distance from the big leagues, or could be injury prone, or a superlative athlete, and context like that might cause one to augment the player's valuation (no "e"). Using something more subjective like Future Value allows us to dial up and down how we're interpreting that context.
There are also many valuable part-time players who can only generate so much WAR due to their lack of playing time. As such, FV grades below 50 tend to describe a role more than they do a particular WAR output; you can glean the projected roles from the players' reports. In short, anyone who is a 40+ FV player or above projects as an integral big league role player or better.
Now some Giants thoughts. The Giants are very active on the margins of their roster. The team likes to claim players off waivers and see if meaningful changes can quickly be made to their swing, repertoire, etc., that turn them into no-doubt big league pieces. San Francisco has done versions of this with Luis González, Austin Wynns, Drew Strotman, José Godoy, Hunter Harvey, and many, many others. The results have been mixed, which is to be expected since there are reasons these players have fallen off of other rosters. This approach only costs the Giants a roster spot, and they have a huge big league coaching staff that enables any one of them to spend lots of time with recently-acquired players to see what they can improve. Because (as is mentioned in some of the below blurbs) the team is currently pretty thin at shortstop and center field, we anticipate San Francisco is in the market to do this with a guy or two who plays those positions as they come free near the end of spring training.
As the new front office regime has gotten traction, and because their new minor league facilities at Papago Park were built to include state of the art player dev infrastructure, the Giants are helping pitchers improve at a rate that rivals baseball's best orgs. This applies to pitchers they've acquired at the major league level (ahem Sean Manaea), and we're starting to see the minor leaguers who've changed and improved start to arrive on the big league doorstep as well. You see it in Keaton Winn's post-TJ look, in Sean Hjelle's fastball velocity, in Landen Roupp's approach to pitching, and in many mid-round college pitchers who are still in the lower minors and who will be on the full (and honestly, quite long) Giants prospect list. Talent-wise they're clearly a tier below the Dodgers and Padres within their division, but the Giants and Diamondbacks are good enough that the NL West might be this season's "Division of Death" like last year's Eastern divisions were.
Giants Imminent Big Leaguers and Top 100 Prospects