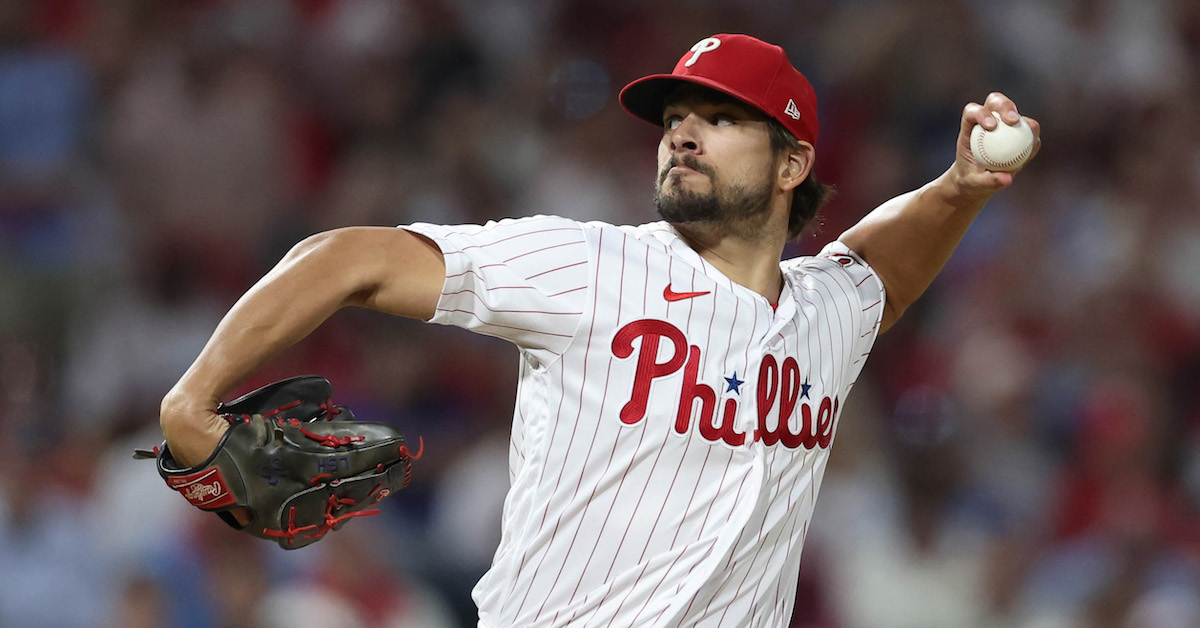 Over the weekend, veteran left-hander Brad Hand agreed to a one-year, $2 million contract with the Colorado Rockies, according to Ken Rosenthal. That poor man. This being the offseason of creative contract structures, Hand will receive an additional $1 million if he starts the regular season on the major league roster or IL, and $500,000 of that $2 million guarantee comes in the form of a buyout of a $7 million club option for 2024. In other words, the Rockies are spending $2 million to find out if Hand is completely cooked, but if he's not they can keep him in the fold for two seasons at a pretty reasonable rate.
Hand was last seen pitching in the colors of Colorado's sometime postseason nemesis, the Philadelphia Phillies. There, Hand filled what one might call the 2019 Fernando Rodney role. In that scenario, a manager only has a couple relievers he trusts in the postseason, but more innings than he can fill using those arms alone. Enter a veteran — Rodney for the 2019 Nats, Hand for last year's Phillies — whose stuff isn't what it used to be but whose experience and guile might allow him to steal a medium-leverage inning or two. In the NLDS against the Braves, that worked quite well. The following series against the Padres, not so much.
That's because Hand is no longer the elite high-volume reliever he was in San Diego and Cleveland in the late 2010s. If he were, he wouldn't be signing for $2 million in March. So the question is — as is ever the case with this team — what do the Rockies see in Hand?
Well, the good news for Hand is that $2 million is more than enough to buy a hard hat — I went on the Home Depot website and checked — and pitching in Coors, he might need one. That's not meant as a slight on Hand, for what it's worth. Last season, he wasn't as good as his 2.80 regular season ERA would suggest (his xERA was 4.40 and his FIP was 3.93), but he's a fine middle reliever for a team that needs innings.
It's just really hard to pitch in Coors Field, where the thin air makes fly balls travel farther and breaking balls move less, and whose gigantic outfield — constructed to prevent cheap home runs — allows countless cheap singles, doubles, and triples to fall in and roll around. If there's a way to build a consistent, sustainable school of pitching based in that environment, the Rockies haven't found one in 30 years.
A lot of the things they've tried have made sense; I remember the 2016 draft, when Colorado had two first-round picks and spent them on Riley Pint, the high schooler with the 104-mph fastball, and University of Georgia flamethrower Robert Tyler. If thin air prevents breaking balls from biting, well, you know what else was designed to operate in low atmosphere and didn't turn very quickly? The Concorde. And you couldn't hit the Concorde with a baseball bat now, could you?
Unfortunately, neither Pint nor Tyler has panned out. (Though Pint, God bless him, is currently participating in his first major league camp at the age of 25.) Nevertheless, the Rockies continue to favor hard throwers: Daniel Bard, Germán Márquez, Pierce Johnson, Dinelson Lamet, or the recently departed Carlos Estévez.
But those are right-handed pitchers. Hand is more emblematic of the lefties the Rockies are working with.
Whether Colorado actually prefers soft-tossing left-handers is a fair question. Left-handed pitchers are rarer than righties, and left-handed pitchers who can throw hard doubly so. If you've completed a degree in economics, or seen Father Guido Sarducci's Five Minute University routine, you know that rare skills tend to be valued more highly. Maybe the Rockies just can't afford to play craps on that particular table.
Even so, Baseball Savant has the average four-seam fastball velocity for 171 pitchers who threw at least 50 innings last season. The median four-seamer velocity for the left-handers in that group was 92.9 mph. The Rockies have six left-handed pitchers on their 40-man roster; Ryan Rolison has yet to appear in the majors, and Lucas Gilbreath is currently injured. The remaining four were all below that median velocity value; in fact, Hand is the only one whose fastball averaged more than 91 mph. The other three lefties — Austin Gomber, Kyle Freeland, and Brent Suter — came in at 138th, 155th, and 171st, respectively, out of those 171 pitchers.
The Rockies also have multiple non-roster invites among their left-handed bullpen options: Ty Blach, Fernando Abad, Josh Rogers, and one of the Logan Allens. Rogers' fastball averaged 90.4 mph last year, Blach (whose primary fastball is a sinker) 91.1, Allen 91.8. Abad, whose sinker came in at 92.4 mph in his last major league action in 2021, is the hardest thrower of the bunch.
So what's the common thread, apart from the fact that these pitchers all would've been cast out of society as witches a couple hundred years ago for writing with the wrong hand? These pitchers don't throw hard, but they have wildly different repertories, approaches, and records of success or failure.
The thread is funk.
Gomber is the only Rockies lefty with an over-the-top delivery, and he has what I'd call a toned-down version of the Yusei Kikuchi windup, in which he spends most of his delivery with the ball hidden from the batter behind his left thigh: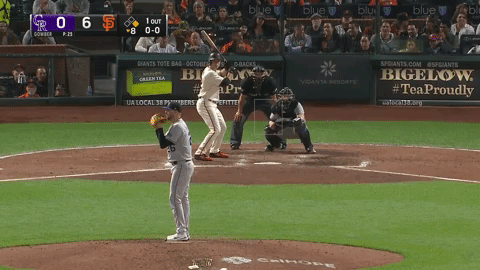 Everyone else has a low arm slot. They're not literal sidearmers, though Freeland's arm slot is unusually low for a starter — Abad is more three-quarters, as is Allen. Blach and Hand have similar deliveries that come with their torsos upright but their arms only a few degrees off parallel to the ground.
But Suter is the really interesting one to me. Suter is an unusual pitcher, a 33-year-old who's spent the past seven seasons doing whatever odd jobs the Brewers have required of him. But in addition to having one of the slowest fastballs in the majors, Suter is also one of the best in the game at limiting opponents' exit velocity. Last season, he was in the 96th percentile in the majors in both average exit velo and hard-hit rate. (Usually, when a Harvard man makes something move slowly, we're talking about social progress and not baseballs; even in this respect Suter, an outspoken environmental activist, is unusual.)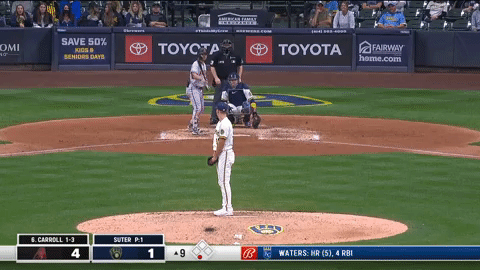 Everything about Suter on the mound is a little unorthodox, from his pace — he was literally the fastest-working pitcher in the game last year — to his delivery, as his long, spindly limbs make him look a bit like a deep-sea crab on the mound. Thanks to those same limbs, he also gets as much extension as any pitcher out there.
Ironically, Suter's best attributes are the same as those that made me think Tyler would succeed in Coors: He's effective without relying too heavily on a breaking ball. Against lefties, Suter throws his four-seamer and a sinker; against righties his four-seamer and his change-up. He has a slider that he uses once every eight pitchers or so against lefties and not at all against opposite-handed batters.
The difference between Suter and the power pitchers the Rockies chased a few years ago is that Suter gets weak contact, not swings and misses. (Though Suter strikes out more batters than you'd think given his fastball velo.) Now, a pitch-to-contact approach might be problematic in Coors, to say nothing of in front of an infield that as of this weekend might include second baseman Mike Moustakas? But all that's out of Suter's hands.
Given the state of the rest of the team — and the division, it bears mentioning — the success or failure of Colorado's left-handed relievers will likely be of little importance to the national baseball conversation this season. But maybe an approach based on power from the right side, finesse and deception from the left can work. Suter has showed as much in Milwaukee; now it's up to Hand, Blach, Rogers, and the others to follow him.
Michael is a writer at FanGraphs. Previously, he was a staff writer at The Ringer and D1Baseball, and his work has appeared at Grantland, Baseball Prospectus, The Atlantic, ESPN.com, and various ill-remembered Phillies blogs. Follow him on Twitter, if you must, @MichaelBaumann.