As part of the parade of non-tenders, the Phillies parted ways with two infielders on Monday: second baseman César Hernández and third baseman Maikel Franco. Both Hernández and Franco played important roles in the Phillies' transitional phase, but in their first attempt at contention this past season, neither player contributed as the team would have hoped. Alas, they are now free agents.
The Phillies' 2019 infield issues stretched beyond Hernández and Franco, however. Depth was often a problem. They did sign Sean Rodríguez and Phil Gosselin to minor league deals last offseason, and Rodríguez ultimately accumulated 139 plate appearances over 76 games while Gosselin saw 68 plate appearances across 44 contests. They also traded for Brad Miller in June; he made 130 trips to the plate donning red and white pinstripes. All told, these three players received roughly a half-season's worth of playing time. They were worth 1.4 WAR — a mark that isn't actually that bad. Still, considering Hernández and Franco themselves were worth just 1.2 WAR, the issues in the Phillies' infield ran deep.
Phillies Infielders, 2019
Philadelphia will almost definitely make a move this offseason to retool their infield for 2020, whether that be for Anthony Rendon, Josh Donaldson, or even someone like Howie Kendrick. One transaction that they've already made to bolster their depth was completed last week when the team agreed to a minor-league deal with veteran infielder Josh Harrison, an agreement that includes an invite to major league spring training.
Considering he is a former two-time All-Star, Harrison's name carries quite a bit of weight. In 2014, Harrison received MVP votes while assisting the Pirates in the pursuit of their second of three consecutive postseason appearances. He was one of the team's most impactful hitters that year, slashing .315/.347/.490 with 13 home runs and a 137 wRC+ over 550 plate appearances. His 4.8 WAR in 2014 remains a career-high and nearly 50% of his career total.
In the five seasons since, Harrison has been a bit underwhelming. Only in 2017 was he above league-average with the bat, and he struggled quite a bit last year. In 147 plate appearances with the Tigers in 2019, Harrison slashed just .175/.218/.263, hitting one lone home run and posting a 22 wRC+. He played quality defense, but offensive output that poor over a decent-sized sample will hurt one's overall value. Harrison was worth -0.6 WAR.
Even with these undeniably poor results, there is still much to like about this signing for Philadelphia. In order for it to be most effective, Harrison's bat must come around. And while he is certainly a better hitter than his 22 wRC+ would indicate, his .288 xwOBA was in the bottom 19% of all hitters.
On the flip side, Harrison's .288 xwOBA suggests that he should have been better than he was based on his batted ball profile, even if better still means bad. To determine the impact of this poor luck on Harrison's value, I recalculated his WAR, using .288 as his wOBA in place of his actual wOBA of .208. With all else held equal, had Harrison produced at this rate offensively, his WAR would have increased to 0.4. That's not insignificant, and one could make the argument that Harrison lost his job in Detroit at least in part due to his poor luck.
Even in a sample just shy of 150 plate appearances, an 80 point difference in wOBA and xwOBA probably isn't just due to luck alone. Infield positioning could explain at least part of the difference, and indeed, teams shifted Harrison at a much higher rate in 2019. Harrison was shifted on over 20% of his plate appearances last season after seeing a shift less than 5% of the time in the three years prior. This defensive response was coming eventually — Harrison is in the top 20% of all hitters in Pull% over the last three years. Furthermore, he pulled the ball over 46% of the time in 2019, a career-high.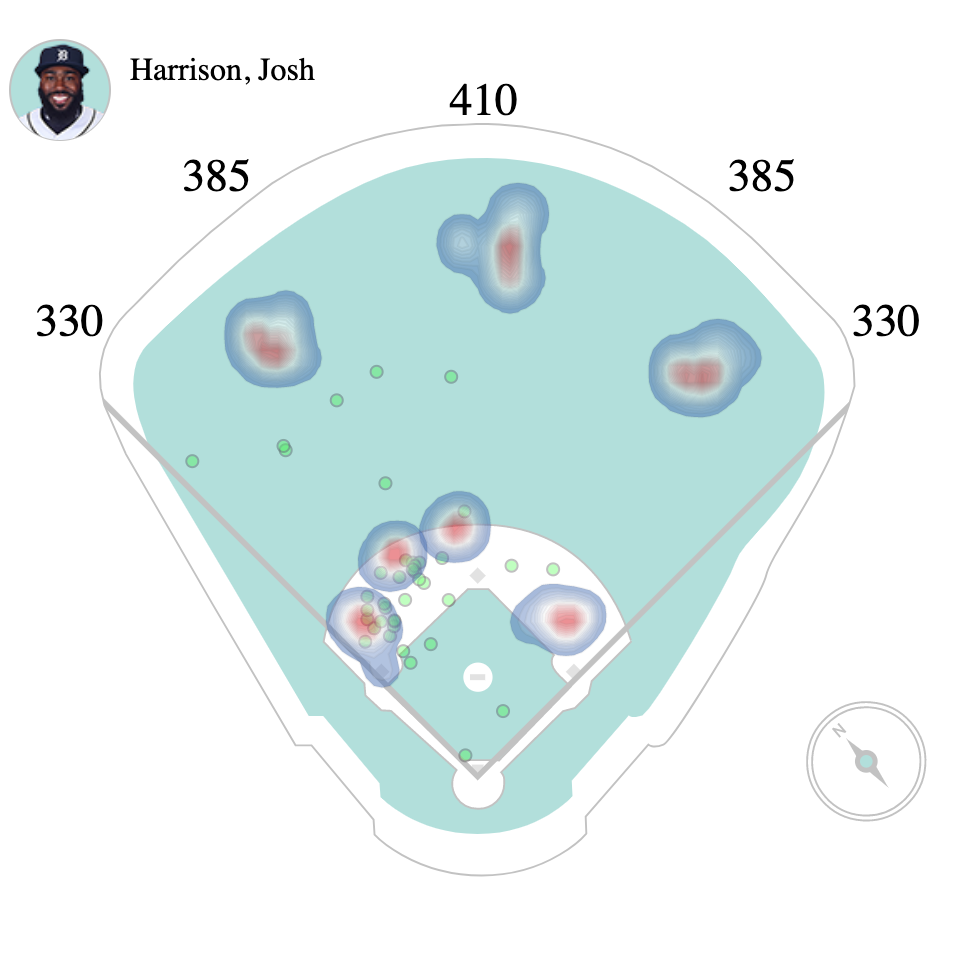 Harrison doesn't have the pop necessary to pull the ball half the time. In 2019, his maximum exit velocity on any single batted ball — generally the best indicator of raw power — was 105.0 mph, falling in the 14th percentile. Harrison won't be anything more than a sub-.300 wOBA hitter unless he drives the ball to all fields. In order for that to happen, we would have to see a complete overhaul in approach. While some hitters over 30 years old have made adjustments this drastic, those represent the exceptions, not the rule.
Even still, Harrison should not have been as bad at the plate, even with the shift playing a role. Lingering injuries may have also played a part in his sub-Mendoza performance. Harrison spent a large portion of 2019 on the injured list. He tore his hamstring at the end of May, and upon his return from the injured list in August, the Tigers released him. Even before the hamstring injury, Harrison dealt with shoulder problems that kept him out for a couple of weeks. He was also hit by a pitch on the hand, receiving X-rays. It is impossible to know how these other injuries impacted Harrison's results while he was trying to play through them, but it's hard to think that they would have made him play better.
Now healthy, Harrison ought to improve, but a lot must go right in order for him to even reach league-average production. His xwOBA on contact has almost always been below the league-average mark, and his plate discipline isn't good enough to compensate. He tried hitting more fly balls in 2019, and his 4.5% barrel rate was a career-high, but his 13.4% popup rate was also a career-high.
In an ideal world, Harrison somehow becomes a line-drive, all-fields-type hitter, one who leverages his above-average speed to morph his greater game into a high-contact, high-OBP infielder. In reality, that's a near-impossible ask for a 32-year-old coming off of hamstring surgery.
Thus, it shouldn't be a surprising conclusion that Harrison's days of All-Stardom are probably over, even with a presumably clean bill of health in 2020. His days of being a productive player aren't over, though. Even without a complete restructure of his spray chart and plate discipline, Harrison can be good enough with the bat to warrant keeping his glove on a roster. Over his career, he's been an above-average defender at both second and third base, conveniently the two positions at which the Phillies just created holes. Otherwise, though, he's been a poor outfielder and an even worse shortstop, but he can probably play at either spot in a pinch.
Baseball's expansion of the active roster to 26 players only aids Harrison's future. The Phillies aren't overflowing with infielders, and if the season were to start today, we think he would not only make the roster, but would slide into the lineup as their starting second baseman. When the offseason is all said and done though, that almost surely will not be the case. But seeing him crack the big league roster come March shouldn't be a surprise to anyone.
Harrison lands in a quality situation in Philadelphia. With the expanded rosters and the team's infield shrinking after the recent non-tender deadline, playing time should be abundant. The question remains as to whether he'll be effective, but there's nothing stopping Harrison from being a 1-2 win player next season, even if the bat doesn't approach league-average production. Regardless, all told, Harrison is exactly the sort of depth for which the Phillies were always searching.
Devan Fink is a Contributor at FanGraphs. You can follow him on Twitter @DevanFink.