Pitchers learn and develop different pitches, and they do so at varying stages of their lives. It might be a curveball in high school, a cutter in college, or a changeup in A-ball. Sometimes the addition or refinement is a natural progression — graduating from Pitching 101 to advanced course work — and often it's a matter of necessity. In order to get hitters out as the quality of competition improves, a pitcher needs to optimize his repertoire.
In this installment of the series, we'll hear from three pitchers — Ryan Dull, Tim Mayza, and Spencer Turnbull — on how they learned and developed their sliders.
———
Ryan Dull, Oakland A's
"I started messing around with a slider my junior year of college. We happened to have some scouts over — it was a scout-day — and they talked to my coach about my curveball. They said I would best benefit by getting rid of it altogether, and throwing a slider. The day after that, I got together with the guy on our team who had the best slider, and started working on one. We worked on it every day.
"I actually started throwing it with a softball at first. My pitching coach in college, Aaron Rembert, had me do that. It helps give you a feel of how you get on top, and around, it. It won't move like it would if it were a baseball, but you'll be able to see the spin. You throw five to ten [pitches] with a softball, then take a baseball, which will give you the break you want.
"When I got to pro ball, Gil Patterson, our pitching coordinator, tweaked my grip a little bit to try to make it sharper. That's because some days it would come out like a curveball, and other days it would come out more like a slider. Once we tweaked my grip, it started to take more shape.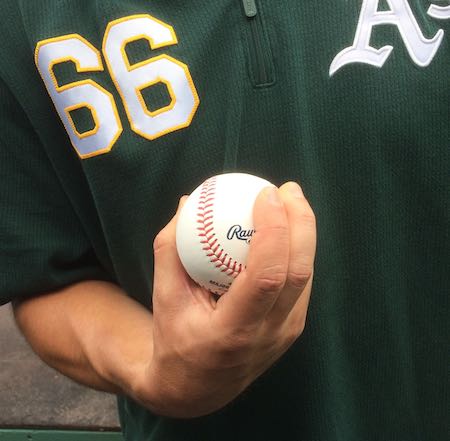 "Later I happened to be working a camp, with Darren Holmes. We talked about throwing sliders for a whole day. When he played with Mariano Rivera, he took Rivera's cutter mentality with his slider. He passed that along to me. I picture throwing it with my outside two fingers on the ball; I'm actually paying attention to my ring finger that way, when you get [out front] you'll make sure you stay on top until the last second, making it look like a fastball until the very end.
"I took some video with the Rapsodo I have, and then when I got to spring training, I looked at all our TrackMan data. I compared how much of a difference there was from my fastball, especially at release. I'm looking at getting my release height, and the spin, as close as I can to my fastball. Ideally, it will have fastball spin until the last second, and then break."
Tim Mayza, Toronto Blue Jays
"I probably first started learning to spin one a little bit when I was around 14 years old. I didn't have a good heater when I was growing up — I was 81-83 [mph] in high school — but with the way my arm slot was, my pitching coach recommended a slider over a curveball. I'm kind of high three-quarters, and he felt that the way my hand was coming through the ball, it would be easier to get on top of it than if I were trying to throw a 12-6.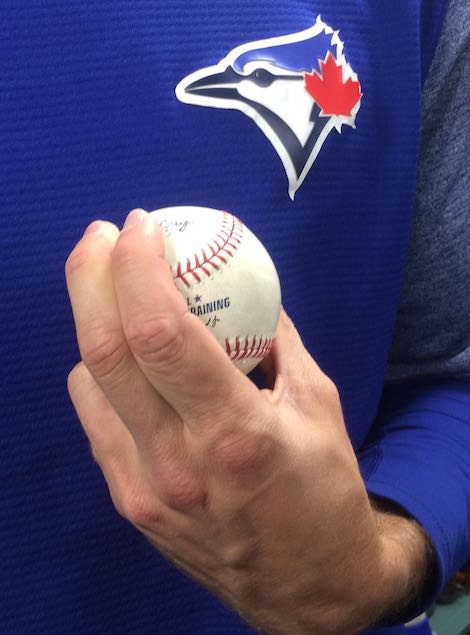 "In college it was more of a slurve — it was kind of big and loopy — and even in high school it was never really a true slider. I'd never been able to throw it at a high velocity. But then things changed in Low-A, to where I was able to start throwing it harder. What I did was start throwing it at a lengthier distance. Instead of working it at 60 feet, I was throwing a slider at 75 feet. That helped me get better extension on it, and work through it better. That's when it became a little smaller, a little more of a true slider.
"Along with working on it at longer distances, I worked on hand speed through the ball. The more I'm working those fingers through the ball, the tighter the spin is going to be. A lot of people think of arm speed as arm strength, and that velocity comes with it. But for me, to spin the slider the way I want to, I have to think about having a quick hand, and getting my hand through the ball as fast as I can."
Spencer Turnbull, Detroit Tigers
"I call it a slider, but it's probably more of a cutter-slider hybrid. It's been the same since I was in the minor leagues. Some days it's really hard — it's closer to 90 mph — and other days it might be 85, but with more depth. It depends on the day. It's supposed to be a slider, but again, it's kind of an in-between pitch.
"I don't really get around it, or on top of it. I don't really try to make it break. For me it's more of a stay-behind-it type of pitch. I grip it like a slider, it's just that on some days it has more lateral movement. I grip it the same every time, so it just depends on whether I'm staying through the ball long enough. That dictates the spin, and the action, on it.
"Some days I'll throw a really good one that has a lot of depth, and other times I'll throw one that's a little flatter and has a lot of sideways movement. It's probably some mechanical things getting out of whack that are causing that. Regardless, if I can't make it move a certain way, I just work with what I've got. It usually has movement, it's just that the angle of the movement can be a little different.
"I first learned a slider in my junior year at Alabama. I was really struggling to throw a good breaking ball. A scout I was talking to showed me a grip. I started throwing one then, although it wasn't very effective until my first year of pro ball, maybe my second year. I used to throw my slider almost more like a breaking ball. It had that kind of spin to it, like a slurve. Now it's a pitch I try to stay behind more. It's more of, like I said, a cutter-slider."
——
The 2018 installments of this series can be found here.
David Laurila grew up in Michigan's Upper Peninsula and now writes about baseball from his home in Cambridge, Mass. He authored the Prospectus Q&A series at Baseball Prospectus from December 2006-May 2011 before being claimed off waivers by FanGraphs. He can be followed on Twitter @DavidLaurilaQA.