The signing of a 33-year-old lefty to a minor league deal with a non-roster invitation to major league camp isn't normally the sort of news that grabs much attention at this time of year, particularly when the pitcher in question owns a 7.15 career ERA in the majors. Add the word "knuckleball" to the equation, however, and we've all got something to dream on in this chilly February. Such is the case with the Blue Jays' addition of Ryan Feierabend, who simply by his current status is now the best hope to expand the ranks of the pitch's practitioners in the majors.
You're forgiven if Feierabend's name doesn't ring a bell. A 2003 third-round pick by the Mariners who made a total of 25 appearances with the team from 2006 to 2008, before logging six with the Rangers in 2014, he has spent the past four seasons pitching in the Korea Baseball Organization, first with the Nexen Heroes (2015 to mid-2016) and then with the KT Wiz. Beyond the occasional, spectacular bat flip, KBO happenings don't get a ton of attention stateside, though last year for this site, Sung Min Kim spoke to Feierabend — who had just led the KBO in both ERA (3.04) and strikeout-to-walk ratio (4.26) — for an in-depth piece that's worth your time. Feierabend wasn't quite as successful in 2018, with his ERA rising to 4.30 (still a 123 ERA+ according to the Statiz site, the source of all of the KBO stats cited here) and his K/BB dropping to 3.71. His FIP didn't jump quite as wildly from year to year, rising from 4.42 to 4.83 (108 to 113 in terms of FIP+), but his BABIP spiked from .289 to .332.
Though he's been throwing the knuckleball since the age of 13, Feierabend didn't integrate it into his arsenal until 2017, and doesn't throw it all of the time. "I started throwing a knuckleball for the simple fact that I had nothing else to lose," he told Kim. "If it worked, it would be something that the KBO hitters had never seen before."
The pitch has essentially replaced his slider as his third offering. Expanding the repertoire breakdown from the aforementioned piece to include Feierabend's last taste of MLB:
Feierabend's Evolving Repertoire
| Year | Fastball | Sinker | Slider | Curve | Change | Knuckle |
| --- | --- | --- | --- | --- | --- | --- |
| 2014-MLB | 53.9% | 3.9% | 18.0% | 13.3% | 10.9% | 0.0% |
| 2015-KBO | 55.0% | 0.1% | 15.6% | 6.7% | 20.5% | 0.0% |
| 2016-KBO | 55.1% | 0.4% | 18.2% | 7.4% | 18.3% | 0.3% |
| 2017-KBO | 46.4% | 0.2% | 2.8% | 3.9% | 25.8% | 20.9% |
| 2018-KBO | 48.4% | 3.1% | 0.8% | 4.9% | 29.4% | 13.5% |
SOURCE: http://www.statiz.co.kr/player.php?opt=10&sopt=0&name=%ED%94%BC%EC%96%B4%EB%B0%B4%EB%93%9C&birth=1985-08-22&re=1&se=&da=1&year=2018&cv=&lg=
Since adding the knuckler, Feierabend has used it as an out pitch. Last year, he threw it 26.8% of the time when he was ahead in the count and 23.4% when he got to two strikes; by comparison his numbers for his changeup were 23.1% and 18.4%, respectively. If you needed further evidence of his confidence in the pitch, the splits say that there are negligible differences in the frequency with which he throws it when there are runners on base and when the bases are empty, or when the batter is a righty or a lefty.
Let's watch a couple of GIFs. Here's one where you can see the pitch getting about as little spin as physically possible:
Here's a beauty that squirted away from the catcher, because knuckleballs gonna knuckle:
Fun, huh? Check the latter's Twitter feed for more.
Last year, Feierabend's knuckler averaged 71.0 mph, which is slower than that of R.A. Dickey (78.1 mph in his Cy Young-winning 2012 season, 76.6 mph for his career) or Steven Wright (75.8 mph last year, 74.3 for his career). Feierabend's average fastball speed of 83.3 mph is slower than either pitcher as well, but for what it's worth, he does have a greater separation between the two, velocity-wise.
I have no idea if Feierabend can succeed well enough stateside to return to the majors. The odds would seem to be against him, as they are for any NRI, though they may be higher with the rebuilding Blue Jays than they might be with another team. Right now, their rotation projects to include Marcus Stroman, Aaron Sanchez, Matt Shoemaker, Clayton Richard, and Ryan Borucki, with Sean Reid-Foley and Thomas Pannone contributing as well. The first three from that group totaled just 238.1 innings in the majors last year due to injuries, Richard was lit for a 5.33 ERA and 4.68 FIP while soaking up 158.2 frames with the Padres, and the other three are a trio 24-year-olds who just got their feet wet in the majors last year. All of which is to say that none of them are going to approach 200 innings; there will be opportunities there for other starters, including Feierabend if he's not busy getting lit up at Triple-A Buffalo.
And lordy, the baseball world needs this to happen, because the knuckleball is an endangered species. Dating back to the mid-1970s, when the brothers Phil Niekro (who pitched in the majors from 1964 to 1987) and Joe Niekro (1967-1988), Wilbur Wood (1961-1978), and Charlie Hough (1970-1994) were established and often flourishing — even well past the age of 40 — the pitch has always had at least one standard-bearer with a secure spot in the majors, and sometimes as many as four. Tom Candiotti, who began his major league career in 1983, took up the pitch in 1986 under the tutelage of his Indians' teammate Phil Niekro and pitched until 1999. Tim Wakefield arrived in 1992, contributed significantly in 1993, disappeared for a year, and then pitched for the Red Sox through 2011. Steve Sparks (1995-1996, 1998-2004) and Dennis Springer (1995-2002) were in the picture as well, though the latter made just seven appearances over the final three seasons.
But after Sparks disappeared, the knuckleball had some lean years. Dickey debuted in 2001, but didn't start throwing the knuckler until 2005-2006, a span during which he made just 10 appearances; he spent all of 2007 in the minors before returning in 2008 and securing a regular rotation spot in 2010. Eddie Bonine made 62 appearances for the Tigers from 2008–2010. Meanwhile, fringe guys like Charlie Haeger (34 appearances from 2006-2010) and Charlie Zink (one prominent place in a 2004 New Yorker article, and exactly one major league appearance in 2008) came and went without any sustained success. In 2012, the year Dickey won the NL Cy Young award, he was the only pitcher who threw a single knuckleball in the majors according to either PITCHf/x or Pitch Info. Wright debuted in 2013, but made just 10 appearances in his first two seasons before spending substantial stretches in the majors in 2015 and '16 (40 appearances, 33 starts, and a total of 229.1 innings). Between a left knee that required cartilage restoration surgery in May 2017 (the same one that teammate Dustin Pedroia had five months later) and sent him to the disabled list three times last year due to inflammation — not to mention a 15-game suspension for violating the league's domestic violence policy that has really taken the bloom off the rose — Wright has totaled just 77.2 innings over the last two seasons, including 53.2 last year. He recently compared his repaired knee to pitching on a flat tire, which has since been upgraded to a spare. Not great.
Outside of Wright and Dickey, the knuckleball landscape has become almost completely barren. Position players pressed into mop-up duty (Erick Aybar, Alex Blandino, Mike Carp, David Murphy and Danny Worth) have floated the occasional one for kicks, and Pitch Info says that C.J. Wilson and Brian Wilson combined to throw five of them in 2014, but the only other pitcher to throw a knuckler in the majors in the last six seasons is Eddie Gamboa, who totaled 13.1 innings for the Rays in 2016. Since then, Gamboa has passed through the systems of the Rangers, Dodgers, and Orioles (who drafted him in 2008 and employed him through 2015). After a signing a minor league deal with Baltimore last spring, he threw just 25 minor league innings due to some kind of elbow trouble, was lit up for 10 runs in 3.1 innings in the Mexican Winter League, and appears to be jobless at the moment; at 34 years old, there are no guarantees he'll get another shot in affiliated ball.
Here's a look at the pitch's declining frequency during the pitch-tracking era, using Pitch Info's data: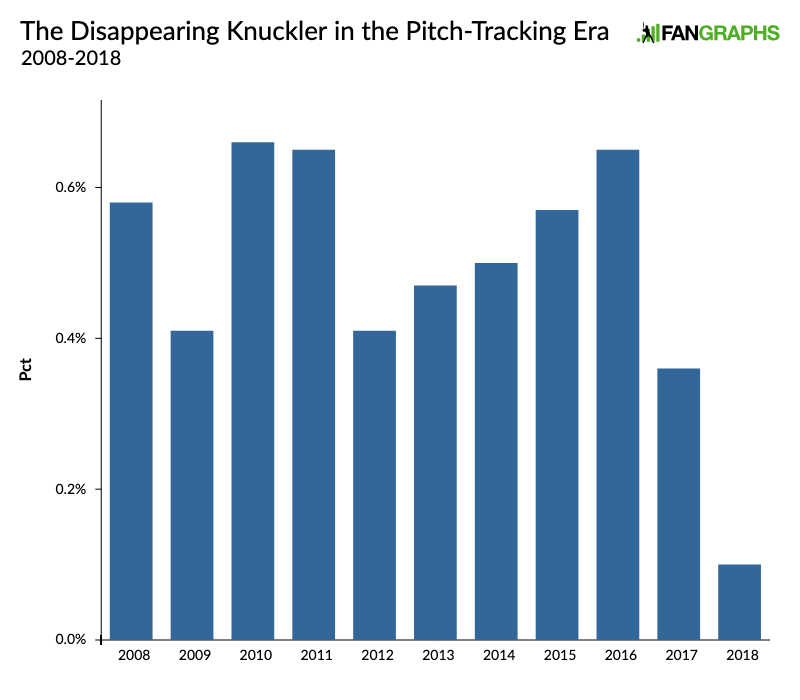 Note that we're talking fractions of one percent, and last year was barely 0.1%.
As far as I can tell, the only other minor league knuckleball practitioners of any prominence are Mickey Jannis and J.D. Martin, both of whom are said to throw the pitch with Dickey-like velocity, in the high 70s to about 80 mph. Jannis, a 31-year-old, former 44th round pick by the Rays in 2010, who committed to the pitch he calls his "butterfly" during a 2012-15 detour to indie ball. Since July of 2015, he's been a farmhand in the Mets' system. Last year, he threw 142.1 innings at Double-A Binghamton with a 3.60 ERA and 3.69 FIP, but was torched for 13 runs in eight innings over two appearances at Triple-A Las Vegas. He's been chronicling his minor league adventures for Metsmerized Online and last we heard, was headed to camp at Port St. Lucie, but it doesn't appear that he's gotten an invitation to major league camp.
Martin, a 36-year-old former supplemental first-round pick by the Indians in 2001, last pitched in the majors in 2010, and took a detour to the KBO himself in 2014. He committed to the knuckleball in indie ball in 2016, made a total of 10 appearances in the Nationals' organization in 2016-2017, and spent last year with the Rays' Double-A Montgomery affiliate, where he threw 124.1 innings with a 4.49 ERA and 5.03 FIP (he walked 12.8% of batters faced). Earlier this month, the Dodgers signed him to a minor league contract; he's working with Hough this spring (h/t to careagan for calling my attention to this in the comments).
All of which is to say that under the circumstances, the signing and invitation of Feierabend rates as significant news in the world of knuckleballing, because the pitch itself appears to be hanging on by its fingertips. Here's wishing him the best as he battles for a spot with the Blue Jays.
Brooklyn-based Jay Jaffe is a senior writer for FanGraphs, the author of The Cooperstown Casebook (Thomas Dunne Books, 2017) and the creator of the JAWS (Jaffe WAR Score) metric for Hall of Fame analysis. He founded the Futility Infielder website (2001), was a columnist for Baseball Prospectus (2005-2012) and a contributing writer for Sports Illustrated (2012-2018). He has been a recurring guest on MLB Network and a member of the BBWAA since 2011. Follow him on Twitter @jay_jaffe.