Take a look at a 2019 WAR leaderboard and you'll see some familiar names at the top. Cody Bellinger is having a whale of a season. Christian Yelich is hitting like Barry Bonds and is somehow second in the majors in baserunning runs as well. Mike Trout — well, you know Mike Trout. Look a little closer though, and you might notice something strange. There are four shortstops in the top 10 for WAR this year, and they're not the usual suspects. Paul DeJong, Elvis Andrus, Jorge Polanco, and Javier Báez are all having great seasons so far, and if you had them as the four best shortstops in baseball this year, you're a better prognosticator than I am.
Cast your eyes a little further down the board and you might see an interesting trend. Marcus Semien is 11th in WAR. Tim Anderson, Trevor Story, Xander Bogaerts, and Adalberto Mondesi are in the top 25, and Fernando Tatis Jr. isn't far behind. Perennial stalwarts Andrelton Simmons, Corey Seager, and Carlos Correa are off to good starts. Shortstop, in fact, has produced more WAR than any other position this year.
Now, to some extent, that's a referendum on how important shortstop is defensively. Only catcher has a higher positional adjustment than shortstop, and as a result only catchers have been worth more defensive runs this year. However, dismissing the prevalence of shortstops atop the WAR leaderboard as a defense-based illusion sells this current crop short. We could very well be looking at the best-hitting shortstop season of all time.
Let's start at the very top with wRC+. This year's shortstop class has produced a 107 wRC+ so far. That isn't the actual best in baseball history, but it's second only to 1874, and hoo boy are stats from 1874 weird. In that season, shortstops walked .9% of the time, struck out 1.2% of the time, and delivered a batting line of .305/.311/.372 in only 660 games. Let's be reasonable here and throw out everything before the turn of the century. Cut those out, and the leaderboard looks like this:
Best Shortstop Offensive Seasons, 1901-2019
| Year | wRC+ |
| --- | --- |
| 2019 | 107 |
| 1904 | 101 |
| 1908 | 96 |
| 1909 | 96 |
| 2018 | 95 |
| 1905 | 94 |
| 1917 | 93 |
| 1910 | 93 |
| 1907 | 93 |
| 2016 | 93 |
2019 shortstops are on top, and it isn't particularly close. Strip out everything pre-integration, and the recent rise of slugging shortstops jumps out even more:
Best Shortstop Offensive Seasons, 1947-2019
| Year | wRC+ |
| --- | --- |
| 2019 | 107 |
| 2018 | 95 |
| 2016 | 93 |
| 1947 | 90 |
| 2007 | 90 |
| 1964 | 90 |
| 1949 | 89 |
| 2005 | 88 |
| 2017 | 88 |
| 2002 | 88 |
Ask most baseball fans for the best shortstop-hitting season in history, and they'll point to 2002. This was indeed a year of great shortstop hitters — Alex Rodriguez hit .300/.392/.623 on his way to a 10-WAR season, and Derek Jeter, Nomar Garciaparra, and Miguel Tejada all had sterling years. That's all well and good — it was a top 10 season on the above leaderboard, after all — but 2002 also had 585 plate appearances of Neifi Perez's .236/.260/.303 line, as well as a shockingly low-offense season from Rockies shortstop Juan Uribe, who hit .240/.286/.341 while playing half of his games at Coors.
This season has its fair share of laggards (Brandon Crawford is slugging .212), but it also has 16 shortstops with a batting line at or above league average. Freddy Galvis is hitting .297/.317/.485 and is the 14th-best-hitting shortstop this year. That 114 wRC+ would have been sixth-best in 2002. The depth of shortstop right now is simply stunning.
Now, as Dan Szymborski would surely remind you, it's early in the year to make any rash proclamations. The season, after all, is only about one-sixth over. Shortstops as a whole have a .326 BABIP, and that's not going to hold up all year — the highest single-season BABIP shortstops have recorded as a position is .304 in 2016. Well, FanGraphs has March/April splits going all the way back to 1974. Take a look at the best Aprils on record:
Best Shortstop Aprils, 1974-2019
| Year | wRC+ |
| --- | --- |
| 2019 | 107 |
| 2018 | 97 |
| 1995 | 95 |
| 1996 | 94 |
| 1976 | 93 |
| 2002 | 90 |
| 2014 | 87 |
| 2006 | 87 |
| 2000 | 87 |
| 2013 | 86 |
Okay, so it's safe to say that 2019 has been exceptional. Not only have we not had a season like this, we haven't had an April like this. As Ben Lindbergh and Sam Miller recently pointed out though, rumors of a position's demise (or emergence) are often greatly exaggerated. Positions have good or bad years without any rhyme or reason all the time. Without anything beyond "hey, shortstops have hit well this year you dope," it would be hard to believe that anything has really changed. What gives? Why write an article about this now?
Well, basically because of sample size. Even if that April leaderboard is impressive, it's not enough. Heck, even if this season kept up for the year, it might not be enough. Right this minute, if you stripped DeJong and Andrus out of the data, shortstops would only have a 103 wRC+ this year. That's almost a convenient number, because DeJong had a 102 wRC+ last year — substitute in last year's DeJong, and he'd blend right in. ZiPS projects Andrus for a 101 rest-of-season wRC+. It doesn't take much, in other words, to cut several points off of the position of shortstop's overall batting line.
Luckily we're not limited to using just this year. Take a look at the post-integration leaderboard again. 2019 is first, sure. That's why you're reading this article, after all. 2018 is second though, and 2016 is third. Even 2017 sneaks into the top 10 at ninth. Shortstops didn't luck into a few home runs this April — they've been hitting as well as the position ever has for years. Maybe Andrus and DeJong have been getting lucky this year, but they combined for a 91 wRC+ last year and shortstops had what was then their best-hitting year ever.
A theory of how well shortstops have been hitting doesn't have to rely on a few fluky performances. Take a look at the best hitters of 2018 and you'll see shortstops sneaking in all over the place. Manny Machado had a tremendous year (offensively) at shortstop. Francisco Lindor was his usual spectacular self. Bogaerts broke out. None of those three players are among the best eight batting lines for shortstops this year. The position is incredibly deep.
If it's not a fluke, what could it be? I have a few theories. First, it's really hard to be a terrible hitter in baseball right now and get consistent playing time. Analytics has roughly quantified the value of offense and defense, and even if the specifics haven't been ironed out, teams are far less willing to play an offensive black hole to get their glove in the lineup. To pick a random year from the defense-and-speed 80s, 1985 saw 11 players qualify for the batting title with a wRC+ below 75. Five of those eleven were shortstops. If you could field, you could play shortstop.
Fast-forward to 2018, and three players in all of baseball had a wRC+ below 75 while qualifying for the batting title. One (Alcides Escobar) was a shortstop, and he hasn't played a game in the majors this year. Teams simply aren't willing to devote a season's worth of at-bats to offensive lines that poor anymore.
If you have a sneaking suspicion that terrible batters were disproportionately shortstops in the past, you're onto something. Using OPS+ as a metric, it's clear that from the 1970s to the early 2000s, teams were throwing some pretty awful shortstops out there. Take a look at the number of 75-and-below OPS+ shortstops who qualified for batting titles by decade:
Poor-Offense Shortstop Seasons by Decade
| Decade | Seasons <= 75 OPS+ |
| --- | --- |
| 1950-1959 | 27 |
| 1960-1969 | 29 |
| 1970-1979 | 56 |
| 1980-1989 | 45 |
| 1990-1999 | 36 |
| 2000-2009 | 47 |
| 2010-2019 | 24 |
Maybe there's not a definite trend, but it's suggestive of something. As an aside, Alcides Escobar is truly remarkable. Of the 24 sub-75 OPS+ shortstop seasons since 2010, he's contributed seven. In 2013, he slashed .234/.259/.300 for a 49 wRC+ and played 158 games. If it weren't for Ned Yost's belief in Esky Magic, shortstops would have been doing even better.
That reason isn't enough to feel good about. After all, the 1950s and 1960s had few truly poor batting seasons from shortstops, and they still fell short of the gold standard of recent years. Luckily, we can turn to the modern game for another answer. Think of the old days of baseball, and you probably imagine a diminutive but rangy shortstop making a play. Ozzie Smith was 5-foot-11. Robin Yount was a slender 6-foot. Pee Wee Reese was literally nicknamed Pee Wee, and we're just talking about some of the standouts here. As recently as 2000, only four qualifying shortstops were 6-foot-1 or taller.
Height isn't some magic tool that unlocks hitting. Still, it's a good proxy for looking at power hitters starting to play shortstop. If Rodriguez and Jeter had come up in the 1970s, their 6-foot-3 height might have kept teams from playing them at shortstop. Cal Ripken was a large boy who stuck at short, but teams mostly shied away from playing people that tall and large at such a demanding defensive position. Take a look at the number of qualifying shortstops who stand 6-foot-1 or taller by year: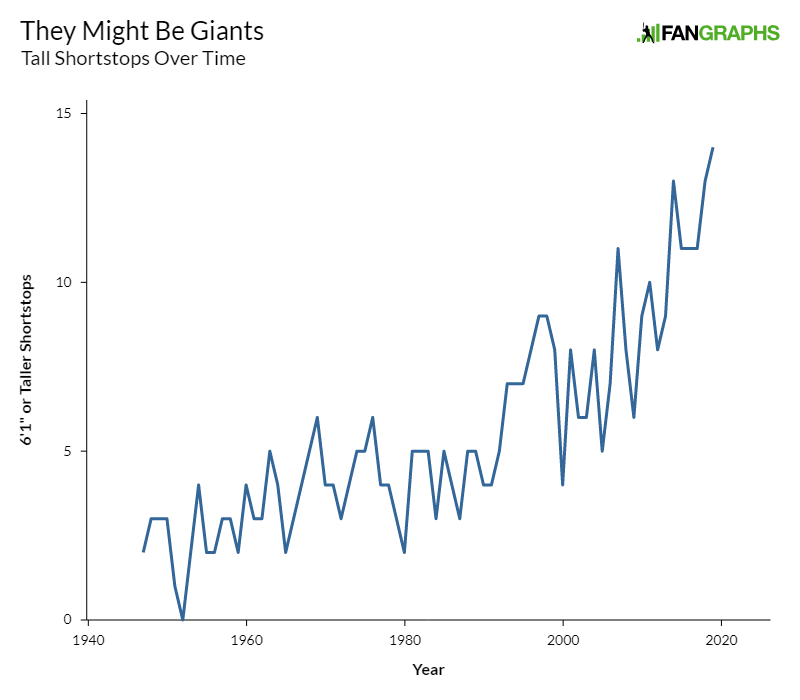 We're living in an era in which giants roam the earth. This effect isn't limited to shortstop, but it's most concentrated there. The number of 6-foot-1 or taller batters has essentially tripled since the late 40s, but at shortstop it's more like five-fold. Weight is even more telling. Before 1994, Ripken and Andre Rodgers were the only shortstops ever listed at 200 pounds or greater. This year, 15 shortstops fit the bill. Baseball is getting bigger and stronger, but shortstops are doing so faster than the rest of the league.
There's one reason I haven't yet considered. Maybe there's just a wave of great shortstops playing right now; not for some macro reason, but just by pure chance. Lindor has barely played this year, but he's arguably a generational talent. He mostly doesn't fit the trends I'm saying exist. He's under six feet tall and doesn't weigh 200 pounds. His defense would play in any era. He's just, you know, great. Simmons is now batting well enough that he's a creditable addition to the position's overall line, but he'd be playable even if he were a worse hitter. There's no trend that can account for the best shortstop defender maybe ever happening to be a competent hitter.
If that's the case, looking for trends is missing the trees for the forest. A few great individual players can sometimes tip the balance of the big picture. Sometimes greatness just happens. However, I think that we can safely say that this isn't the only factor. After all, one of the truly remarkable things about this season is just how many shortstops are hitting well. It's one thing to explain away Andrelton Simmons, and another entirely to say Dansby Swanson and Marcus Semien are the kind of generational talents that can break trends.
If you want my best guess, I think it's a mixture of everything. Shortstops are getting taller and heavier faster than the rest of the league, and teams aren't playing offensive deadweights like they used to. At the same time, a few outliers might be filtering through the game right now. Whatever's causing it, shortstops are hitting like never before. If you're looking through a lineup and wondering where the weak batting link is, your instincts will deceive you. Shortstops can rake.
Ben is a contributor to FanGraphs. A lifelong Cardinals fan, he got his start writing for Viva El Birdos. He can be found on Twitter @_Ben_Clemens.