In what was nearly a must-win game for the Washington Nationals Friday night, Stephen Strasburg threw six strong innings to even the series against the Dodgers to 1-1. The Game 2 win ensures that the Nationals don't have to win three games in a row to advance against Los Angeles; the Dodgers only lost three consecutive games on three different occasions in 2019.
The Nationals have developed a certain sort of notoriety, similar to that of the Oakland A's, for their relative incompetence when it comes to postseason baseball. While it's unlikely to be predictive for a franchise in any meaningful sense, and their 8-13 historical playoff record entering Game 2 isn't really that historically awful, reputations in sports are rarely assigned in a fair manner. But one National you can't blame for this playoff history is Strasburg, who has now allowed just two runs in 28 career October innings and struck out 38 against while walking just four. Strasburg's sterling start wasn't a blue-light BABIP special as he struck out batters in double-digits for the third time in his still-young playoff career.
In a season in which the Dodgers won 106 games and led the National League in runs scored, Strasburg has been one of the few pitchers to have continued success against the Boys in Blue. Adding in Friday night's performance, Strasburg's season line against the Dodgers (so far!) amounts to a 1.89 ERA in three starts with 26 strikeouts in 19 innings.
Perhaps the most interesting difference in last night's game compared to his previous starts against the Dodgers was that Strasburg was far more reliant on curveballs and changeups. 61% of Strasburg's pitches were his curve or his change, a number only beaten this year by an August 20 start against the Pirates. Strasburg's 15 swinging strikes in Game 2 on curves or changeups almost matched the 16 he totaled in his other two starts against the Dodgers. While he still pounded the Dodgers high on fastballs as in previous starts, there was a lot less hard painting of the outside edge for righties and inside edge for lefties. Strasburg was more content to send the Dodgers fishing, which they did quite happily and ineffectually.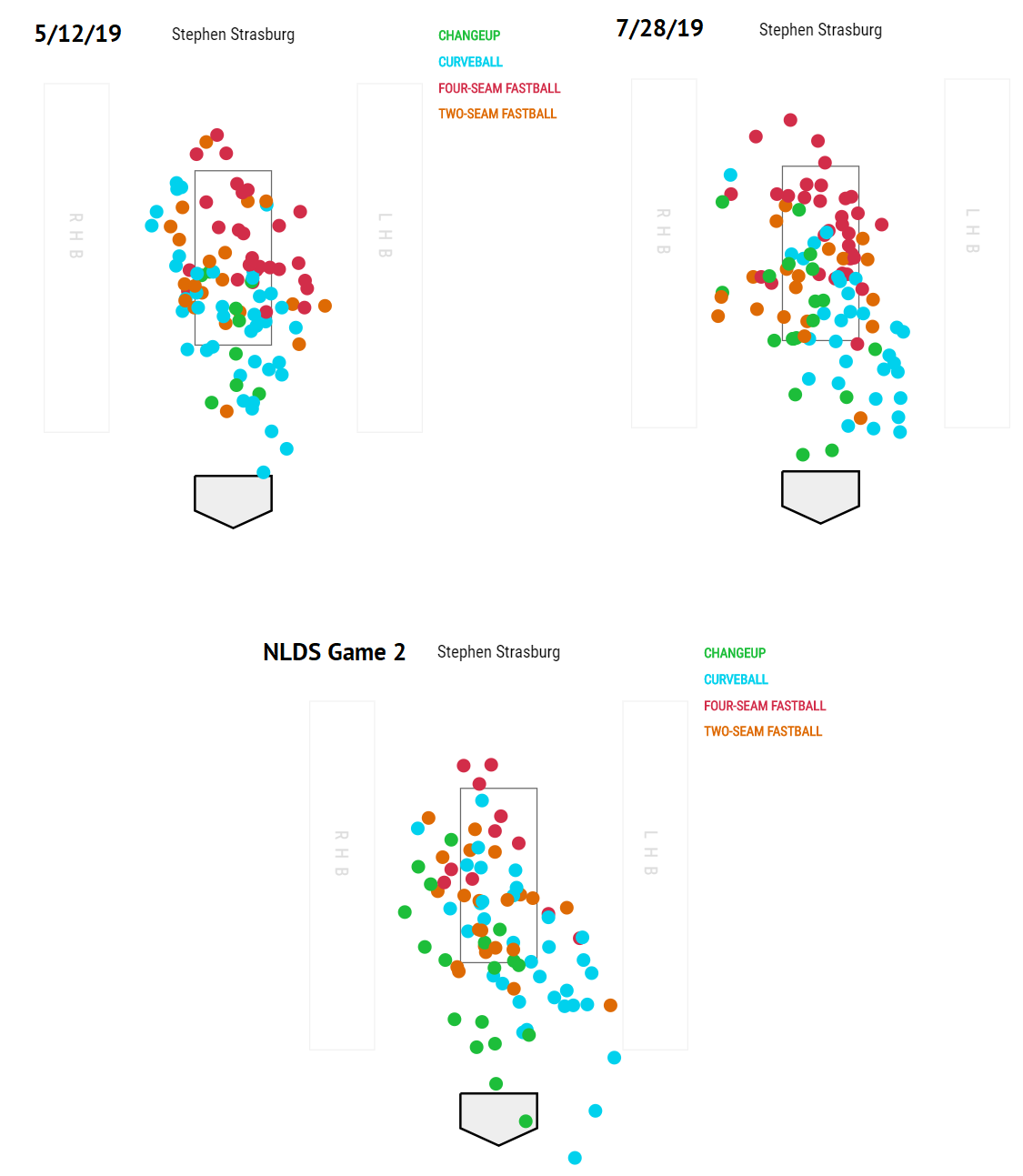 There's a certain kind of logic to this game plan. For one thing, Strasburg just pitched a few days ago against the Brewers — and brought his best heat — and though that wasn't a full start, the Nats don't have a long history of pitching Strasburg on short rest. Second, the Dodgers just aren't an elite team against curveballs. Of the remaining playoff teams, only the Cardinals did less against curveballs in 2019 than the Dodgers did.
Value per 100 Pitches for Remaining Playoff Teams
| Team | wFB/C | Rank | wCB/C | Rank | wCH/C | Rank |
| --- | --- | --- | --- | --- | --- | --- |
| Astros | 0.75 | 2 | 0.98 | 1 | 0.20 | 4 |
| Twins | 0.92 | 1 | 0.74 | 2 | 0.08 | 6 |
| Braves | 0.54 | 6 | 0.60 | 3 | -0.04 | 7 |
| Rays | 0.08 | 8 | 0.30 | 4 | 0.40 | 3 |
| Yankees | 0.67 | 3 | 0.29 | 5 | 0.76 | 1 |
| Nationals | 0.58 | 5 | 0.12 | 6 | 0.52 | 2 |
| Dodgers | 0.67 | 4 | 0.07 | 7 | 0.17 | 5 |
| Cardinals | 0.40 | 7 | -0.11 | 8 | -0.79 | 8 |
The Dodgers 17 total strikeouts ties the postseason record for nine-inning games with three other teams: the Red Sox in ALCS Game 1 in 2013, the Astros in NLDS Game 1 in 1998, and the Tigers in World Series Game 1 in 1968 (all 17 by in that start were recorded by Bob Gibson). As terrific as Strasburg's start was, Max Scherzer wrestled away a little sliver of the limelight with possibly the best superstar cameo since David Bowie in Zoolander. Unexpectedly, given his upcoming start, Scherzer came in and quickly mowed down all three Dodgers he faced, before leaving the scene almost as swiftly as he entered.
Despite the win, which effectively resets the NLDS as a best-of-three in which the Nationals have home-field advantage, there has to be some concern about the state of the Nationals' bullpen. Yes, as has been discussed, most of the worst parts of the bullpen are not part of Washington's roster, but it's becoming clear how little confidence the team has in their relief corps.
The two pitchers they've counted on the most, Sean Doolittle and Daniel Hudson, both had rocky appearances. With the Nationals holding onto a two-run lead, Doolittle left a juicy fastball for Max Muncy to crush to right, complete with the no-doubt bat drop. Ten of Muncy's 35 home runs were against pitches in the high-middle part of the strike zone. Muncy's home run percentage for high-middle fastballs in the strike zone was 9% in 2019. And by home run percentage, I don't mean that 9% of the balls he hit were home runs or that 9% of the balls he swung at were home runs, but 9% of all of those fastballs. Muncy hit seven homers on just 79 of those pitches. Don't throw those to him. Like, seriously. Muncy's walk in the ninth was intentional on Hudson's part, or at least Dave Martinez's, but Will Smith's most certainly was not, as Smith casually watched Hudson's sliders film a sequel to Wild, Wild West.
If they had confidence in their bullpen, the Nats probably wouldn't have turned to Scherzer when they did last night. Which of course forces us to consider the question: How long can they keep this up? The Nationals need to win 10 more games to take the World Series, and while it's the kind of thing that's hard for projections to pick up, it's difficult to see them being able to accomplish that feat if they only trust three starting pitchers on their team. At some point, they need some slugfests (that they're on the right side of) so that they aren't exclusively relying on Scherzer, Strasburg, and Patrick Corbin in a wide variety of roles. Surviving with three pitchers might have worked in the 1800s, but back then, the biggest worries for hurlers after games were liniments, mustache wax, and the risk that the club owner would sell all the equipment to a crooked carnival owner before fleeing town to escape his creditors.
ZiPS, naturally, is optimistic about Washington's chances of upsetting the Dodgers in the series, with the caveat that modeling a bullpen situation like that of the Nats have is hard to do in the short-term. All the wins and losses are big ones in October, but this was an especially significant win, as it was the game ZiPS projected the Nats to have the worst chance of winning with a short-rested Strasburg (43% Washington, 57% Los Angeles). In terms of winning the series, the computer says this win was worth 41 percentage points for the Nats, leaving them as the now-slight favorites.
One last bit of redemption: if Juan Soto had any remaining black mark on his permanent record for a baserunning gaffe that gave the Brewers one last hope to win the Wild Card Game, he wiped it out with one of the best catches I've seen from him in the majors. According to StatCast, Soto's catch in the third-inning only had a 10% chance of being fielded. During the regular season, his best catch projected to have a much higher 35% chance of being caught. Pretty impressive stuff.
Dan Szymborski is a senior writer for FanGraphs and the developer of the ZiPS projection system. He was a writer for ESPN.com from 2010-2018, a regular guest on a number of radio shows and podcasts, and a voting BBWAA member. He also maintains a terrible Twitter account at @DSzymborski.