On Wednesday, I tackled my picks for 2021's breakout hitters, so now it's time to look at the pitchers who feel like good bets to reach a new level of performance this season. Pitchers are inherently volatile creatures, so while there's the potential for looking smart, there's ample opportunity to end up sitting in the analytical dunce corner with that pointy hat that I'm not sure was actually ever a real thing. Let's get straight into the names!
The Yankees were cautious with Montgomery in 2020, a smart thing to do for a pitcher who was returning from Tommy John surgery in a season in which every good team made the playoffs. The 5.11 ERA in his 10 starts wasn't impressive, but many of the underlying numbers were. A .320 BABIP meant that his FIP was a much sunnier 3.87, but the good stuff doesn't end there. Compared to his promising rookie season of 2017, Montgomery walked fewer batters, struck out more, and induced more soft contact. A lot of soft contact, actually; Monty's average exit velocity of 84.6 mph was the third-lowest in baseball, behind Ryan Yarbrough and Max Fried. Not bad for a pitcher coming off two lost seasons! I don't think it would be the nuttiest thing in the world if Montgomery ends up playing Andy Pettitte to Gerrit Cole's Roger Clemens in 2021.
Musgrove was the last person cut from my 2020 list, something I greatly regret given that I put Mitch Keller there in his place. He already had a mini-breakout in his eight starts in 2020, with his strikeout rate shooting up by an absurd 50% over his career mark up until that point. The strikeouts weren't a flukey thing, either, as his contact rate dropped by a massive amount across the board. Like Montgomery, Musgrove doesn't bring any real amount of heat; if a healthy Jordan Hicks is a Trinidad Moruga scorpion chili pepper, Musgrove is more a poblano. His version of chiles rellenos is his curve, which he leaned on more heavily in 2020 with extremely sexy results, only allowing a single hit on the pitch all season. This is the year Musgrove completes the full breakout and ends up appearing in the All-Star game.
Zach Eflin, Philadelphia Phillies
Eflin's high BABIP hid just how much he improved in 2020, an improvement I think is real and will make him one of the best No. 3 starters in the majors this season. Like Musgrove, he relied on his curveball a lot more in 2020 than in the past, and he finished as one of the top ten curveball pitchers in terms of results (ninth in wRC among all pitchers). The biggest difference was the willingness to use the curve as a two-strike weapon. In 2019, Eflin only threw the curve on two-strike counts 3% of the time. In 2020, that went up to 19% against lefties and 24% of the time against righties. The result? Twenty punchouts via the curve compared to 28 in 2019 in about triple the number of batters faced. I'm definitely at odds with ZiPS' grumpiness here (4.59 ERA, 1.9 WAR in 151 projected innings), and my ample gut feeling is that Eflin beats the projection of the most optimistic of the systems — THE BAT at a 4.09 ERA — by a half-run.
Sure, Means has already been an All-Star, but there was a distinct feeling of a Jeff Ballard 1989-style fluke in that performance. In 2020, the velocity really started to kick up thanks to, of all things, a mattress.
Orioles All-Star left-hander John Means credits the tantalizing increase in velocity he displayed in his 2020 debut Thursday to throwing into a mattress in his garage throughout the lengthy quarantine the coronavirus pandemic required.

"I had a lot of time to myself," Means said. "Sometimes, it's better off with that sort of catch play because you're not really worried about where it's going but really just focusing in on your motion and how your body feels."

Means said he used the quarantine-mattress sessions to work on keeping his front side closed more, allowing him to better stay on plane toward home plate. In Thursday's start against the New York Yankees, Means' fastball averaged 95.2 mph, a large spike from 2019′s 91.7 mph, per Statcast. His average changeup velocity was also higher, at 84.1 mph compared to 80.9 mph last year.
It took Means a while to figure out just how to use his new-found velocity, but it was something he found as the season went on, and in his last four games, he struck out 30 batters in 23 2/3 innings and put up a 15.7% swinging-strike rate. Three of those four teams (Yankees, Rays, Blue Jays) made the playoffs, so it's not like he was feasting on the Rangers or Tigers. I think Means establishes himself as a real No. 2 starter and a long-term piece for Baltimore this season.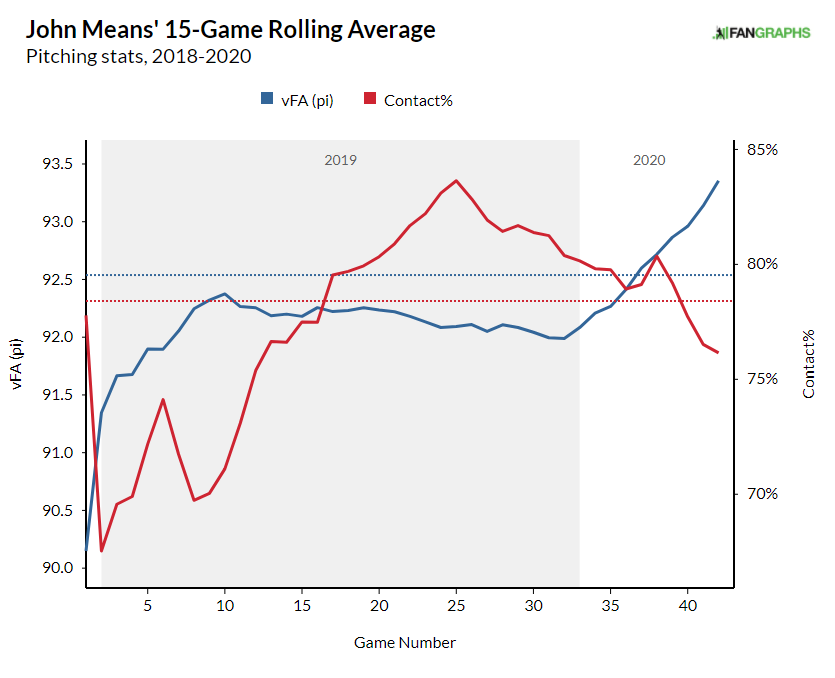 How can he break out; he's already had an MVP vote! Tepera still has occasional lapses in control, but I'll always put my money on a reliever who can miss bats, something that's not easy to teach. Tepera's cutter became one of baseball's best secret weapons, and hitters swung through it 62% of the time, a huge jump from the 35–45% rates he had previously in Chicago and Toronto. As a result, he had the third-best contact rate for all pitchers with 20 innings in 2020, behind only Devin Williams and Edwin Diaz, neither of whom were cheaply available in free agency this offseason. Compared to a pitcher like Kenley Jansen, who uses his cutter high in the zone at the edge and dares hitters to hit it, Tepera almost uses his cutter like a slider, a chase pitch that results in hitters making some regrettable swing decisions.
I think the Cubs got the deal of a century in bringing back Tepera on a one-year, $800,000 contract.
ZiPS likes Urías the most out of the projection systems, and in this case, I tend to agree. ZiPS uses playoff performance; after all, why wouldn't the most-important games pitched against the best teams in the league matter when gauging a player's ability to play baseball? Even more importantly, postseason stats being included slightly improves the accuracy of the projection itself, so it's more than just good-sounding theory. Urías bedeviled four solid teams in the playoffs in 2020, and I think his 29 strikeouts in 23 innings against four walks and three runs allowed represent his coming-out party to an extent. The Dodgers have been extremely careful with him, but I hope we get to see a career-high for innings out of him in 2021. Every pitcher deserves a chance to find his ceiling, and I think Urías' is very high.
Cease had a respectable 4.01 ERA in 2020, but he also had a 6.36 FIP thanks to an ultra-low strikeout rate and far too many walks. While I'm not optimistic about him becoming an All-Star like I am with the top pitchers on this list, I think we'll see a big improvement in the strikeout department in 2019. His contact rate wasn't amazing at right around league-average, but combine that with his high-90s velocity, and I'm far from convinced that he should struggle over the long haul to punch out batters.
ZiPS agrees in this respect, seeing Cease as the pitcher with the second-largest underperformance based on velocity, movement, and plate discipline stats in 2020. In other words, he needs to figure out that final key to making hitters cease-and-desist.
ZiPS Strikeout Underperformers, 2020
In some ways, I'm more confident about a Cease breakout than for Michael Kopech — a more common pick among analysts — who was always the more volatile prospect and hasn't been healthy since 2018. Cease doesn't have Kopech's ceiling, but I think he's more likely to be a league-average pitcher in 2021, something that shouldn't be undervalued for a contending team.
Well, the Rays acquired him, so he must be good!
Okay, not really, but they do have a knack for finding interesting relievers out of nowhere. And when I see a pitcher with a crazy-high BABIP well beyond the level of hitters being used as pitchers (the .330 range), I get really interested. Springs was occasionally hit really hard — naturally a bad sign for any pitcher — but I keep coming back to his changeup; only Devin Williams threw one that was harder to connect with in 2020. The Trop is a great place to be to contain mistakes, and I'm getting a real Doug Jones vibe from him.
Jones was successful for one inning, but when he returned to the mound for a second inning, he was exhausted. "I knew I had to take something off the ball," he says, "so I decided to throw a changeup I'd been experimenting with."

He had learned the pitch by watching former teammate Willie Mueller, who went on to pitch against the fictional Indians in the movie Major League. Jones retired the next six batters. After that, he pared down his six-pitch repertoire to a fastball and changeup. "The hardest part is accepting that you only have two pitches," says Jones, who went on to baffle opposing hitters for the remainder of his minor league career.
In terms of breakouts, I'll take a pitcher with glaring weaknesses but one great weapon over someone who is middling across-the-board.
So, who do you agree on? Who am I dead-wrong about? Who do you think I missed? Let us know in the comments!
Dan Szymborski is a senior writer for FanGraphs and the developer of the ZiPS projection system. He was a writer for ESPN.com from 2010-2018, a regular guest on a number of radio shows and podcasts, and a voting BBWAA member. He also maintains a terrible Twitter account at @DSzymborski.