Amidst a flurry of activity surrounding Gerrit Cole and Anthony Rendon at the Winter Meetings, the Blue Jays bolstered their starting rotation with an under-the-radar free agent signing. On Wednesday afternoon, Toronto agreed to a two-year, $24 million deal with Tanner Roark.
The Blue Jays had 21 different pitchers start a game in 2019, the most in the majors. While a handful of these starters were relievers acting as openers, it's still a shocking amount to work through in a single season. With Marcus Stroman and Aaron Sanchez traded mid-season, there were moments in September when the pitching probables for Toronto were filled with TBDs.
After trading for Chase Anderson earlier this offseason, the Blue Jays continued to shore up their thin rotation by adding Roark, and they paid a bit of a premium for his durability. He's made more than 30 starts in five of the last six seasons, with a stint in the bullpen in 2015 as the lone outlier. And though his innings total dropped to 165 in 2019 after three straight seasons of 180 innings or more, he made 31 starts split between Cincinnati and Oakland. His new pact with the Blue Jays has an average annual value higher than Kiley McDaniel ($10m AAV) or the crowd ($9.6m AAV) projected. With such a shaky rotation, the consistency and reliability of Roark was likely a factor in that slightly elevated salary.
For a team entering the later stages of a rebuild, the 33-year-old should provide plenty of volume. Beyond that durability, Roark's profile is rather average. He had some great years for the Nationals towards the beginning of his career, but his peripherals have deteriorated recently. His primary pitch is a decent sinker that averages 92 mph. A few years ago, he started mixing in his four-seam fastball a little more often at the expense of that sinker.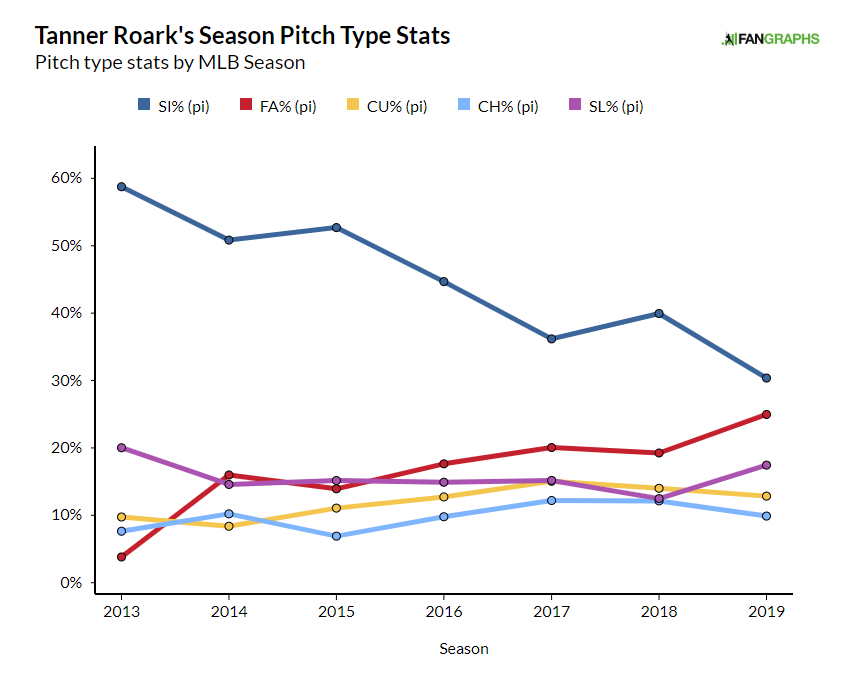 With modern batters designing swings to elevate the ball, throwing a few more four-seam fastballs seemed like a prudent strategy. He's able to generate more whiffs with his four-seamer, but those extra swinging strikes come at a significant price. His groundball rate dropped from 48% in 2017 to just 36% in 2019. All that extra lofted contact has resulted in a huge increase in the number of homers allowed. His home run rate really spiked after being traded across the country to Oakland, as he allowed the same number of home runs as an Athletic as he did as a Red in half the innings.
Not only did the usage of his sinker drop to a career low in 2019, but he started throwing his slider a little more often too. Unfortunately, his ability to generate whiffs with his slider fell with more exposure. Batters swung through his slider around a third of the time while he was with the Nationals, but his slider whiff rate dropped to 21.5% in 2019.
If he's open to continuing to tinker with his pitch mix, his curveball looks a little more interesting than any of his other secondary pitches. It's spin rate sits in the 82nd percentile and possesses excellent vertical movement. For curveballs thrown near the same velocity, it has 4.8 inches more drop than average. That vertical movement translates to a decent amount of whiffs and groundball contact, but he's only thrown his bender around 13-15% of the time. Paired with his four-seam fastball, his curveball could become a nice weapon for him. His swinging strike rate might not change all that much, but throwing it more often could help him raise his groundball rate a touch and combat his home run problem.
Barring any other additions, Roark likely slots in as the Blue Jays' second starter behind Anderson. They're banking on a couple of seasons of durability with some potential for upside. His profile seems like it would be extremely sensitive to any changes to the ball, but even if the dragless version continues to be used in 2020, his stabilizing presence in Toronto's rotation is worth the two-year deal.
Jake Mailhot is a contributor to FanGraphs. A long-suffering Mariners fan, he also writes about them for Lookout Landing. Follow him on Twitter @jakemailhot.