We are truly living in the age of blazing fastballs. Pitchers are throwing harder than ever, and measurements like spin rates are getting recognized as a crucial tool for effectiveness. At the same time, the fastball is also getting rarer than ever, but the pitch is still quite valuable and that will never change. Having the most valuable fastball in the league is something that will catch a lot of fans', scouts', and front office members' attention.
It's easy to think that the most effective fastball in 2019 would be that of a classic fireballer. One could guess names like Justin Verlander, Gerrit Cole, or Max Scherzer. While those three are all having good seasons, our metrics have so far crowned someone else as having the best fastball of 2019 so far. The current fastball champ is none other than Jake Odorizzi. Depending on how much you've been following the Twins, you may be surprised to hear that Odorizzi has a 2.24 ERA and a 3.00 FIP in 14 starts this year. He's boasting a career-best 28.3% strikeout rate while limiting home runs (0.71 HR/9IP) despite being an extreme fly-ball pitcher (29.4% ground-ball rate). Prior to this year, Odorizzi's been known as a decent, middle-to-back-end pitcher, but not quite a top-of-the-rotation caliber starter like he's been this season.
Arsenal-wise, Odorizzi's fastball has been his best pitch in his career. It has accumulated 59.6 in wFB while the only other pitch that netted a positive value is his slider at 2.9. His other pitches — a cutter (-10.3), curveball (-8.2), and changeup (-18.9), have not. He's done that without significantly backing off fastball usage, having used it 55.4% of the time in his career. This year, that figure is that 60.7%, which is the highest after his debut 2012 season (71.1%) in which he made only seven starts.
Let's go to Statcast for a second. Looking at the data, one obvious thing is the velocity jump. He averaged at 91.1 mph last year, but it's jumped to 92.8 mph in 2019. It's not just his fastball as well, as his other pitches have also gone up a tick. There's not much difference in spin rate (2,255 -> 2,239), but velocity boost itself may be significant enough. Is it plausible that the velocity boost has been the cause of Odorizzi's newfound effectiveness? I don't see why not. This might be oversimplifying things a bit, but better velocity, in principle, is harder to catch up for hitters. Pitching is messing with hitters' timing, and a 93-mph fastball is harder to catch up to than a 91-mph fastball. Sometimes, it just can be that simple.
Here's Odorizzi throwing his fastball for a swinging strikeout of Mike Zunino:
And here's Odorizzi again, throwing his fastball past Brandon Lowe:
There's not a lot to infer from two pitches. I do enjoy the Tropicana Field broadcast angles, and these two clips do seem to accomplish what Odorizzi intended. They also marked at 93 and 95 mph on broadcast gun, which is way higher than how hard he used to throw. Now that we've got some visuals out of the way, it's time to let the data speak for itself. So far, here's how the FanGraphs 2019 fastball pitch value leaderboard looks.
Top 10 Fastball Values Among Qualified Starters
Let's make this a bit more fun. Because every pitcher has pitched different amounts, their pitches' value per run might look a little different. For that we have wFB/C metric, which is standardized runs by pitch. Here are the leaders in the wFB/C metric among all qualified starting pitchers in 2019:
Top 10 wFB/C Values Among Qualified Starters
Some names are jumbled around in this leaderboard, but Odorizzi remains on the top. One of the reasons to buy into Odorizzi's fastball is that not only has it been effective, but he also uses it frequently. His fastball velocity (26th percentile) and spin (42nd percentile) rank below-average among major league pitchers, but he's found a way to make it work. Looking at his Statcast numbers a bit more, not only has his fastball been getting swings-and-misses (32.5 Whiff%), but it's also been a bad-contact pitch. In 2019, his heat has generated a paltry .237 wOBA and an expected wOBA of .284.  Because it's been a tough pitch for hitters to square up, Odorizzi's been using it more often. It's not a revolutionary concept. Pitchers favor their best pitches and that's what Odorizzi's been doing.
In order to find why it's so effective, we must look at how he uses the pitch. On the surface, Odorizzi's had a straightforward approach with his fastball: put 'em up high.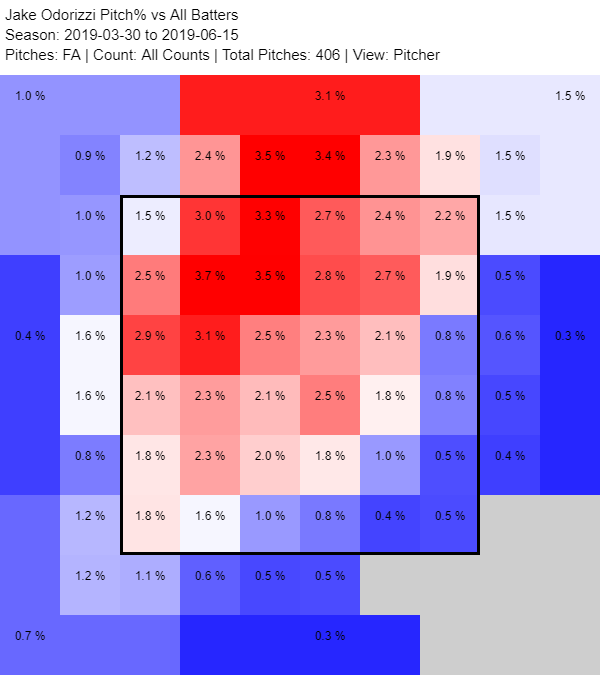 As you can see, that's a lot of red on the top and above the strike zone. It's a pattern that's exacerbated when he's ahead in the count, which one can guess means that he's trying to get the hitters to chase or induce weak fly-ball contact.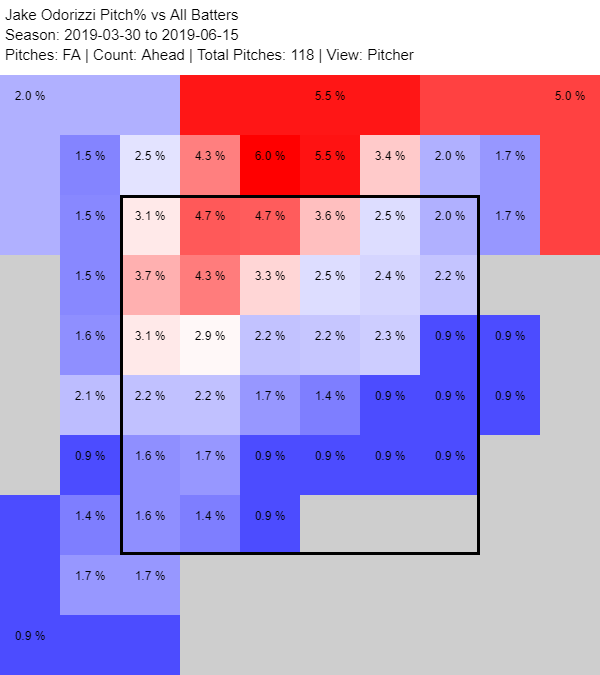 When he's behind in the count, the pattern drastically changes. He locates them more within the zone, trying to even the count or get ahead of hitters. Again, it's pretty simple.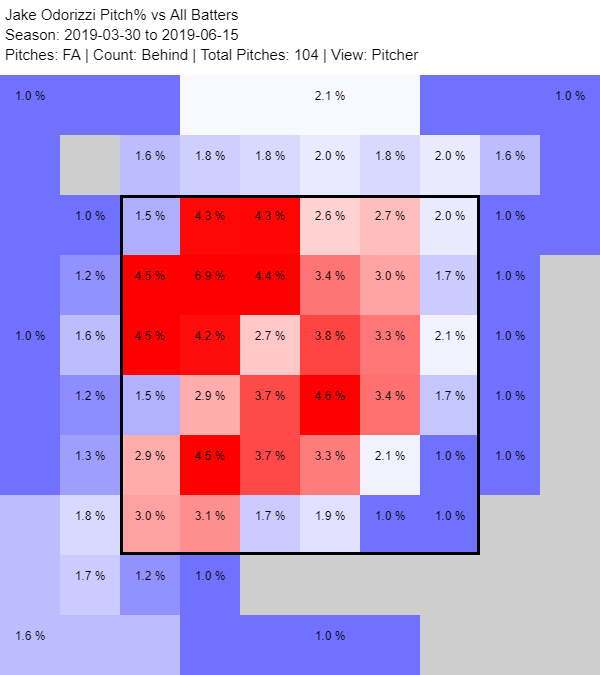 My question at this point is did he exhibit the same pattern last year or is this something new? Looking at 2018 heatmaps, he showed the same high fastball tendency for most of the count, which again was emphasized when ahead in the count and more into the zone when behind. So it's hard to say that he's done anything drastic to his fastball usage.
What is notable, however, is that Odorizzi's approach is a product of the Tampa Bay Rays' high-fastball-approach boom from 2017. Travis Sawchick talked to Odorizzi about the switch from emphasizing the low part of the zone to going up high. The idea was there. However, Odorizzi didn't reap immediate results, allowing 30 home runs in 143.1 IP in 2017. He took the same approach after a trade to Minnesota. While his strikeout rate saw an uptick and his home run rate lowered, he was not the caliber of pitcher that he's been in 2019. Because of his new success, it becomes essential to diagnose what he's changed to reap such results for this season.
A part of Odorizzi's 2019 success can be owed to pitching coach Wes Johnson and the forward-thinking Twins analytics department, who provided Rapsodo motion tracking technology for Odorizzi to study the information. According to the Star Tribune, Odorizzi tweaked his mechanics to make "better use of his legs" in hopes to increase velocity. So far it has worked pretty well.
I don't want you to feel that Odorizzi has the most incredible fastball in all of the big leagues. This is purely a results-based observation. He's seen improvement on his fastball (and the rest of his arsenal) and been able to use it quite effectively. Maybe this is the vision that the Rays had of him when they suggested a high-fastball approach back in 2017, but he's been able to see its fruition this season. That success has helped him become one of the best starting pitchers of the 2019 season so far, which is a pretty good deal considering that Odorizzi's heading to free agency this offseason. Maybe he'll continue his domination or maybe hitters will catch up to him — we don't know. But we can say this for sure: what he's done with his fastball so far this season certainly hasn't hurt himself or the Twins.
Sung-Min Kim writes for River Ave. Blues, and has written for MLB.com, The Washington Post, Baseball America and VICE Sports. Besides baseball writing, he is also passionate about photojournalism and radio broadcasting. Follow him on Twitter @sung_minkim.