I'll grant that trying to answer this is unavoidably subjective. The Nationals just signed Brian Dozier, and a bone bruise might've clipped four wins from his WAR. The Braves are crossing their fingers for a healthy season from Josh Donaldson. Corey Seager is returning to the Dodgers after missing almost the whole year. The Cubs are looking for Yu Darvish to rebound. The Angels are looking for Zack Cozart to rebound. Dustin Pedroia should be coming back. Michael Pineda should be coming back. Buster Posey should be coming back. And so on and so forth. Baseball players get hurt. They try to put those injuries behind them. They try to get back to being what they were.
But as I think about this — certain recoveries are more predictable than others. Certain recovering players have bigger error bars than others. In a sense, the purpose behind this post is simply to remind you of the existence of Jimmy Nelson. But I think he really is the biggest injury wild card for the season ahead. The Brewers will play in a division with at least three and possibly five competitive teams. As of this moment, the Brewers are projected to have a below-average starting rotation. Jimmy Nelson might be a zero, as he was in 2018. Or he might be an ace, as he was in 2017. I don't know which it's going to be. The Brewers don't, either.
Nelson is currently optimistic, saying he'll be at 100% for spring training. That's good news, and he's well past a year since his surgery. This isn't the first time we've heard optimism, though, as Nelson got going quickly in his rehab. For a while, it looked as if he might return in 2018, perhaps even around the All-Star break. No return ever happened. It's not exactly that there was a setback — Nelson's just trying to come back from a lot. He didn't undergo some run-of-the-mill operation on his elbow.
Nelson was injured in September 2017, and he wasn't injured pitching. Rather, he was injured sliding back into first base after rounding too aggressively. He actually pitched the bottom half of the same inning, but then he was removed, and he hasn't pitched for the Brewers since. The slide destroyed his shoulder, and he needed major surgery.
A description, from Todd Rosiak:
Nelson, 29, underwent what could be described as almost complete shoulder reconstruction last Sept. 19 in Los Angeles, with the game's pre-eminent shoulder surgeon, Neal ElAttrache, repairing his rotator cuff, anterior labrum and capsule.
It doesn't really matter who you ask — "complete shoulder reconstruction" isn't what you want. Baseball history is littered with talented pitchers whose shoulders let them down. On the plus side, Nelson's still pretty young, and he has been throwing. Also, there was this, from Rosiak shortly after the injury happened:
"I'm not sure," [Nelson] said. "The position where he said he saw the partial tear, the surgery procedure is a lot more successful than just a regular labrum procedure. He said that this certain procedure is 90-plus percent success rate. So that's definitely good news, that part of it."
With luck, Nelson won't go the way of Brandon Webb. With luck, Nelson will be back, and he'll be back just about fully restored. That can hardly be taken for granted; this really is a situation you just have to take one day at a time. Nobody knows how often Nelson might be able to pitch, but I'd like to remind you of how good he was the last time he was healthy. Two years ago might as well be 40 years ago, but to jog your memory, here are Nelson's percentile rankings for 2017, out of 125 starting pitchers with at least 100 innings: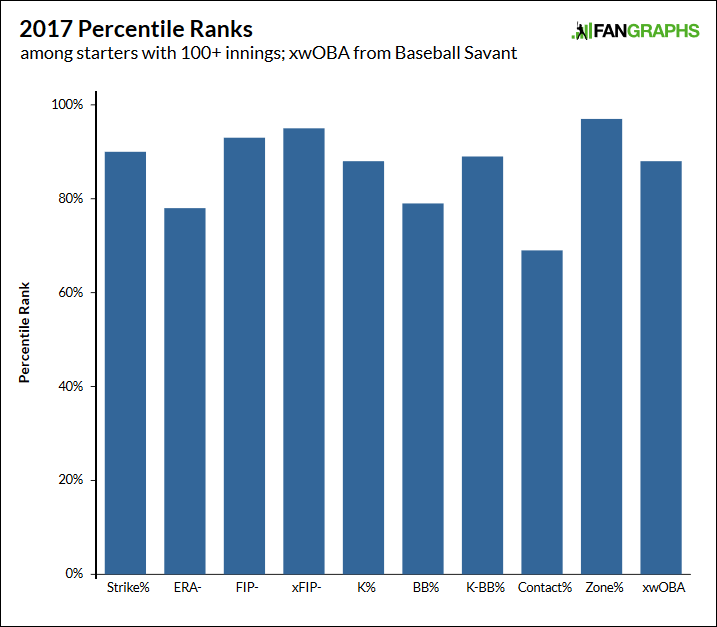 Almost across the board, Nelson was in the top fifth of all starters, and this is already a group that selected for guys worthy of getting 100+ innings. By park-adjusted FIP, Nelson ranked eighth; by park-adjusted xFIP, Nelson ranked sixth. He was similar to starters like, say, Carlos Carrasco and James Paxton. And the real shame is that, for Nelson, it was a breakout. For 175.1 innings, he became something he hadn't been before. I had written about Nelson and his mechanical changes that June. Nelson was reaching his ceiling, and then the sky fell down.
Nelson's year-to-year breakout was really something else. We have pitcher K-BB% going back to 1916. So here are the ten biggest year-to-year improvements in K-BB% since 1916, for starters with at least 100 innings in consecutive years:
Biggest K-BB% Improvements, 1916-2018
Minimum 100 innings as a starter in each season.
I know that it's easier to stand out in more recent years, since strikeout rates have gone up. But even though that table isn't adjusted for era, fourth place is fourth place. We'd almost never seen a breakout like that, and unsurprisingly, it also shows up in park-adjusted FIP. Here are the ten biggest year-to-year improvements in that statistic, for the same pool of pitchers:
Biggest FIP- Improvements, 1916-2018
| Pitcher | Year 1 | Year 2 | Y1 FIP- | Y2 FIP- | FIP- Change |
| --- | --- | --- | --- | --- | --- |
| Ray Sadecki | 1966 | 1967 | 133 | 78 | -55 |
| Jimmy Nelson | 2016 | 2017 | 122 | 70 | -52 |
| Juan Pizarro | 1960 | 1961 | 131 | 80 | -51 |
| Mark Langston | 1985 | 1986 | 140 | 90 | -50 |
| Francisco Liriano | 2009 | 2010 | 113 | 64 | -49 |
| Mike Scott | 1985 | 1986 | 109 | 61 | -48 |
| Pedro Martinez | 1998 | 1999 | 77 | 30 | -47 |
| Jake Peavy | 2003 | 2004 | 119 | 74 | -45 |
| Bobby Bolin | 1967 | 1968 | 135 | 90 | -45 |
| Dave Boswell | 1965 | 1966 | 132 | 87 | -45 |
Minimum 100 innings as a starter in each season.
Nelson got better by 52 points, and only once has that been exceeded. Yes, Nelson had been better before. His FIP- the previous season was 103, instead of 122. But that 70 still came as a surprise. Nelson blew away his previous highs for strikeouts, and he was carried by a massive improvement against left-handed hitters. Nelson was pitching with power and location in and around the zone, and he was a big reason why those Brewers almost pulled off a Cinderella run to the playoffs.
This past year, without Nelson, the Brewers made the playoffs, and they almost made the World Series. That's what can happen when you add Christian Yelich and Lorenzo Cain within a matter of hours. Yelich and Cain are still there, and they've also been joined by surprise signing Yasmani Grandal. The Brewers are taking this seriously, trying to capitalize on the window they've opened. They'll be competitive again, albeit in a competitive division where the Cardinals are making a play to be favorites.
So much is going to come down to Nelson. It won't always feel exactly like that, but Jimmy Nelson could be the difference between taking first place and missing the playoffs. Jhoulys Chacin is just fine as a starter, and guys like Corbin Burnes and Freddy Peralta can be electric. The Brewers already have more than five options, because the Brewers have needed more than five options. But no one is realistically capable of doing in 2019 what Nelson has already done in the past. He's already pitched like one of the best starters in baseball. That was some time ago, on the other side of a shoulder reconstruction. What comes next is anyone's guess.
Odds are, the Brewers are hoping, more than they're planning. Even in private, even within the industry, baseball isn't that knowable. Jimmy Nelson is a variable who might well decide the Central division.
Jeff made Lookout Landing a thing, but he does not still write there about the Mariners. He does write here, sometimes about the Mariners, but usually not.