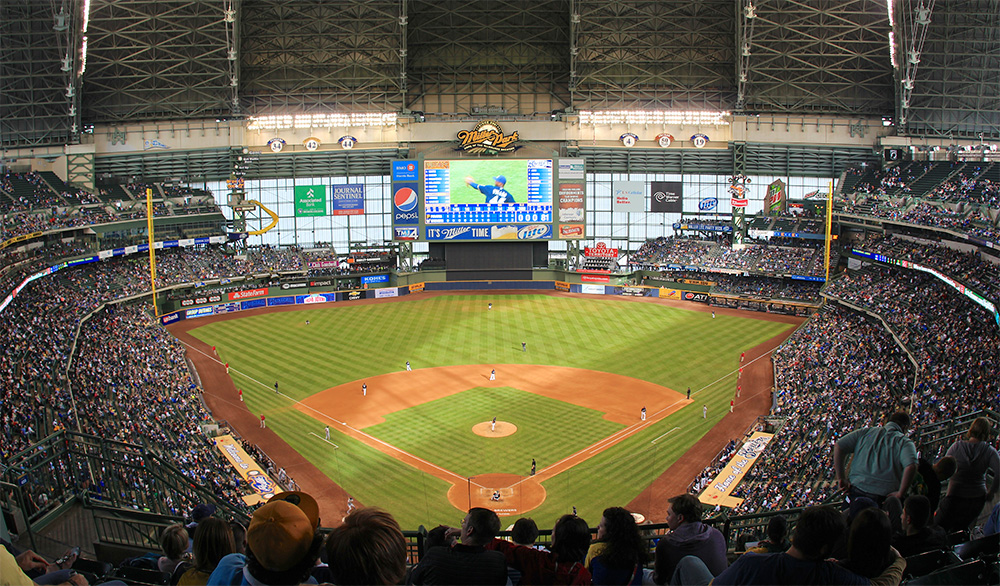 "I am sick to death of cleverness. Everybody is clever nowadays." – Oscar Wilde, The Importance of Being Earnest
From the point of view of the 2010s Cubs, one could argue that their true antagonist has been the Milwaukee Brewers rather than their historical rivals, the St. Louis Cardinals. In two consecutive Septembers, it was Milwaukee that twisted the knife, first by catching up and taking the division on the back of an eight-game winning streak in 2018, and then by winning 11 out of 12 in 2019 to leave Chicago choking in the dust. They even managed that last one without Christian Yelich, a feat not unlike the magician's grand reveal at the end of a particularly exciting illusion.
The Setup
As far as rebuilds go, the mid-decade one by Milwaukee was not too traumatic. In 2014, the Brewers burst out of the gate unexpectedly, winning 10 of their first 12 games, giving them first place in the NL Central. Despite projected win totals in the mid-70s, Milwaukee's 20-8 April gave the club enough of a cushion that when the inevitable regression toward the mean occurred, it didn't fall out of first place until the start of September. Four months of below .500 ball (53-55) eventually did them in, and a rough September dropped their final record to 82-80.
After struggling in 2015, the Brewers had the courage to do what a lot of teams in a similar position do not: rebuild before the roster was devoid of talent. Philosophically, rebuilding from a situation in which you're not completely out of options ought to give a team more flexibility in the rebuild and a less painful fallow period. While I'm no expert in home repair, I would guess that it makes sense to replace the roof before you've got six inches of water in your kitchen.
Because the Brewers shifted directions before that change was thrust upon them, the ZiPS projections in 2016 thought that of the rebuilding teams, the Brewers would be the first to get back into contention. And it worked. The Brewers were up to 86 wins in 2017 and fell just short of the playoffs. The team then embraced boldness and re-made the outfield, picking up Yelich from the Marlins and signing Lorenzo Cain to a long-term deal.
That also worked. Yelich became a monster, Cain an on-base demi-god, and the Bad News Bears-esque pitching staff full of castoffs and rejects finished fourth in the NL in ERA. It added up to 96 wins as the 2018 season ended for the Brewers just one game away from making the World Series for the first time since Harvey's Wallbangers.
Last winter didn't feature the same level of aggression from the Brewers, but this didn't prove fatal in an offseason landscape in which nobody in baseball seemed all that interested in, well, doing stuff. While I personally felt it would have been a good time to go after Patrick Corbin — the Brewers were bidders on Yu Darvish before 2018 — and strengthen the pitching rotation, the team decided to stick with their strategy of distilling quality from quantity. Outside of St. Louis's acquisition of Paul Goldschmidt, the rest of the division's contenders were similarly non-aggressive over the winter.
The Brewers did prove opportunistic and took advantage of the heat-death-of-the-universe free agency, landing both Yasmani Grandal and Mike Moustakas on short-term deals.
The Projection
Of the public projection systems, ZiPS tended to like the Brewers more than most in 2018, and that pattern continued in 2019. ZiPS projected the Brewers for third place with an 85-77 record, but just a game behind the Cardinals and two behind the Cubs. That optimism extended to the late-winter signings as well, with ZiPS forecasting a .238/.349/.462, 3.2 zWAR line from Grandal. Moustakas was projected for a .267/.324/.506 line and 3.2 WAR, which would be his best season since 2015. Essentially, ZiPS saw Miller Park as a particularly beneficial home for Moose, with his left-handed power bat getting a park-effect boost the same way Prince Fielder's did back in the days of semi-yore.
Where ZiPS had the most concern was the starting pitching. It saw Milwaukee having an astounding 12 starting pitchers who could be worth one WAR or more in 2018, but the projected leader was Freddy Peralta at just 2.2. That in itself isn't fatal — the 2018 Brewers almost made the World Series with a rotation leader of Jhoulys Chacin at 2.4 — but it did portend another season of cobbling together a solid rotation.
There was little projection-related worry about the offense. There were a couple of weaker spots, most notably Ryan Braun continuing to decline and stark pessimism about Orlando Arcia's bat ever coming around. On the whole, ZiPS saw the lineup as full of above-average offensive players. In summary, my computer saw the Brewers as a serious contender, but not a flawless powerhouse.
The Results
On a general level, it's hard to say ZiPS was that wrong. Brandon Woodruff crushed his ERA+ projection (123 vs. 101), but the team didn't have quite the success getting all the pitching pieces to work as well as in 2018. The overall pitching WAR dropped to 17th overall and ninth among National League teams. This ranking would be even worse if the Brewers hadn't again pulled production out of thin air, getting surprisingly good performances from Drew Pomeranz and Jordan Lyles, two pitchers that attracted very little interest otherwise at the deadline.
It's hard to remember given the team's late-year surge, but the club generally failed to put significant space between their record and the .500 mark. This was a common theme in the NL Central, with the four non-Cincinnati teams all having stretches in which it appeared they might take control of a water-treading division. When Yelich fractured his kneecap on September 10th, prematurely ending an MVP-esque campaign, the Brewers were third in the NL Central and third in the wild card race. In a useful reminder that stars in baseball don't control the fate of their teams the same way stars in football or basketball do, Milwaukee went 13-5 over baseball's final weeks, making the playoffs with three wins to spare.
One important question answered in 2019 was what to do with Keston Hiura. Without an obvious place to start him at the beginning of the season, the hope was always that the team's most advanced prospect would mash his way into the majors. Hiura did just that, hitting .329/.407/.618 for Triple-A San Antonio. Travis Shaw struggled, and when he landed on the injured list, the team had a golden opportunity to call up Hiura to play second base and move Moustakas back to third. I was quite disgruntled when Hiura was demoted in June with a .281/.333/.531 line as Shaw returned, but the latter hit .167/.310/.313 over 13 June starts, and this confusing state of affairs was fixed by the end of the month.
What Comes Next?
One thing I consider positive about the Brewers is that they passed the George Washington Test. By that I mean that like the smooth succession of power from Washington to John Adams, the Brewers as an organization were able to keep winning without relying on the players that fueled their initial surge in 2017. The team's top nine hitters in 2017 combined for 16.9 wins. Three of those nine weren't even on the 2019 Brewers, and the remaining six combined for just 3.5 of the team's 24.0 wins from position players. The story with the pitching was similar, with injuries preventing many of the team's best pitchers from 2017 from being key parts of this year's staff. I consider this a good sign as franchises have to evolve to stay competitive.
Milwaukee has proven to be a creative organization, but it's also at a point at which money is going to be necessary to continue evolving the franchise. The hints that the Brewers couldn't afford to give a four-year, $73 million contract to the second-most valuable player on the team in 2019 is very troubling. Even including the $15 million in player benefits you don't typically see reported as payroll and salary arbitration estimates, the team's luxury tax number is only around $110 million. The team could have given Grandal a four-year, $80 million contract and still have a payroll below the league average.
Nor does the team have impending expenses to inflate that payroll quickly. Yelich and Cain are under team control for three more seasons, and Jimmy Nelson, with only 22 innings in the majors in the last two years due to injury, is the only significant free agent after 2020. Of 2019's contributors, only Corey Knebel and Zach Davies are free agents after 2020, and the Brewers will have substantial savings at that point from the expiration of Braun's deal.
This is an organization, after all, that was so sufficiently willing to spend money that they made a bid for Darvish after adding Yelich and Cain in early 2018. It's one thing if the Brewers felt that Grandal specifically just wasn't worth the financial risk. I'd disagree with that assessment, but it's a different matter if the Brewers just don't want to spend $74 million on a top free agent at all. This is a team that ought to be playing in the deep end for one of the top-tier free agents, not coming in with a reduced payroll after an 89-win season.
The Absitively, Posilutely, Way-Too-Early ZiPS Projection – Keston Hiura
As mentioned above, Hiura's development was one of the best bits about Milwaukee's 2019. Shaw's setbacks and Arcia's lack of progress left Milwaukee's infield much weaker than expected, making Hiura breaking out a more urgent matter for the team. Hiura will have trouble hitting .300 again if he continues to strike out 30% of the time, and he was too feast-or-famine against sliders, but the power is for real. The jury's still out on his defense, which was the biggest concern about his game coming into the majors. Small sample size and all that, and DRS was less negative, but it will be hard to keep Hiura at second long-term if he's close to the -19 UZR/150 from his debut.
ZiPS Projection – Keston Hiura
| Year | BA | OBP | SLG | AB | R | H | 2B | 3B | HR | RBI | BB | SO | SB | OPS+ | DR | WAR |
| --- | --- | --- | --- | --- | --- | --- | --- | --- | --- | --- | --- | --- | --- | --- | --- | --- |
| 2020 | .286 | .346 | .504 | 546 | 79 | 156 | 34 | 5 | 25 | 78 | 42 | 131 | 17 | 119 | -10 | 2.9 |
| 2021 | .288 | .351 | .520 | 531 | 79 | 153 | 35 | 5 | 26 | 79 | 43 | 131 | 16 | 124 | -9 | 3.2 |
| 2022 | .288 | .354 | .525 | 531 | 80 | 153 | 35 | 5 | 27 | 80 | 46 | 134 | 16 | 126 | -9 | 3.4 |
| 2023 | .285 | .353 | .528 | 530 | 80 | 151 | 35 | 5 | 28 | 81 | 47 | 134 | 16 | 126 | -9 | 3.4 |
| 2024 | .281 | .351 | .528 | 523 | 79 | 147 | 33 | 6 | 28 | 80 | 48 | 134 | 15 | 126 | -9 | 3.3 |
| 2025 | .280 | .350 | .524 | 511 | 78 | 143 | 32 | 6 | 27 | 78 | 47 | 133 | 14 | 125 | -10 | 3.0 |
ZiPS isn't seeing Hiura maintaining a .400 BABIP because, well, doing that isn't actually a thing. But from his hit profile, it does see a player that can maintain a .330-.340 BABIP, which will keep the overall batting average at healthy levels. I'm actually surprised ZiPS isn't projecting more power upside than it is (note that ZiPS is projecting a small decrease in offensive levels overall). At a minimum, Hiura looks like a solidly above-average player with multiple paths to attaining his All-Star upside.
Dan Szymborski is a senior writer for FanGraphs and the developer of the ZiPS projection system. He was a writer for ESPN.com from 2010-2018, a regular guest on a number of radio shows and podcasts, and a voting BBWAA member. He also maintains a terrible Twitter account at @DSzymborski.