The last two seasons, Jose Berrios has been on the periphery when it comes to considering the best pitchers in baseball. In 2017 and 2018, he put up three-win campaigns and his 6.1 WAR ranked 22nd among pitchers, just behind Blake Snell, Kyle Freeland, and Mike Clevenger, and just ahead of Jon Gray, Charlie Morton, and Kyle Hendricks. It's a good group to be associated with, and a few of those players have had great seasons, but with Berrios putting up two similar seasons, he's not viewed in the same way as Snell and he hasn't been quite good enough to move himself into the top 10 or 15 pitchers in the game. That's changed this season, as Berrios has been more aggressive, reduced his walk rate, and become more effective against lefties, all of which has resulted in a season that's put him firmly among the top 10 pitchers in the game.
After an uneven debut season in 2016 at just 22 years of age, Berrios registered solid efforts in 2017 and 2018. Here's how those seasons compare to what Berrios has been able to do this year:
Jose Berrios' Step Forward
| | IP | K% | BB% | ERA | FIP | WAR | WAR/200 |
| --- | --- | --- | --- | --- | --- | --- | --- |
| 2017-18 | 338 | 24.1% | 7.7% | 3.86 | 3.88 | 6.1 | 3.6 |
| 2019 | 104.2 | 22.9% | 4.7% | 2.84 | 3.54 | 2.8 | 4.8 |
The big positive change is the reduction in his walk rate. Berrios has achieved that number mostly by pitching more in the zone. He's sacrificed his strikeout rate slightly, though he's made up for that loss by doubling his infield fly rate. Berrios' FIP this season might not seem drastically altered from the previous two seasons, but with the change in run environment, the three-tenths difference means more than a win over the course of a full season. Berrios did suffer a blister issue in his last start against Kansas City, but currently remains on schedule to start later this week with hopes that the issue is a minor one.
Berrios has achieved better numbers this season by taking a step forward against lefties and being more aggressive in the zone. Against lefties, Berrios was better in 2018 than he was in 2017, but in both seasons, he walked lefties at a double-digit rate. This season, he's reduced that figure to under 5% to be in line with his numbers against righties. That difference can be attributed to increased reliability and effectiveness of his changeup, a pitch typically used when the hitter has the platoon advantage. With respect to usage, here's how Berrios has changed against lefties from last season:
Jose Berrios Usage Against Lefties
| Pitch | 2018 v L | 2019 v L | Change |
| --- | --- | --- | --- |
| FA | 36.8% | 36.3% | -0.5% |
| CU | 22.9% | 22.2% | -0.7% |
| SI | 24.8% | 18.7% | -6.1% |
| CH | 15.4% | 22.6% | 7.2% |
We can see Berrios' increased changeup use against lefties as well as the decreased use of his sinker. Throwing more changeups isn't the best idea if the pitch isn't very good and last season, the pitch wasn't very good. The whiff rate, at 12%, was fine, but the problem was that Berrios only threw the pitch in the zone 25% of the time. So while the whiff rate was good, those whiffs were essentially the only positive outcomes, with mostly just a lot of taken balls. He only got six strikeouts on the pitch last year to go along with four home runs. This season, Berrios is locating the pitch better to make it more competitive. Take a look at the heatmaps below showing where Berrios has pitched the change to lefties in 2018 and this year: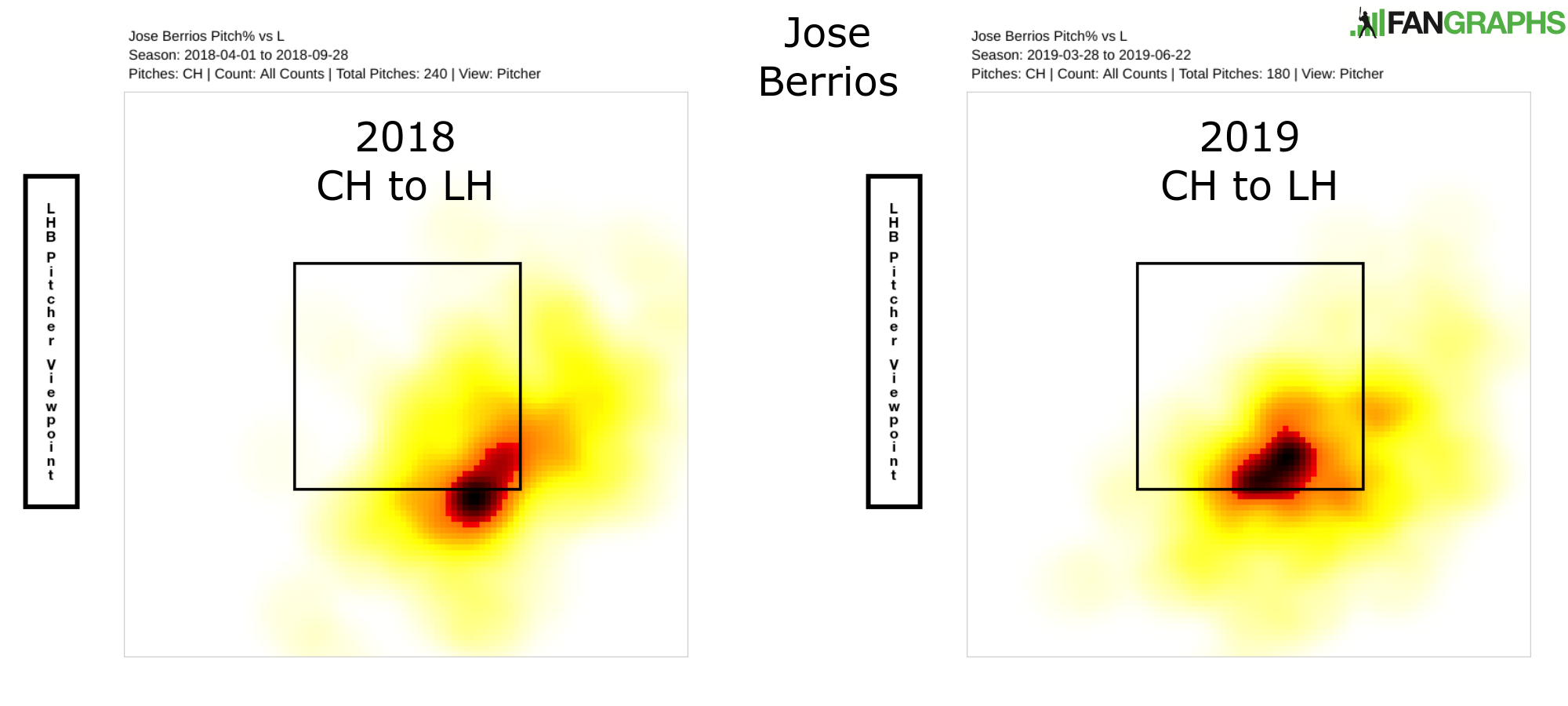 Berrios has thrown more pitches in the zone this year, and the result has been more swings out of the zone as hitters can't just always take the pitch and assume a ball. Here's the pitch against Francisco Lindor:
The pitch also has something to do with Berrios' increased popup rate; he induced three popups all of last season on the pitch and already has six this year, like this one to Daniel Vogelbach:
The pitch has also allowed Berrios to show off his versatility and creativity. After Jake Bauers frustrated Berrios by fouling off multiple pitches, Berrios threw a changeup. This changeup just happened to be about 10 mph slower than his typical offspeed offering:
Berrios has shown the ability to modify game plans to meet the demands of the opponent. Dan Hayes wrote about Berrios moving away from the curve in a start against the Red Sox after a few early hits; Berrios dialed up one of his best starts of the year with 10 strikeouts, no walks and just a first inning run in eight strong frames.
If there is anything curious about Berrios' season so far it's that his curve hasn't been a big part of it. The curve has been Berrios's best pitch for finishing off hitters, as seen below:
Unfortunately, he has had a tendency to hang the pitch from time to time, like this one to Alex Bregman:
If we were to look at Berrios' pitch mix to righties, we wouldn't see too much difference from last year with the curve:
Jose Berrios Usage Against Righties
| Pitch | 2018 v R | 2019 v R | Change |
| --- | --- | --- | --- |
| FA | 32.1% | 25.6% | -6.5% |
| CU | 38.6% | 37.9% | -0.7% |
| SI | 26.9% | 29.4% | 2.5% |
| CH | 2.3% | 6.9% | 4.6% |
That table only tells part of the story. Berrios gave up his sixth homer off the curve on May 13, with five of those homers coming against right-handers. At that time, he was throwing his curve 41% of the time to righties. Since then, he's reduced his curve usage to 33% and hasn't given up a homer on the pitch since, though the actual effectiveness of the pitch has been arguably worse with the decreased usage, with much of the early season issues due to bad luck. It's quite possible that Berrios' solution to his changeup issue is the cause of the problem with his curveball. He only threw his curve in the strike zone 37% of the time last season, but was still able to get swings on 37% of the pitches out of the zone leading to a good 16% whiff rate.
Here are the heatmaps of 2018 and 2019 for Berrios' curve to righties: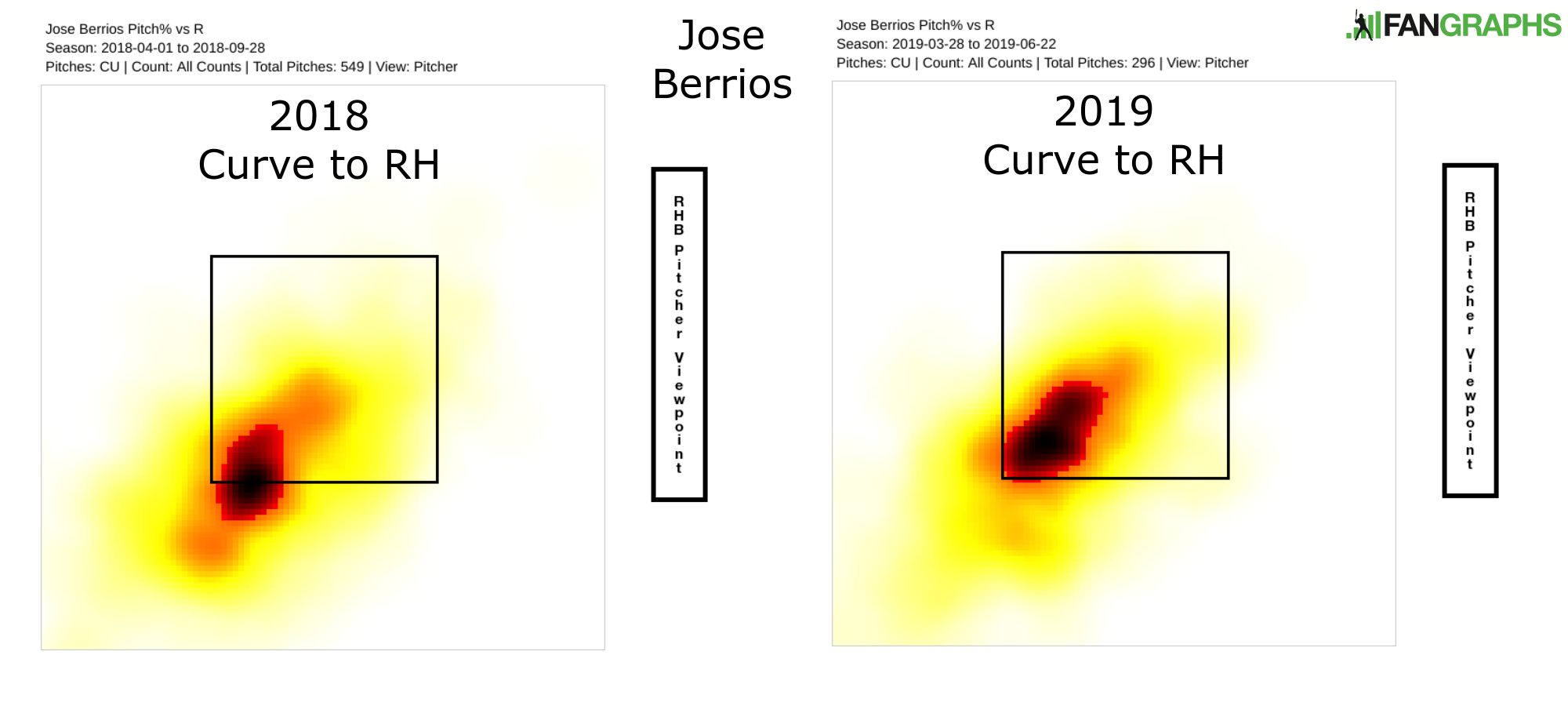 Berrios is throwing his curve in the zone to righties more, just as he threw his changeup in the zone to lefties with increasing frequency. The problem for Berrios is that he didn't need to differ his curve location. He took an already effective pitch and made it less effective by making it easier to hit. Despite a chase rate and contact rate similar to last season on curves out of the zone, Berrios has seen his overall whiff rate fall to 11% on the season because he is throwing fewer pitches outside of the strike zone. While this might theoretically up Berrios' walk rate, he's always had a walk rate around 5% against righties even before this season.
Berrios' increased and better use of the change to lefties has played a big role in his jump up the pitching ranks this season. He has even broken out his change to righties on occasion and gotten good results. Berrios can keep doing exactly what he's doing, and he'll be one of the top 10 or top 15 pitchers in the game this year. There is one more step forward, however, and getting his curve back to where it was last season might win him a Cy Young award.
Craig Edwards can be found on twitter @craigjedwards.