First of all, thank you for continuing to make FanGraphs a part of your day in this difficult time. In an ideal world, or really just a normal one, you'd be diving into a Positional Power Rankings post, or reading a few notes from the field, or perusing something else to get you jazzed for would have been Opening Day on Thursday. Eleven days ago, I had plenty of ideas for that type of content. Suffice it to say, an article about an old ballgame I found on YouTube wasn't one of them. Still, you're here, and you're probably seeking some small semblance of normalcy; I want nothing more than to do the sorts of routine, mundane things I normally wouldn't have given a second thought. Something like a mid-June baseball game between the Colorado Rockies and the Miami Marlins. That's some normal, forgettable stuff right there.
So let's make the best of it. Let's climb on the way-back machine and travel to a simpler time: June 11, 2015. You remember all the way back then? The ball hadn't yet been juiced. The Royals were the best team in the American League. Donald Trump was still a few days away from riding down his golden escalator. Matt Harvey was one of the best pitchers in baseball. An age, and just five years, ago.
On that night, the Rockies visited the Marlins. There is nothing remarkable about this game. These were two bad teams already buried in the standings. David Phelps and Chris Rusin were the starting pitchers. There were something like 500 people in the crowd, each going through the motions of a typical early summer evening at the park.
A big part of the fun when you watch an old game is the disorienting collision between what we know now and what we knew then. This game was played the year after Giancarlo Stanton had his face fractured by an up and in fastball. I remember the incident well, as you might. I also knew, but had totally forgotten, that for a time, he wore a personalized helmet with a wire flap in the shape of a "G" meant to protect his jaw. A very slim fraction of the baseball-playing population could pull that off without looking like a dork, but Stanton happens to be just such a player.
I'd also forgotten that he did not wear the same helmet against lefties. Or at least, not against soft tossing lefties like Chris Rusin, who are generally powerless to prevent Stanton's unique brand of laser home run, scalded on this night with an exit velocity of 109.5 mph:
The dinger gave Miami an early 3-0 lead. In his next at-bat, Stanton knocked home another run, this time on a single that left his bat at 14.5 mph. The 95 mph delta between those exit velocities has to be a record for hits in consecutive at-bats:
(Please don't tell me if this isn't actually a record.)
Of course, Stanton wasn't the only star in Miami's outfield that night; Christian Yelich was hitting ahead of him. (Man, how did Miami get nothing out of this core?) Yelich, who just wrapped up a 44 homer season after smacking 36 the year before, was not always a power hitter. Back in 2015, he hit .300 with a great if unspectacular 120 wRC+. Somehow, he did this with a 62.5% groundball rate — the highest in the league that year by three percentage points. The lightning hands were always there, but it's weird now to look back at the short, choppy swing from the early part of his career:
RBIs from Stanton and Yelich in the second made the score 5-0, which was a practically insurmountable lead in that park at the time. I'm not really spoiling anything by saying the game ended 6-0. The joy here isn't in the intensity of a close contest. Rather, it comes in the observation that baseball is a rich game with plenty of variation and much to celebrate each time it's played. Even on a night like this — perhaps especially on a night like this — that shines through.
First, for anyone missing Baseball Tonight, here's a bona fide web from Adeiny Hechavarría:
I appreciate the nonchalance from first basemen Jeff Baker; it's a long season out there. Can't get too high or too low.
Of course, bad defense is fun too, and the Rockies delivered. Here's Carlos Gonzalez dropping a relatively routine fly ball:
And here's Wilin Rosario. You may remember him as the guy who was so bad behind the plate, he managed to butcher a 107 wRC+ and 28 homers into a negative WAR back in 2012. I'm here to report that his glove wasn't really any better at first base:
Defensive ineptitude wasn't limited to the Rockies. Here, Marlins second baseman Donovan Solano gets what is quite possibly the worst read I've ever seen from a major leaguer on a routine groundball:
In the middle innings, the Marlins broadcast did something fun, naming the all-time Best Nine Marlins teams composed of players born in the United States and abroad. Check them out: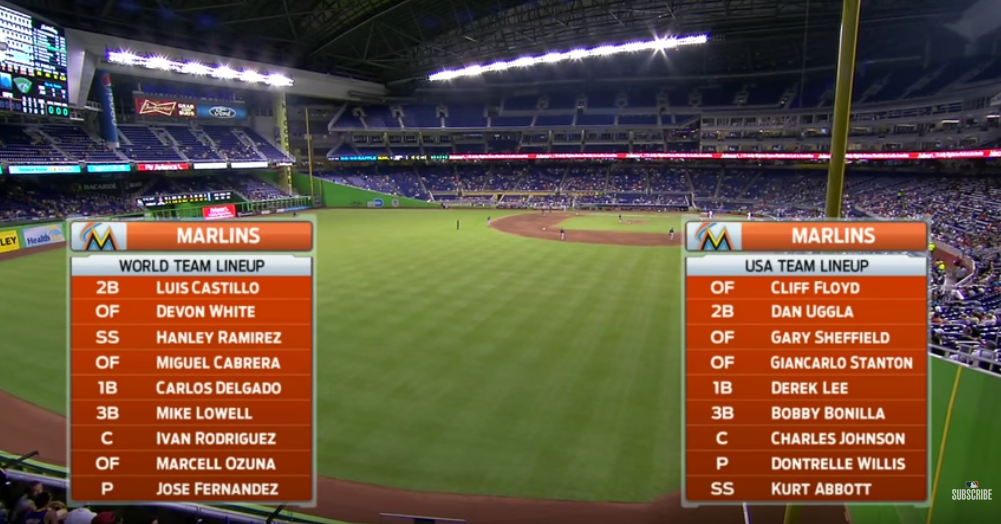 A few interesting things about these lineups:
Derrek Lee's name is misspelled.
The Marlin with the third most WAR of all-time, Josh Johnson, did not make this team.
Neither did Jeff Conine, aka "Mr. Marlin."
The World Team's two worst-hitting position players are batting first and second.
Team USA apparently could not come up with a shortstop who deserved to hit ahead of the pitcher.
Which team is better? It's at least a close game. The World's roster is a little more eye catching, though half of that lineup's stalwarts did most of their damage far away from Miami. Team USA's players compiled 131 wins as Marlins, 10 more than the World squad, for what it's worth.
In the eighth inning, LaTroy Hawkins relieved Tommy Kahnle. That wouldn't be notable at all, had Hawkins not aired some dirty laundry a few years back, calling Kahnle "one of the worst teammates I've ever had in my life." As far as I can tell, both pitchers are fairly well respected in baseball circles, but apparently they fought back in 2014. They didn't have any noticeable interactions in this one, but it's always fun to remember some old beef.
Carter Capps shut the door in a scoreless ninth. Over 31 innings in 2015, including one in this game, he was one of the best pitchers alive. Perhaps you remember the delivery:
Apparently, it wasn't enough to just blow triple-digit smoke. It's crazy that A) this is a legal delivery and B) he could command anything while hopping like that, but it worked for him: 58 punch outs with a 1.16 ERA and 1.10 FIP is no joke. You can see why David Ortiz called him one of the five toughest pitchers he ever faced.
Before we close here, we need to mention Phelps. In an otherwise unremarkable season, Phelps pitched the game of his life. He tossed eight shutout innings, striking out six while allowing only four hits. It was the only time in his career that he's thrown eight frames, and it was the best Game Score he's ever posted. Coincidentally, this gem came just five days after the Rockies had roughed him up for nine runs in Denver; revenge is a dish best served in a big ballpark at sea level.
Phelps was acutely aware of his achievement. He said as much during an in-game interview after he'd been lifted for a pinch hitter, but was far more demonstrative on the field, when he ended a long duel with Troy Tulowitzki by coaxing a fly out and giving his glove the emphatic slap of a man who knows he's done well. It's a nice reminder that even the most mundane of evenings can mean the world.