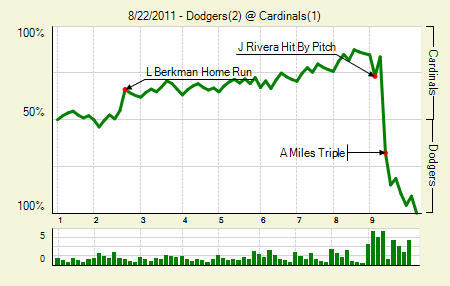 Moving the Needle: Aaron Miles ties the game with a triple in the ninth, +.514 WPA. It appeared as though Lance Berkman's second inning homer would hold up, as the Cardinals held that 1-0 lead into the ninth. But their bullpen could not hold it. Miles drove in the tying run with his triple, and Rod Barajas followed with an RBI ground out to give them the lead. Javy Guerra picked up the save, though facing Corey Patterson in Matt Holliday's stead helped plenty.
Notables
Chris Carpenter: 8 IP, 5 H, 1 R, 1 BB, 7 K. It was all going so well until he plunked the leadoff hitter in the ninth.
James Loney: 3 for 3. They were all singles, yes, but that's still seven hits in his last two games.
---
Also in this issue: Mariners 3, Indians 2 | Braves 3, Cubs 0 | Orioles 4, Twins 1 | Rockies 9, Astros 5 | Tigers 5, Rays 2 | Nationals 4, Diamondbacks 1 | Rangers 4, Red Sox 0 | Phillies 10, Mets 0 | Brewers 8, Pirates 1 | Pirates 9, Brewers 2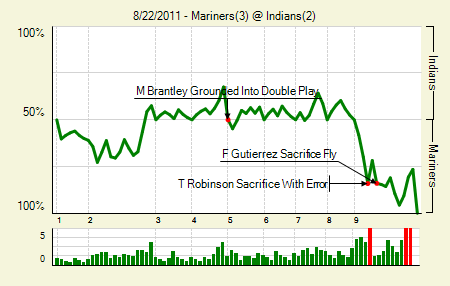 Moving the Needle: Ezequiel Carrera grounds out to end the game, -.235 WPA. The scene was a familiar one to the Indians. Bases loaded, one out, top of the ninth. On Sunday the Indians were on the offensive side of the ball and were down a run. Last night they were on defense with the game tied. Like Matt LaPorta, Franklin Gutierrez hit a fairly shallow fly ball to center, which started the risky tag-up from third. Miguel Olivo chugged home and reached the plate just as Carrera's throw reached. It was a bang-bang play, and while replay showed that he was probably out, the ump ruled him safe, giving the Mariners a 3-2 lead. In their half of the ninth the Indians had runners on second and third with two outs, but Carrera grounded to first, ending the game.
Notables
Jason Vargas: 7 IP, 7 H, 2 R, 0 BB, 2 K. That's a nice bounceback after allowing eight runs in four innings last time out.
Ichiro Suzuki: 3 for 5, 1 HR. His homer led off the game.
Fausto Carmona: 6 IP, 6 H, 2 R, 1 BB, 6 K. 14.1 IP, 10 H, 3 R, 4 BB, 12 K in his last two starts.
---
Moving the Needle: Marlon Byrd ends the threat in the first with a double play, -.141 WPA. The Cubs had a chance to make a statement in the first, as they loaded the bases with one out. That brought up Byrd, but all he did was ground it to short, starting a 6-4-3 double play. Crisis averted, the Braves went to work and chipped away at the Cubs.
Notables
Jair Jurrjens: 6.1 IP, 8 H, 0 R, 5 BB, 1 K. The Braves staff overall allowed 9 hits and 7 walks, yet allowed no runs. The Cubs staff allowed six hits and three walks and allowed three runs. Go figure.
Freddie Freeman: 1 for 3, 1 HR, 1 BB. The power isn't all there yet, but he's hit a decent share of dingers this year (18) to go with his 28 doubles.
---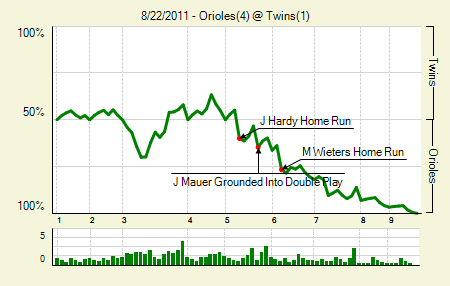 Moving the Needle: J.J. Hardy homers to put the O's ahead, +.152 WPA. It must have been a trying game for our own Brandon Warne, noted Twins fan and J.J. Hardy enthusiast. He was none too happy when the Twins dished Hardy to the Orioles, and continues rooting for him to this day. It must have been tough, then, when Hardy popped a solo shot against his favorite team to put them behind 2-1. An inning later, though, there was no conflict for him when Matt Wieters added a monster shot to make it 3-1. We all feel for ya, Brandon. No one wants to see their team fall at the hands of a personal favorite. (It was akin to a Yankees-Rockies game this year, in which Jason Giambi hit a meaningful homer.)
Notables
Nick Markakis: 2 for 4, 1 2B. That's only his 22nd double of the year, which is still less than half the number he put up in each of the last three years (and just slightly more than double the number he hit in 2007).
Michael Cuddyer: 2 for 3, 2 2B, 1 BB. In a way he could be helping a contender. But in another way I can see why the Twins would want to keep him and re-sign him. Sure, they could trade him and then try to re-sign him, but how often does that happen?
---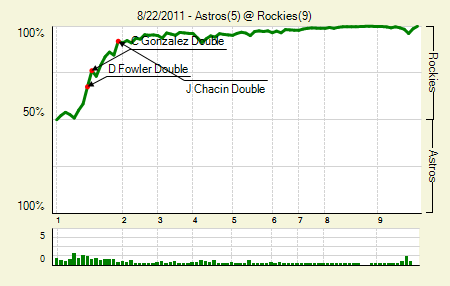 Moving the Needle: Dexter Fowler sets 'em up in the first, +.091 WPA. The Rockies wasted no time in beating on Brett Myers in the first. They started with a walk, and Fowler kept them going with a double to right, placing runners in scoring position for Carlos Gonzalez, who knocked both home with a double of his own. Four hits — two doubles, two singles — followed in the inning, giving the Rockies a 6-0 lead before it was over. They'd make that 7-0 before the Astros got anything done. The loss also eliminates the Astros from playoff contention. That's one.
Notables
Jhoulys Chacin: 7 IP, 11 H, 1 R, 1 BB, 2 K. From a peripheral standpoint this wasn't the prettiest game, but Chacin has had a few of these. He's still getting the ground balls, though, which helps. The grounders and strikeouts evoke a young Tim Hudson.
Carlos Gonzalez: 2 for 5, 1 2B, 1 HR. His homer made it 7-0 in the second.
---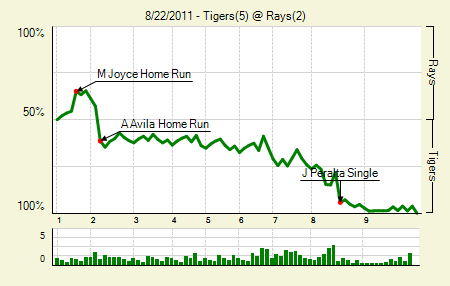 Moving the Needle: Alex Avila's homer puts the Tigers ahead in the second, +.186 WPA. The Rays started on the right foot when Matt Joyce socked a homer off Justin Verlander. But it didn't take the Tigers long to make up the difference. Miguel Carbera singled to lead off the second, and Avila followed with a homer, his 15th of the season. It would be another six innings until either team scored again.
Notables
Justin Verlander: 7 IP, 3 H, 1 R, 3 BB, 8 K. Both CC Sabathia and Jered Weaver have hit speed bumps (or road humps, depending on your preferred signage), while Verlander has stepped right in as the Cy Young Award favorite.
Delmon Young: 2 for 5, 2 2B. If he continues hitting like he has since coming to Detroit, the Tigers will have really lengthened their lineup.
---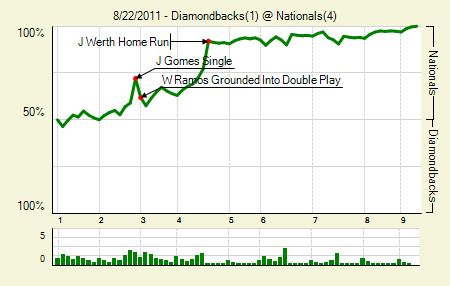 Moving the Needle: Jayson Werth's three-run shot puts the Nats up by four, +.148 WPA. In the fourth the Nats broke out, opening the inning with a single, walk, and then Werth's three-run shot. That made it a 4-0 game. The Diamondbacks did load the bases in the sixth, but they couldn't capitalize. Werth also had a double, accounting for both of the Nationals' extra base hits.
Notables
Ross Detwiler: 6.2 IP, 6 H, 1 R, 1 BB, 3 K. This is only he second time in his career he's recorded at least one out in the seventh inning. In his last two starts he's gone 12.2 IP, 13 H, 2 R, 3 BB, 10 K.
---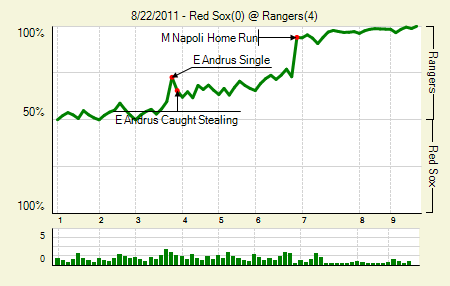 Moving the Needle: Mike Napoli's three-run homer breaks it open for the Rangers, +.211 WPA. Erik Bedard allowed a run in the third, but he appeared to hunker down from there, retiring eight of nine batters immediately afterward. The tenth batter, Josh Hamilton, singled, and Michael Young followed with another. After Nelson Cruz struck out, Napoli laid into a 2-2 pitch and put the Rangers up 4-0.
Notables
C.J. Wilson: 6.2 IP, 4 H, 0 R, 2 BB, 4 K. That's a mighty fine performance by almost any standard. It helped him, though, that the Sox lineup lacked three of its best hitters.
---
Moving the Needle: Shane Victorino triples home a pair, +.169 WPA. When the pitcher stands on first, chances are the only way you're going to score him is with a homer. Not so for Victorino, who tripled to follow up singles by both Wilson Valdez and Cliff Lee. Victorino's triple would all the Phillies would need against the Mets on this night.
Notables
Cliff Lee: 7 IP, 3 H, 0 R, 3 BB, 7 K. At least the Mets didn't get Halladay and Lee on back-to-back days.
Hunter Pence: 2 for 3, 1 HR, 2 BB. He's hitting .321/.409/.564 (.414 wOBA) for Philly.
---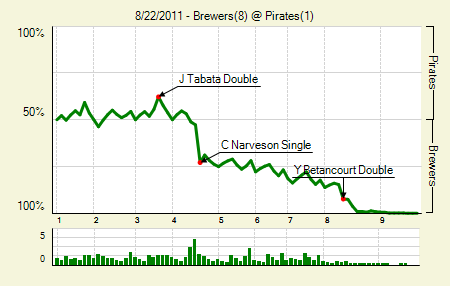 Moving the Needle: Chris Narveson singles home a pair with the bases loaded, +.201 WPA. One reason people advocate for the NL is because it adds a level of strategy to the game, since the pitcher is a near-automatic out. But sometimes managers mistake a maxim — intentionally walk the No. 8 hitter to get to the pitcher — for strategy. Why in the world, for instance, would you walk Craig Counsell with two outs, even if the pitcher is due up next? Narveson made them pay for that silly maneuver, pulling one into right and bringing home a pair of runs. The hit would hold up until the eighth, when the Brewers broke out for four.
Notables
Chris Narveson: 5.1 IP, 5 H, 0 R, 1 BB, 3 K. He left after striking out Ryan Ludwick in the sixth. Apparently it had to do with a fingernail issue.
Yuniesky Betancourt: 2 for 5, 1 2B. He scored twice and drove in a run.
---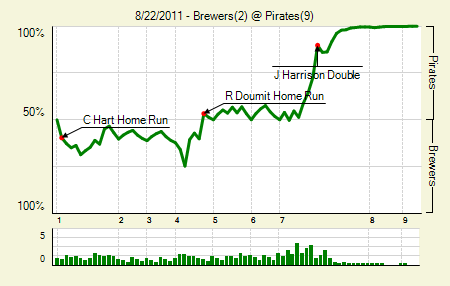 Moving the Needle: Josh Harrison breaks the 2-2 tie with a double, +.172 WPA. The Brewers got off to a quick start in their bid to sweep the doubleheader, putting two on the board in the first inning. The Pirates came back to tie, and in the seventh they pulverized the Brewers for seven runs. The first came on Harrison's double, which made it a 3-2 game. All in all the Pirates picked up six hits in the inning.
Notables
Brad Lincoln: 6 IP, 3 H, 2 R, 1 BB, 1 K. One strikeout is rarely encouraging, but Lincoln did settle down well after the first.
Jose Tabata: 2 for 5, 1 2B. He went 5 for 9 with two doubles in the doubleheader.