No legs were broken in this celebration.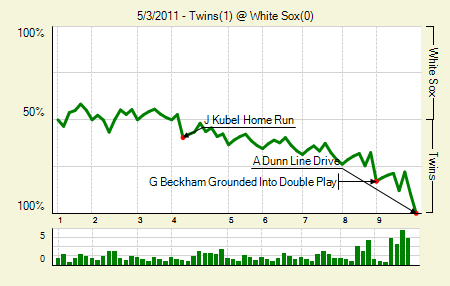 Moving the Needle: Jason Kubel homers, +.123 WPA. His fourth homer of the season was all the Twins needed in this one. Well, that and some nice work on defense.
Notables
Francisco Liriano: 9 IP, 0 H, 0 R, 6 BB, 2 K, 9 GB. Yes, that's 20 balls in play and only nine on the ground for Liriano. Another nine were hit in the air, though to be fair four of them were of the infield variety. And yet, no hits. Yes, it's a rare achievement that he'll remember for the rest of his life. But that he did this on a night when he didn't do the two things that normally help him win ballgames — strike out guys and get ground balls — says as much about the current state of the White Sox offense as it does Liriano himself.
Edwin Jackson: 8 IP, 6 H, 1 R, 1 ER, 1 BB, 2 K, 1 HR, 12 GB. Just 4 K in 17 IP for Liriano and Jackson? Yikes. It must have been odd for Jackson, being on the other side of a walkathon no-hitter.
Also in this issue: Red Sox 7, Angels 3 | Diamondbacks 4, Rockies 3 | Astros 10, Reds 4 | Tigers 4, Yankees 2 | Cubs 4, Dodgers 1 | Royals 6, Orioles 5 | Giants 7, Mets 6 | Indians 4, A's 1 | Phillies 4, Nationals 1 | Mariners 4, Rangers 3 | Cardinals 7, Marlins 5 | Rays 3, Blue Jays 2 | Padres 6, Pirates 5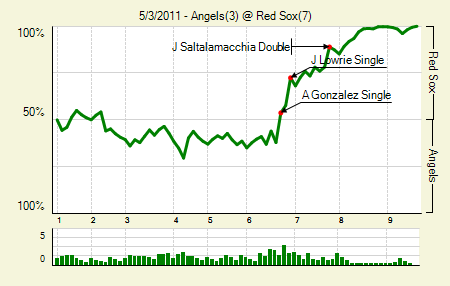 Moving the Needle: Adrian Gonzalez singles home the tying run, +.158 WPA. It was a pitchers' duel, until it wasn't. Dan Haren had allowed just two hits through five innings, but things started to fall apart in the sixth. Gonzalez came to the plate with Jacoby Ellsbury on second and two outs, and with the Angels shifting to the right. Gonzalez took advantage, hitting one essentially to where the shortstop would have been sans shift. Ellsbury beat the throw home, tying the game at one. Two batters later the Sox took the lead, and they'd only build on it from there — including a Gonzalez home run.
Notables
Jon Lester: 7 IP, 6 H, 1 R, 1 ER, 1 BB, 11 K, 1 HR. At least eight strikeouts in four of his seven starts this year. That's his seventh career start with at least 11 Ks.
Jed Lowrie: 2 for 4. I just realized that, amid his torrid start, he has walked only three times in 84 PA.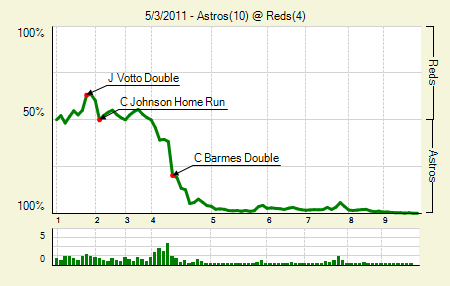 Moving the Needle: Clint Barmes goes the other way for a two-RBI double, +.182 WPA. On a 2-0 count with the bases loaded and one out, even Barmes can do some damage. This time he poked a Mike Leake pitch into the right-center field gap, scoring two runners. The hit broke a 1-1 tie and would prove to be the hit that accelerated the Astros. They have now won three straight.
Notables
Jason Bourgeois: 3 fort 5, 2 2B. The 29-year-old is 16 for 41 on the season with three doubles, a triple, a homer, and no walks.
Brett Wallace: 2 for 5, 1 HR. Just his second homer of the year, yet he has a wOBA north of .430. A .471 BABIP will do that for someone.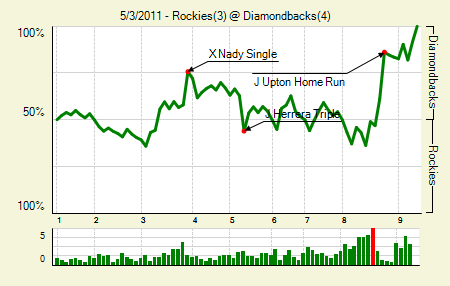 Moving the Needle: Justin Upton batters a baseball and breaks the late-inning tie, +.249 WPA. We've seen Upton absolutely crush some homers this season. Last night's home run was, you could say, also scalded. It just didn't reach the promenade in left. In fact, it was an opposite field shot in the eighth that broke a 3-3 tie and sent the Diamondbacks to victory. Upton added a single and a double on the night, bringing his wOBA up to .397.
Notables
Jonathan Herrera: 2 for 4, 1 3B. His hot start just keeps rolling. He now has a .433 OBP and a .391 wOBA.
Carlos Gonzalez: 2 for 2, 1 HR, 2 BB. Keep this up and that .306 wOBA will shoot th moon.
Henry Banco: 2 for 3, 1 2B, 1 HR. Those were his first two hits of the season, though he has only 14 PA.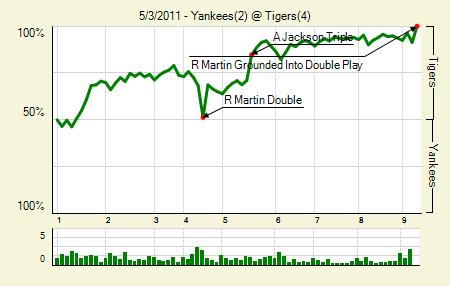 Moving the Needle: Andruw Jones makes a silly mistake on the bases, -.173 WPA. This was a close call, since the biggest positive swing was +.170. But that also belonged to the Yankees, so we'll run with this one. CC Sabathia didn't have his A game, and so the Yankees needed to score runs. They had an opportunity in the fourth, down only one run, with runners on second and third with one out. But they blew it with overaggression. Brett Gardner hit a shallow fly ball to right, but Jones insisted on tagging up. It wasn't even close. Casper Wells easily hit Alex Avila, who was up the line a foot or two. Jones kind of flailed between sliding and plowing, and it only led to an awkward-looking situation and an ended inning. The Tigers extended their lead in the fifth and never looked back.
Notables
Scott Sizemore: 3 for 4, 1 2B. Welcome back to the bigs, Scottie. May your stint this time last longer than last year's.
Magglio Ordonez: 2 for 4. Brings the old batting average up to .169. It's only his second multi-hit game of the year. He's still stuck on a single extra base hit, though.
Brad Penny: 6 IP, 6 H, 1 R, 0 ER, 2 BB, 1 K, 12 GB. Second quality start in his last three, after a pretty disastrous start to the season.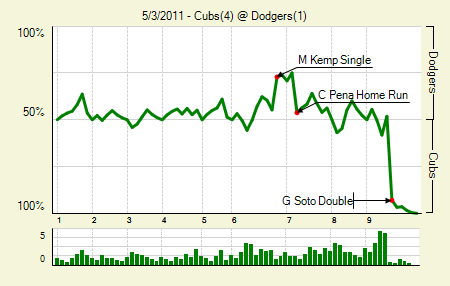 Moving the Needle: Geovany Soto puts the Cubs ahead in the ninth with a double, +.449 WPA. Now this is the kind of WPA swing I'm talking about. With only one runner in scoring position and two outs in the top of the ninth, the win expectancy needle was actually on the Dodgers' side. But Soto took a breaking ball the opposite way into the gap, which would easily give the Cubs the lead. The runner from first was able to score because Matt Kemp made a terrible stab at the ball and it got by him. The Cubs got an insurance run one batter later.
Notables
Carlos Pena: 1 for 3, 1 HR, 1 BB. He's aliiiiiive! First homer of the year for Pena, raising his wOBA to .251.
Chad Billingsley: 7 IP, 4 H, 1 R, 1 ER, 2 BB, 8 K, 1 HR. A nice rebound after his last appearance. This is only the third start in which Billingsley struck out more than a batter per inning.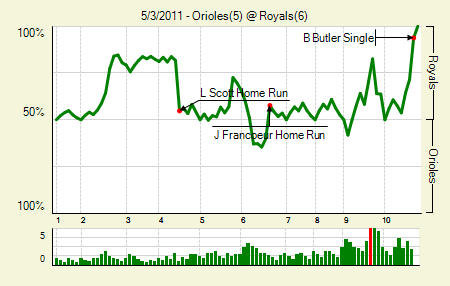 Moving the Needle: Luke Scott pops a three-run homer to tie the game, +.270 WPA. Things had been going so well for the Royals. They had a 3-0 lead in the fourth, and while there were two men on base for Scott, there were also two outs. That didn't stop him from lining one into the bullpen in right, tying the game at three. They'd trade blows a couple more times before finally heading to extras, where Jeff Francoeur won it with a sac fly. He also hit a game-tying homer earlier in the game.
Notables
Vladimir Guerrero: 1 for 4, 1 BB. And so the dream ends.
Wilson Betemit: 2 for 4, 2 2B. He helped the Royals build that early lead. He's now hitting .342/.396/.506 in 91 PA.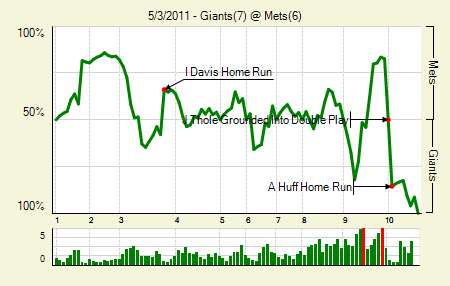 Moving the Needle: Aubrey Huff wastes no time in breaking the tie in extras, +.335 WPA. How a team that had Mike Fontenot hitting third managed to score seven runs I will never understand. But the Giants did, and Fontenot contributed himself with an RBI single. After the teams battled through three scoreless innings they moved to extras, where Huff hit his blast off Taylor Buchholz. The home run came one batter after Josh Thole killed a bases loaded, one out situation with a double play.
Notables
Jose Reyes: 3 for 3, 1 2B, 3 BB. Just to be clear, Reyes wants your money this off-season.
Nate Schierholtz: 2 for 4, 1 HR, 1 BB. It's only 45 PA, but he's hitting .295/.311/.523 on the season.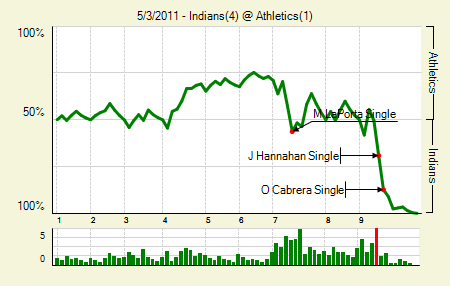 Moving the Needle: Jack Hannahan sets up the ninth-inning rally, +.189 WPA. The A's and Indians traded runs in the middle innings- on a ground out and an RBI single. They stayed tied at one through the eighth, but that's where the streak would end. Hannahan's single put a runner on third with one out, which put the WPA needle firmly on Cleveland's side. One batter later Orlando Cabrera singled him home and broke the tie. Then, two batters later, with the bases loaded, Asdrubal Cabrera singled home some insurance.
Notables
Fausto Carmona: 8 IP, 5 H, 1 R, 1 ER, 1 BB, 5 K, 14 GB. Five of his seven starts this year have been solid to excellent. The other two, of course, have been quite abhorrent.
Matt LaPorta: 2 for 4. He drove in the first run and then scored the go-ahead one. He's up to .274/.351/.512 on the season.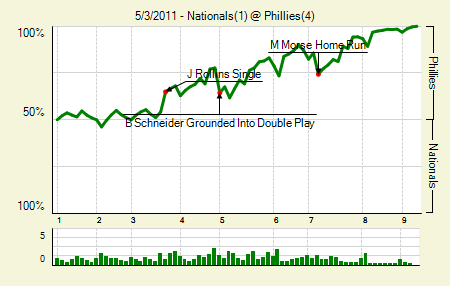 Moving the Needle: Brian Schneider ends a rally with a double play, -.133 WPA. Oddies abound. Phillies win 4-1, but hold the biggest WPA swing on the negative side, while Washington's lone run had the most positive impact. Go figure. In any case, the Phillies had a 1-0 lead when Schneider came to bad with the bases loaded and one out. But he bounced one right back to the pitcher for an easy 1-2-3 double play. Of course, the Phillies added runs later and won the game handily.
Notables
Cole Hamels: 9 IP, 5 H, 1 R, 1 ER, 1 BB, 6 K, 1 HR. He was also 2 for 4 with a triple at the plate, so he did nothing but help his own cause.
Raul Ibanez: 2 for 4, 2 2B. He ends his hitless streak with authority. The second double plated an insurance run in the seventh.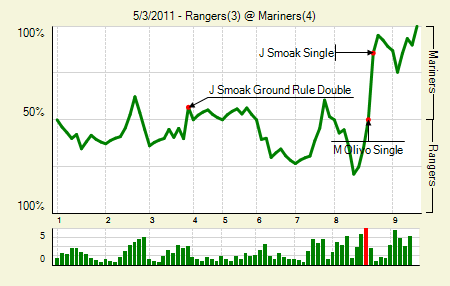 Moving the Needle: Justin Smoak ties the game and sets up the go-ahead run, +.356 WPA. This game had to give Mariners fans some level of joy beyond a normal win. That's because Smoak, whom they acquired for a pitcher who was of no use to them, tied the game twice. He did it in the third with a ground rule double, but the big hit came in the eighth. His single not only tied the game at three, but also put a runner on third with none out. One batter later Jack Cust followed with a single that put the Mariners ahead for good.
Notables
Erik Bedard: 7 IP, 2 H, 2 R, 2 ER, 2 BB, 3 K, 11 GB. His last two starts have been quite good: 14 IP, 7 H, 3 R, 3 ER, 2 BB, 6 K, 22 GB.
Alexi Ogando: 6 IP, 5 H, 1 R, 1 ER, 1 BB, 6 K. He didn't allow a homer, though that might have been more a function of the Mariners than himself. He really has only one bad start this season.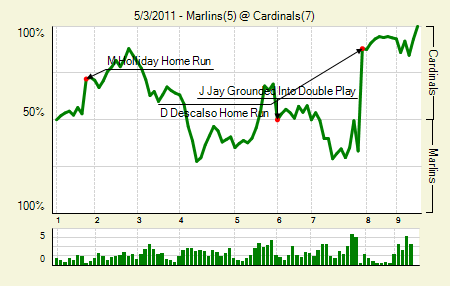 Moving the Needle: Daniel Descalso turns a one-run deficit into a two-run lead, +.547 WPA. This might have been my favorite game of the evening, if only for the multiple lead changes. The last one came in the seventh, when Descalso made Edwin Rodriguez pay for bringing in Clay Hensley. He shot one over the right field fence, giving the Cardinals a 7-5 lead. David who?
Notables
Matt Holliday: 2 for 5, 1 HR. Didn't quite make up for Albert Pujols's 0 for 5 night, but he tried.
Gaby Sanchez: 4 for 5. Yep, the ol' four-single night.
Moving the Needle: B.J. Upton walks off with a homer, +.685 WPA. On any other night you'd see the picture of the Rays mauling Upton. But it would be unfair to keep Liriano from the top. The Rays headed into the ninth down 2-1, having mustered only four hits and a walk on the evening. Ben Zobrist got things started with a single, and then Upton took Jon Rauch deep for the victory.
Notables
Jo Jo Reyes: 6 IP, 4 H, 1 R, 1 ER, 1 BB, 4 K. It's a shame the Jays lost this, because that's as good as it gets from Jo Jo.
Edwin Encarnacion: 2 for 4, 2 2B. This was a nice break from an unbearably slow start.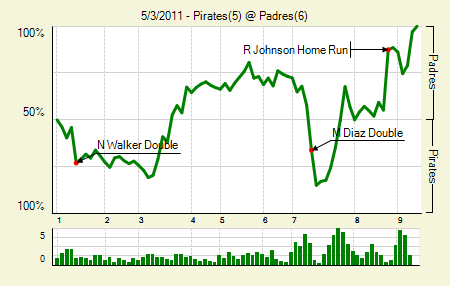 Moving the Needle: Rob Johnson drives in himself for the go-ahead run, +.323 WPA. This game got really interesting in the seventh, when the Pirates scored three to take the lead and the Padres answered with two to tie. Rob Johnson, of all people, ended the scoring with a solo shot in the eighth. That was his first big league homer since May 18th of last year.
Notables
Neil Walker: 1 for 4, 1 2B. He's dropped off a bit since a hot first few weeks, but he's still hitting .284/.346/.422.
Mat Latos: 6 IP, 5 H, 2 R, 2 ER, 2 BB, 5 K. Safe to call this his best start of the season. Now, if only he can pitch into the seventh. He also added a home run to help his cause.