That ball is headed for sweet, sweet victory.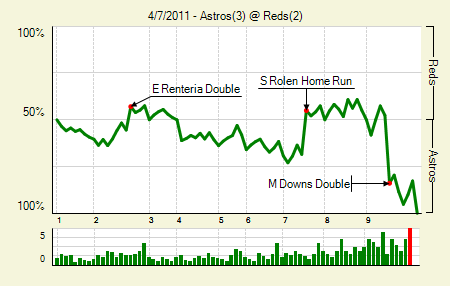 Moving the Needle: Matt Downs doubles home the go-ahead run in the ninth, +.363 WPA. The Astros just aren't going to score a lot of runs this year, which puts the onus on the pitching staff, and Brett Myers stepped up. He held the Reds, who led the league in scoring heading into the game, to just one run through six, and two runs through 6.1. Three runs the Astros can do. They got it done with a pair of singles and a double off Nick Masset in the ninth. Brandon Lyon held on for the save, giving Houston its first victory of the season.
Notables
Sam LeCure: 5 IP, 3 H, 2 R, 2 ER, 2 BB, 6 K, 0 HR, 7 GB. The emergency starter did his part. He was at just 84 pitches, but Dusty Baker — and indeed it was Baker this time — pinch hit for him to lead off the bottom of the fifth. Which might make a lick of sense if Miguel Cairo hadn't been the pinch hitter. Of course, it worked. Cairo singled.
Edgar Renteria: 3 for 3, 1 2B, 1 BB. Paul Janish might be freed, but Renteria wants his playing time, too. His first double tied the game at one.
Also in this issue: Indians 1, Red Sox 0 | Astros 3, Reds 2 | A's 2, Blue Jays 1 | Yankees 4, Twins 3 | Rockies 7, Pirates 1 | Brewers 4, Braves 2 | White Sox 5, Rays 1 | Phillies 11, Mets 0 | Orioles 9, Tigers 5 | | Nationals 5, Marlins 3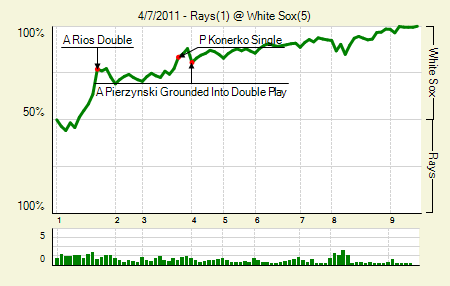 Moving the Needle: And it's two-nothing good guys on the double by Alex Rios yyyyyyyyes, +.135 WPA. David Price didn't pitch that poorly. That is, he didn't pitch that poorly after he finally recorded his first out. Before that happened, Price gave up a single and then hit Gordon Beckham. Rios then laced one to left. It might have ben playable, but Sam Fuld, fascinating as he might be, misplayed it, which brought around both runners and was enough to top the Rays these days. Rios added another double later in the game.
Notables
Edwin Jackson: 8 IP, 4 H, 1 R, 1 ER, 1 BB, 13 K, 0 HR. Don Cooper is the new Dave Duncan.
B.J. Upton: 2 for 4. He's now hitting .364 on the season. His teammates are hitting .116. Upton accounts for 30% of his team's hits.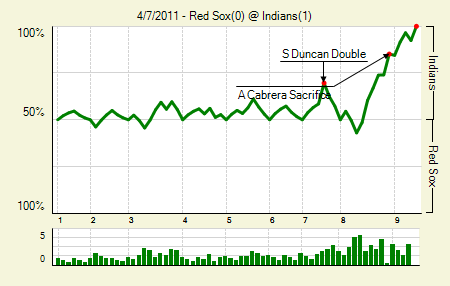 Moving the Needle: Dustin Pedroia can't seize the opportunity, -.117 WPA. As I make clear at the bottom of every post, I favor the Yankees. I try not to let that bias spill over into this space, but inevitably it will from time to time. And so it is with the utmost objectivity that I link to this, which — again, objectively — I think best describes Pedroia grounding out to the pitcher with runners on second and third with two outs in the eighth inning of a zero-zero tie.
Notables
Fausto Carmona: 7 IP, 2 H, 0 R, 2 BB, 4 K, 11 GB. It was cold and Carmona was out there throwing bowling balls. The Red Sox lifted only eight of them off the ground.
Jon Lester: 7 IP, 3 H, 0 R, 3 BB, 9 K. Three of those strikeouts were Asdrubal Cabrera, who laid down a successful bunt on the suicide squeeze in his final at-bat.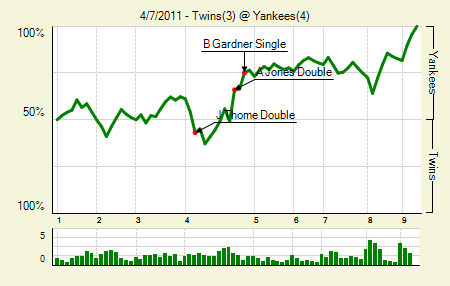 Moving the Needle: Andruw Jones drives home the tying run and sets up more, +.169 WPA. The real action in this game took place from the bottom of the third through the fourth. The Yankees fired first, when Brett Garnder walked, stole second, took third on a grounder, and scored on a sac fly. The next half inning the Twins responded with a pair of doubles that scored two. Then in the bottom half the Yankees fired again. Jones's double moved the needle furthest, because not only did it tie the game, but set them up with second and third with one out. Both runners scored.
Notables
Derek Jeter: 2 for 3, 1 2B, 1 BB. He's off to a slow start, but even last year he hit lefties well.
Jim Thome: 1 for 3, 1 2B, 1 BB. It seems as though he could've mashed a few more taters if he played all his games in the Bronx. (Even though he didn't hit any this series.)
Moving the Needle: Conor Jackson elevates his game in the clutch, +.231 WPA. The Blue Jays took a 1-0 lead into the eighth, but things started to unravel. Andy LaRoche led off with a double and was sacrificed to third. The Jays then did themselves in. Jason Frasor threw a 2-2 changeup in the dirt. It got the swing and miss from Crisp, but J.P. Arencibia couldn't handle it, which put Crisp on first and allowed LaRoche to score the tying run. Crisp then stole second and third, which set up Jackson. Jackson then grounded a double past Jayson Nix at third and scored Crisp easily.
Notables
Ricky Romero: 7.1 IP, 4 H, 1 R, 1 ER, 2 BB, 5 K, 0 HR. He also had more balls on the ground, 10, than in the air, 9. He was under 100 pitches, so it was understandable why he came out for the eighth. That leadoff double really did him in.
Trevor Cahill: 8 IP, 3 H, 1 R, 1 ER, 0 BB, 7 K, 0 HR. He threw the curveball even more than last time out. It didn't result in more strikeouts — and so a pat on the back to Cwik — but this was another pitcher-independent-friendly start.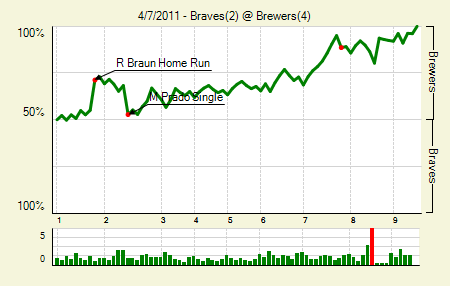 Moving the Needle: Ryan Braun sends one out to left, +.162 WPA. Carlos Gomez, who probably shouldn't be hitting second, did come through with a single in the first. He watched from first base as Tommy Hanson hung a breaking ball to Braun. There was no doubt it would leave the yard, and it gave the Brewers a 2-0 lead. The Braves would come back to tie it a half inning later, but the Brewers were having none of that. They put together one in the second, and then an insurance run in the eighth to take the finale against Atlanta.
Notables
George Kottaras: 2 for 4. He also drove in a run on a fielder's choice.
Prince Fielder: 1 for 3, 1 2B, 1 BB. His only RBI also came on a fielder's choice.
Moving the Needle: Shane Victorino singles home the first of many, +.115 WPA. Carson mentioned this one in One Night Only, and for good reason. The reigning NL Cy Young Award winner, who is a generally fun pitcher to watch, was on the hill. I'm sure it was fun for the first half of the game. Once the Phillies went up 6-0, though, it was already over. Halladay spun a gem, and the Phillies offense continued to assert its lack of dependence on Chase Utley.
Notables
Roy Halladay: 7.0 IP, 6 H, 0 R, 1 BB, 7 K. He could win the Cy in each of his four years in Philly and it wouldn't surprise anyone.
Wilson Valdez: 4 for 4, 2 2B. The Mets discovered Angel Pagan while Carlos Beltran was injured. This will not be the case for Valdez while Utley is on the shelf.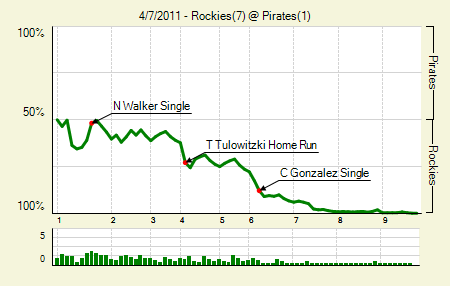 Moving the Needle: Neil Walker turns a potential double play ball into a run, -.135 WPA. It looked like a routine first-inning ground ball. Dexer Fowler stood on first, but it appeared that at least he would be out on the bouncer to second- Gonzalez, the batter, likely beats out the relay throw. But Walker not only failed to get one, but his horrible throw rolled far, far away. Fowler came all the way around to score and Gonzalez ended up at third. The Rockies tacked on plenty after the miscue. After the game, starter Paul Maholm was quite apologetic on behalf of the whole team.
Notables
Troy Tulowitzki: 2 for 3, 1 2B, 1 HR. Add in a sac fly and that's three driven in for Tulo on the day. He has five hits on the season, only one of them a single.
Esmil Rogers: 7.1 IP, 4 H, 1 R, 1 ER, 1 B, 7 K, 0 HR. The converted shortstop continues to impress as a pitcher. His fielding independent numbers were far better than his results last year. Might he turn that around and become another weapon for the Rockies?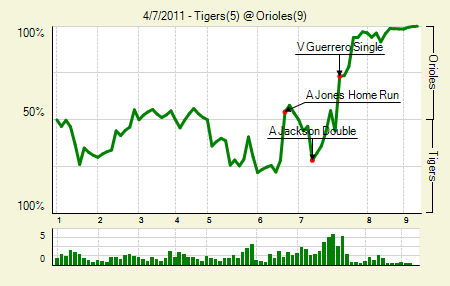 Moving the Needle: Vladimir Guerrero ties the game with a single, +.292 WPA. The Tigers and Orioles might sound like a boring series, but this was quite an entertaining game. They went back-and-forth for the first six innings before settling everything in the seventh. Austin Jackson doubled in the top half, but Vlad tied it back up with an opposite-field single in the bottom half. The Orioles kept the rally going with a sac fly and a two RBI double. Cesar Izturis even got in on the action, singling home the Orioles' ninth run. Vlad hit his first homer of the season earlier in the game.
Notables
Adam Jones: 2 for 3, 1 HR 1 SB. He got away with one in the field, too. Victor Martinez hit one pretty well out to center, but Jones ran it down. Only he didn't hold on. After bobbling it he ran into the wall, as did the ball. Nick Markakis nabbed it before it hit the ground and held it up to signal a catch. The umps agreed. Leyland made his case, but to no avail. But the ball did clearly hit the wall.
Mark Reynolds: 2 for 3, 1 2B, 1 BB. He hit the two-RBI double that essentially sealed it. Also notable because he didn't strike out.
Brennan Boesch: 2 for 4, 1 2B. He's off to a hot start, 8 for his first 20 with two doubles and a homer.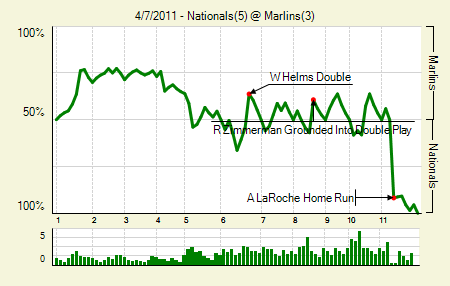 Moving the Needle: Adam LaRoche homers his new team to victory, +.418 WPA. Early on it appeared as though the Marlins had John Lannan's number, scoring a pair by the time he recorded the first out. But he settled down, and by the end of six the two were tied at three. It took four innings to finally break the tie. LaRoche hit what appeared to be a no-doubter off the bat, but which, surprisingly, landed only a few rows into the right field stands. But it was enough to put two on the board and sink the Marlins in the finale of this series.
Notables
Hanley Ramirez: 2 for 5, 1 2B. He also got gunned down when the Nats pitched out on a steal attempt.
Ian Desmond: 2 for 5, 2 SB. I guess he doesn't like being told that he doesn't belong atop the order. But really, he doesn't.
Tyler Clippard: 2 IP, 1 H, 0 R, 0 BB, 3 K. That looks good, right? Sure, but he did allow an inherited runner to score, which tied the game. Why is this notable? It's something I noticed last year. Clippard would enter a game, let the other team tie it or take the lead — usually by allowing an inherited runner to score — and then claim the win when the Nats scored later on. I dubbed it Clipping A Win. Unfortunately, the offense didn't abide on this one.