For quite some time, it seemed as if the Nationals' season was going awry.
I could point to a number of games to describe the beginning of their 2019 campaign, but none epitomize it nearly as well as their May 23 matinee versus the Mets. Stephen Strasburg was brilliant for seven innings (three runs, two earned), and after manager Dave Martinez "threw a furious tantrum" in the eighth, the Nationals went on to score three runs to take a 4-3 lead. But in the bottom half, a two-out, three-run home run from Carlos Gomez gave the Mets a 6-4 lead that they wouldn't relinquish.
This game included all aspects of the beginning of the Nationals' season. There was a great outing from the starting pitcher. The offense managed to come through at the right time. And, of course, the bullpen blew a late lead. On top of that, the manager let the rumors of his firing get to his emotions, and the team fell to 19-31, a season-high 12 games under .500.
The baseball season is long. Even in spite of the disarray, we put the Nationals' odds at making the playoffs at 22.2%. That was their season-low. Check out what has happened in the time since.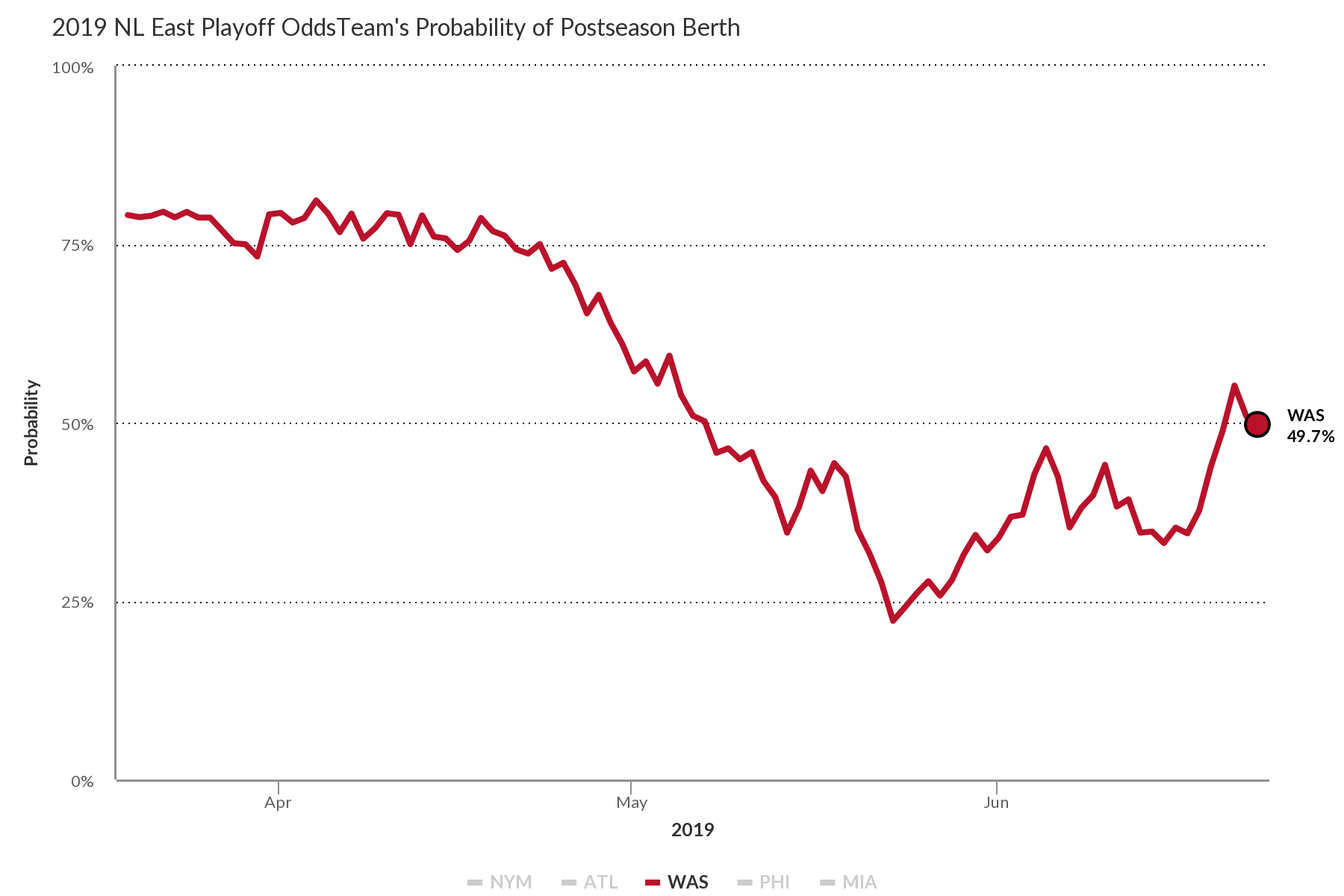 The Nationals are 18-9 since that meltdown. In that stretch, that's the second-best record in the National League. Their playoff odds have more than doubled. Into games on Monday, we had them at a coin flip, 50%. That is certainly encouraging, but it is weighted heavily in favor of a Wild Card berth (33%). For now, the division still seems out of reach. They're 8.5 games back of the Braves.
Some of this recent success can actually be attributed to an improved bullpen. During the 30-day period from May 24 through June 22, the Nationals had the lowest reliever FIP in baseball.
Wander Suero, the very pitcher who gave up the Gomez homer, has been excellent since. He has a 2.45 ERA in 11 innings, with 12 strikeouts to just three walks. He has vastly underperformed his peripherals all season, so this turnaround in results might be legitimate. Tanner Rainey has also stepped up at times. So has Javy Guerra. Prior to the season, none of these guys were expected to be the Nationals' high-leverage arms. And yet here we are.
A clean bill of health for players such as Anthony Rendon, Juan Soto, and Trea Turner has jumpstarted the offense. As a team, the Nationals posted an 86 wRC+ during the prolonged stretch of futility. Since then, their 115 wRC+ is fifth in the league. Rendon, who keeps getting better, has led the charge with a .313/.407/.635 line. Soto, likewise, has also been excellent (165 wRC+), silencing any concerns that he was experiencing regression (119 wRC+ in April). Howie Kendrick (148 wRC+) has been a pleasant surprise all season, but he too has seen his performance ramp up in recent weeks (202 wRC+).
With all of this said, it's hard to know whether this is a midseason blip or a real turnaround.
The bullpen remains shaky. The final two games in this past weekend's Braves series prove that. Saturday was a disaster. The relief corps allowed nine runs in three innings to blow an 8-4 lead. Trevor Rosenthal, who has struggled with command mightily in his return from Tommy John surgery, was subsequently released. Sunday was better, comparatively speaking, as the bullpen threw three shutout innings before Rainey gave up a two-run homer to Johan Camargo in the tenth.
This is clearly an issue that needs to be addressed. This is nothing new for Mike Rizzo; the Nationals have traded for relievers numerous times at the trade deadline, dealing for top relief arms such as Jonathan Papelbon in 2015, Mark Melancon in 2016, and both Sean Doolittle and Ryan Madson in 2017. If they decide to trade for relief pitching again in 2019, there should be multiple options.
The back end of the starting rotation is also still a question mark. I don't think Anibal Sanchez (4.02 ERA, 4.47 FIP) or Erick Fedde (3.94 ERA, 5.63 FIP) will cut it long term. The market there might not be as impactful as a top-notch 'pen piece, but then again, not every playoff team is perfect, and the Nationals are certainly better than their competition. We project them to have the fifth-best record the rest of the way.
And if there was any time to begin to make a real run, it is now. Into the All-Star break, the Nationals have six games against the Marlins and three each versus the Royals and Tigers. For those keeping track at home, that is a total of 12 games against three of the four worst teams in baseball. If 18-9 turns into something like 28-11 or even 29-10, the Nationals will be in business.
Just four weeks ago, the Nationals appeared to be in the midst of a lost season. Now — even despite their reoccurring weaknesses — they have a shot to save it. The next two weeks will be critical.
Devan Fink is a Contributor at FanGraphs. You can follow him on Twitter @DevanFink.