There was already plenty to like about what Matt Chapman did as a rookie in 2017. But his introduction to the majors looked all the more encouraging upon further and deeper review. It's long forgotten now, but Chapman got off to a miserable start. Through the middle of July, he had a wRC+ of 64, to go with nearly 40% strikeouts. The defense was there — the defense was always going to be there — but it was fair to wonder whether Chapman's bat had what it would take to succeed. It was early, yes, but Chapman had been exposed. He seemed to be overmatched.
And then, in a flash, he turned the tables. The rest of the way, he carried a wRC+ of 120, and he trimmed his strikeouts all the way to 26%. The way Chapman finished set him up for a breakout and breakthrough 2018, with a 137 wRC+ and a superstar WAR. The strikeout issues were nowhere to be found. Not that Chapman exactly qualifies as a traditional contact hitter, but he makes enough contact to tap consistently into his power. Chapman put the rough intro behind him, and he hasn't looked back.
With Chapman in mind, allow me to shift the conversation toward Franmil Reyes. Unlike Chapman, Reyes is never going to win a Platinum Glove. If he's going to have a career, it'll have to be a career in which he hits. But the good news is that he just made a strong impression. Like Chapman the season before, Reyes just used the final two months to set himself up for a dazzling campaign.
Last winter, I didn't even know who Franmil Reyes was. When I paid attention to the Padres, I was mostly enamored of Franchy Cordero. Reyes was coming off his age-21 season, in which he slugged .464 in Double-A. The Padres left him unprotected for the Rule 5 draft, in part because Reyes had just suffered a hand injury, deterring potential interest. It was a calculated gamble, and Reyes remained with the organization. This past season in Triple-A, he slugged .614, while improving his OBP by more than a hundred points.
Reyes, in other words, planted himself firmly on the organizational radar. And he got himself up to the majors, after having begun the year as a borderline prospect. It wasn't all smooth sailing. Reyes was demoted for the last time near the end of July. At that point, he had an 87 wRC+, with 38% strikeouts. The Padres wanted him to shorten up.
Upon his most recent demotion, Reyes watched old videos of his swings and compared them to his current one. He noticed he'd inadvertently increased his leg kick and the length of his swing.

"When I was in Triple-A, everything was quiet, and I was good," Reyes said. "When I got here, maybe there was something in me that was trying to show the people, trying to show the fans, the power I have. I tried too much. It was about trying to slow down my game a little bit and be quieter, react."
Reyes' demotion didn't last very long. He was back up near the start of August, and that's when it all fell into place. Down the stretch, over two months of action, Reyes posted a wRC+ of 155. Just as importantly, he trimmed his strikeouts to 22%, while drawing a few more walks. By expected wOBA, he ranked in the 87th percentile. He was just below Robinson Cano, Brandon Nimmo, and Juan Soto.
Here's a plot for players through July, and then after the start of August. To qualify, players had to have at least 100 plate appearances for each split. On one axis here, you're seeing each player's change in wRC+. On the other axis, you're seeing each player's change in K-BB%. Remember that, for pitchers, a positive change in K-BB% is good. Which means, for hitters, a negative change in K-BB% is good. Reyes is the point in yellow.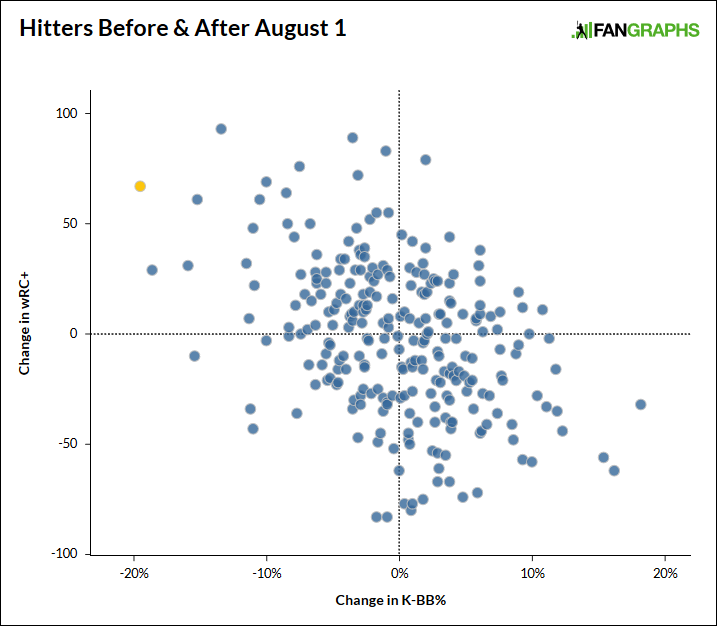 No one improved his K-BB% as much as Reyes did. Few players showed so improved a wRC+. This is what Reyes has in common with 2017 Matt Chapman. Late-season improvements in peripherals don't always stick, but they're more believable when you're dealing with rookies. They're also more believable when you're dealing with young players who seem to understand what it takes to get better. Reyes is a thoughtful and dedicated hitter, and he's proven himself able to make rapid adjustments. It was the last adjustment that made so much of the difference.
Let me shed some light on the other thing that makes Reyes so dangerous. Hitting isn't just about optimizing one's K-BB%. Reyes is officially listed at 6'5, 275. He's a big boy. This is something he did in his first game back up from Triple-A:
Now, on the one hand, that's still a pretty aggressive leg kick. That's still a loud swing. Maybe not what the Padres were looking for Reyes to do. But if you'll notice, the count was 3-and-0 when Reyes took that hack, so you can forgive him. You can also forgive him on account of the result. What makes the peripheral improvements so exciting is the fact that Reyes has always had plus-plus power.
Last season, Reyes was one of just 33 hitters to hit at least one batted ball 115+ miles per hour. It's an uncommon level to reach, and Reyes also demonstrated his consistency. In peak exit velocity, he ranked in the 94th percentile. In average exit velocity, he ranked in the 95th percentile. In rate of batted balls hit at least 95 miles per hour, he ranked in the 94th percentile. Reyes can hit the ball awfully hard. He hit his average fly ball as hard as Bryce Harper.
It's one thing when you can hit the ball hard, but you strike out more than 30% of the time. It's quite another when you can hit the ball hard, and you strike out 20 – 25% of the time. Additionally, to Reyes' credit, he showed the ability to draw some walks, which was something he'd also improved in the PCL. Walks could help Reyes become more than just the next Mark Trumbo or C.J. Cron. Reyes has power and an idea, which allowed him to have the second half that he had. He willingly made some tweaks to his swing. He started to lay off more outside pitches, while turning his focus in. Reyes fixed himself on the fly after a difficult start, and right now he leads the Padres in projected wOBA.
The big difference, again, is that Matt Chapman has a good enough glove to carry him through offensive slumps. Reyes is unlikely to become a plus defender in the corner outfield, so he's going to need to lean on his stick. I should mention he's also coming off offseason knee surgery for a torn meniscus. He might need to make further adjustments, in case pitchers find a new vulnerability. Stretch-run improvements aren't always forever, because randomness happens, and the offseason is long. Plus, opponents are looking for every last edge. The better Reyes performs, the more he'll find himself under scrutiny. There is most certainly more there to prove.
But as the Padres get linked to guys like Harper and Manny Machado, it's important not to forget about what they already have in-house. This is a young team, an exciting team, an improving team. You know about most of the prominent names. Franmil Reyes has worked to be counted among them.
Jeff made Lookout Landing a thing, but he does not still write there about the Mariners. He does write here, sometimes about the Mariners, but usually not.