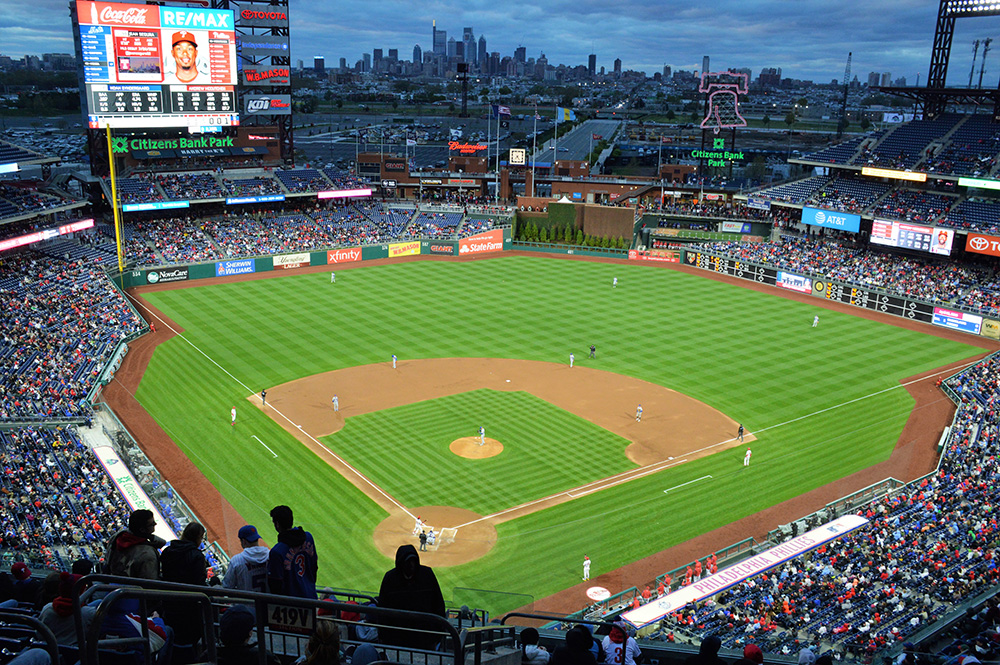 "Unhappiness lies in that gap between our talents and our expectations." – Sebastian Horsley
If you had any questions about where in their rebuilding cycle the Phillies saw themselves as being, the signing of Bryce Harper and the trade for J.T. Realmuto should have been big clues. Philadelphia planned to build on 2018, a surprisingly competitive season that ended in an even more surprising total collapse and residual, Fortnite-related stress. Instead, the Phils ended up winning just one more game than last year, a failure that ended manager Gabe Kapler's brief reign.
The Setup
The Phillies had every reason to look forward to the offseason after 2018. The year may have ended on a sour note due to a late collapse, but there were plenty of optimism. Unlike the team's luck-infused 71-91 record in 2016, its surge to an 80-82 record had some real force behind it. With the exception of Carlos Santana, the entire starting lineup was still in their 20s, Aaron Nola had stepped into Cy Young contender territory, and the team's young bullpen arms were beginning to work out.
And most importantly, the Phillies had "stupid money." These aren't even my snarky words, but a direct quote from ownership. In an offseason when most teams were looking to refinance their mortgages, the Phillies planned to build a fancy new casino. No free agent was out of reach, and while it took them until nearly March to close the deal, the team landed Harper on a 13-year, $330 million contract.
But the Phillies weren't aggressive in the market otherwise. Andrew McCutchen was brought in for three years and $50 million, and David Robertson was scooped up for two years to make the front end of the team's bullpen look a bit scarier. But one thing was missing in free agency: another starting pitcher to join Nola.
The team had legitimate reasons to believe that pitchers such as Vince Velasquez, Zach Eflin, and Nick Pivetta were better in 2018 than their ERA indicated. They had four starters with FIPs under four, and Jake Arrieta wasn't far behind. The team's defense in 2018 was dreadful, ranking 27th in baseball by UZR at -33 runs, and dead last by DRS at a nearly comical -146 runs. One of the major problems was Rhys Hoskins, who, despite putting in time and effort to learn to play the outfield competently, played the position with all the grace of Todd Hundley suffering a hemorrhoid flareup. To get Hoskins back to first base, the Phillies shipped out Santana as part of the Jean Segura/Juan Nicasio episode of Jerry Dipoto's Let's Make a Deal revival.
The Phillies did pick up one of the trade market's plums when they snagged Realmuto from the Marlins. Realmuto was a better win-now option than the eternal wait for Jorge Alfaro's breakout season, but he came at the cost of Alfaro and one of baseball's most prized pitching prospects, Sixto Sanchez.
The Projection
ZiPS projected a tight NL East race, with the Washington Nationals sitting at the top of the division and the Phillies, Braves, and Mets forecast to tie at 87 wins; the Marlins came in at 56 wins, but I won't make you think about them. The Phillies had made real improvements, and the team's front-end talent bumped up significantly over the winter. What Philadelphia was still missing was a bit of depth if things started to go awry. A lot was riding on Harper and Realmuto; ZiPS didn't project any other position players to hit the 3-WAR mark.
ZiPS wasn't especially exuberant about the pitching either. Nola received a healthy projection near five wins, but Arrieta was next at two. ZiPS recognized the significant role defense played in some of 2018's bloated ERAs, but also saw a lot of the rotation as pitching a bit worse, effectively canceling out the defensive gains. I wouldn't necessarily characterize the Phillies' ZiPS projection as pessimistic — 87 wins is 87 wins — but this was clearly a team that could quickly display its cracks if things failed to go according to plan.
The Results
Things didn't go according to plan. The initial returns were pleasant, as the team started the season with a sweep of the Atlanta Braves, but as we all know, the Electoral College isn't decided by the tally in Dixville Notch. Even with a 7-2 record, there were a couple of scary-looking clouds floating near the horizon. Nola and Robertson were being hit particularly hard, and both pitchers were expected to be key parts of the staff. But Harper and Hoskins were mashing, and the Phils were surviving these worries.
Nola righted himself to some degree, though never quite to his 2018 levels. Robertson's case had no such happy-ish ending, as the former Yankee headed to the injured list in mid-April with elbow soreness. He got to the point — twice — where he could play catch and get in some light bullpen work, but by August, he required Tommy John surgery.
Not much else went better. Odubel Herrera looked old and slow despite being just 27, then was suspended for the rest of the season under the league's domestic violence policy following an incident in late May. Scott Kingery patched the outfield hole better than expected, but more fissures opened than the Phillies could handle in-house. McCutchen tore his knee in June and none of the team's parade of quick fixes — Jay Bruce, Nick Williams, Roman Quinn, Adam Haseley, etc. — remedied the situation. Things got better with the late-season addition of Corey Dickerson, but at that point, it was too little, too late.
The rotation was about what you would expect from a unit that needed to turn to Jason Vargas and Drew Smyly to stop the bleeding. Nola recovered from his April stumbles, but he was the only starting pitcher on the team to remain healthy and in the rotation for the entire season. The bullpen fared a bit better, surviving despite the losses of Robertson, Seranthony Dominguez, and Victor Arano, but it was no longer a deep unit. In any case, the team was not exactly flooded with leads to protect.
Very little ended up as the Phillies intended. One of the team's early bright spots, Hoskins, struggled with a sub-.700 OPS and only nine homers in the second half. 2019's troubles wouldn't even fully spare Realmuto, one of the team's few consistent highlights; his season ended early due to a knee injury.
What Comes Next?
There is unlikely to be a massive change in the team's direction, nor should there be. The Phillies have already pushed in their chips; they can hardly just fold on the river and play the next hand. Joe Girardi's experience in New York will serve him well when dealing with a team with lots of veterans and disappointment. Still, he's also no visionary, and if the team's approach is to hunker down and waits for everything to work out, it will underperform in 2020, too.
Reasons for optimism do exist, however. An 81-81 record isn't that bad considering how many things went wrong and how few actually went right. But there's a lot less certainty surrounding much of the team, and the Phillies can't afford to be thrifty this winter and enter next season without significant improvements to their depth.
There also needs to be a shot of reality. Harper's an excellent player, but he's not Mike Trout and can't single-handedly drive an offense (Trout can't, either). The team needs to look at Maikel Franco the same way I look at my failed facial hair experiment every mid-Movember: it's not going to happen. And if the team has any illusions that it's going to fix these problems and stay under the luxury tax, well, it needs to disabuse itself of the notion it can afford to cap its spending at $150 million and succeed.
The organization needs to control its destiny, not wait around for it to happen.
The Absitively, Posilutely, Way-Too-Early ZiPS Projection – Bryce Harper
Bryce Harper is a phenomenally talented baseball player, but he's not a perfect one, and his resume still has just the one crazy MVP season. That's fine of course, but it's hard not to wistfully imagine the alternate-universe Harper who challenges Trout for baseball supremacy year-in and year-out.
One of the big risks of Harper's contract is that it always involved a bit of speculation. With most free agents, teams aren't not really chasing upside; they're just hoping the downside takes a long time to materialize. For Harper (and Manny Machado), the lofty contract figures included the very real chance that they improve as players, given their relative youth. But that also means that every year Harper doesn't improve, that contract gets a lot scarier.
Harper's Cooperstown trajectory is still based largely on his very early start. At 35.1 WAR, he's accumulated a lot of value, but without that step forward in his baseline, he's projected to fall at around 65 WAR for his career. That's terrific, but there's no guarantee that gets you into the Hall of Fame (see Dwight Evans, Reggie Smith, Jim Edmonds, Kenny Lofton, etc.). If he has the stink of disappointment, that might be enough to push him below the line rather than above.
ZiPS Projections – Bryce Harper
| Year | BA | OBP | SLG | AB | R | H | 2B | 3B | HR | RBI | BB | SO | SB | OPS+ | DR | WAR |
| --- | --- | --- | --- | --- | --- | --- | --- | --- | --- | --- | --- | --- | --- | --- | --- | --- |
| 2020 | .254 | .383 | .531 | 524 | 100 | 133 | 29 | 1 | 38 | 110 | 108 | 174 | 13 | 137 | -3 | 4.0 |
| 2021 | .250 | .381 | .527 | 512 | 98 | 128 | 29 | 1 | 37 | 108 | 108 | 174 | 12 | 136 | -3 | 3.8 |
| 2022 | .249 | .380 | .520 | 502 | 95 | 125 | 29 | 1 | 35 | 104 | 106 | 166 | 11 | 134 | -4 | 3.6 |
| 2023 | .248 | .379 | .513 | 487 | 91 | 121 | 28 | 1 | 33 | 100 | 102 | 156 | 10 | 132 | -4 | 3.2 |
| 2024 | .245 | .373 | .498 | 470 | 85 | 115 | 27 | 1 | 30 | 91 | 96 | 146 | 9 | 127 | -4 | 2.7 |
| 2025 | .242 | .367 | .481 | 451 | 78 | 109 | 25 | 1 | 27 | 83 | 88 | 136 | 9 | 121 | -5 | 2.1 |
Dan Szymborski is a senior writer for FanGraphs and the developer of the ZiPS projection system. He was a writer for ESPN.com from 2010-2018, a regular guest on a number of radio shows and podcasts, and a voting BBWAA member. He also maintains a terrible Twitter account at @DSzymborski.