In 2019, Jake Odorizzi went from being a promising middle of the rotation arm to one of the best starting pitchers in baseball. With a career-best 3.36 FIP and a nearly 5% jump in his strikeout rate, he was able to post the highest WAR (4.3) of his six-plus seasons in the major leagues. His pitching arsenal, spearheaded by improvements to his four-seam fastball, became as effective as it's ever been and transformed Odorizzi into a front-line starter.
Throughout his career, Odorizzi's fastball has been somewhat pedestrian. From 2016 to 2018, it seemed to get worse; his fastball velocity dipped a little each year, as it gradually dropped more than 1 mph. In fact, almost all of his pitches got slower over that span. In an interview with our own David Laurila, Odorizzi confessed he was dealing with some mechanical issues that could have stemmed from past health problems.
But in 2019, Odorizzi's four-seamer never dipped below 90 mph; the aforementioned drop in his fastball velocity was reversed, with the right-hander again sitting closer to the mid-90s, and for just the third season in his major league career, the pitch maxed out at over 95 mph.
That extra tick in velocity might not seem like a lot, but moving from the 90-92 mph range to 93-95 mph can make a big difference. In 2019, the league-average wOBA on 90-92 mph four-seamers was .398. Moving up to 93-95 mph (Odorizzi's 2019 range) drops that figure 46 points to .352; Odorizzi saw an improvement on his four-seamer wOBA from a .301 to .245.
As he told Laurila in September, Odorizzi chalks up the uptick in fastball speed to his time spent with conditioning coach Randy Sullivan, whom he worked with prior to the start of the 2019 season. The 10 weeks he spent at the Florida Baseball Ranch paid off, as Sullivan helped him make some changes to his training regiment and overall pitching approach.
Along with his newfound velocity, Odorizzi's swinging strike rate on his four-seamer went from 11.6% to 14.9%. He threw the pitch up to the edge and chase zone a tad less this year, which may have something to do with his the decreased O-Swing% compared to last season. It could also explain the improvement in zone contact he saw; that mark was one of the five lowest (min 150 IP) this season.
Another favorable effect of his fastball sitting slightly lower (see the heatmap GIF below) was a dip in his overall fly ball rate. In his previous two seasons, Odorizzi's fly ball rate sat at 50% or higher. That figure dropped to 47.2% in 2019, and created the lowest four-seam HR/FB rate of his career: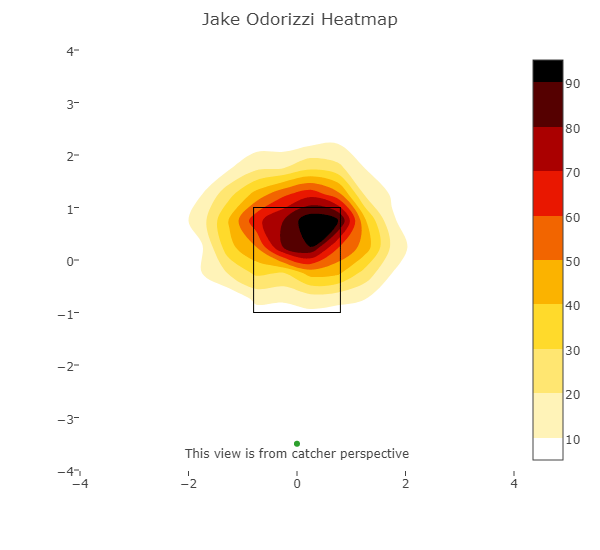 The pitch also had a bit of extra run and rise. Odorizzi didn't tweak his arm slot, nor did he improve his spin rate or adjust the pitch's spin axis. But because the pitch moved a little faster in 2019, Odorizzi's four-seam gave gravity slightly less time to pull the ball down (creating the supplementary rise); the extra force generated from his release help create the additional run.
But Odorizzi's career year wasn't due entirely to his fastball. His splitter wasn't great, but it got better in 2019. Like his four-seamer, the splitter drew a higher swinging strike rate, and he threw it in the zone a bit less because he was able to draw strikes with his fastball at a better rate this year. While he didn't create more chases on the pitch, when hitters did swing, they were much less likely to make contact:
Below are Odorizzi's plate discipline figures from 2018-19:
Odorizzi's Four-Seam and Splitter Plate Discipline Numbers
| Season | Pitch | O-Swing% | Z-Swing% | O-Contact% | Z-Contact% | Contact% | Zone% | SwStr% |
| --- | --- | --- | --- | --- | --- | --- | --- | --- |
| 2018 | Four-seam | 33.6 % | 66.7 % | 68.9 % | 80.9 % | 76.6 % | 48.0 % | 11.6 % |
| 2019 | Four-seam | 30.2 % | 69.7 % | 61.0 % | 74.7 % | 71.0 % | 53.5 % | 14.9 % |
| | | | | | | | | |
| 2018 | Splitter | 37.1 % | 74.9 % | 68.9 % | 87.9 % | 79.5 % | 38.3 % | 10.6 % |
| 2019 | Splitter | 36.3 % | 78.2 % | 60.3 % | 84.8 % | 72.7 % | 32.1 % | 13.6 % |
Odorizzi's splitter and four-seamer come out of the same arm slot but produce very different movements. Thrown with about a 30-degree axis differential, they pair well together in a tunnel, end up far apart at the plate, and have a decent average velocity spread of 8 mph:
Here's another look at the extreme action between the two pitches:
As for the other pitches in his repertoire, Odorizzi throws a sinker from time to time, which runs an extra two inches horizontally compared to his four-seamer. It is better suited for left-handed hitters but is capable of tying up righties as well. He also mixes in his cutter/slider (the pitch is classified in various ways by various sites) and the occasional curveball, despite favoring his fastball about twice as much as his other options. That said, he still did a decent job keeping hitters guessing when ahead in the count.
One note on Odorizzi's pitch parings: Though rarely used in 2019, or thus far in his career for that matter, his curveball could work really well with the fastball. His least effective pitch, his curveball is thrown on an average spin axis of 36 degrees. This axis almost perfectly mirrors his 210 degree spin axis of his four-seamer. Have a look at the example below:
This doesn't guarantee that Odorizzi will enjoy additional level success, but it might be worth trying to do something more with his curveball in 2020.
On November 4, the Twins extended a qualifying offer to Odorizzi to the tune of $17.8 million dollars. He has until 5 PM tomorrow to make a decision. With the year he put together in 2019, which included his first All-Star appearance, he may decide to free agency for a multi-year deal. There are plenty of teams that would be willing to kick the tires, but they might be a bit hesitant to offer him the type of contract he's seeking, considering his limited track record of maintaining a high level of performance, and the draft pick compensation now associated with him seems likely to temper his market. But Odorizzi has clearly figured something out. Considering that he'll turn 30 prior to the start of the 2020 season, he probably has a few more years of optimal production left in the tank, especially if he can maintain his fastball velocity and continue to play it well off his secondary pitches.
Pitching strategist. Driveline Baseball pitch design-certified. Systems Administrator for a high school by day, I also provide ESPN with pitching visuals and am the site manager for SB Nation's Bucs Dugout.