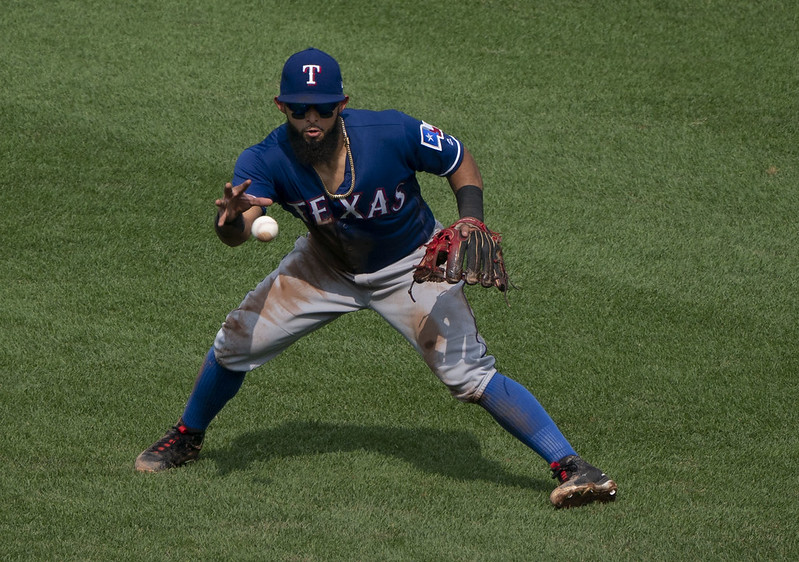 "A pessimist gets nothing but pleasant surprises, an optimist nothing but unpleasant." – Rex Stout, Fer-de-Lance
Of all the realistic playoff contenders in 2019, the one that surprised me the most was the Texas Rangers. I have a feeling the Rangers were equally startled. Without successfully developing a new rotation from within or reaching the point when the wallets would be opened for prime free agent talent, the Rangers spent much of 2019 with realistic Wild Card hopes. Texas played under the .500 mark after the All-Star break and fell safely out of postseason contention, but you can't say it wasn't enjoyable.
The Setup
It's always hard to say goodbye to your greatest victories. The Rangers have a rich and storied history of decent-but-unspectacular success since moving to Texas. Never triumphant as the Washington Senators II: Electric Boogaloo, the team had plenty of interesting eras populated with fascinating seasons, but it took until the 1990s for the team to make the playoffs and nearly another 15 years for the team to start winning there. While I'd be hard-pressed to call the 2010s Rangers a true dynasty, five playoff appearances in seven seasons, including two World Series, is a track record a lot of teams would envy.
But anything that can't last forever won't. The team's core faded or departed, and by the time their most recent winning season rolled around in 2016, the Rangers were mainly running on the fumes of past squads. Not helping matters were two giant financial gambles meant to forestall the decline that I argued were monumental blunders: swapping Ian Kinsler for Prince Fielder and signing Shin-Soo Choo to a seven-year, $130 million contract.
The team avoided doing the full slash-and-burn rebuild, hoping instead that a few of the youngish players such as Joey Gallo and Rougned Odor were part of the foundation for the next contending Texas team. Developing a new rotation was slower progress, and the veteran fill-ins meant to eat innings mostly bombed in 2018. Ten pitchers started at least five games for the 2018 Rangers, but only three returned to the team in 2019: Mike Minor, Ariel Jurado, and Yohander Méndez. Jurickson Profar was shipped out to enhance minor league depth. Otherwise, the team's most significant offseason move was a three-year, $30 million contract with Lance Lynn; Shelby Miller's one-year deal was of the lottery ticket variety. Bringing in Lynn was an interesting FIP vs. ERA gamble, for while Lynn added a run in ERA from 2017 to 2018, he also subtracted a run in FIP.
The Projection
At the start of the season, ZiPS was quite pessimistic about Texas' chances of cobbling together an adequate rotation. At 68-94, ZiPS gave the Rangers the second-worst chances of making the playoffs in the American League, only barely escaping the rounding-to-zero humiliation of the Baltimore Orioles. While there was a very good argument to be made that the Rangers had more going for them than the AL Central also-rans, they also played in a significantly tougher division.
ZiPS expected little from the pitching staff after league-average Mike Minor/Lance Lynn projections, and while the offensive projections were slightly less bleak, only Joey Gallo was forecast to eclipse the two-win mark. Even the team's younger hitters, like Rougned Odor and Nomar Mazara, had serious concerns that held down the projections. When would Odor stop going into half-season slumps? How do you shape Mazara's raw power into a more refined version?
Better seasons were on the menu — a large market team with a new park would be unlikely to cry poor — but the computer did not see one of those as coming in 2019.
The Results
The Rangers didn't burst out of the gate in 2019, but they played far better baseball than I expected. I was quite harsh about the team keeping Hunter Pence on the roster over Willie Calhoun, but Pence had a lot more baseball remaining than I expected and hit .294/.353/.608 before a groin injury sidelined him in mid-June. Minor and Lynn weren't just adequate, but elevated the rotation to near-adequacy in the first half of the season, combining for 232 innings with a 3.22 ERA. Minor made the All-Star Game for the first time in his career, and Lynn spent much of the season leading the American League in FIP.
One of the best bits of news for the Rangers was Joey Gallo finally breaking out. It may seem odd to talk about a player with two 40-homer seasons as a disappointment, but Gallo's low batting averages — even by 2010s standards — suppressed his on-base and slugging percentages enough to make it a stretch to call him a star. While you didn't see it in his pure strikeout rate, Gallo knocked a whole quarter off of his out-of-zone swing percentage in 2019. That resulted in him getting far more non-homer hits than usual, enough to add 50 points to his batting average. Gallo's not a speed demon, but he's not Albert Pujols-slow either, and combined with his raw power, ZiPS was always befuddled why his career BABIP lingered stubbornly around the .250 mark. It will be hard to maintain the .368 BABIP he posted this year, but I think Gallo's a more well-rounded hitter than he used to be.
Texas lingered around .500 for most of the summer, but that success was shallow and predicated on riding the bullpen and a small number of elite performances. The non-Lynn and Minor parts of the rotation contributed an abysmal 6.63 ERA. The offense's 94 wRC+ was largely Gallo-driven, and when he broke the hamate bone in his wrist in July, ending his season with a .253/.389/.598 line, Texas's offense collapsed; the Rangers put up an 80 wRC+ in the second half, which led only the Detroit Tigers.
Still in contention at the trade deadline, the organization faced a difficult question. Throwing in the towel when your playoff chances are more than theoretical is a tough decision, and if the Rangers were going to stay in the race, they'd have to figure out how to replace Gallo's bat. The team decided — rightly, in my opinion — not to become buyers, but consistent with their skinny-rebuild, didn't dump everyone with value. Their one big deadline trade, picking up Kolby Allard from the Braves for reliever Chris Martin, was one that would have been hard for any team to pass up. Likely getting unimpressive offers for Mike Minor in light of the weak return for Marcus Stroman, the Rangers kept the rest of the team together and played out the string.
What Comes Next?
As pleasant as it was to play meaningful baseball in 2019, the Rangers didn't answer many questions. Picking up Nick Solak was a coup, but Rougned Odor was still undependable, Nomar Mozara's breakout continued to elude him, and Delino DeShields lost 30 points of OBP over the summer. Elvis Andrus's .242/.283/.322 second half again raises questions as to whether his 2016-2017 "comeback" was temporary. José Leclerc recovered from his early-season struggles, but I'd be lying if I said I was as high on him entering 2020 as I was in 2019.
I hate to say it about a team that decided not to go the full-tank route, but I feel that 2019's success will be hard to build on in 2020. You can't expect Lynn and Minor to match their 2019s, and given their ages and contract situations, winter trades are likely still in the club's interest. A Calhoun-DeShields-Gallo outfield ought to be fine, but I don't share that optimism with the non-Solak parts of the infield.
Looking at THE BOARD does not fill me with optimism either. The farm system boasts far more quantity than quality as it currently stands. The team has a whopping 44 prospects with a projected 40-grade or higher, but only a single 50. And that 50, Solak, is already accounted for above. ZiPS only shows significantly more promising results in Leody Taveras. There are no pitching prospects in the top 100 (and nobody I'd quibble with Eric and Kiley over) and few signs of a long-term first baseman or catcher.
The team has money to spend and could theoretically land Gerrit Cole and Anthony Rendon and Yasmani Grandal, should the mood strike them. The problem is that I'm no longer sure that would be quite enough. Some of their lesser prospects will work out, but when sorting through that many maybes, you need time and a lot of roster space.
I'm not as down on the team's future as this may make me sound, but I'm very down on its turnaround happening as quickly as 2019's record suggests.
The Absitively, Posilutely, Way-Too-Early ZiPS Projection – Lance Lynn
I liked the Lance Lynn signing and you can't claim Texas didn't win this one. While ZiPS never got too excited about Lynn in 2019, I think a lot of that was due to the nature of the in-season model being simpler than the season-to-season model. Lynn had the best fastball velocity of his career in 2019, a relevant stat for a player whose repertoire largely consists of three fastball variants. His two-seamer/sinker has always been the weakest of the three, with batters hitting nearly .300 against it over Lynn's career. Lynn dialed back the use of the pitch in 2019, relying more on his bog-standard fastball and cutter. The extra velocity on the regular fastball — Lynn could push it to the high 90s at times — gave him some separation from the cutter. Lynn even added a bit of velocity to his vertically oriented curveball, enough to fool pitch algorithms into sometimes thinking it was a splitter.
ZiPS Projections – Lance Lynn
| Year | W | L | ERA | G | GS | IP | H | ER | HR | BB | SO | ERA+ | WAR |
| --- | --- | --- | --- | --- | --- | --- | --- | --- | --- | --- | --- | --- | --- |
| 2020 | 13 | 9 | 3.58 | 29 | 29 | 173.3 | 165 | 69 | 17 | 55 | 175 | 116 | 3.2 |
| 2021 | 11 | 8 | 3.70 | 26 | 26 | 153.3 | 150 | 63 | 15 | 50 | 151 | 112 | 2.7 |
The computer's buying it. Meeting this projection actually makes Lynn one of the most valuable veteran pitchers potentially available this offseason. While I'm not sure whether the team will actually go that route, I think Lynn showed enough to net a package I wouldn't have thought possible for him a few years ago.
Dan Szymborski is a senior writer for FanGraphs and the developer of the ZiPS projection system. He was a writer for ESPN.com from 2010-2018, a regular guest on a number of radio shows and podcasts, and a voting BBWAA member. He also maintains a terrible Twitter account at @DSzymborski.