Once upon a time, it was not uncommon to see a batter's walk rate sitting higher than his strikeout rate. In the early 90s, more than a quarter of qualified batters had a walk rate higher than their strikeout rate. That number has slowly dwindled as strikeout rates have skyrocketed. This season, just two qualified batters have taken a stroll to first more often than a stroll back to the dugout: Alex Bregman and Carlos Santana. If we lower the plate appearance threshold, another batter joins this interesting group of players: Luis Arraez.
Arráez doesn't hit for power like Bregman and Santana, he simply makes a ton of contact. His 91.9% contact rate leads the majors, just ahead of contact maestro David Fletcher. There's nothing inherently more valuable about running a walk rate higher than your strikeout rate — there are plenty of players who thrive with a walk-to-strikeout ratio much lower than one — but Arráez's batting style is a rare sight in today's era of three true outcomes. His ability to draw a walk does make him stand out against some of the other batters with an aggressive, high-contact approach like Fletcher or Willians Astudillo. The combination of elite bat control with a discerning eye has helped him post the fifth-highest OBP among all batters with at least 200 plate appearances.
Arráez was signed out of Venezuela as a 16-year-old international free agent back in 2013. His ability to consistently put wood on the ball helped him rise quickly through the Twins organization. He peaked as the No. 12 prospect in their system this past offseason, but his lack of power limited his potential ceiling. Still, that didn't hold him back from posting a minor league slash line of .331/.385/.414. His hit tool is equal parts natural ability and dedication to his craft. Back in June, he spoke with Mariana Guzman of Twins Daily about his pre-game routine:
"I always arrive early at the stadium to work on my swing. I love to do the tee drills, and most of the time, I do three rounds. I also work with the hitting coach on a flip drill section. That's something that helps me a lot, and it makes my hands faster. I do it by putting some weight on the bat, and then I start doing my regular swing. That's what I always do to prepare before each game."
Working on his swing daily helped him post high batting averages throughout his career, though they're backed by an equally high BABIP, as you'd expect. His minor league BABIP sat just above .350 across six seasons and never fell below .315 in any of them.
His ability to maintain a high BABIP has followed him to the majors. His .358 BABIP ranks in the 93rd percentile, helping him post a .341/.408/.445 slash line across 238 plate appearances. If he qualified for the batting title, he'd be leading by a slim margin. But his average exit velocity this year has been a measly 86.4 mph, well below league average. Arráez isn't stinging the ball to prop up his batting average. We know there's no meaningful relationship between BABIP and exit velocity, but he's doing something to optimize his batted ball profile despite a lack of hard contact.
Baseball Savant throws batted balls into six different buckets based on their contact quality where both exit velocity and launch angle are considered. Barrels are the most well-known bucket, but Arráez doesn't barrel up the ball very often. Instead, he hits a ton of flares and burners. These batted ball types are often line drives, but their potential exit velocity ranges from 70-mph flares to 110-mph burners. That's a huge range of contact quality, but the expected wOBA doesn't significantly change no matter how hard you hit one of these line drives. Flares hit between 70 mph and 80 mph have an expected wOBA around .672. Burners hit between 100 mph and 110 mph have an expected wOBA around .640. If you don't have much power in your swing, these are the types of batted balls that will maximize the contact you make.
For Arráez, these flares and burners are where he thrives. Here's his radial contact quality chart from Baseball Savant: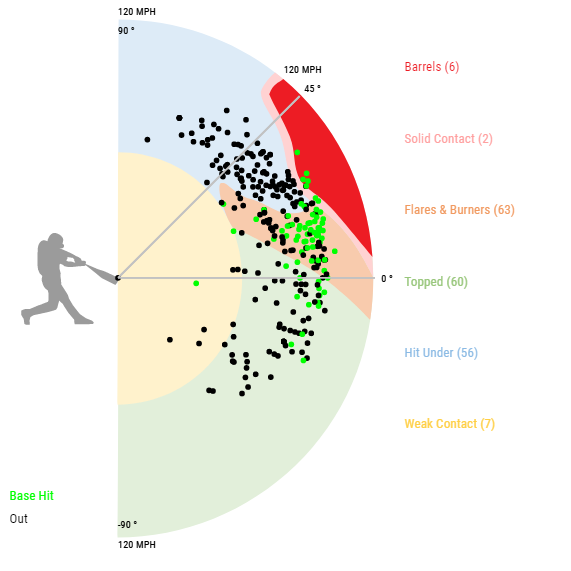 See that huge cluster of green in the middle of the orange flares and burners section? Those are all the line drives that have fallen in for hits, driving his high BABIP. Just over 32% of his batted balls have been flares or burners this year, putting him in the 97th percentile for that metric.
Here's another way of visualizing his optimized batted ball profile: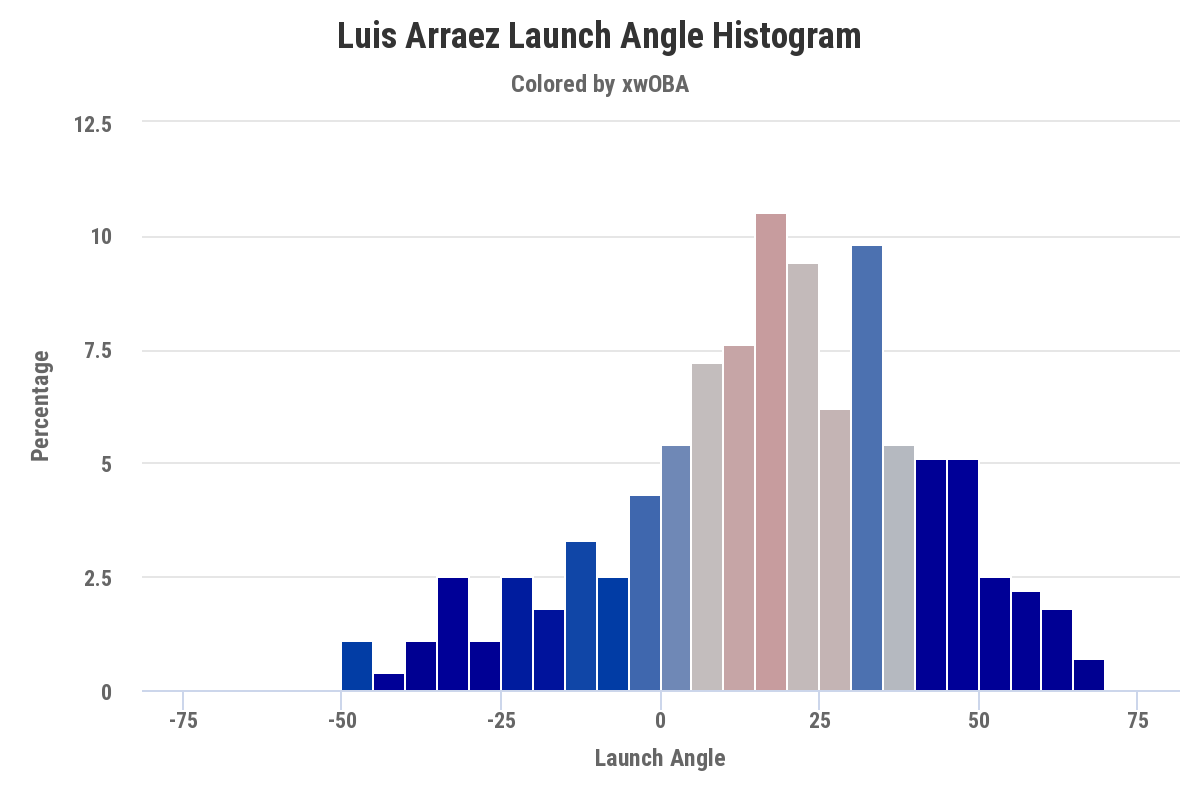 In this launch angle histogram, we see that he's hitting batted balls with a 15-degree launch angle the most often. These line drives happen to fall into the most productive bucket with an expected wOBA of .743. That 15-degree launch angle sits in the middle of a very productive band between 5- and 25-degree launch angles. But that big blue bar to the right of that band reveals his weakness. On balls hit with a 30-degree launch angle, his expected wOBA is just .224, far below the .553 league average for that bucket. When he elevates the ball a little too much, those line drives turn into fly balls, and he doesn't have enough pop in his bat to turn them into extra-base hits. Instead, they become lazy fly balls that are easily turned into outs.
We know line-drive rate takes a long time to become reliable. But is that because the classification of a line drive is rather subjective? For the traditional batted ball types, the line between a line drive and fly ball is rather fuzzy, which could lead to more inconstancy than otherwise. What happens if we have objective criteria to define batted ball types like we do with the Baseball Savant contact quality buckets? Barrels have been shown to stabilize quickly and are fairly sticky from year-to-year. Is that true for flares and burners too? To check, I calculated the year-to-year correlation for flare/burner rate. It turns out hitting these kinds of batted balls might be a skill, though it's less sticky than a batter's barrel rate.
Flare/Burner Rate, Year-to-Year Correlations
| | Year 1 to Year 2 | Year 2 to Year 3 | Year 3 to Year 4 | Year 4 to Year 5 |
| --- | --- | --- | --- | --- |
| Correlation Coefficient | .424 | .455 | .394 | .484 |
There's a significant survivor bias as we get to years four and five, since the samples for those years are going to be batters who have been good enough and healthy enough to accumulate that much playing time. Still, the year one to year two correlation coefficient is on par with batting average's year-to-year correlation. Batting average isn't exactly a predictive stat, but it's almost twice as sticky as line-drive rate.
Conceptually, this makes some sense. A batter like Arráez that has a swing that's geared towards hitting in a particular band of launch angles is likely to suffer from some normal fluctuation, but his contact quality is generally going to stick in that band. But because the flare and burner bucket is so wide, the rate of those types of batted balls is going to vary a little more than a more narrow bucket like barrels.
Arráez also has excellent plate discipline to help drive his offensive production. He isn't afraid to wait for the pitch he wants, but he has enough bat control to avoid striking out if he falls behind in the count. His swinging strike rate when behind in the count is just 2.7%, easily the best mark in the majors. And even when he's swinging defensively, he's still able to make plenty of contact in that 5-25 degree launch angle band; he's running a 30.9% flare/burner rate when he's facing two strikes against him. In those situations, rather than attempting to make any kind of contact possible, he's still swinging with purpose.
And even though there's very little power in his profile, he's already matched a career high in home runs with three this year. His .104 ISO in the majors is the highest mark of his career, if you exclude a 13-plate-appearance stint in High-A back in 2017. It's likely he's benefiting from the dragless ball a bit, but the extra power is just an added bonus to an already strong batting profile.
Arráez with his 128 wRC+ has easily supplanted Jonathan Schoop as the Twins' everyday second baseman. He's been flexible enough to play third base, shortstop, and left field, too. The way he maximizes his contact quality paired with his unique plate discipline skills should help him continue to be a hitting machine as the Twins race towards the postseason.
Jake Mailhot is a contributor to FanGraphs. A long-suffering Mariners fan, he also writes about them for Lookout Landing. Follow him on Twitter @jakemailhot.