Pitchers learn and develop different pitches, and they do so at varying stages of their lives. It might be a curveball in high school, a cutter in college, or a changeup in A-ball. Sometimes the addition or refinement is a natural progression — graduating from Pitching 101 to advanced course work — and often it's a matter of necessity. In order to get hitters out as the quality of competition improves, a pitcher needs to optimize his repertoire.
In this installment of the series, we'll hear from three pitchers — Tony Barnette, Ryne Stanek, and Nick Tropeano — on how they learned and developed their split-finger fastballs.
———
Tony Barnette, Chicago Cubs
"When I was in Japan, I had a changeup as a starter. It was getting hit. Working on it in bullpens, I remember a couple of Japanese coaches, through a translator, asking me, 'Why do you throw that pitch?' I told them that I needed something off-speed, something to use away to lefties. They were like, 'You're right, you do. But that's not it. It's awful. You need to get rid of it.'
"A lot of guys in Japan throw a split, so they got me on that. I started playing with different grips, and found one that worked for me. If you look at a baseball, the seams are crazy. They go all over. Basically, you split your fingers and find seams. You find seams that fit your hand. Then, one day you have that 'aha' moment where it's 'Oh my god, this works.' From there, you working on it more.
"Again, they thought my changeup sucked. The coaches told me they'd had meetings and agreed that I shouldn't throw it anymore. The split ended up becoming a success for me — I got a lot of the desired swings and misses — but it's really not that good of one now. It's pretty wishy-washy at times."
Ryne Stanek, Tampa Bay Rays
"I picked up my split playing catch with my catching partner in Triple-A, Steve Geltz. This was during my first stint there. My changeup wasn't very good, so I was like, 'Show me how to throw your split.' I'd never tried throwing one before.
"I started messing around with one. So, Geltz was kind of like the dude who showed me how to throw it. He was letting me throw the split to him as I was trying to figure it out, and it got to be pretty decent.
"It came time to throw it in a game. But I hadn't really talked about it with [pitching coach] Kyle Snyder. I'd always thrown changeups in my warmups. The catcher put down a four, and I was like, 'I guess I'm going to throw that.' I threw it in the game and Snyder was like, 'Dude, you can't be doing that. Not without going over it with me.' I was like, 'That's probably a good point. That's valid.'
"Going into that offseason, I talked to him about it being a pitch I wanted to try to incorporate. I wanted something that wasn't just going left. So I kind of forced myself to learn it. During the season, when I was up and down, there were times they'd send me down and were like, 'Hey, just be fastball-split for this stretch.' They wanted me to develop it more. They kind of forced it into my head. Not force the idea into my head, but forced the consistency into it."
Nick Tropeano, Los Angeles Angels
"My splitter is something I developed when I was in the Cape Cod League, when I was a sophomore in college. James McCann, who is with the White Sox now, was catching me at the time.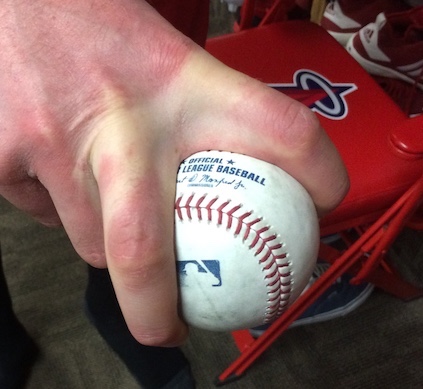 "I used to throw a one-seam fastball. We were messing around, and McCann said, 'Hey, why don't you spread out your fingers a little bit on the seams and see what happens?' You know what? I threw one pitch and it fell off the table. That's basically how my splitter came to be — how I discovered it — although it obviously took a lot more perfecting after that.
"There were a couple of tweaks, a couple of adjustments, with my grip. Then it was more so him saying, 'Throw it like a fastball, throw it like a fastball.' When I did that — when I threw it like a fastball — that's when I saw results. I'd had a straight change, and still throw one, but after I learned how to throw one, the splitter became more of my depth pitch, my strikeout pitch."
——
The 2018 installments of this series can be found here.
David Laurila grew up in Michigan's Upper Peninsula and now writes about baseball from his home in Cambridge, Mass. He authored the Prospectus Q&A series at Baseball Prospectus from December 2006-May 2011 before being claimed off waivers by FanGraphs. He can be followed on Twitter @DavidLaurilaQA.