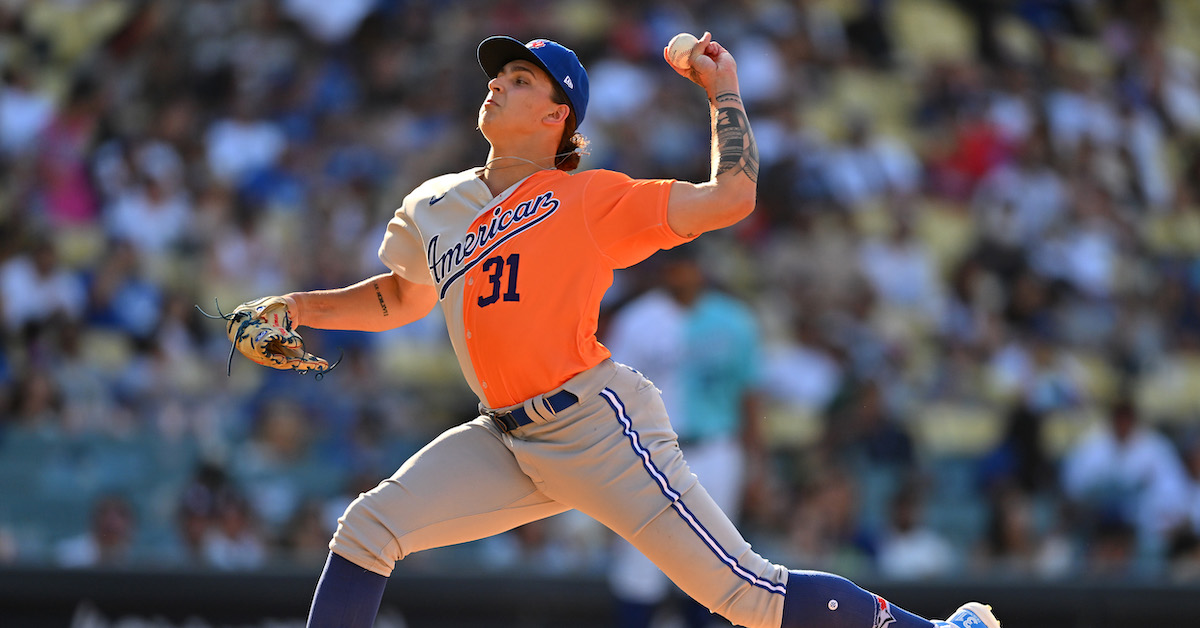 Top Prospects Series
Below is an analysis of the prospects in the farm system of the Toronto Blue Jays. Scouting reports were compiled with information provided by industry sources as well as our own observations. This is the third year we're delineating between two anticipated relief roles, the abbreviations for which you'll see in the "position" column below: MIRP for multi-inning relief pitchers, and SIRP for single-inning relief pitchers. The ETAs listed generally correspond to the year a player has to be added to the 40-man roster to avoid being made eligible for the Rule 5 draft. Manual adjustments are made where they seem appropriate, but we use that as a rule of thumb.
A quick overview of what FV (Future Value) means can be found here. A much deeper overview can be found here.
All of the ranked prospects below also appear on The Board, a resource the site offers featuring sortable scouting information for every organization. It has more details (and updated TrackMan data from various sources) than this article and integrates every team's list so readers can compare prospects across farm systems. It can be found here.
55 FV Prospects
50 FV Prospects
45+ FV Prospects
45 FV Prospects
40+ FV Prospects
40 FV Prospects
35+ FV Prospects
Other Prospects of Note
Grouped by type and listed in order of preference within each category.
Very Young Prospects to Monitor
Yeuni Munoz, OF
Jean Joseph, OF
Victor Arias, OF
Edward Duran, C
Munoz, 19, stood out in extended spring training as a very physical outfielder with plus bat speed. He struggled with strikeouts the year before and didn't really get a chance to show that he had remedied those issues because he barely played complex games due to injury. Joseph, 18, is a very projectable center fielder with a strong bat-to-ball foundation. He was in the DSL in 2022. Arias, 19, was stateside for extended and went back to the DSL to repeat the level, which he crushed. Stocky and wielding plus bat speed, his swing path may not hold up at the upper levels. Duran, 18, came over from Miami to complete the Anthony Bass trade. The compact, athletic catcher also repeated the DSL and performed well from a contact standpoint.
Spot Start Types
Adrian Hernandez, RHP
Michael Dominguez, RHP
Adam Kloffenstein, RHP
Kendry Rojas, LHP
Hernandez is an athletic little righty with an uphill fastball that plays pretty well for a pitch that only travels 90-93 mph. His changeup is his money pitch. Dominguez also has a low-90s uphill fastball and a dynamite secondary in his low-80s slider. Kloffenstein is more of a downhill sinker/slider guy with a vulnerable heater and solid slider/changeup combo. He also has an innings-eater's build. Rojas is an athletic low-slot lefty with an average slider and changeup, and below-average velo and fastball strikes.
Last Bench Spot Sorts
Vinny Capra, DH
LJ Talley, UTIL
Devonte Brown, OF
Miguel Hiraldo, 3B
Rikelbin De Castro, SS
Luis De Los Santos, SS
Capra and Talley have plus feel for contact. Capra is a righty version of Tanner Morris. Talley, who hits left-handed, plays a mix of first, second, and third. Both are plus bats without a ton of power or much to contribute defensively. Brown is more of a well-rounded extra outfield type. Hiraldo and De Castro were once hyped international prospects who haven't performed well enough with the bat to make the main section of the list. De Los Santos has gotten stronger and is still a fine middle infielder, but his swing is pretty rough and out of control.
Not Enough Strikes
Julian Fernández, RHP
Ben Baggett, RHP
Jimmy Robbins, LHP
Jimmy Burnette, LHP
Jol Concepcion, RHP
Trent Palmer, RHP
Chad Dallas, RHP
Fernández, now 27, has been toward the bottom of prospect lists for over half a decade as he's thrown hard for several teams, been Rule 5'd, and is now with the Jays on a minor league deal. He still sits 97-98 mph, so let's see what happens with the change of scenery. Baggett sits 93-95 and has a knockout breaking ball. Robbins and Burnette are low-slot lefties with good sliders, and both could be lefty specialists. Concepcion is a low-calorie version of Fernández; he sits 94-95. Palmer is a sinkerballer with a good slider and changeup. He had TJ late in 2022. Dallas was supposed to be a slider monster in this org, but he didn't take a leap in his first full season after being drafted from Tennessee.
Power-Over-Hit Fliers
Rainer Nunez, 1B
Zach Britton, OF
Sebastian Espino, 3B
Nunez is a huge-framed 3B/1B who is almost certain to be first base-only at maturity. He's kept his K rates under control so far, but his righty-hitting first base profile means he has a high bar to clear. Britton has above-average bat speed but a 40 hit tool. Espino has a 70 frame and a great-looking swing, but he has no feel for the barrel.
System Overview
Toronto's current status as a contender at the big league level inspired the team to trade away a number of highly-regarded prospects