Pitchers learn and develop different pitches, and they do so at varying stages of their lives. It might be a curveball in high school, a cutter in college, or a changeup in A-ball. Sometimes the addition or refinement is a natural progression — graduating from Pitching 101 to advanced course work — and often it's a matter of necessity. In order to get hitters out as the quality of competition improves, a pitcher needs to optimize his repertoire.
In this installment of the series, we'll hear from three pitchers — Tyler Anderson, Steven Brault, and Mike Leake — on how they learned and developed their change-of-pace pitches.
———
Tyler Anderson, Colorado Rockies
"In high school, I tried to learn how to pitch by watching other people. And I was doing all kinds of stuff. I was dropping down, throwing from all arm angles, throwing sliders. Then I got to college. At the University of Oregon, they preached fastball-changeup. Not only that, in the fall you weren't allowed to throw breaking pitches; you had to go fastball-changeup only. Then, just before the season started, you could start mixing in curveballs and sliders.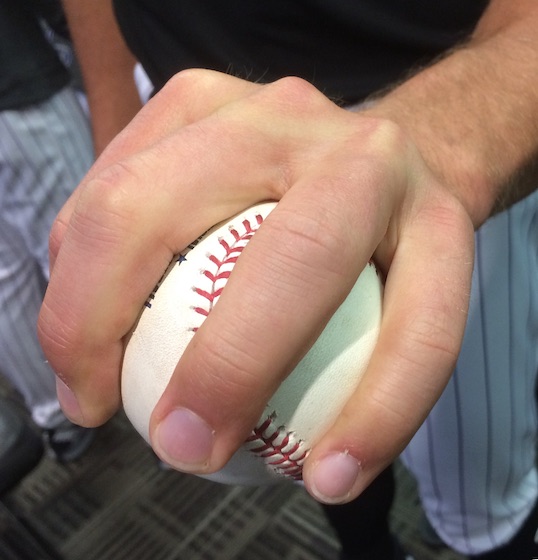 "Before that, I'd thrown a palm ball. Honestly. I would hold it in my palm and throw a palm ball. It was slower. My dad knew about it from back in the day — it's an old-school pitch — and mine was actually pretty good. It didn't have a lot of spin, and as you know, limited spin creates drop. Mine would drop a lot, but it was too hard to control.
"Anyway, Andrew Checketts and I — this was at Oregon — kept tinkering with grips until we found one that worked. It's basically just a modified circle, although I throw it a couple of ways. One is slower than the other.
"Checketts — he's now the head coach at UC Santa Barbara — was helping me figure out a way take more velocity off of it. My circle was pretty hard and a little straight, so we moved my middle finger over to create almost a double circle. That took a couple mph of velo off of it. The slower one has a little more drop, too. That's probably because of gravity. It has more time to move."
Steven Brault, Pittsburgh Pirates
"I'd never really had a good changeup. It was always kind of 'meh.' Two years ago, I decided I was going to find a grip that was comfortable, and I was going to just keep throwing it until it worked. Or it didn't. So the last two years I've been throwing my changeup the same way. Starting this spring, it's been not only comfortable and easy to throw, it's actually been good. Most of my strikeouts came on changeups this spring. As the season goes on, I expect to be using it a lot.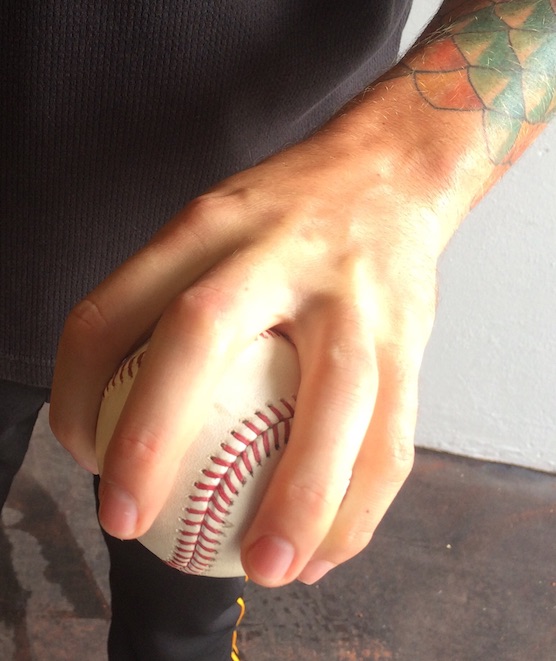 "A changeup is a feel pitch, more so than an effort pitch. You have to be able to feel it, because you have to throw it just like a fastball. That kind of idea. It has to feel comfortable. Over time it started working for me. As much as anything, it's been about the reps.
"I'd tried a lot of changeup grips. I used to think that in order to make a changeup nasty, you had to grip it really hard, or some people think you want to grip it really soft. What I found is that … I used to throw a four-seam changeup, and it didn't move at all. It was just straight. It was terrible. I figured that my sinker moves a lot more than my four-seamer, so why don't I throw a changeup that's just like my sinker?
"I throw a one-seam fastball, and now I throw my changeup the same way. I just move my fingers over, and pull down on the ball. I'm pulling on three seams. That takes off velocity, and it moves in a downward motion instead of just floating in. Even so, I think the loss of velocity is what's most important. You want to disrupt timing.
"The beauty of the changeup is that it looks exactly like a fastball. The problem comes when a hitter thinks it's a fastball and it's only two mph slower than a fastball. That's not going to work. You want your changeup to be 7-10 mph off your fastball."
Mike Leake, Seattle Mariners
"The best evolution pitch I've had over the course of my career would probably be my changeup. In the past, it was a pitch I didn't have to rely on. Now I have to use more pitches. I'm older, and throw a tick or two slower than I used to, so I have to mix and match my speeds.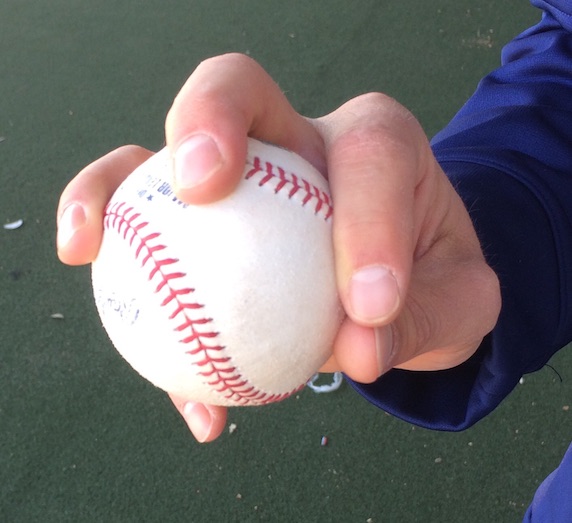 "I've had to evolve my changeup as more of a break pitch. For a while I was probably worrying to0 much about the speed, about the velocity difference. I was trying to watch the shape and the velo at the same time, rather than getting the shape of the pitch right, and working the arm speed from there. Now it's more about getting my fingers on top of the baseball and working it down with pressure, rather than trying to work over the baseball, trying to create spin.
"If you can imagine a one-seam where you have… OK, you have the two-seam, and then you cock the baseball. You rotate it to the horseshoe to where it's one-seam, essentially. I'm throwing a one-seam off that, so I can create motion either way. I work on top of the baseball with my fingers in a way that it doesn't slip.
"I haven't studied [Felix Hernandez's], but I've obviously watched him. His changeup is a big-time one. I've watched the movement of it. Mine … instead of either no movement, or movement sliding — moving horizontally — I'm getting more vertical motion. I'm trying to work horizontal, with the vertical."
——
The 2018 installments of this series can be found here.
David Laurila grew up in Michigan's Upper Peninsula and now writes about baseball from his home in Cambridge, Mass. He authored the Prospectus Q&A series at Baseball Prospectus from December 2006-May 2011 before being claimed off waivers by FanGraphs. He can be followed on Twitter @DavidLaurilaQA.