Pitchers learn and develop different pitches, and they do so at varying stages of their lives. It might be a curveball in high school, a cutter in college, or a changeup in A-ball. Sometimes the addition or refinement is a natural progression — graduating from Pitching 101 to advanced course work — and often it's a matter of necessity. In order to get hitters out as the quality of competition improves, a pitcher needs to optimize his repertoire.
In this installment of the series, we'll hear from three pitchers — Tyler Beede, John Gant, and David Hale — on how they learned and developed their changeups.
———
Tyler Beede, San Francisco Giants
"Based on how unique of a pitch it's been for me, I'd say we should go with my changeup. I'm not sure of the numbers, in terms of batting-average-against or anything like that, but I know how effective it's been for me. That's from the time I was 13 or 14, when I learned it, to now at 26 [years old].
"I learned the pitch from a guy named Lenny Solesky. He was my pitching coach coming up through… right before high school. His big thing was — he never really showed me a specific grip — 'hold it like an egg.' That, and 'keep the same arm speed as your fastball.'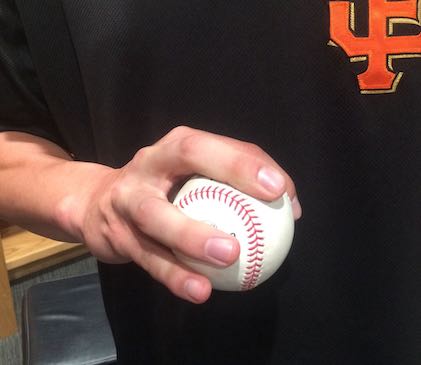 "For me, it's a light grip. It's way far out in my fingertips. Having big hands, I'm kind of given more room to keep it out on my fingertips. It's not a circle change. I don't choke it, I don't palm it; I just hold it loose with sort of a two-seam grip. And I'm not touching a seam. With my changeup, I like to feel like I'm throwing the crap out of nothing.
"I throw it as hard as I can, and a lot of times my middle finger just kind of gives direction. I try to throw it through the center of the ball. These two fingers kind of give it the split action. A lot of times, it moves straight down. There are also times it moves a little bit laterally.
"It's such a feel pitch, and I was able to develop a feel for it at a young age. I've always been able to use it at any time, including against righties. At the time, throwing right-on-right changeups was more unique than it is now. Having this pitch has always been my biggest weapon. It's the one pitch, and the one thing, in my game that I haven't tweaked at all. Nothing's really changed with it."
John Gant, St. Louis Cardinals
"I went to a camp in middle school and the coach there said this was how someone he knew threw a split-finger. He held it like [a Vulcan changeup]. That was where I first saw the grip, I started kind of tinkering with it, and from there it became my changeup. I didn't actually use it in middle school, though. I didn't really throw one in high school, either. I really didn't use it until the early levels of pro ball.
"It wasn't so much, 'Hey, you need to add a changeup.' I had one. It's more that the catchers started calling it, so I started throwing it. That built up my confidence in the pitch.
"The grip… it's tucked pretty good, but I don't want it in my palm. I try to hold it as loose as I can, and try not to choke it. I want it in my fingers. My fingers are on the outside of the seams, and the movement is like a glove-side-to-arm-side fade and drop. I just throw it like a fastball and let the action take care of itself.
"It's still the same one I learned in middle school. I never threw a circle change, or any other kind of changeup. I felt comfortable and confident with the [Vulcan], so that's what I stayed with. If it ain't broke, don't fix it. Right?"
David Hale, New York Yankees
"When I was drafted, I basically had no changeup. I was a sinker-slider guy. I believe the Braves had me ranked as having the best slider in their rookie-development program. Then, in my high-A year, I kind of lost my slider and had to develop something else. That's when I started messing around with changeup grips. I figured out one that works for me, and it's actually been my main pitch for awhile.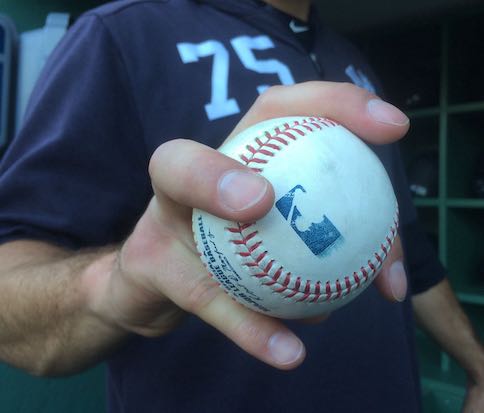 "One thing about changeups is that they're hard to teach, because it's such a feel pitch. Mine is just kind of like… it's between my ring finger and my middle finger; I kind of use those on top of the ball. People have called it a Vulcan, but I don't think of it as trying to spread these two fingers out. I just think about not gripping it too tight, and just letting the ball kind of slip out. I throw it light. I don't grip down with it. I know you're really not supposed to grip tight on a fastball either, but it's much less for me than a fastball — squeezing-wise.
"My thumb doesn't really play much of a role. People ask where I put my thumb on the ball, and I really don't… honestly, when I throw it, I don't even know if my thumb is touching the ball.
"I try not to [look at it on an Edgertronic]. I've done that before with other pitches, and I end up starting to thinking too much about it. It's almost like the way you feel isn't what you're seeing, sometimes. I've found that it can throw me off a little bit.
"As for the movement, my changeup tails, kind of like my sinker, and drops. In my mind, I don't think about pronating. I don't think about anything, really. It might just be my natural arm angle, because I've always had sink on fastballs, and sink on changeups."
——
The 2018 installments of this series can be found here.
David Laurila grew up in Michigan's Upper Peninsula and now writes about baseball from his home in Cambridge, Mass. He authored the Prospectus Q&A series at Baseball Prospectus from December 2006-May 2011 before being claimed off waivers by FanGraphs. He can be followed on Twitter @DavidLaurilaQA.