After getting shut down by Aníbal Sánchez, the Cardinals offense would get no respite with Max Scherzer taking the mound for Game 2 of the NLCS. Scherzer hadn't been himself for much of August and September coming off a stint on the Injured List with back problems, but his last start against the Dodgers provided a hint that he was getting closer to normal. Against Los Angeles in Game 4 of the NLDS, Scherzer gave up four hits and three walks, striking out seven and allowing just one run, a Justin Turner homer in the first. Scherzer left no doubt that he was back against the Cardinals, shutting down the club's offense and putting together a no-hitter through six innings. Adam Wainwright attempted to counter Scherzer, and offered his home crowd a vintage performance. It was the second straight very good postseason performance from Wainwright that ended with a Cardinals' loss, and as the teams head to Washington, the Nationals do so with a huge advantage.
Scherzer was on from the beginning, striking out three in the first inning. He would strike out another seven before the Cardinals got their first hit, a Paul Goldschmidt single to lead off the seventh. A punch out of Marcell Ozuna and a groundball double play off the bat of Yadier Molina ended the "threat." That would be Scherzer's last inning, as there were signs he was wearing down. After his recent run of disappointing play (disappointing, of course, only relative to his usual greatness), his velocity in the postseason has been encouraging. After averaging 94.9 mph on his fastball during the regular season, Scherzer's three playoffs appearances have seen his velocity move up to 96.3 mph on average. Before his start, he attributed the increased velocity to playoff adrenaline and finally moving past his injury.
[I]t's just adrenaline in the moment, especially the Wild Card, when it's a do-or-die it's literally every pitch, you got one game to decide everything going into it. And I was on seven days' rest going into that. So, yeah, that's just the product of playing in the postseason sometimes. So I feel healthy, feel great, really recovered off of these injuries that I had in the middle of the year and made the progression back kind of all the way through September to get to this point where I really feel good about myself and what I can do with the baseball.
The increased velocity has come with an increased spin rate, which moves Scherzer's fastball from in the top 10 to just behind Gerrit Cole's in terms of spin rate and velocity. The graph below shows starting pitchers with at least 500 four-seamers this season with their average spin rate and velocity. Scherzer has two points in the graph, one for the regular season and another for the postseason ahead of the NLCS: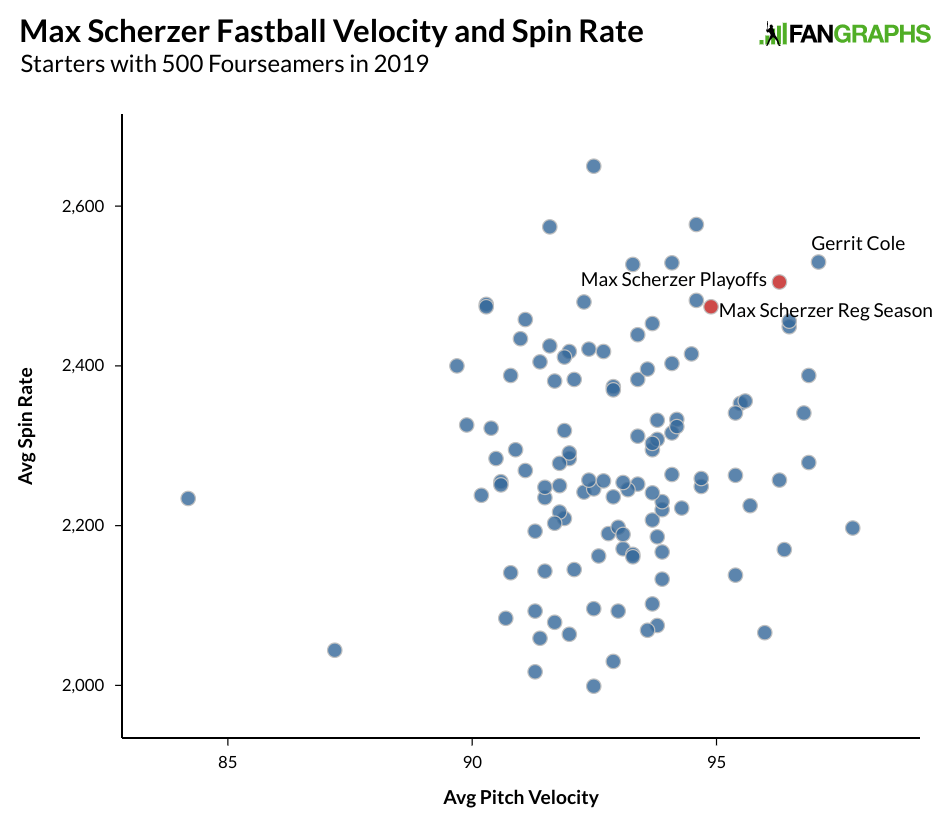 Scherzer didn't throw as hard as he had in his other playoff appearances, but through five innings, his fastball averaged 95.6 mph to go along with great location. He was particularly nasty in the fifth, striking out both Matt Carpenter and Tommy Edman on 97 mph fastballs on the corner.
Though he kept his no-hitter going through the sixth, he showed signs of wearing down, with his fastball losing about half a mile per hour. In the seventh, he lost another half a mile per hour and after 101 pitches — following 109 pitches five days ago against the Dodgers — Matt Adams came in to pinch hit in the eighth when his spot was up. After the game, Martinez said, "He was pretty much at his limit," and he received little protest from Scherzer, which came as a bit of a surprise.
It was the eighth inning that ended a great performance for Adam Wainwright. After using his curve 37% of the time in the regular season, Wainwright upped that usage above 47% in the NLDS start against Atlanta, and then matched it against Nationals. Through seven, Wainwright had 10 strikeouts and no walks with the only blemish a homer off the bat of Michael A. Taylor in the third inning. Taylor jumped on a first-pitch cutter over the middle of the plate.
In the eighth, Wainwright kept going to his curve, and the Nationals finally broke through against the offering. Adams hit a single off the wall on a first-pitch curve with one out. That was followed by a bloop single by Trea Turner before a double pulled down the first base line by Eaton scored two and put the Nationals up 3-0. In two postseason starts, Wainwright pitched 15 innings, struck out 19, walked three, and gave up just three runs. His team couldn't get the offense going during those starts, and now they are 0-2 in this series due to an inability to put runs across. The Cardinals get to pitch their ace, Jack Flaherty, in the third game, but Washington will match that firepower with Stephen Strasburg. A few days ago, the Nationals' sole focus was finally breaking through to the NLCS. Now, after two near no-hitters, they find themselves just two wins away from the World Series.
Notes:
The sun might have played a role on both offense and defense, as shadows made pitches difficult to see and may have caused at least one misplay in the outfield.
The Cardinals again contained Juan Soto by rarely throwing him fastballs. Through two games, Soto is 1-for-9 with five strikeouts. He's seen 41 pitches, but just eight of them have been fastballs, and only three of those have been in the strike zone.
There was a little bit of drama in the eighth inning. Paul DeJong hit a line drive single and Jose Martinez hit a line drive to center field that was poorly played by Michael Taylor, going right over his head. The misplay scored the Cardinals' only run. Dexter Fowler then flied out to end the inning.
Sean Doolittle pitched for the second straight day and took the eighth inning; he "allowed" one run on the Taylor misplay.
Patrick Corbin pitched to one batter (Kolten Wong) and induced a groundout.
Daniel Hudson, who missed (he probably wasn't missing it) the first game of the series to witness the birth of his daughter, closed out the game with an easy final two outs.
Craig Edwards can be found on twitter @craigjedwards.