I think there are too many home runs. That's an aesthetic preference, of course, and one you don't necessarily need to share to continue with this article. I mention it only to help you understand why I became interested in how many multi-homer games the 2019 season has brought us so far, and whether that number was unusual. The reason is simple: I got sick of hearing about them. One of the first things I do each morning, at least with respect to baseball, is fire up At Bat and watch the first 10-15 highlights of the previous day's games. I find it's a good way of keeping up to date, if not with the broad trends shaping the game, then at least with the moments driving that day's news. And almost every day, I'll see something like this at or near the top of the highlights list: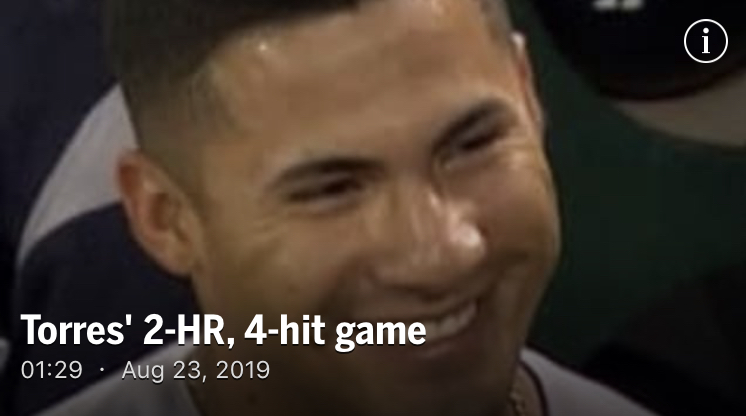 Or, at least, I thought it was almost every day. It certainly seemed that way to me. But maybe I'd just developed a severe case of early-onset grumpy-old-man-itis. Maybe my aesthetic preference for fewer home runs was bleeding into my perception of the quantity of multi-home run games. When you hate something, everything about it annoys you, including how much it's around. So I asked my colleague Sean Dolinar to run some numbers for me (all 2019 stats in this piece are through August 23) and set me straight. And it turns out that even though I absolutely do suffer from grumpy-old-man-itis, I'm not wrong about the number of multi-home run games this year. They're up — by a lot:
Most Multi-HR Games, 1974-Present
| Year | Multi-HR Games |
| --- | --- |
| 2017 | 396 |
| 1999 | 362 |
| 2019 | 355 |
| 2001 | 341 |
| 2000 | 338 |
| 2016 | 337 |
| 2004 | 321 |
| 2006 | 318 |
| 1996 | 317 |
| 1998 | 313 |
Even without adjusting for the fact that we have yet to play the last six weeks of the season, 2019 already ranks among the top three seasons of the last 45 years for the number of multi-home runs games produced by the league's players (1974 is as far back as our daily log goes). Give it a week or so, and I'm fairly confident we'll fly by 1999 for second place. Taking the top spot — or even clearing 400, which has never been done before — will be a bit more difficult, of course, but I'd bet in favor of it happening. The record mark is just 41 games ahead of the current total, and most teams have about 30 games left to go. Multiply that figure by the number of games played on each fully-scheduled day (15) and then by the rate of multi-homer games per games played so far (about 0.17) and you have the potential for upwards of 70 more multi-homer games this year, and a final total of 430 or more. At this point, I'd be surprised if the league didn't break the record.
There's more. If the season ended today, 2019 would set the record for the year in which the highest share of all home runs hit (5,408 through games played on Friday) came in multi-home run games (13.5%). This in a year where players seem quite likely to obliterate the record for the number of home runs hit in total! It's not a surprise, I suppose, that more multi-homer games are appearing in tandem with more home runs overall. Home runs are the highest form of victory a batter can achieve against a pitcher. As the playing field on which those battles are fought has tilted over the last few years in favor of batters hitting more home runs, it was inevitable that more batters would go deep more than once a game than ever before. But the specific way that increase has played out has been interesting. Let's start by ranking all the seasons since 1974 by the average season-long ISO of the players who produced those multi-home run games:
ISO, Multi-HR Hitters, 1974-Present
| Year | Multi-HR ISO |
| --- | --- |
| 2019 | .226 |
| 2000 | .218 |
| 1999 | .212 |
| 2017 | .211 |
| 2001 | .210 |
2019 is number one, as you might expect. But, as many of you will be shouting into your screens at this very moment, that doesn't tell us much. League-wide ISO is also high this year — in fact, at .183, it's higher than it's been in any year of our 45-year sample. So a more interesting table, probably, would show the ratio of multi-HR hitters' ISO to league-wide ISO. We'd expect that hitters who end up hitting multiple home runs in a game would have a higher ISO than the league as a whole, and that's true. But how much higher? Turns out that there's been quite a bit of variation in that mark over the years. Here's the top and bottom five by that measure:
ISO, Multi-HR Hitters, 1974-Present
| Year | League ISO | Multi-Homer Hitters' ISO | Ratio |
| --- | --- | --- | --- |
| 1976 | .106 | .166 | 1.56 |
| 1981 | .113 | .172 | 1.52 |
| 1975 | .116 | .172 | 1.49 |
| 1978 | .121 | .179 | 1.48 |
| 1984 | .125 | .182 | 1.45 |
| | | | |
| 2004 | .162 | .206 | 1.27 |
| 2016 | .162 | .204 | 1.26 |
| 2017 | .171 | .211 | 1.24 |
| 2018 | .161 | .199 | 1.23 |
| 2019 | .183 | .226 | 1.23 |
Here's what I think is happening: There is a certain threshold of power, as measured by ISO, above which hitting more than one home run in a single game becomes likely enough that it does, in fact, happen at least once over the course of a season. In years in which the overall power environment is favorable to pitchers, only truly elite power hitters, by raw talent, are able to exceed that threshold and therefore hit more than one home run in a game. That's what was happening in 1976, when the league ISO was an astonishingly low .106 but the average ISO of multi-home run hitters was .166 — five points higher than league-average ISO in even homer-rich 2018. Hitting multiple home runs in a game is hard enough in the best of times, and so in the worst of times only the best can do it.
Well, 2019 is pretty close to the best of times when it comes to hitting home runs. The best players in the league are carrying ISOs above .350 into August, and even those who are otherwise close to league-average offensive players — Hunter Renfroe and Kyle Schwarber, both of whom have wRC+s between 100 and 110 — are posting ISOs north of .250. As consequence, 2019 has seen the likes of Pedro Severino (with a .166 ISO ) hit three home runs in a game, and the likes of Andrelton Simmons and Travis Shaw (.106 and .117, respectively) hit two. Yes, the truly elite power hitters have also had their share of big games — Mike Trout has hit two home runs in a game four times so far, and Nelson Cruz has done the same in addition to having two three-homer games — but 2019's boom in multi-home run games has been the consequence of the little guys getting invited to the party, too.
To some extent, this is what's behind my growing disinterest in this particular kind of highlight. Nineteen different players have hit three home runs in a game so far this year; collectively, those games have accounted for 5.6% of the multi-home run games recorded this season. Nineteen is a lot of players. When Nelson Cruz hits three home runs in a game, I'm reminded of how great a baseball player he is, and how amazing it is that he's able to do what he does day in and day out. When Pedro Severino hits three home runs, with all due respect to him, I'm reminded that the game's offensive environment has changed enough in the last five to 10 years that someone like Severino hitting that many home runs in a game this year isn't just likely, it's probable. And, at least to me, that's dispiriting. Hitting three home runs in a game shouldn't be something that this many big-leaguers can do. It should be special. It should be something worth rewatching. It should be hard to do, even for the very best of the very best. And right now, at least, it's not.
Thank you to Sean Dolinar for research assistance on this article.
Rian Watt is a contributor to FanGraphs based in Seattle. His work has appeared at Vice, Baseball Prospectus, The Athletic, FiveThirtyEight, and some other places too. By day, he works with communities around the world to end homelessness.