Last week, readers answered the survey questions regarding what the upcoming season will look like that I have posed several times since the end of March. In late March, nearly 72% of respondents believed some sort of major league baseball would be played this year. That number dipped slightly two weeks ago, and with another 1,500 or so votes, the confidence level has dropped further.
This is how the results look over time: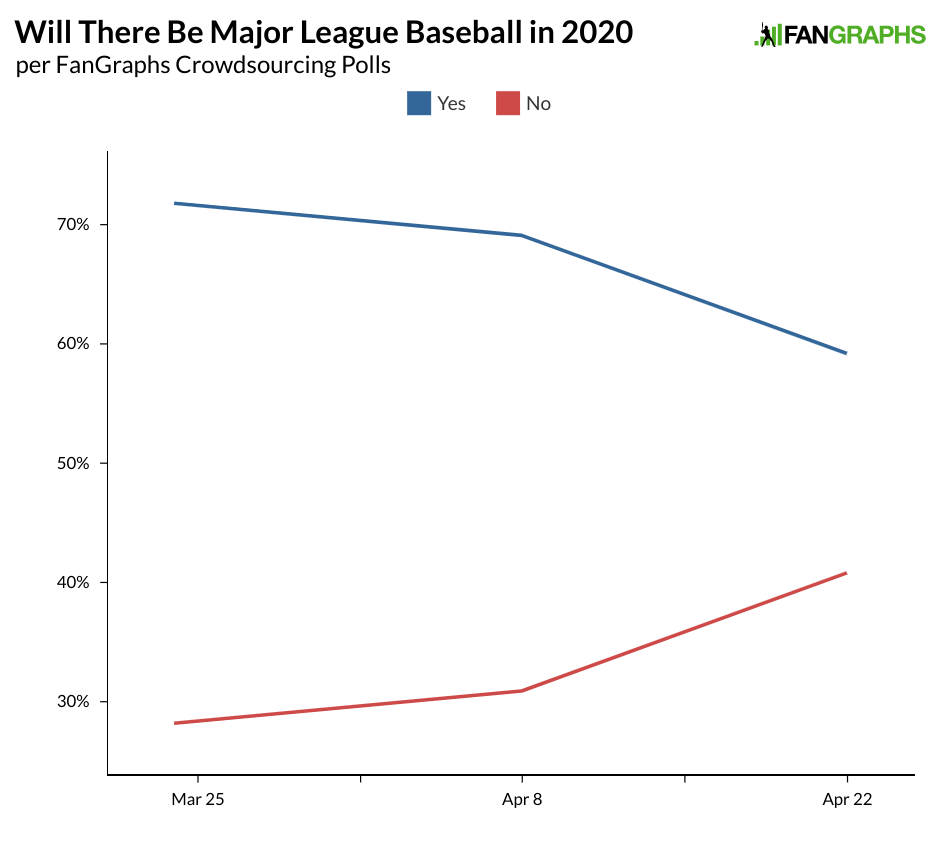 Fewer readers believe major league baseball will be played this season, but a majority still fall on the optimistic side of the fence. As for how many games will be played…
The number of people expecting more than 100 games has fallen by half in a month's time, while for the first time since this project began, a minority of respondents now expect that at least half a season will be played: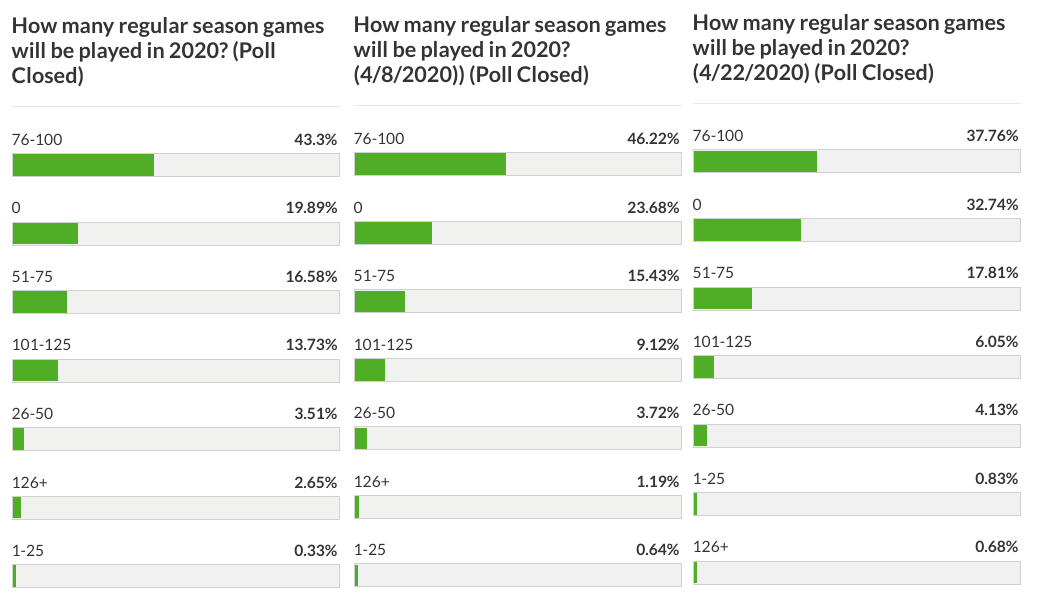 Here is when respondents believe the season will start:
July has held strong at right around 40% in every iteration of this poll. The big change has come in the drop in those expecting an early start to the season. At the end of March, more than a third of readers expected a May or June start (30% June). A few weeks later, it had dropped close to three percentage points, and in this most recent round of polling, it dropped 10 percentage points to under 20%.
As for whether regular season games will be played in spring training venues, the results have remained relatively constant poll to poll, but while "Arizona, only" topped the last poll at 44%, that mindset has shifted since more plans involving Florida have been leaked:
As for the number of regular season games without fans, the data is difficult to analyze:
I probably could have phrased this question more clearly, but given the number of people who answered zero in both this question and question concerning the number of regular season games, we might be able to assume that nearly everyone thinks there will be fanless games, though as "76-100" has around 10 percentage points fewer responses here and "1-50" has about 10 percentage points more respondents here than in the regular season games question, there are some people who believe that there will be fans in the stands at some point this season.
When it comes to playoff structure, the number of people who believe the postseason will retain the standard structure is still around 40%; "Fewer rounds/teams" has moved into second place, though both that option and "More rounds/teams" are still close to the 30% mark.
Finally, when will the season end?
"No season" jumps up a bit, mostly taking from the "October" and "November 1-15" predictions; "November 16-30" is still the most popular choice, with nearly 40% of responses.
As more time passes without concrete news on the season's start, the number of people expecting baseball to happen this year has dropped quite a bit. But even with that drop, a clear majority still expect baseball at some point this year, allowing us to enjoy at least a couple months of regular season baseball.
Craig Edwards can be found on twitter @craigjedwards.